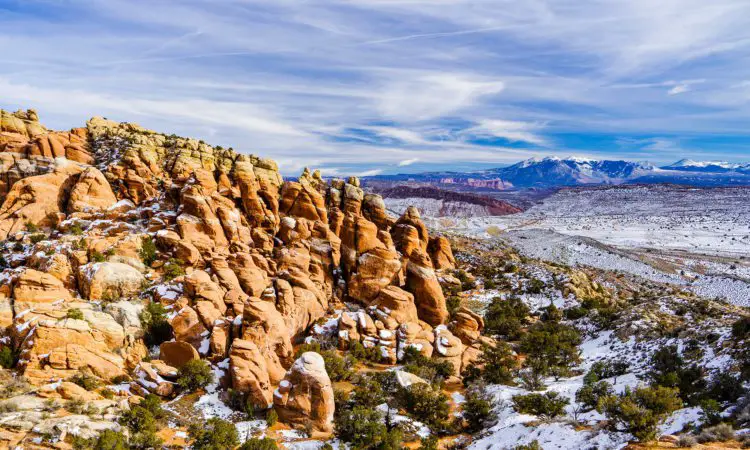 Grounded Life Travel is supported by its audience. When you purchase through links on our site, we may earn an affiliate commission.As an Amazon Associate I earn from qualifying purchases. List of everything we use in our travels.
Visiting Arches National Park in December is probably not something you ever have on your list of things to do. There's the holiday parties and the family get-togethers. The cookie exchanges and the white elephants usually take precedence. But, consider leaving some of that behind for an experience that you may never have again.
Spending time Visiting Arches National Park in December can be a magical time to see the park. Imagine taking in the sight of Delicate Arch in silence. Think about the prospect of sitting inside Double Arch with so few people you could hear a pin drop. In December, these scenarios are likely to come true.
Is Arches National Park Open In Winter?
Arches is open to the public 24 hours a day 365 days a year. Many national parks don't have these convenient hours, so it's great that you can enter the park day or night and get a totally different experience.
It also doesn't close for inclement weather. If you are lucky, you will see snow when you visit. The only time the park road may be closed is if the need for plowing snow arises. That will be short lived and you'll be able to see something that many people never get to see. The bright orange formations against the pale glow of the snow is a sight to behold.
If you are a hobby or professional photographer. This is the holy grail. The contrast of the snow, arches, and either bright blue or stormy clouds are what you get out of bed for in the morning. Adding Arches National Park to your December itinerary could be just what you need for your portfolio.
Is Moab Cold In December?
There's no good way to say it. It gets cold in Moab, the host city to Arches National Park. But it's not Minnesota Cold or Alaska cold. It gets just cold enough to need a parka until you break that first sweat on your hike. With the warm sun and your heart pumping, hiking and biking in Arches National Park in December is very pleasant.
Average highs in December are usually around 40 degrees fahrenheit and lows can be in the high teens and low 20's. It is generally the second coldest month behind January but it tends to be a pretty dry month being the third driest month of the year. This will give you plenty of opportunity to hit the trails and experience them in relative comfort.
What should I pack when Visiting Arches National Park In December?
Layering is the name of the game when Visiting Arches National Park in December. Although Moab temperatures are relatively mild in winter, you should be prepared for any kind of weather. Start with a good base layer made of thin material and warm wool socks. A warm wool sweater or thick high quality sweatshirt should also be included. Also, make sure you have a thick pair of pants. Pants that have a fleece inner lining are a good choice.
Next, you will want to pack a nice down parka and a toboggan or wool beanie. Don't forget to invest in a pair of warm gloves that aren't too cumbersome and allow you to grip boulders when the need arises.
Lastly, you will want to ensure you invest in some first-rate hiking boots. I prefer boots to shoes because the chance for snow is more likely in the month of December. Hiking poles may be something that you may not ordinarily use, but in a climate where there may be ice and snow, they may be needed.
If you happen to be there after a good snowfall, Microspikes or Yaktracks would be a good addition to your suitcase. These steel devices fit over and under your boot. When you step on ice, coils or spikes then penetrate the ice to create traction. These are wonderful to have when you need them. They can mean the difference between seeing Delicate Arch and missing out. Trust me. You don't want to be hiking here on the last narrow curve with a 100 foot drop off on one side and decide the ice is too risky.
Where should I stay when visiting Arches?
There will be some shops, restaurants and hotels that will shut down during the winter. But, there are so many still open for business, you'll have no problem getting your sushi or enchilada fix. Most hotels and motels stay open for the season.
But, renting a cabin may just be what your family might love during the holiday season. There are an abundance of rental cabins and homes in the area. Off seasons rates will also be easy to come by during this time period. So, whether you're staying in a hotel or rental home, you're likely to get a sweet deal.
For the more adventurous and cold-blooded type, camping is still an option in Arches National Park. Devil's Garden Campground inside the park is first-come-first-serve starting in November. In December, you really shouldn't have any trouble snagging an opportune spot with that gorgeous view.
If you prefer more primitive camping, there are plenty of spots under the stars in Bureau of Land Management (BLM) areas, right outside the park. You can stay in these areas for up to 14 days for free. Here, you can hike and bike right outside your tent.
Are There Other Things To Do Outside Arches National Park in December?
Geological history abounds in this region. From Dinosaur tracks to petroglyphs, you will definitely find no shortage of historic sites and museums right outside the park in Moab. Visit Mill Canyon or Copper Ridge to see dinosaur tracks. To view two awesome petroglyph sites in one area, go to Kane Creek Boulevard where you'll see abstract art as well as scenes depicting animal life.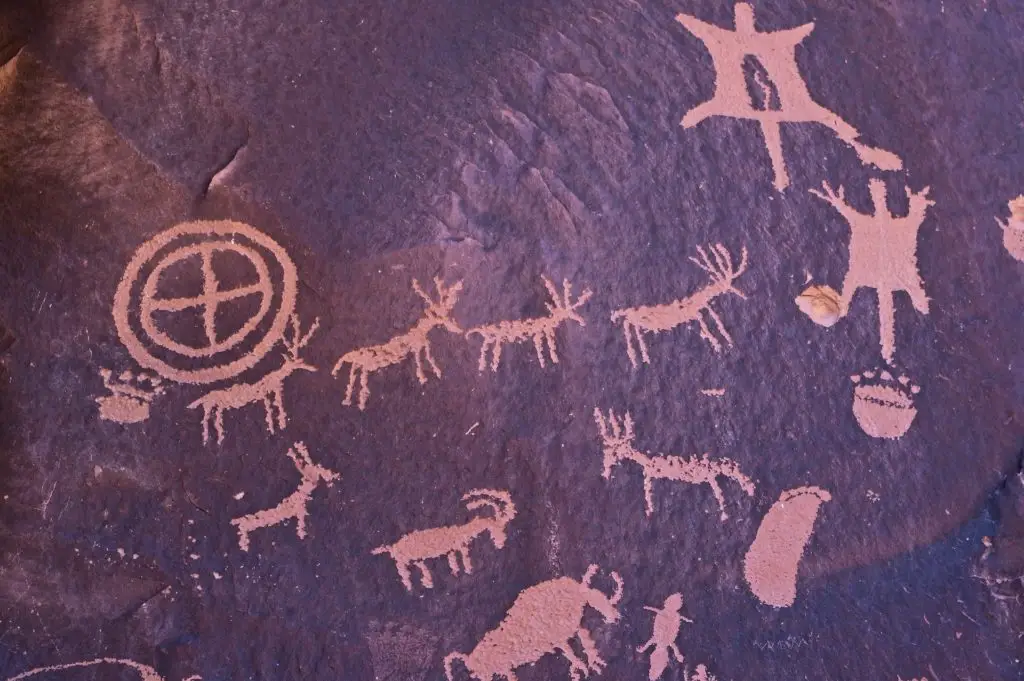 If you want to take a day trip, Monument Valley is only 2.5 hours away. The valley is sublime any time of year, but if it snows you will have a chance to see some truly impressive scenery. Take a jeep tour or drive your rental car among the monuments. It will be a day well spent.
The La Sal Mountain Loop is also an activity you might consider if you need a day to recharge from hiking all week. Get in the car and drive this 2.5 hour loop through alpine forests, mesas and buttes. Make sure you take your camera, the vistas are exquisite.
Is December A Good Time To Visit Arches National Park?
There is so much to do in Arches National Park. If you have the right clothing, nothing should stop you from doing everything in the park that you could do at other times of the year. The air is crisp and clean, the scenery is to die for, and you won't be competing with crowds on the trail to get to your destination.
Accommodations are cheaper and most restaurants are fully operational even though it's the off season. If you find yourself with an extra day or two, there's so much to see and do in the Moab area and just outside the region. So, the answer is yes? December is a superb time to visit Arches National Park. Your family will be clamoring to celebrate the holidays in Arches National Park, creating a new tradition.