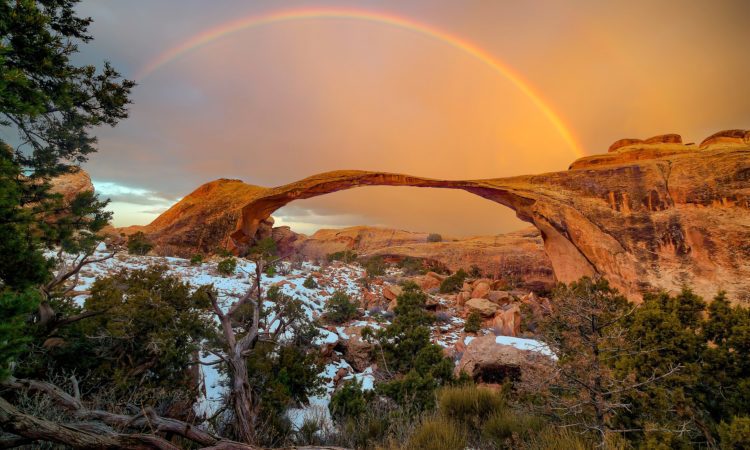 Grounded Life Travel is supported by its audience. When you purchase through links on our site, we may earn an affiliate commission.As an Amazon Associate I earn from qualifying purchases. List of everything we use in our travels.
The 10 best arches in Arches National Park are difficult to rate. Before you actually entered the gates, you may have wondered what made them so special. I mean, once you've seen one arch, haven't you seen them all?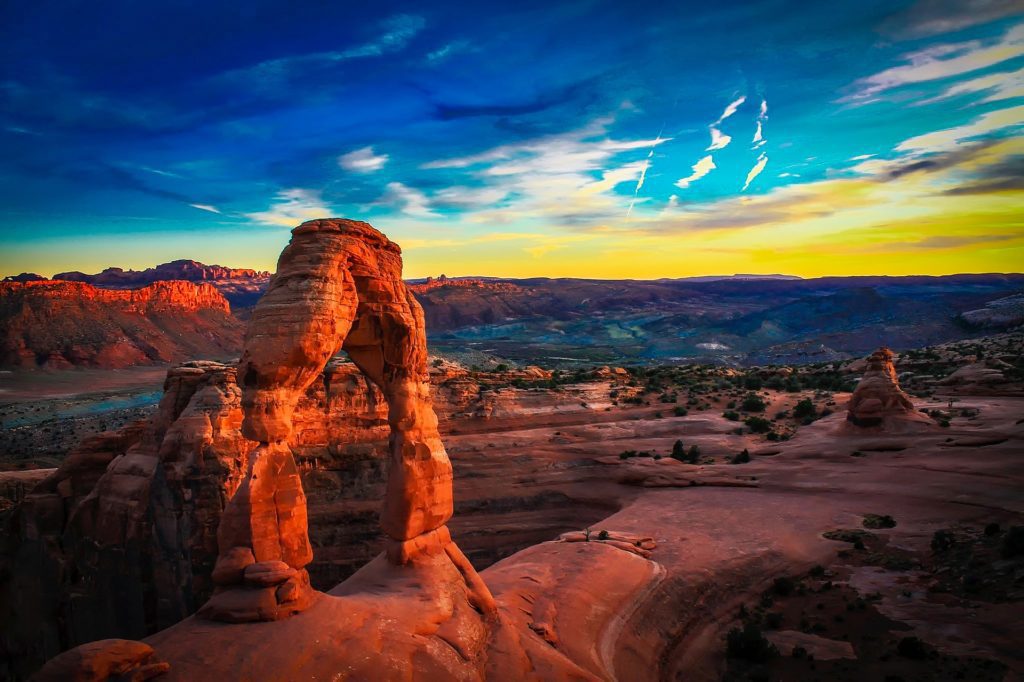 I definitely wanted to go to Arches National Park, but I wasn't looking forward to it like I was Glacier or Yellowstone. I just thought, aren't they all going to look the same after the first few? I was decidedly wrong after merely driving through the park.
What Are The Different Arches In Arches National Park?
There are over 2,000 verified arches in Arches National Park. Comparatively, there are only a few on the map. But, as you walk through the park and immerse yourself, you'll see that they are everywhere. Some are more impressive than others, that is true. But, find a quiet place amongst these magnificent works of nature and think about what it took to form even just one small window or fin. It's mind blowing!
Although there are many arches, some do stand up above all others. If you drive through the park on the 18 mile park road you end up at Devil's Garden. On the Loop Trail, you will see many different small arches, in addition to the famous Landscape Arch. As you drive back towards the park entrance, you can see Delicate, Double, The Windows and Turret Arch.
What Can You Not Miss At Arches National Park?
The arches on the Devil's Loop Trail are unique and have their own beauty and personality. They definitely have a place on the 10 best arches in Arches National Park. But, you booked plane tickets, spent hundreds on your hotel stay and got time off of work to see those few that are plastered all over social media.
You can't miss Landscape, Delicate or Double Arch. These are the things that a memorable vacation begs for and they deliver. Don't leave the park without seeing these arches.
What Is The Best Hike At Arches?
When thinking about the 10 best arches to see in Arches National Park, you should start with a hike that packs the most punch for notable arches to see. On the Devil's Garden Trailhead you will see five of the top ten on the list. This 7.8 mile trail will meander passed Landscape Arch and the other four on the primitive trail. The best hike in Arches National Park is Devil's Garden. There are other arches on the trail, but these five are special and need to be seen if you are there for the day or a week.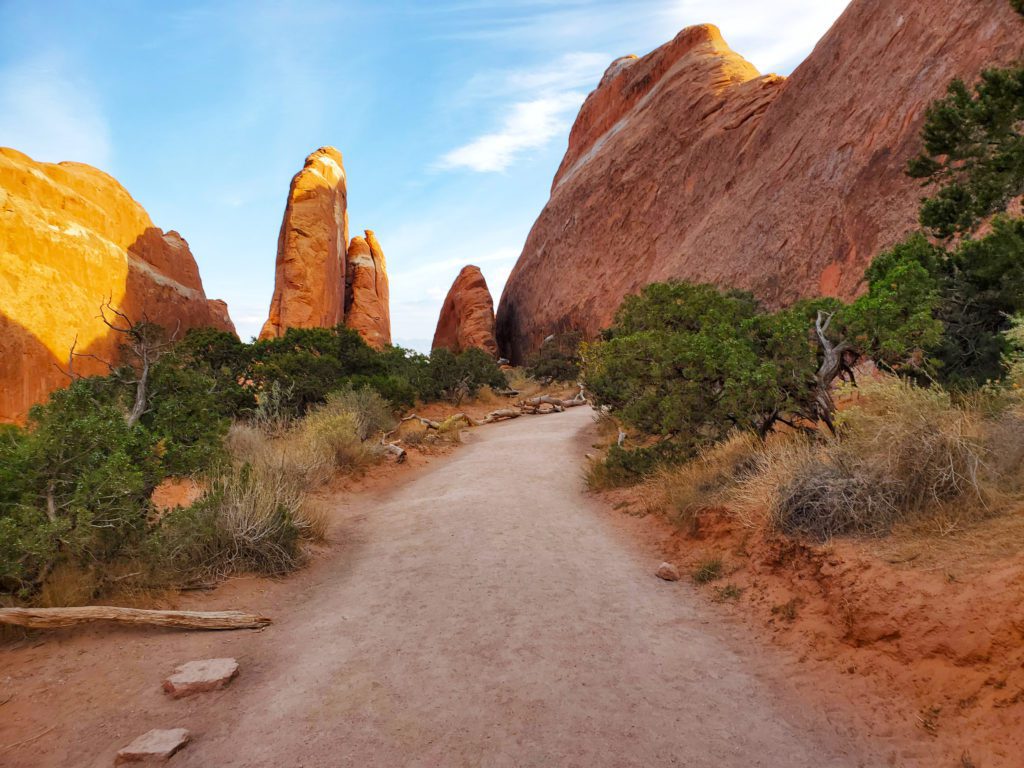 What Are The 10 Best Arches At Arches National Park?
There are many sites to see at Arches National Park. Some of the most interesting things to see aren't even arches. But when you break it down to the 10 best arches in Arches National Park, these make the list.
Tunnel Arch
When you start at Devil's Garden Trailhead you won't have to walk far to see your first arch. Tunnel Arch is .35 miles from the start of the trail. The arch or hole sits in the middle of a large fin. It gazes down upon you as if it were an eye. Above and to the left you'll see its partner, although smaller it seems to mirror its neighbor. Tunnel Arch seems to welcome you onto the trail, beckoning you to continue.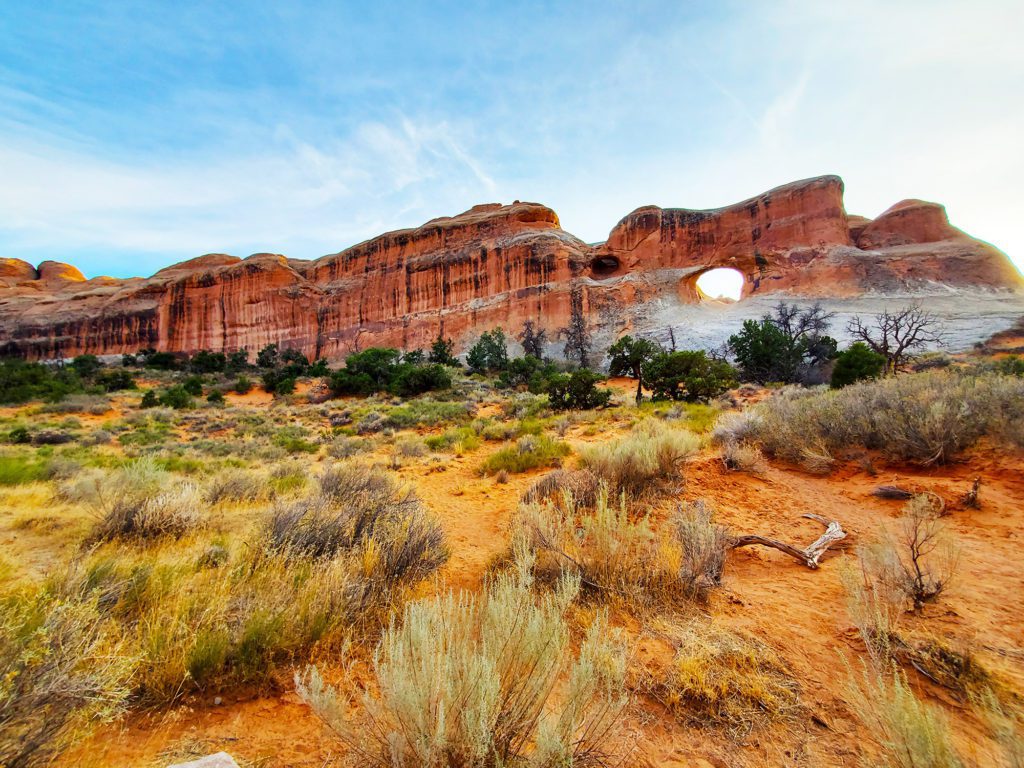 Landscape Arch
Landscape Arch is surely on your plan of arches not to miss. Clocking in at .95 miles on the trail, it can be easily reached by anyone of any fitness level. Landscape is more a freak of nature than anything. It spans at almost the length of a football field and looks as though it might fall to its demise at any moment. In fact, part of it did fall in 1991. A patron was lucky enough to get the rock fall on video, capturing an example of the ever changing characteristics of the arches at the park.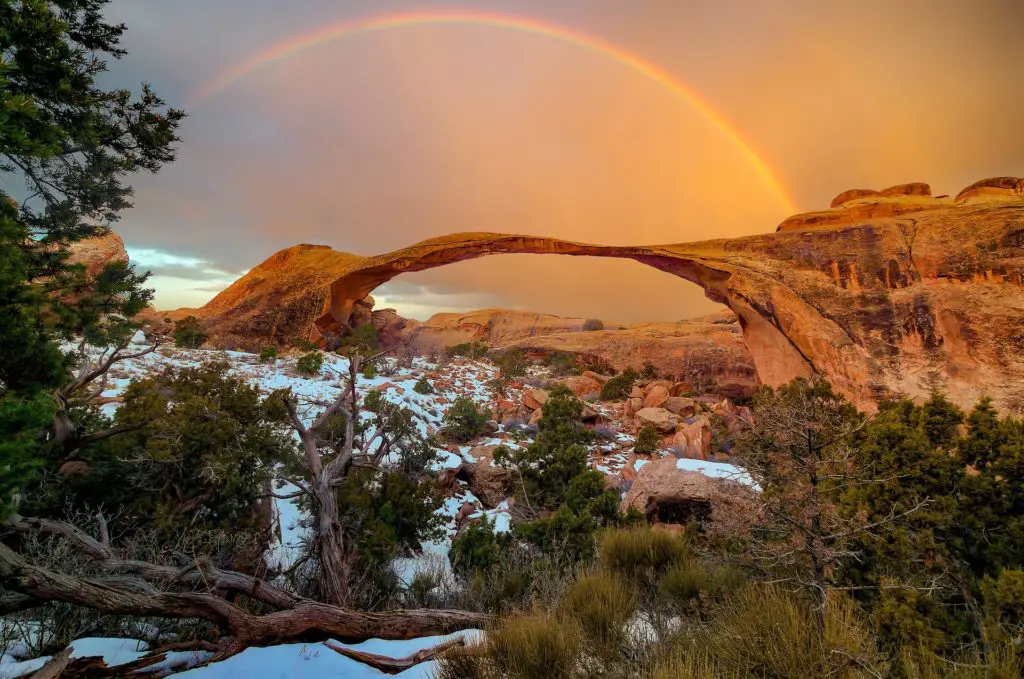 As you keep traveling down the trail you will scramble up slick rock fins, which is quite thrilling if you are adventurous and terrifying if you are fearful of heights. At the top and at 1.5 miles you will take a left to see Navajo Arch hidden in a private alcove.
There is something special about this arch. You can imagine it being a safe haven for people over the centuries. The red sand coupled with the green of the pinion pines and the glimpse of scattered sunlight makes you feel as if you are the only one that knows its there.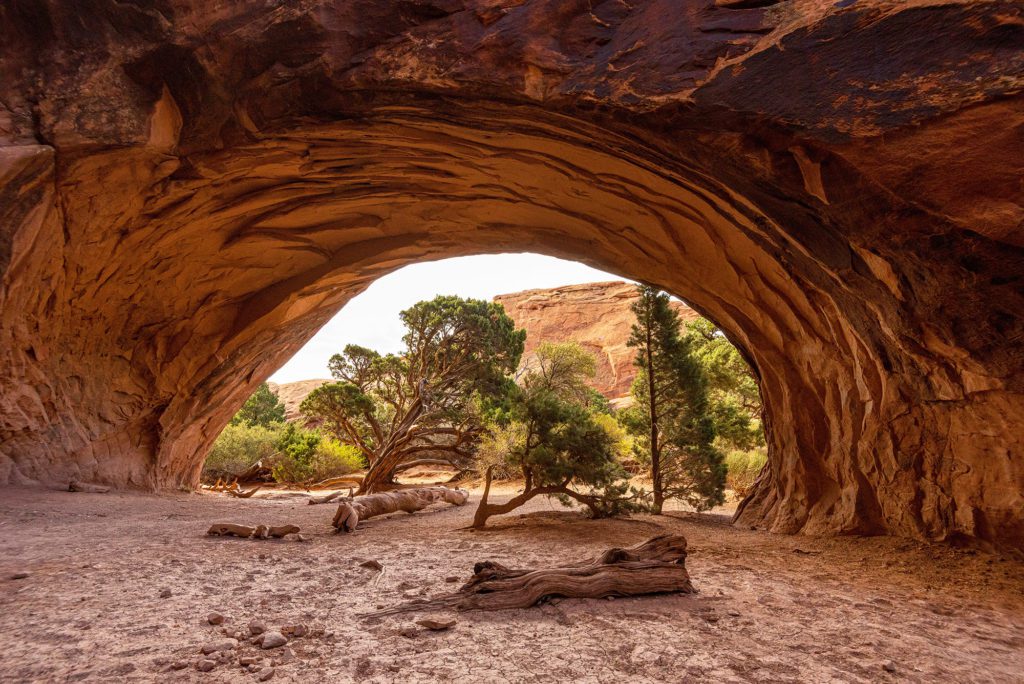 Partition Arch
Partition Arch is located just .2 miles from Navajo Arch. It is quite the surprise because you have been hiking in an area shadowed by tall fins and spires, and you have gained elevation. Suddenly, you see how far you've climbed as you peer through Partition Arch to the valley below. This is a great place to sit quietly and take in the view. You can see Sandstone mountains dotted by green shrubs and pines. And if you are able to go at sunrise, you will see the sun peeking directly through the arch itself.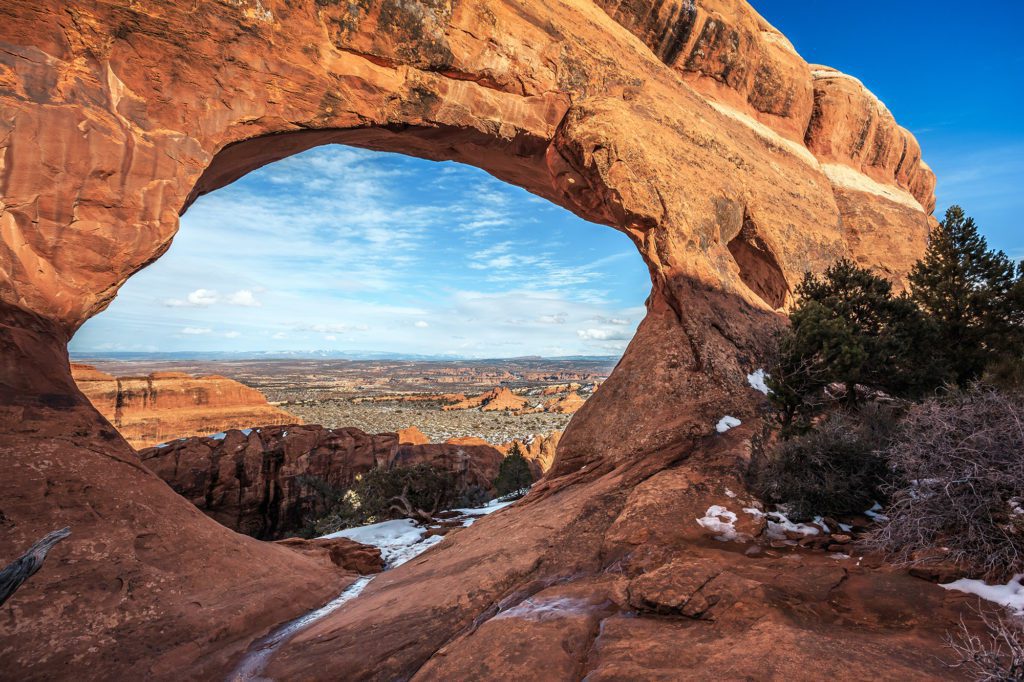 Double O Arch
At this point, you need to decide if you would like to go on deeper into the desert or turn around. But, even at 2.1 miles, Double O Arch is worth it. Standing as the second largest arch behind Landscape Arch it is a stunning example of the artistry of nature.
The elements have carved not one but two arches out of the same fin. One large arch spans 71 feet at the top of the fin, and a much smaller arch at 21 feet sits directly below. Centuries of wind, rain and snow have carved Double O Arch like woodworkers whittling their craft, making a magnificent work of art.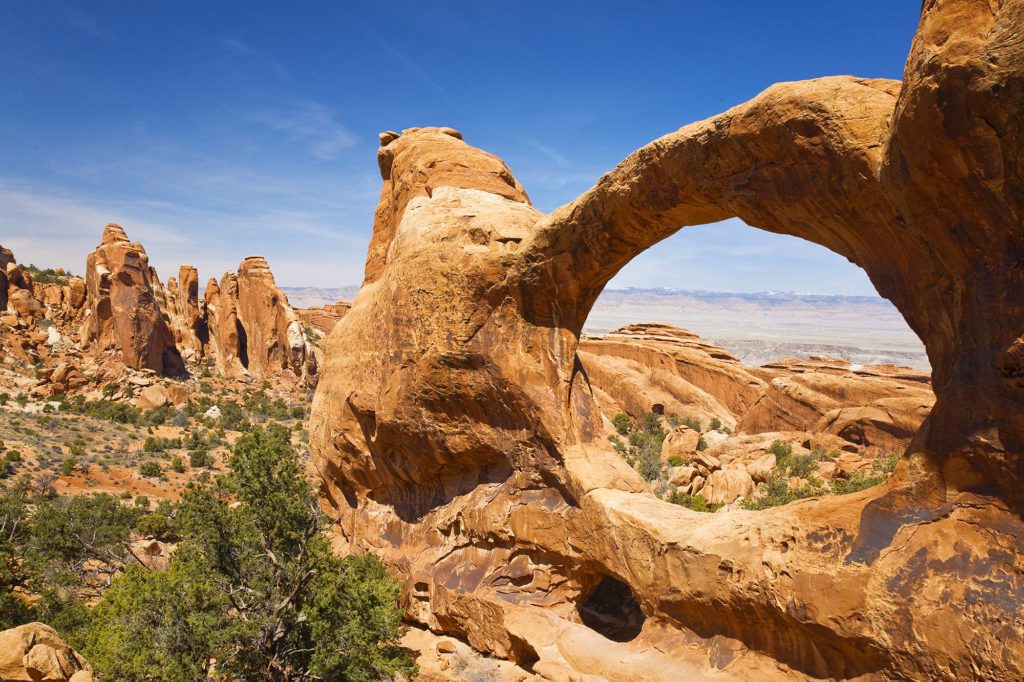 From this point, if you don't continue on to Dark Angel and Private Arch, you can turn around and walk the 2.1 miles back to the beginning of the trail. If you continue walking south through the Devil's Garden Campground, you will find the Broken Arch trail.
Here you can see Tapestry and Broken Arch, which are notable in their own right. But, if you keep going you will find such a special hidden arch, that I believe that it deserves to have its place among the top ten.
Sand Dune Arch
Sand Dune Arch has its own hidden adventure among slots and passageways in sand that is so soft, you must remove your shoes to continue. It's one of the smaller arches in the park but you can get so up close and personal with it, you feel you know it's every wind torn secret deposited over the millennia. On this offshoot trail, you can imagine how Native Americans might have used it for shelter or a place to be alone. Sand Dune Arch is a definitely an arch not to miss.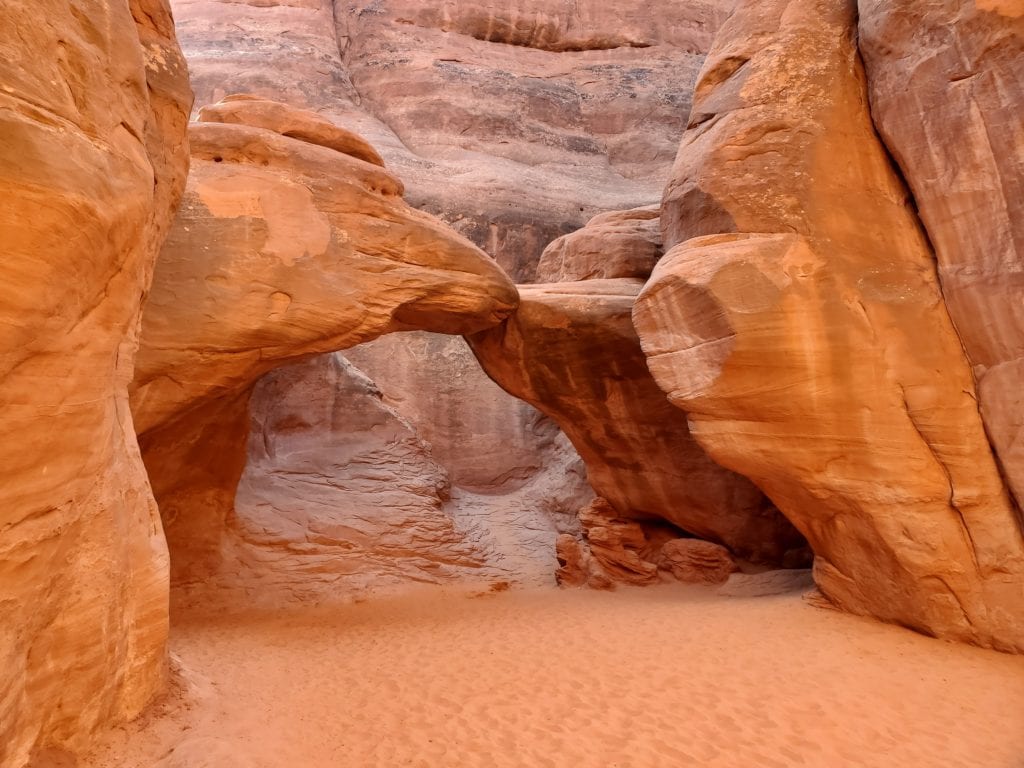 Delicate Arch
Delicate Arch is the prize winning Arch of them all. It wins for most popular of all the arches. It's dramatic and awe inspiring and you'll want to make sure your camera is charged! This is the reason you came to Arches National Park. To be in the presence of something great.
The cowboys used to call it names such as "Old Maid's Bloomers" and "Pants Crotch", but thank goodness the National Park Service saw it fit to give it a name befitting its grandeur. We can also thank them for abandoning the short lived idea that a coat of clear plastic be applied to the arch to protect it in the 1950's.
But, as you hike the 3.1 mile trek to the top where the arch sits, you'll understand why there has always been much discussion about this feat of nature. We can only hope it continues to survive for our ancestors to enjoy.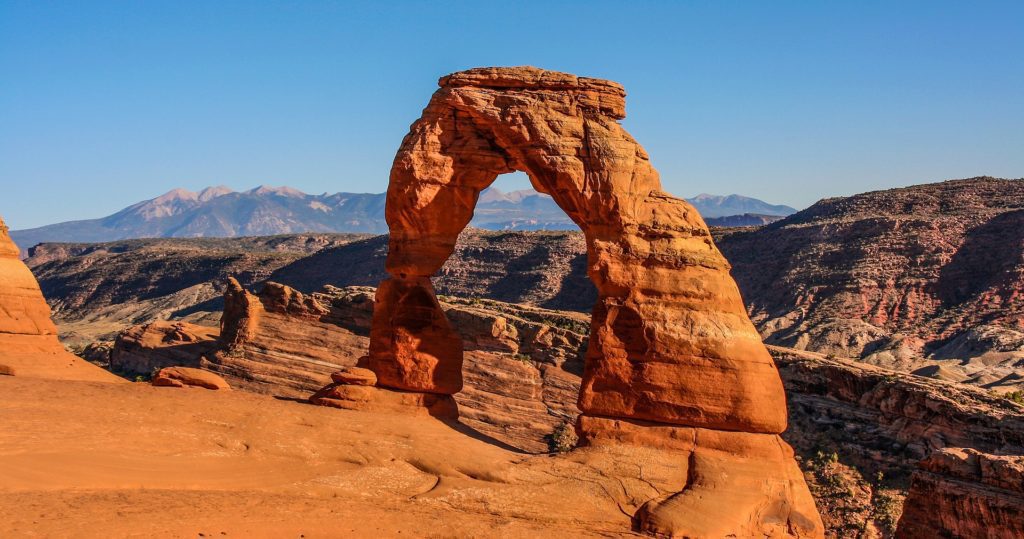 Double Arch
As you travel towards the park entrance you will see signs for Double Arch and The Windows. Not to be confused with Double O Arch, Double Arch is definitely a sight of another kind.
If you are tight on time, or you need a low key hike, this .5 mile stroll will fit the bill. I always liken walking under the Double Arch as entering a grand cathedral. It's always quiet, and you will find most people around you in silent reflection. It's just that kind of place. If you have time to sit and contemplate life or read a book, this is the arch to do that.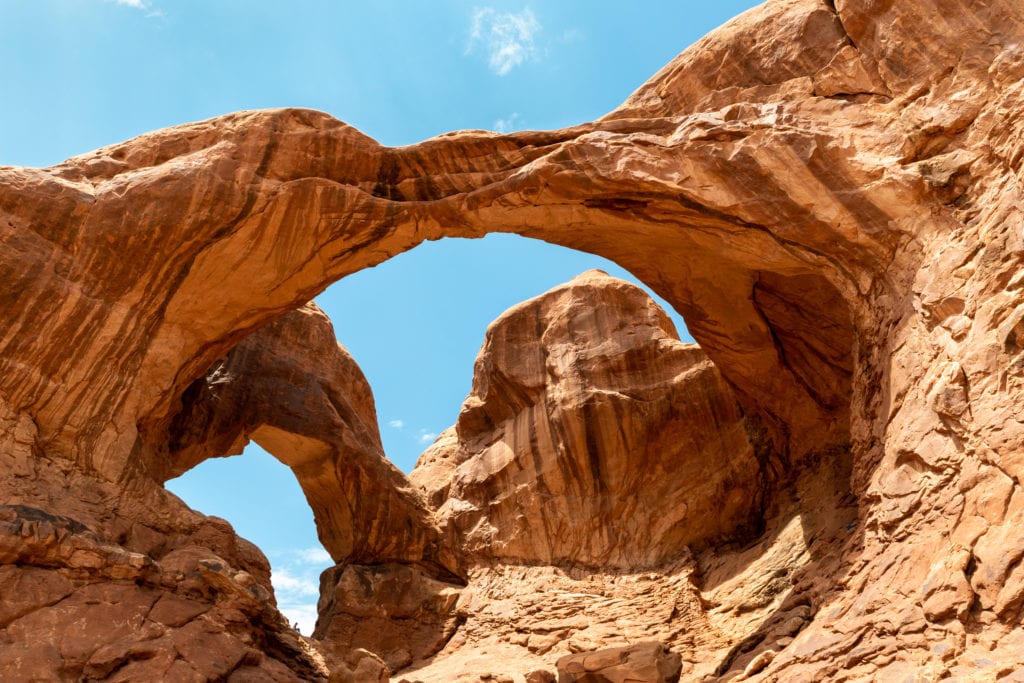 The Windows
You can quickly see both Double Arch and The Windows within steps of each other. The North and South Windows mirror each other in a way no other arch does in the park. They look as if they can't exist without the other, playing on each others strength and beauty. The Windows section has been said by some that it is the beating heart of the park. You can certainly see why they feel that way as you survey the sand blown spectacles.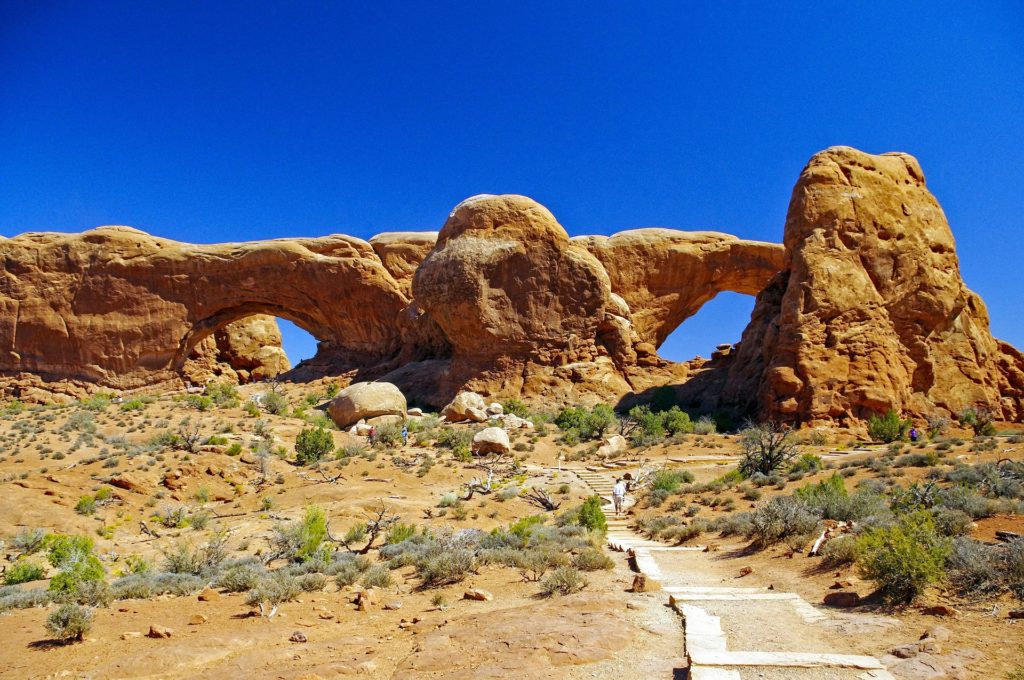 Turret Arch
Turret Arch is not to be missed in The Windows Section of the park. If you're gazing upon The Windows and turn around, you will see the Turret arch a few hundred yards away. The spire on the left of the arch lends to the name given by the park service. But, I think the most interesting part of this monument is the nearly perfect circle between the spire and the arch. If you walk on the other side of the Turret Arch and gaze through the circle, you can see The Windows staring back at you. It's such unique a perspective to see them in this way.
There are so many beautiful arches to see in Arches National Park. It is difficult to select only ten to put on this list. But, if you have limited time, and you need to make the most of it, these are the ones to put on your agenda. Seeing these stunning examples of what nature is capable of, is what makes the memories we all crave on our best vacations.