What It Is Like In Trenitalia Frecciarossa Premium Class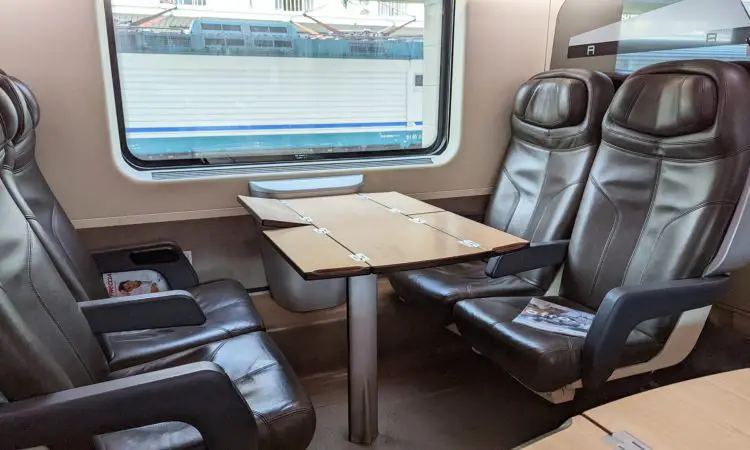 Grounded Life Travel is supported by its audience. When you purchase through links on our site, we may earn an affiliate commission.As an Amazon Associate I earn from qualifying purchases. List of everything we use in our travels.
We rode in Trenitalia Frecciarossa Premium Class and we want to share what we thought of the experience. There are several seat types on the Frecciarossa trains in Italy. Chances are you found yourself trying to figure out what seat to get.
What Are The Seats Like In Premium Class
Premium Class seats are very similar to Business Class seats. They are set up in a 2×2 configuration though, instead of a 2×1. You will find the seats in a group of four seats, set up similar to a table set up. You will also find the seats set up in rows, similar to a theater set up. The seats set up in groups of four have a table in the middle. The table folds out to give each person extra table space. The seats in the row formation have a tray table that drops down from the seat in front of them or from swings up from the arm of the seat.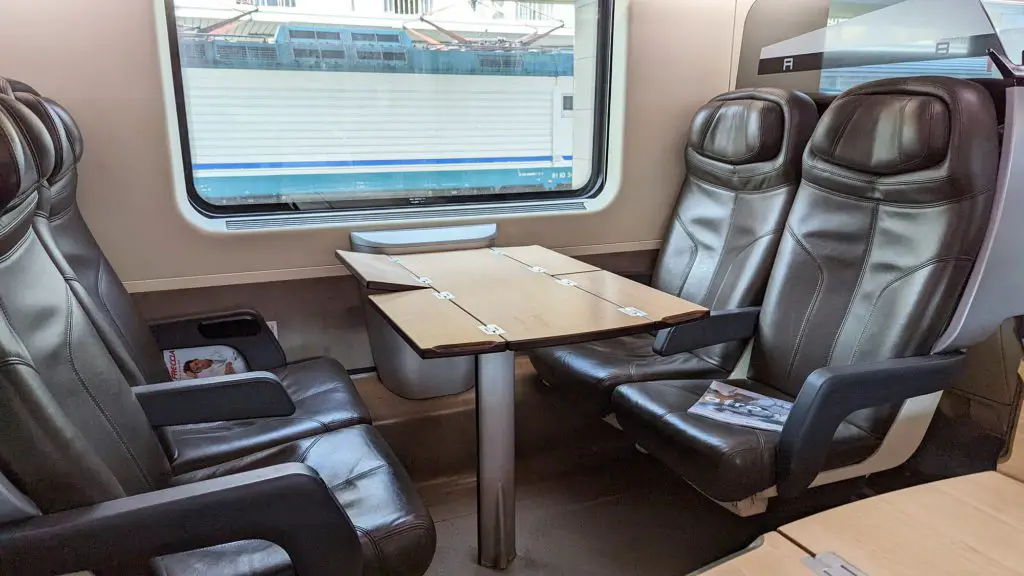 Premium Class seats come with access to an electrical outlet to charge electronics. There is a small trash bin in between the seats to dispose of trash. You will also find a small hook on the wall near the seat head, you can use this to hang jackets, coats or even small bags or a purse. The seats that face each other do not have a foot rest but the seats in rows have a footrest.
Can You Store Your Luggage In Premium Class
One of the bonuses of Premium Class as touted by Trenitalia is the access to extra luggage storage space. We found this extra luggage space to be minimal. The Trenitalia Frecciarossa Premium Class train car has the same luggage space as the Standard class car but it does have a small extra luggage rack at one end of the car. There is still some luggage storage space in the overhead racks but that is for small bags and backpacks.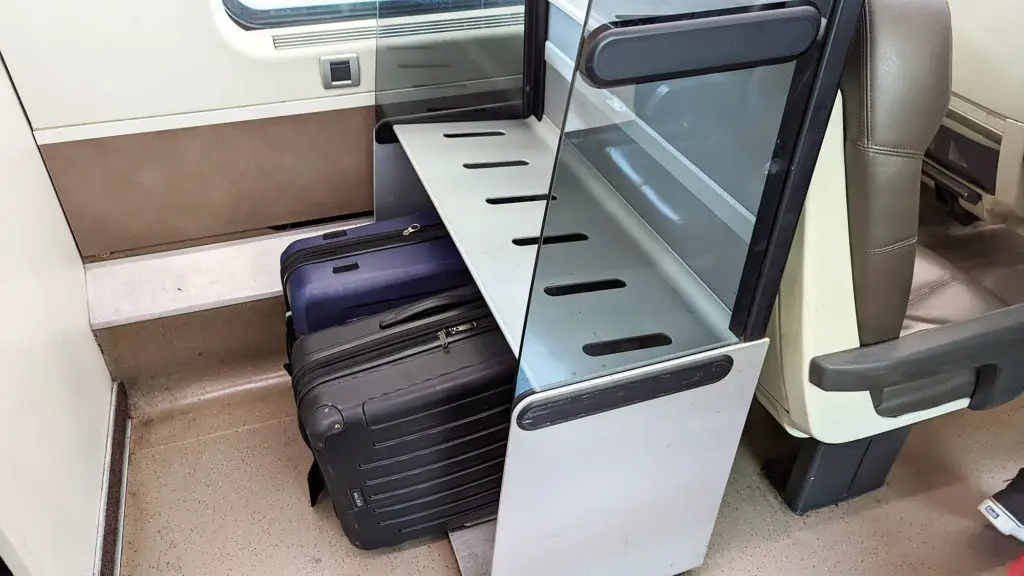 Is Food Included With Premium Class
Premium Class seats are in between the Business Class seats and the Standard Class seats. Standard Class and Premium Class do not included complimentary food and beverage with the fare. You do have the option to bring your own food and beverage onto the train to consume. You can also purchase food and beverage from the Bistro Car. There are hot and cold meals available as well as small snacks and a variety of beverages ranging from juices, soft drinks and alcoholic drinks.
What Is The Difference Between Premium Class And Business Class
It can be hard to decide which class seats to book. Premium Class and Business Class are very similar. You will find the table set up where the seats face each other and have a table in the middle. You will also find the row configuration where the seats are set up in rows and have a table that drops down from the seat in front or swings up from the seat arm.
Premiere Class touts more luggage storage space but we found that to be minimal. Business class has quite a bit more luggage space than Premium. In our experience we found that more people book seats in Premium than in Business Class. Since there are fewer people in Business Class that leaves more room for luggage storage. The extra luggage space in the Premium car is quickly taken up as well as the regular luggage storage space.
The other difference between Premium Class and Business Class is food. In Business Class you get a complimentary drink and snack included with your fare while in Premium Class you will have to bring your own food or purchase from the Bistro Car.
Both Premium and Business Class offer electrical outlets and leather seats. Overall it is a personal choice on which of these seats you would like to purchase but they are very similar so it is best to purchase the less expensive one for a shorter ride. If you have a longer ride, we recommend you go ahead and purchase the Business Class.
How To Purchase Premium Class Seats
The best way to book Premium Class seats for a Trenitalia train is on ItaliaRail. This website is designed to help English speakers easily book tickets on the Italian train system. You could also book directly with Trenitalia, but you'll need to know some Italian, and you'll also need to know each of the city names in Italian. For instance, on Trenitalia, Florence is called Firenze, so you'll have trouble booking the correct cities unless you know what they are all called in Italian.
The second benefit to booking on ItaliaRail is that you credit card will work if you are purchasing from the United States or other overseas countries. If you try to book on Trenitalia, there is a good chance your card will not work and the transaction won't go through.
There is a $5 charge per order to use ItaliaRail, but in our minds the convenience of knowing everything will work correctly is worth it.
When you are booking your ticket on ItaliaRail, you'll see a list of prices to upgrade from premium class to business, business salottino, or executive. It will cost an additional $2.33 per seat to choose a seat on ItaliaRail, which is again worth the cost. Once purchased the tickets will be emailed to you. They are pre validated, so you don't need to validate them at the station.
Are Premium Class Seats Worth It
We have tried all the seat classes on Trenitalia Frecciarossa. We found Premium Class seats to be not worth the upgrade. The main reason why we booked these seats was for the extra luggage space touted by Trenitalia. We found this extra space to be minimal, it was quickly taken up. If you book seats in Business Class you will have the opportunity to store your bags in between seats, unlike Premium Class.
You really don't get much for the extra charge. If you are going a short distance and don't have much baggage, we suggest you book Standard Class or if you have a longer trip, we suggest you book Business Class instead. Trenitalia Frecciarossa Premium Class is not really worth the extra money.