What It Is Like In Trenitalia Frecciarossa Standard Class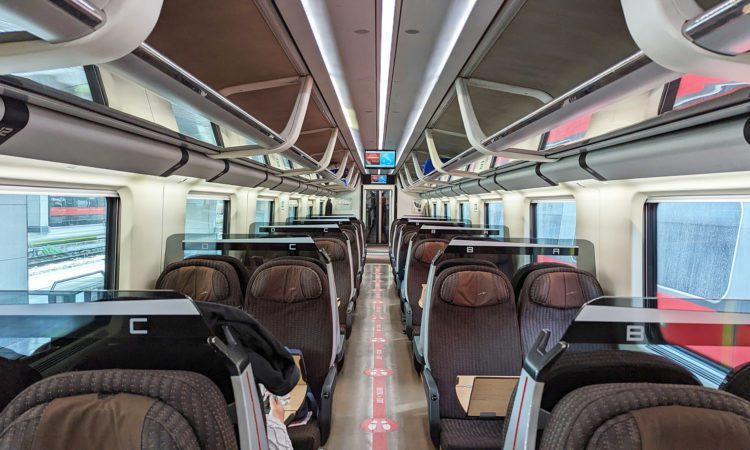 Grounded Life Travel is supported by its audience. When you purchase through links on our site, we may earn an affiliate commission.As an Amazon Associate I earn from qualifying purchases. List of everything we use in our travels.
If you're planning a trip to Italy you are likely wondering what it's like in Trenitalia Frecciarossa Standard Class. A trip to Italy will almost always mean you will be riding a train from one city to another instead of flying. Trenitalia Frecciarossa has several different classes of seats on their trains. Standard Class is the base level.
What Is Standard Class Like
Standard class on Trenitalia Frecciarossa is the basic seat level. This is the seat type most people book on this train line. It is the least expensive and has the most seats available. The seats in Standard Class are a little smaller and are upholstered in cloth material unlike the other classes of seats on the train.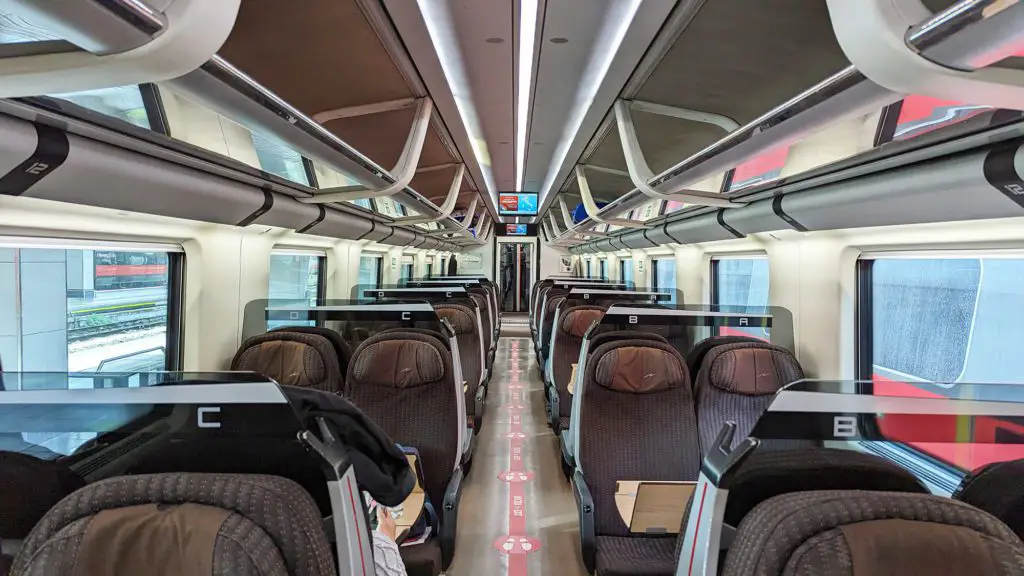 The seats in Standard Class are arranged in a 2×2 format. There are seats set up in groups of four, like a table setting or in rows like in a theater setting. In the group of four set up, you will each have table space as well as access to an outlet to charge electronics. In the row set up you will have a tray table that folds down from the seat in front of you, you will also have a foot rest to set your feet.
Is Food Included With Standard Class
Standard Class is the basic level seat on Trenitalia Frecciarossa so food is not included in your fare. You can bring your own food to consume on the train. There is also a Bistro Car on the train. You can purchase hot food, snacks and drinks to consume in the Bistro Car or in your seat.
Is There A Difference Between Standard Class And Business Class
There is a big difference between Standard Class seats and Business Class Seats on the Frecciarossa train. Standard Class seats are a bit smaller and are set up in a 2×2 configuration. You will also find the seats are cloth upholstered which s not nearly as comfortable. There are usually more people riding in Standard Class making it a bit tighter for luggage space in the car. There is no food included with your Standard Class fare. You do get an electrical outlet to charge your electronics.
Business Class has more comfortable leather upholstered seats. The seats are set up in 2×1 set up, giving you a wider aisle as well as wider seats. Since there are fewer people usually riding in Business Class, there will be more room for luggage storage. Business Class has the same luggage storage racks as Standard Class but there is also space for storage between the seats. You also get a beverage and snacks included with your fare in Business Class.
How To Book Standard Class Seats
The best way to book standard class seats for a Trenitalia train is on ItaliaRail. This website is designed to help English speakers easily book tickets on the Italian train system. You could also book directly with Trenitalia, but you'll need to know some Italian, and you'll also need to know each of the city names in Italian. For instance, on Trenitalia, Florence is called Firenze, so you'll have trouble booking the correct cities unless you know what they are all called in Italian.
The second benefit to booking on ItaliaRail is that you credit card will work if you are purchasing from the United States or other overseas countries. If you try to book on Trenitalia, there is a good chance your card will not work and the transaction won't go through.
There is a $5 charge per order to use ItaliaRail, but in our minds the convenience of knowing everything will work correctly is worth it.
When you are booking your ticket on ItaliaRail, you'll see a list of prices to upgrade from standard class to premium, business, business salottino, or executive. There is also a standard quiet car, which is the same price as standard. If you would like to sleep on your trip, this is a good option.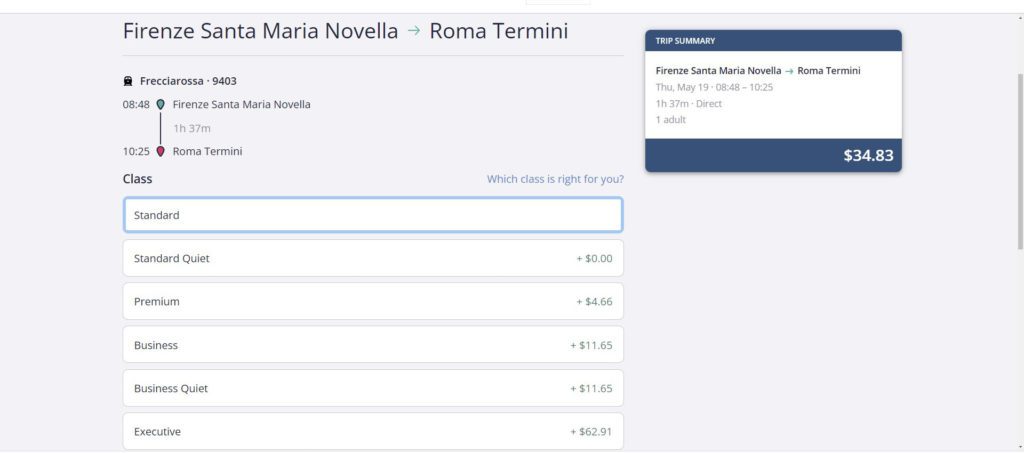 It will cost an additional $2.33 per seat to choose a seat on ItaliaRail, which is again worth the cost.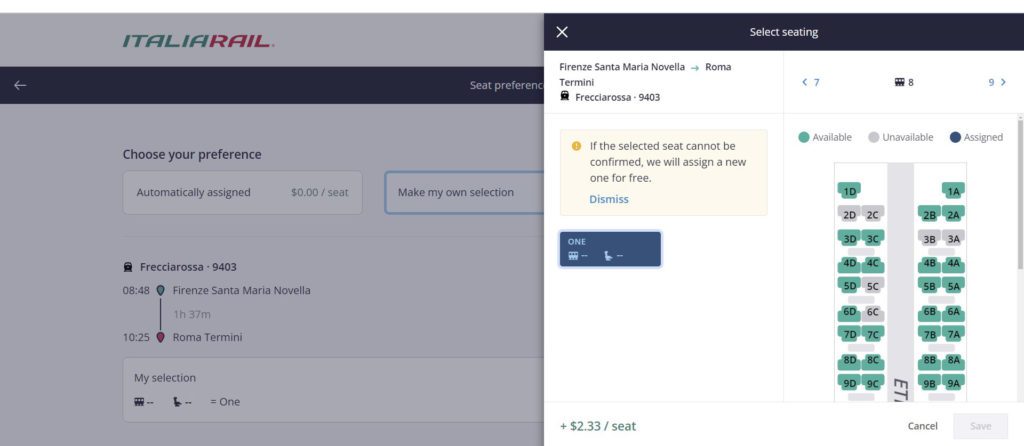 On the seating diagram, green seats are available and grey seats are already sold. They grey bars represent tables, so if you want to sit across the table from someone you could choose 5A and 6A in this picture. At the top of the diagram note the numbers 7, 8 and 9. These are different coaches. You can choose other coaches to look at and you might find one that is less full or has a window seat available.
Once purchased the tickets will be emailed to you. They are pre validated, so you don't need to validate them at the station.
Is There Luggage Storage Space In Standard Class
There are at least two large luggage racks in each Standard Class car. You will also find storage in the overheard racks above the seats. The luggage racks at the end of each car are large enough for large baggage. If you have smaller bags, it's best to use the space in the racks above the seats to store your things.
There is a small amount of space on the floor near your feet as well as a small space under the seat. These two spaces are very small, so you won't be able to store much there. You will also find a hook near the head of the seat on the wall. You can use these hooks to hang small bags or purses as well as a coat or jacket.
Is Standard Class Worth It
Standard Class is the least expensive seat class available on the Trentialia Frecciarossa trains. It is going to be the most crowded but you will save some money. If you are traveling a very short distance, it's best to just book a Standard Class seat and save your money for the other classes on longer trips. The seats are suitable for a short ride and you can purchase food and drinks in the Bistro car.