What To Expect In Trenitalia Frecciarossa Salottino Class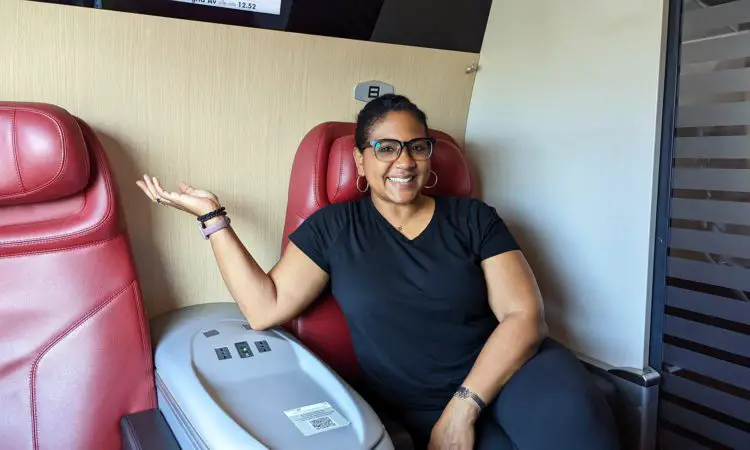 Grounded Life Travel is supported by its audience. When you purchase through links on our site, we may earn an affiliate commission.As an Amazon Associate I earn from qualifying purchases.
If you are planning on riding trains in Italy here is what to expect in Trenitalia Frecciarossa Salottino Class. There are several seat classes on the Trenitalia Frecciarossa trains. We have had the opportunity to ride in every class Trenitalia offers. Salottino is one of the top tier seat classes on this high speed train in Italy. Here is what you can expect in Salottino class seats.
What We Did
We rode Trenitalia Frecciarossa Salottino Class from Florence to Torino. This ride was about 3 hours. Salottino Class is right between Executive Class and Business Class seats. These seats are unique as there are only 8 available on each train that offers them. There are four seats in each room. There is a glass door that closes the area off from the hallway, not a room like on the Notte Trains.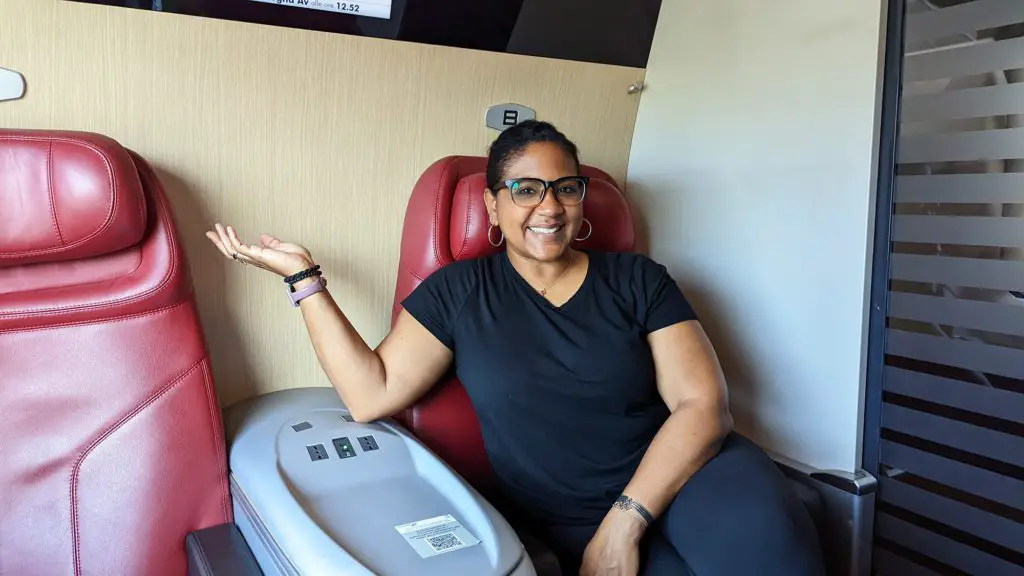 The advantage to Salottino Class is the quiet and comfort of being in your own room on the train. The disadvantage is that you have to share it with other passengers if you do not book four seats. We were fortunate that we had the whole room to ourselves for the three hour ride. It was a very enjoyable way to travel for three hours. The huge picture window was great for taking in the scenery along the way.
What Is Included In Salottino Class
Salottino Class Includes:
Freccia Lounge Access
Free Drinks
Free Snacks (salty or sweet)
Large Comfortable Reclining Seats
Private Room for Four
Personal Overhead Storage Space
Do You Get A Meal With Salottino Class?
Unlike Executive Class on Trenitalia Frecciarossa, you do not get a full meal in Salottino Class. You will get a choice of water, juice, soft drinks, coffee, beer and wine. They gave us water and let us choose another drink. A bit later they came by and offered more. We were also given a small snack. Our attendant offered us a sweet snack or a salty snack. The sweet snack was a small pack of chocolate chip cookies and the salty snack was a package of snack crackers.
Rob and I typically get one of each of the snacks and split them between us so we can have both. The attendant offered us both snacks each, which was very nice. We saved some snacks to enjoy in our hotel room later.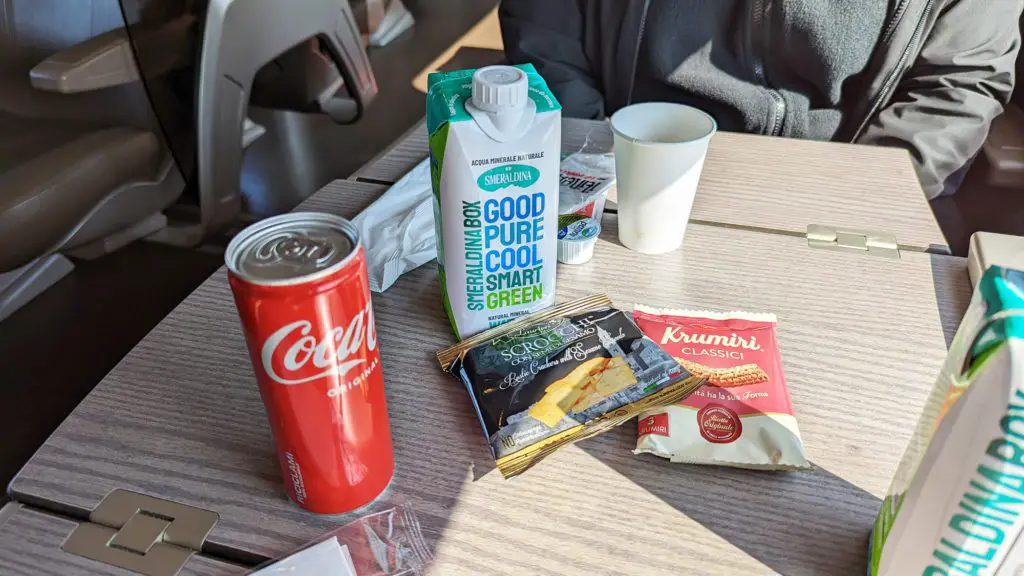 How Much Does Salottino Class Cost?
We rode Trenitalia Frecciarossa in Salottino Class from Florence to Torino and paid $140 for two seats. Salottino Class is typically about $30 more than regular Business Class seats. It's not much more to pay for more comfortable seats and a private area to enjoy the train ride, especially if you are going more than two hours. You get the same snacks as the Business Class but you get more comfortable seats and a bit more privacy.
Keep in mind that there are only eight Salottino seats available on each train with this class on it. When you book your seats you will be able to see if there is currently anyone booked in for your ride. It's always possible someone can still book in after you get your seats but there is a better chance of getting them to yourself if no one is booked into any of the eight seats. When we booked ours, we were the first people booked into the seats for the train.
The other Salottino Class "room" was empty, the train staff used it to store their bags. So, it is possible to get the seats to yourself but just be aware that anyone can book the seats at any time. Still, it's not bad to upgrade to these seats from Business Class.
Salottino Class Seat Tour
Salottino Class seats were one of our favorites, second only to the Executive Class seats. The leather seats are wide. You will also find a nice comfortable head rest that makes it easy to just fall asleep if you're tired. The seats recline a bit but not all the way. It can be a little awkward if you do not know the person in front of you, your feet will be nearly touching.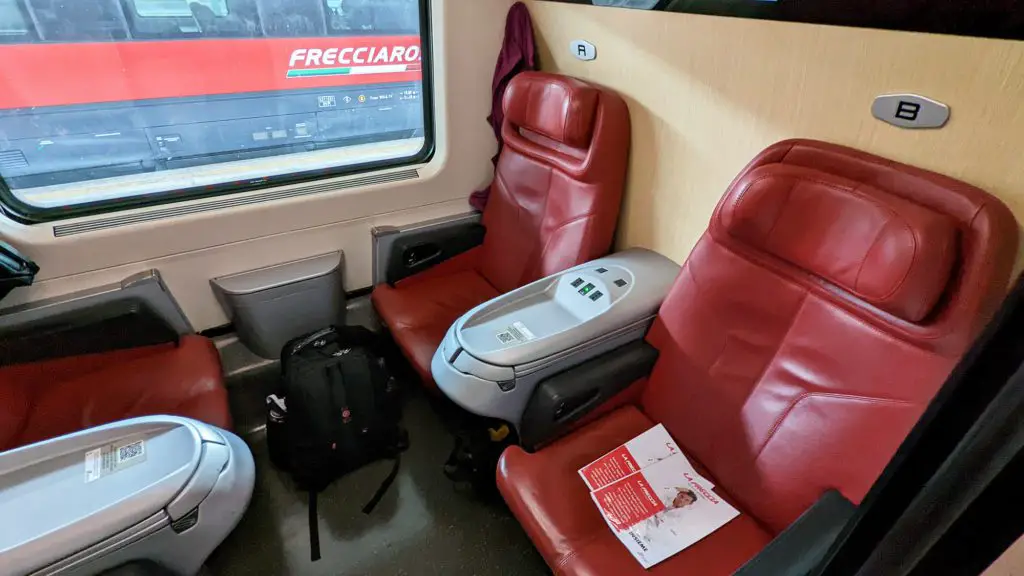 Your seat also comes with a foldable tray table, a electrical outlet as well as a USB outlet for charging your electronics. There is an information screen just below the storage area on each side. You will also find a small, shared storage space between the seats under the arm rest. The arm rest has ample room for two people to share easily. There is a cup holder cut out in the tray table but it is not a secure place to put your beverage.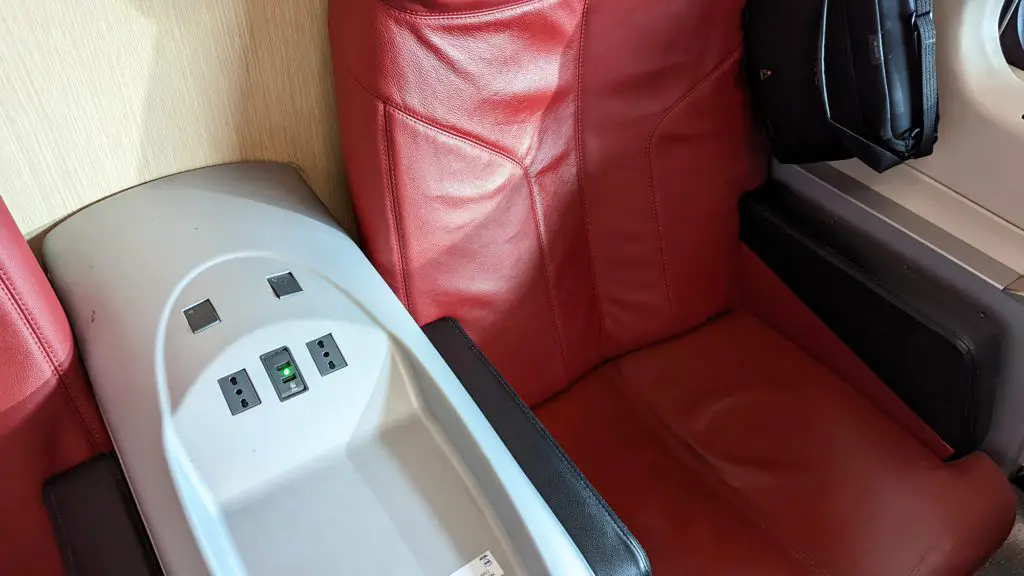 One thing you will not find in the seating area in Salottino is large luggage storage. While there is storage for smaller bags overhead, if you have bigger bags, like us, you will have to store them in the Business Class luggage rack.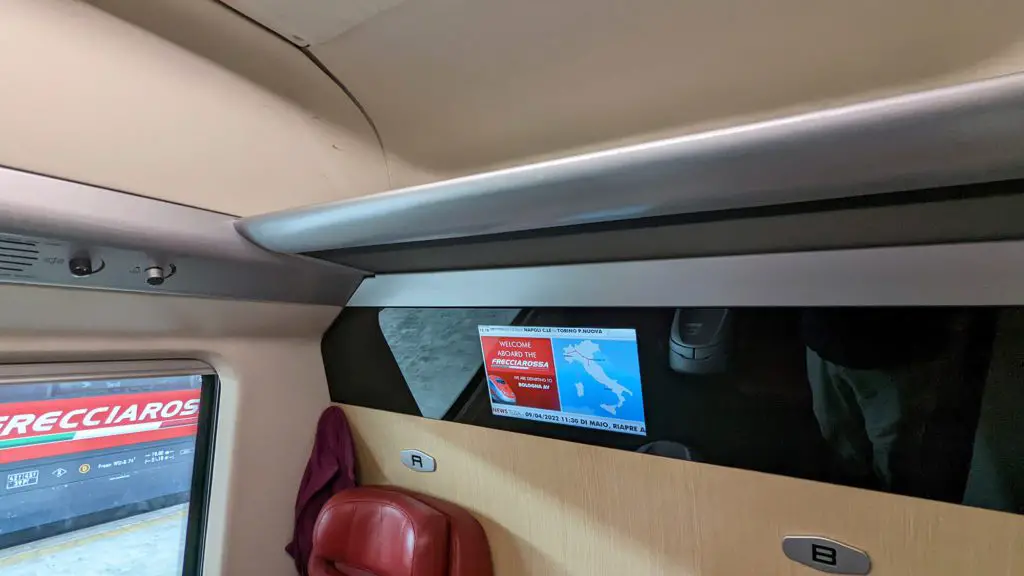 Is Trenitalia Frecciarossa Salottino Class Worth It?
Rob and I enjoyed our ride in Salottino Class. It was a comfortable, private ride. But the downfall of this seat class is that you may have to share the space with someone you don't know, unless you have four seats booked. The seats are certainly more comfortable than Business Class but I'm not sure it makes up for the $30 difference in fare price. For most of our rides in Italy on our vacation, we mainly booked Business Class seats and it was comfortable enough.
I would recommend booking Salottino Class seats if you have four people traveling in your group. You will have the entire room to yourselves. It is very comfortable and the attendants are very attentive. If you are doing a three to five hour ride then go ahead and book this seat upgrade for the extra comfort. If you are going a shorter distance, you are better off in Business Class.
We enjoyed this ride in Salottino Class. If you want to give it a try, it's worth it, if you can get it to yourself. Personally, we would prefer not to share with strangers in such a close space. We gambled on booking the seats and it paid off. If was fun and a good experience.