We Rode In Trenitalia Executive Class: Here's Why We Loved It
Grounded Life Travel is supported by its audience. When you purchase through links on our site, we may earn an affiliate commission.As an Amazon Associate I earn from qualifying purchases. List of everything we use in our travels.
Trenitalia Executive Class is the ultimate in train luxury in Italy. It is an experience like no other in Italy, and in fact most of Europe. What can you expect when you get one of these 10 prized seats in the Executive coach? We rode it to find out.
What Is Executive Class on Trenitalia
Executive Class is the top class tier on Trenitalia Frecciarossa high speed trains. Executive class includes hot meals, expanded service, meeting areas, and access to the Freccialounge. There are only 10 seats per coach and only one coach per train.
What we did
We rode Trenitalia Executive Class from Bari to Florence and paid $150 each for the 6 hour ride. Our trip was in April during the middle of the week. Interestingly, for almost the entire duration of our trip, we were the only passengers in Executive Class. Two other passenger got on with about 1 hour to go, so we had the coach to ourselves for 5 hours.
What Executive Class includes
Executive Class Includes:
Hot Meals
Drinks
Large seats one per aisle
Meeting area on the train
Freccialounge access
Expanded service
Food in Executive Class
We found the food in Executive Class to be wonderful. They have a menu for breakfast and another that covers snacks and one for lunch and dinner. Meals are served at your seat. During our 6 hour trip we were offered a lunch and a dinner choice as well as dessert for both.
The attendant brought us a paper menu to look at before coming back a little while later to take our order. After ordering, food was brought to us in about 20 minutes.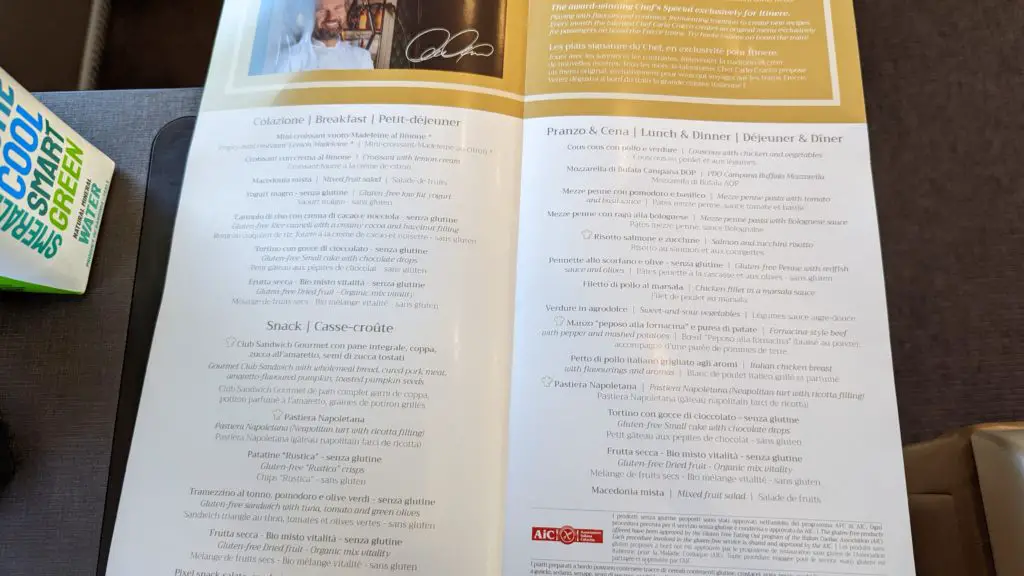 The first thing we got was the mozzarella cheese ball, which was very delicious!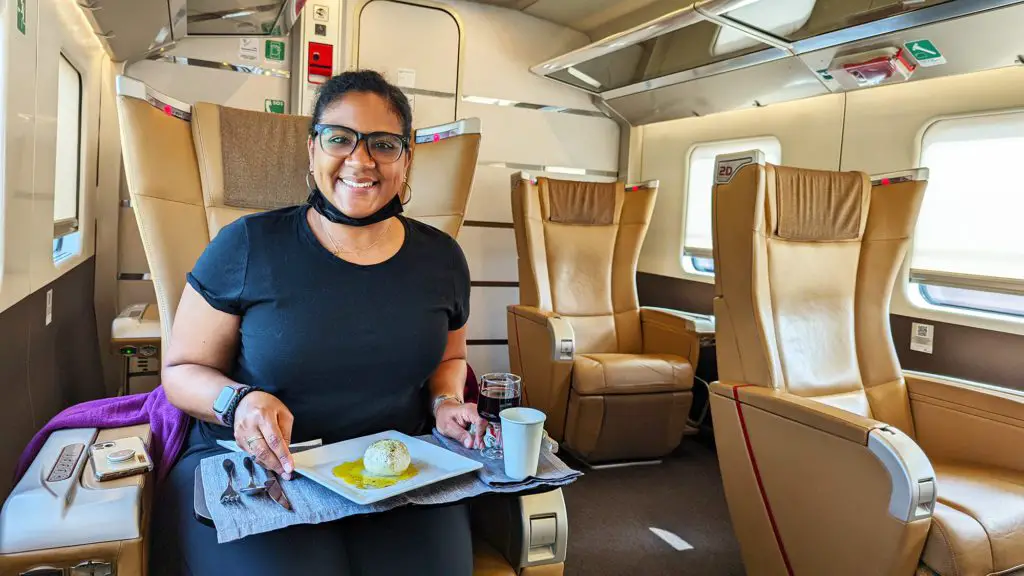 Allie ordered the salmon and zucchini risotto for her lunch while I got the fornacina-style beef.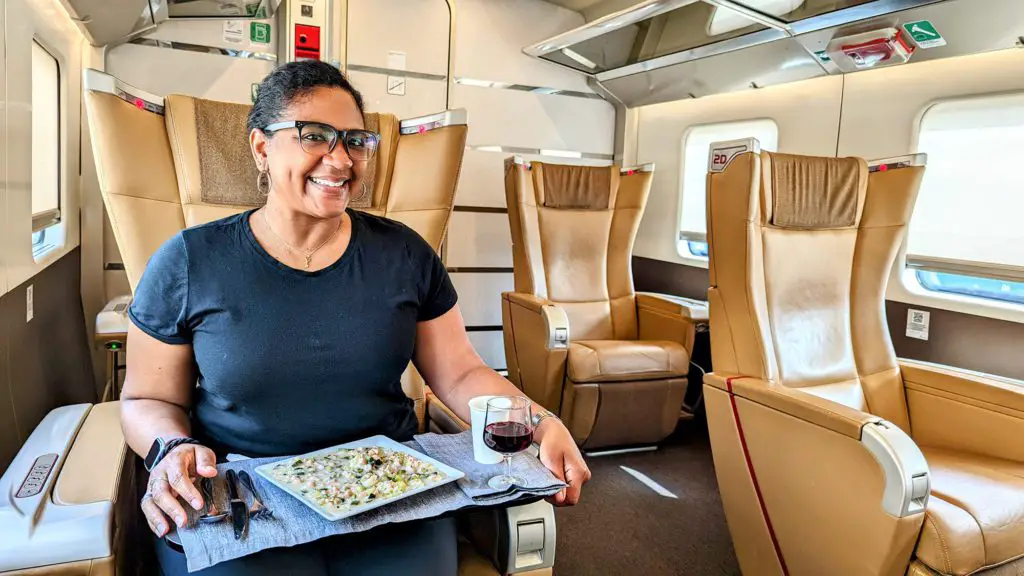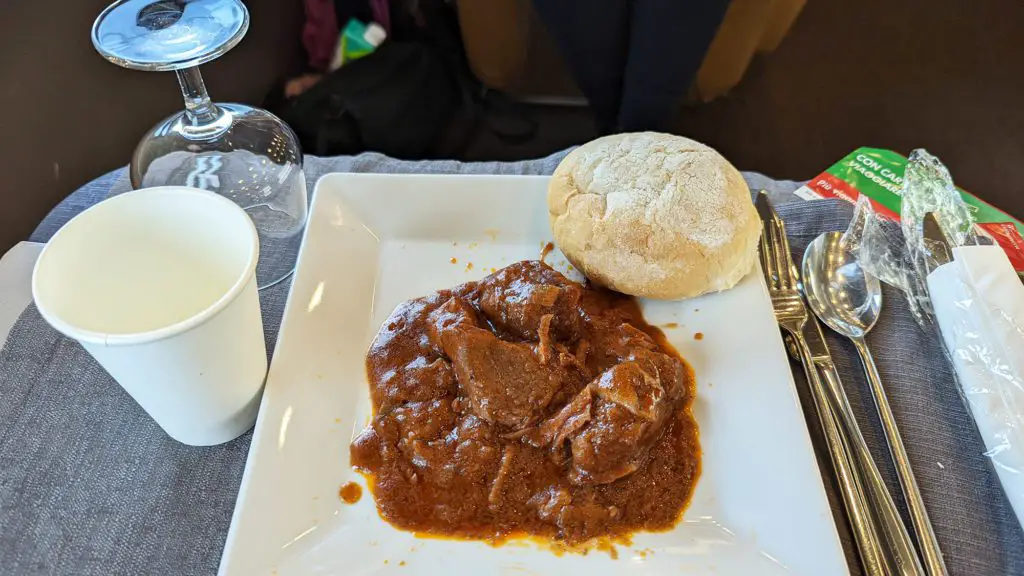 The beef ended up being so good that we both got it again for dinner! Both times though it said it came with potatoes, but did not. Bread was included. They also brought us wine and water and would have brought any other drinks we asked for.
We finished the meal off with some fruit which was excellent.
The food on the Trenitalia Executive Class car is the best food you can get on a high speed train in Europe. We thought it was very high quality and the service was excellent. It really adds to the value of buying this seat if you are taking a longer trip.
How much do Executive Class tickets cost
Trenitalia Executive Class tickets are a substantial premium over regular business class tickets. Expect to pay $75-$150 more than a regular ticket to sit in Executive Class. For our money though, the experience was worth the cost.
Executive Class seat tour
To put it simply, the Executive Class seats are huge! I've never seen seats so big with so much room around them on any plane, train or bus. With only 10 seats per coach you'll have plenty of room to spread out.
Tables for the seat pop out from one of the armrests, giving you a place to eat or work.
The seats have electronic recline buttons, which control not only the back of the seat for recline, but a footrest that comes up for your feet. In addition to recline, the seats will swivel in both directions.
There are also charging ports at each seat and a compartment to hold your smaller bags in the side of the seat.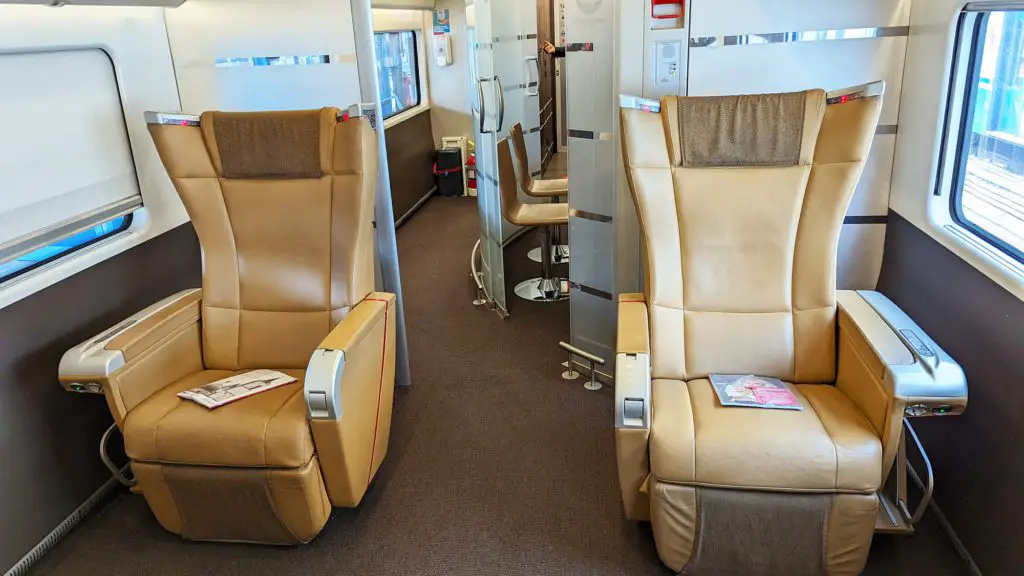 While there is a place to store luggage overhead, there is so much room between the seats that we just stored both of our large suitcases and backpacks between the seats. I can't emphasize enough how big these seats are, as the seats make these large suitcases seem quite small.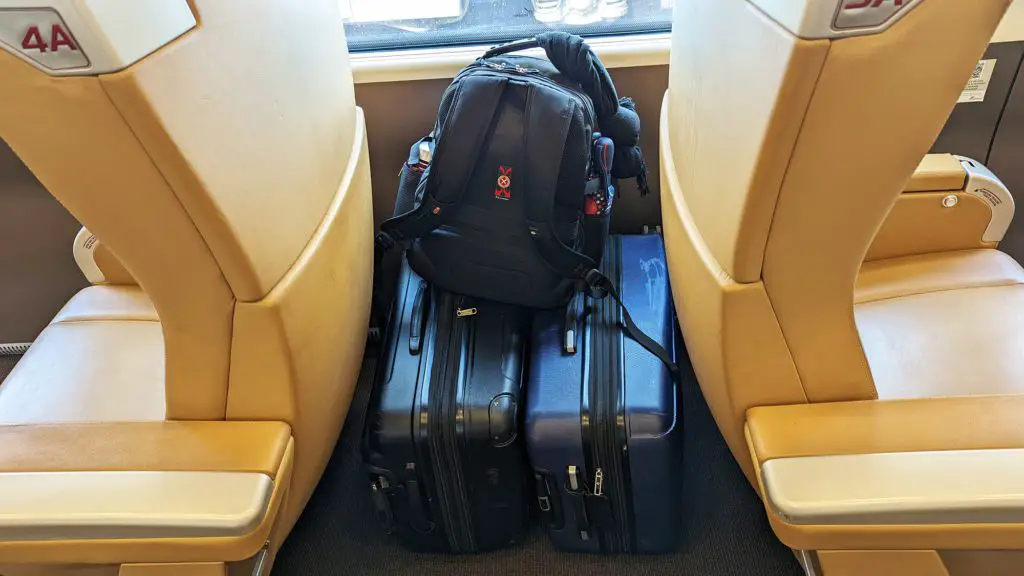 The distance between your seat and the person across from you is almost comically far. A few times I tried to take a picture of Allie and had to use the zoom function on my phone to do it! You will never run out of leg room with these seats.
One of the most interesting aspects of the Executive Coach is the boardroom. At the end of the coach there is a meeting room with glass doors that can close for privacy. There are seats situated around a conference table that folds up. I thought about going down to get a little work done, but in the end decided to just enjoy the views out of the windows at my seat.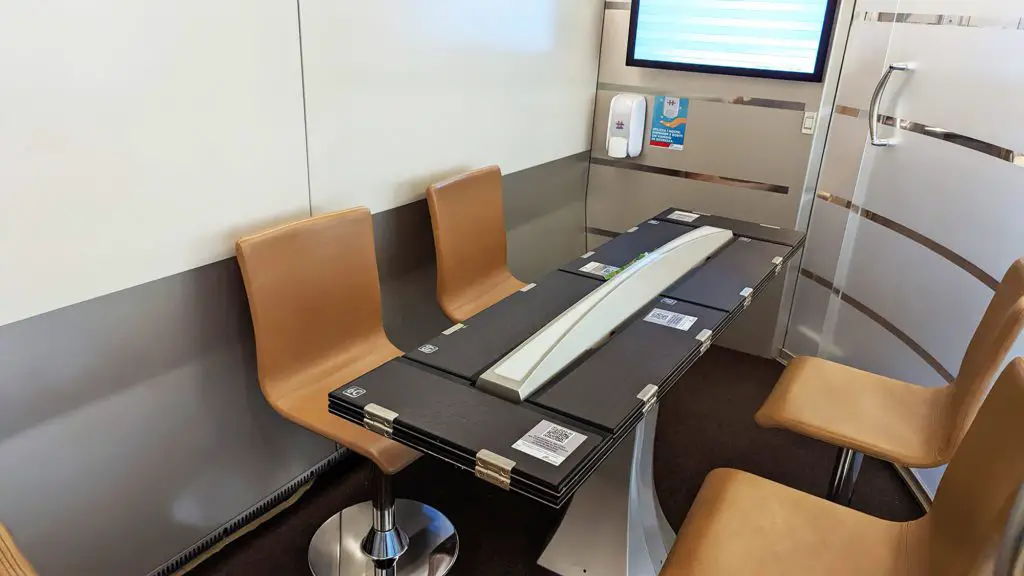 Executive Class Service
The service level in Executive Class on Trenitalia is the highest we saw on our whole trip to Europe. Attendants were polite, generous and helped us with anything we needed. We would rate the service level as excellent. They truly make you feel like you are having a first class experience.
Is Executive Class Worth It
The bottom line is that Executive Class is worth it on an Italian train vacation. We wouldn't book it for every leg of our trip, but pick a long one that seems reasonably priced, and it will be worth the cost. For most of our other trips in the country we opted to ride in Business Class. It is certainly a splurge to ride in Executive Class, but you should experience it at least once during your time in Italy.
When you count in the cost of two full meals with drinks in Italy, the cost of the ticket seems quite a bit more justifiable.
We found that routes between major cities generally had the highest prices, especially in the northern part of the country. We rode it from Bari to Florence because the price for that trip wasn't a substantial upcharge from the Business Class that we were going to buy anyway.