Best Amtrak Trips From New Orleans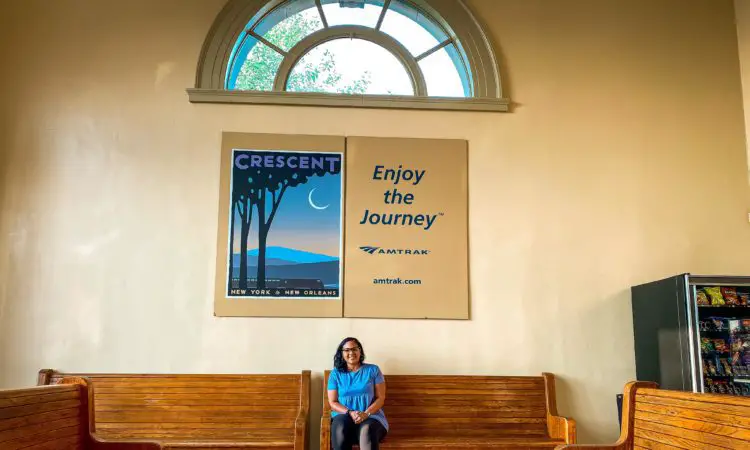 Grounded Life Travel is supported by its audience. When you purchase through links on our site, we may earn an affiliate commission.As an Amazon Associate I earn from qualifying purchases. List of everything we use in our travels.
New Orleans is really like no other city in the United States. The conglomeration of culture, architecture, history and entertainment has all other cities beat.
The music that you will hear on every street corner and alleyway is original and has that sound that informs you of exactly where you are. Jazz is the sound of New Orleans and is played everywhere from clubs to funerals. There is so much soul in the music and lyrics that you can feel it in your bones!
Choosing to start your vacation in New Orleans will set the tone for an experience of a life time. Start in New Orleans and head out west for an adventure that can't be scripted. Likewise, you can head east and visit cities with sky scrapers and peaches. Head north and see a Great Lake kissed by a world class city.
The best Amtrak trips from New Orleans are definitely worth the trip. Atlanta, Los Angeles, Chicago and San Antonio all have something to offer that will make your ride on the rails a priceless memory.
Before you head out on your journey be sure to check out our list of 20 must have items for your next Amtrak trip.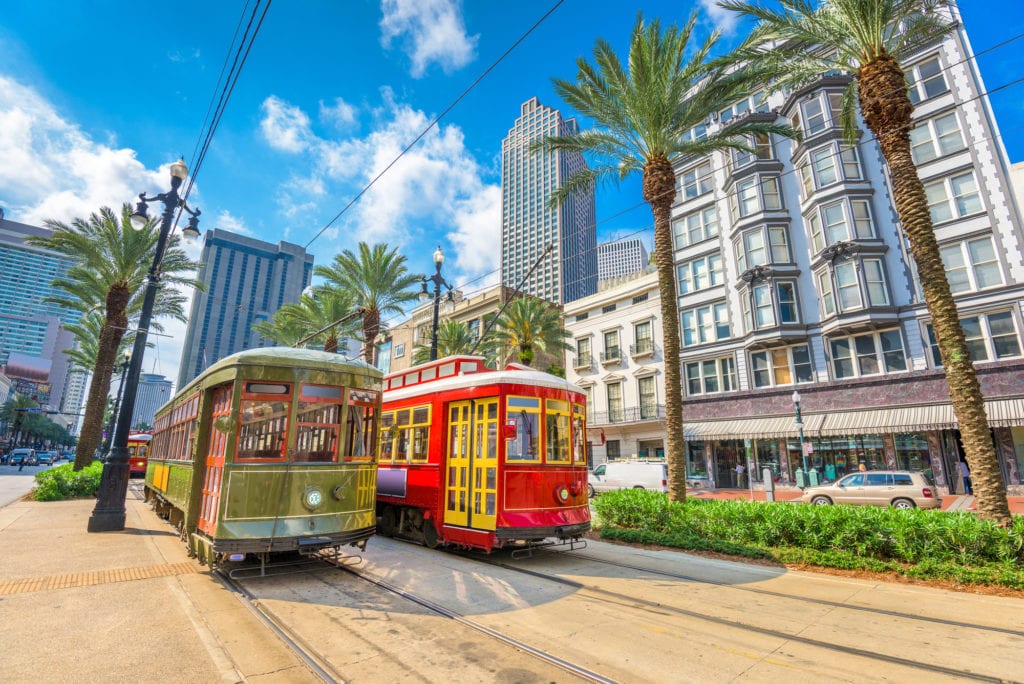 Atlanta
How to get to Atlanta from New Orleans
Getting from New Orleans is a nice glide across the southern tier of America that will show you forests, fields and swamps. Both the fact and folklore that have made this part of the country mysterious is evident in the scenery that will pass you by. Start at Union Station in New Orleans and land in Atlanta later that same night. In under 13 hours you can be in Atlanta ready for a night on the town. If you were to drive this part of the country it would be a quick 7 hours, but most of the fun would be lost.
I have done this trip on Amtrak and it is a childhood memory that will be seared in my mind forever. Gliding across Lake Ponchartrain feels like you are flying over it. I remember scanning the water for alligators. I never saw any, but I knew they were there.
Riding the Amtrak Crescent might just be the best part of your vacation. You can choose any seat from Coach to Bedroom Suites on the Crescent. For this 13 hours venture, a bedroom would work well for passengers with children or those that need to get work done. However, if you are on a vacation, take advantage of the dining car for hot meals or grab a snack at the cafe car. The Crescent makes nine stops between Atlanta and New Orleans, giving you plenty of time to experience every amenity this train offers.
Things to do in Atlanta
The Deep South would be nothing without its ring leader, Atlanta. If skyscrapers and parks are your jam then Atlanta is a perfect place to go. Start at the MLK National Historic Site and learn about the leader that changed the world. Next, stroll down the Beltline, which is 22 miles of outdoor space that was formerly a railroad track. Here, you can visit one of the many quaint coffee shops that line this winner for recreation and gastro pleasantries. Make your way to the top of the Peachtree Plaza and have a beverage at their rotating lounge as you gaze at the city skyline that stretches for miles.
Los Angeles
How to get to Los Angeles from New Orleans
The trip from the New Orleans Union Station to Los Angeles's Union Station will be filled with the sandy southwest and its desert scenes. Hugging the Mexico Border will be an experience that you won't have often. Take advantage of the fantastic scenery on this 46 hour trip across much of the North American continent. Twenty-one stops over almost 1,700 miles shows you sprawling vistas views and desert landscapes dotted with cacti that you didn't know existed.
The Amtrak Sunset Limited will be your home for the next two days as you glide across the landscape. Get cozy in a roomette or get a family bedroom if you are bringing the kids. The Family Bedroom includes seating for four and four beds for crossing the country overnight.
Things to do in Los Angeles
There's no shortage of things to do in Los Angeles. Once there, you can choose to go the complete tourist route and take a tour of Beverly Hills or walk the Hollywood Walk of Fame and take pictures of actors' stars of the past and present. If you have kids with you, they'll be thrilled to visit Disneyland and Disneyland California Adventure. If you enjoy nature and history, don't miss the La Brea Tar Pits and let your mind wander to the past when dinosaurs roamed the Earth.
Tickets to attractions are expensive in LA, but you can save money by bundling the attractions with the all inclusive Go City Los Angeles Pass.
Chicago
How to get to Chicago From New Orleans
Going from New Orleans to Chicago will give you a new perspective on the heartland of America. Load up in New Orleans Union Station and enjoy a night on the train. Choose a comfortable bedroom and sleep throughout the 22 stop, 19 hour trip that this Amtrak route serves. By the time you awake, you'll be close to Chicago and ready for a day of fun.
The Amtrak City of New Orleans is a Superliner double decker passenger train that has all the amenities you will need for an overnight trip. However, during the day you can enjoy all of your meals in the dining car or in your room, if you have a bedroom, free of charge. You also need to take advantage of the Sightseer Lounge to get the best view. One notable item is that there is no WiFi available on the City of New Orleans, therefore you must make arrangements if you need to work or stream movies.
What to do in Chicago
There's always Cloud Gate or "The Bean" and Michigan Avenue to keep you entertained and your tummy full. However, if you get to Chicago and want to visit some lesser known attractions, consider some of these obscure places. Go to Lincoln Park and visit Oz Park. Walk through this park and encounter the cast of characters, Dorothy's Playlot and many more icons from this famous movie and novel. Next, you can stop by Wooly Mammoth Antiques and Oddities. Rummage through some of the weirdest items in America and take home an alligator lamp or an animal skull to add to your collection. Later, stop by Dusty Groove and take home a memory with a rare LP or 45 record.
When in Chicago we love to stay at the Hyatt Place Chicago in the loop or the La Quinta because they can both be walked to from the station.
We use the Go City all inclusive Chicago pass for our tickets when visiting the windy city, for one price you get discounted admission to everything you'll want to see.
San Antonio
How to get to San Antonio from New Orleans
Your trip from the "Big Easy" to "The Home of the Alamo" starts in New Orleans Union Station and ends 15 hours later in San Antonio. If you were to drive this route, it would take over eight hours. Be adventurous and take the Amtrak Sunset Limited and leave the car at home.
The Amtrak Sunset Limited is a luxurious train that has everything you would want for a nap or a good night's rest. From Coach to Family bedrooms, you can choose what fits your budget and travel style. A dining car and cafe round out the amenities that make this a great way to travel.
What to do in San Antonio
If you know me, you know I am a fan of anything free in any city. In San Antonio there is a lot to amuse you and many are FREE! Start at the Riverwalk to get the flavor of the city. Next, you haven't visited San Antonio unless you've been to the Alamo. The Japanese Tea Garden is also a great place to meditate or take in a beautiful spring day in San Antonio. Lastly, stroll around the El Mercado and see what interests you in this unique place of Mexican jewelry, candy and other unique items from Mexico.
Anywhere you go from New Orleans is going to be an adventure. After you've eaten the crawfish and walked the mysterious and curious streets, it's time to get to where you're going. Traveling from this great city on a train by Amtrak will add to the memories that you make when you get to your destination.
Go City San Antonio all inclusive attraction pass details can be found here.