Amtrak vs. Metra: Which One Should You Ride In Chicago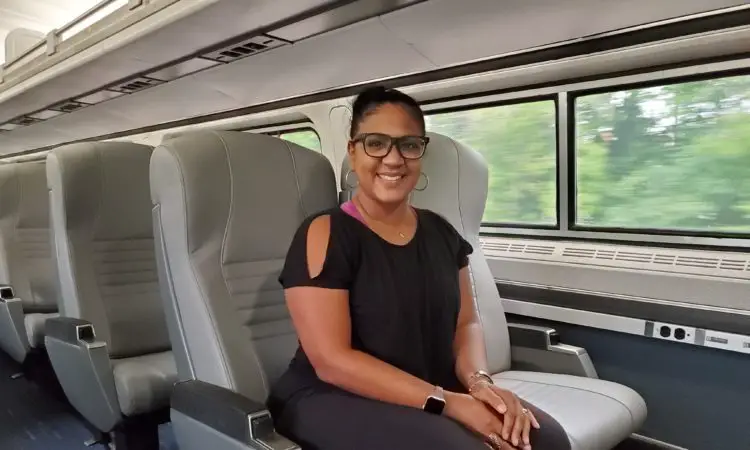 Grounded Life Travel is supported by its audience. When you purchase through links on our site, we may earn an affiliate commission.As an Amazon Associate I earn from qualifying purchases. List of everything we use in our travels.
If you plan to visit the Chicago area, you may be looking at what transportation choices are available. You can always take a taxi and the ever popular Uber ride is just a click away.
However, there is another choice. Taking a train around the Chicago land area is a fast and interesting way to travel within a 50 to 60 mile radius of the city. There are two ways to travel by train. You can either take the regional train, the Metra or you can take an Amtrak train. Both are a great way to get from one place to another, but they do have their differences.
When choosing between Amtrak and Metra, Amtrak is the clear winner for the speed, comfort and amenities it offers over Metra. The observation car is an awesome place to unwind and the large coach seats are very comfortable. Amtrak is worth the price upgrade over Metra.
What is a Metra train and where does it travel?
Chicago is not a newcomer when it comes to commuter rail systems. Commuter rails have been operating in the area since the 1850's. To keep things organized in and around Chicago, the Illinois General Assembly created the Regional Transportation Authority to consolidate all commuter train networks into one commuter rail division to which it has called Metra. Metra is a network of eleven lines that will take you virtually anywhere you would like to go in the greater metropolitan Chicago area. Metra does not operate outside of this realm, therefore you will have to take another commuter train if you are leaving the Chicago area.
What is Amtrak and how does it differ in the Chicago area?
Amtrak, or the National Railroad Passenger Corporation, is a federally and state funded entity of the United States government. It operates for profit, not only regionally but across the United States. The Metra is a choice in rail travel that will get you to many destinations around the Chicago area. Amtrak does the same but is more efficient, faster, and does not have as many stops as Metra.
What conveniences does Amtrak have over Metra?
Amtrak is equal or better to a premium airline. Amtrak features first class, business class and coach with all of it train services across the country regardless of regional or cross country travel. All seats are comfortable and have foot rests and most recline. There is reliable WiFi and power outlets available in the seating areas. There are ample restroom facilities with three to four stalls per car. If you need a bite to eat there is a cafe and a dining car available as well as a quiet car so that you can get some rest from any disturbances.
Which train service is more comfortable?
Metra's seating in the past use to feature flip around seats which have since been converted to forward facing seats on most cars. Officials also added cup holders and armrests and support for the head and lower back giving a much more comfortable ride.
Amtrak's seating is even more luxurious and spacious than the nicest first class seat on your favorite airline. Seats on Amtrak also recline with full leg rests that are similar to a chair you might find in any living room across America. There are also tray tables that are great for eating, working on your laptop or reading a book. If you want even more room, move to a lounge car that has full sized tables for even more comfort and convenience for all sorts of activities. Of course the caveat with all of this is that you may not need as much time to enjoy all of the amenities, because we are only examining Chicago regional travel. Trip times will be short due to this fact.
Which train service is more economical?
Riding Metra won't hit your wallet as hard as riding Amtrak. For a day pass, depending on where you are going you will pay between $6.00 to $10.00 on Metra. However, Amtrak can cost up to $25.00 for the same ticket. Of course, there are amenities that you get for that ticket price, which is always nice.
Which train service is faster?
If you were to look at which train service was faster for a trip across town and into a nearby neighborhood, the majority of the time it will be Amtrak. This is because Amtrak does not stop as often as Metra.
For example, if you were to take a trip from the outskirts of Chicago from the neighborhood of Racine on Amtrak you could complete the trip in one hour with only one stop. This will cost you $12, but it is worth the convenience. On the other hand, if you were to take that same trip with Metra, the train will make 15-25 stops and take 90 minutes to two hours. This is definitely a factor to consider when taking a trip, even if it is a short one.
Another factor is that Amtrak trains travel faster than Metra trains. Amtrak trains travel at 90 mph at their top speed around town, while Metra tops out at only 79 mph.
Which train service is safe?
Both Amtrak and Metra pride themselves on safety and cleanliness. Both services have good records.
Cleanliness
Amtrak deep cleans and sanitizes all of its cars daily. There are also very sophisticated filtration systems that exchange fresh air at a rate of every 4-5 minutes.
Metra also follows suit with all cars being cleaned at least once a day. The heating and air system also replaces all the air in each car 15 times an hour. Metra has also launched a ridership dashboard so that you can see how many passengers are scheduled to be on each train. This helps passengers make good decisions about whether they want to take a particular train or not.
Safety
As far as other safety measures, Metra has a staff of over 140 officers to ensure that you are safe on your trip. Metra also has a Homeland Security Department as well as Train Riding and K9 Explosive Detection Teams that it works closely with to further ensure passenger safety.
The Amtrak Police Department also works to ensure passenger safety by deterring and investigating any crime and acting as a first responder in the event of an unforeseen incident. At Chicago's Union Station, you will see a large Chicago Police as well as Amtrak Police presence. The conductor of an Amtrak train also has complete authority over the conduct of its passengers such as a captain of a ship. He/she has the authority to remove a passenger if conduct is against the law or dangerous.
Riding Metra or Amtrak in order to get to any destination in the greater Chicago area is a great alternative to driving. Although they have their differences, both serve a purpose and can exist symbiotically to serve the people of Chicago.