Visiting White Sands National Park In Winter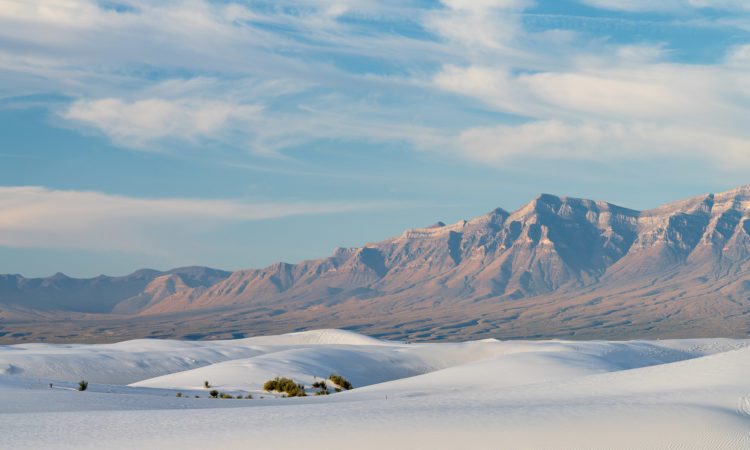 Grounded Life Travel is supported by its audience. When you purchase through links on our site, we may earn an affiliate commission.As an Amazon Associate I earn from qualifying purchases. List of everything we use in our travels.
Visiting White Sands National Park in Winter might seem like a mistake. I mean, it's the dead of winter and the snow is a foot deep where you are. Why would you want to visit a place that looks like your backyard? You've been looking at that bright, alabaster snow since early November and it's cold! Bone chilling, dry ice cold. Isn't it miserable when Visiting White Sands National Park In Winter?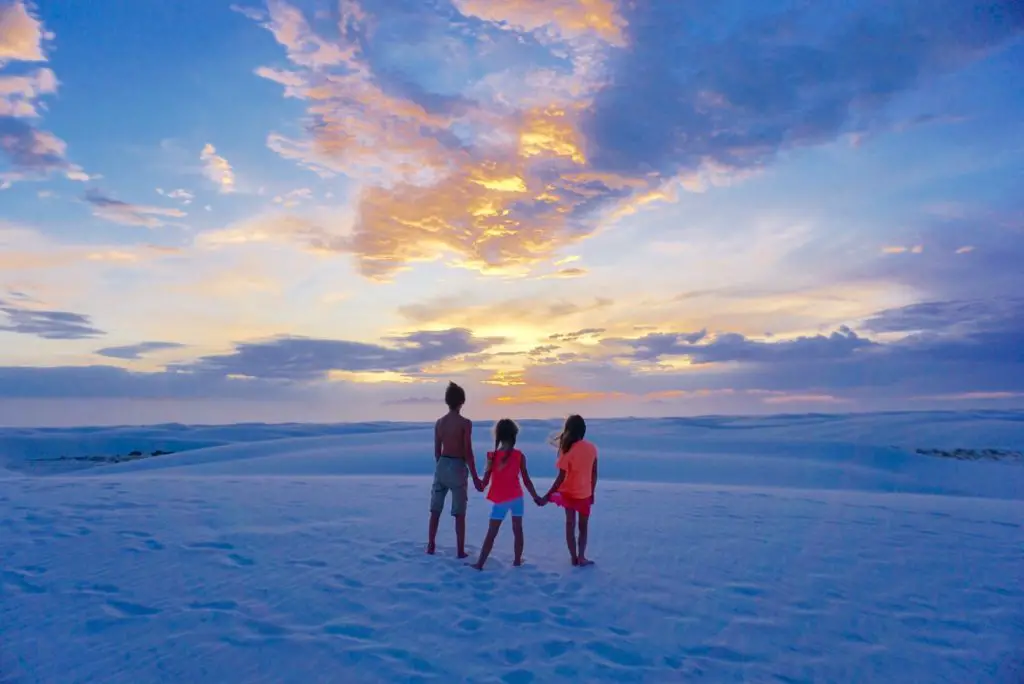 Let's get it out of the way. You want to go somewhere in the southwest during the holiday break but you don't know if it's a good idea. You really want somewhere with sand and sun and warmth on your skin.
Can You Visit White Sands National Park In December?
You can visit White Sands National Park in December and tick all those requirements off your list. Sand, sun and fun will be the order of the day when Visiting White Sands National Park In Winter.
White Sands is located in the southwestern United States, in New Mexico, about 100 miles from the Mexico Border. It lies nestled between the Sacramento Mountains and the San Andres Mountain Range at 4,300 feet in elevation.
It's close enough to the equator to get the warmth from the sun year round and low enough in elevation that it experiences mild winters. In fact, when you visit in the winter, the temperature is very likely to be near 60 degrees Fahrenheit. With an average of 291 days of sun a year, this is everything you want in a holiday destination!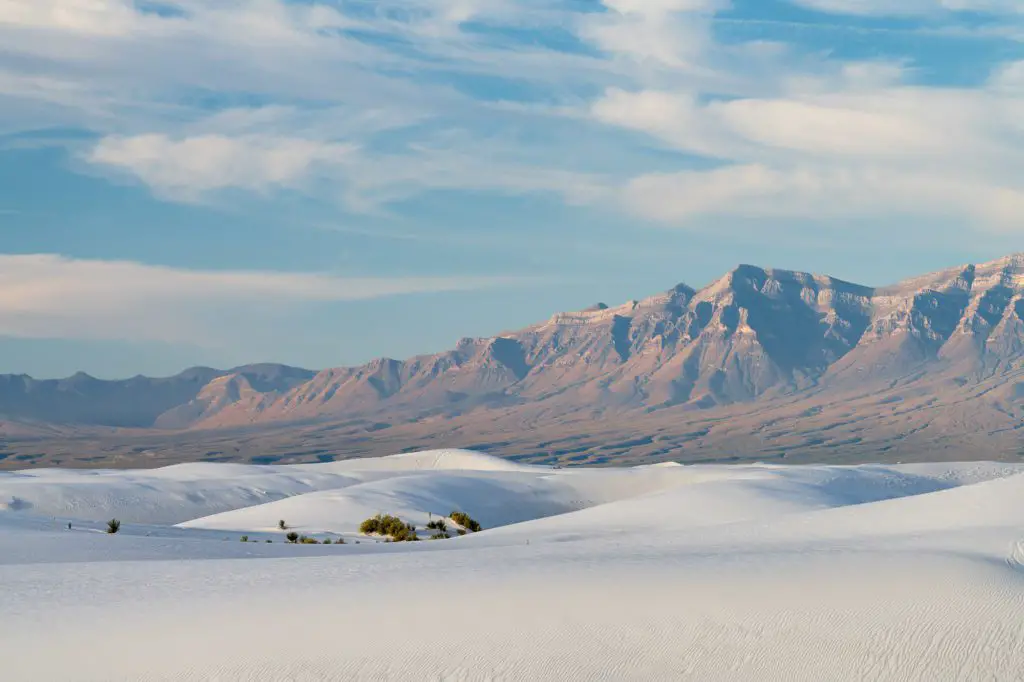 White Sands National Park Tips
For more help planning your trip to White Sands see our list of the best things to do at White Sands National Park and the best things to do near White Sands National Park. A few other posts that might be helpful are:
Does It Snow In White Sands National Park?
The quick answer is yes, it does snow in White Sands National Park in winter, but only an average of three inches per year. The nights can be cold in White Sands so if it does snow, it will be short lived. Chances are it will be gone before you finish your morning coffee. By the time you're ready to go sand sledding, you'll most likely be sledding on just the sand and not snow in a balmy 60 degree, sun drenched day.
Is White Sands Worth Visiting?
White Sands National Park is one of the newest national parks in the system, having been established in 2019. Before this time, it was only a national monument. What took them so long?
White Sands National Park is one of those places that puts your brain in absolute sensory overload. The vast expanse of just how huge it is, is mind blowing. The 225 square mile field of white gypsum cast in front of the snow capped mountains is otherworldly. So, yes! It is definitely worth visiting.
How Did White Sands National Park Form?
It is a misconception that White "Sands" has any sand at all. To the contrary, White Sands has more in common with the construction of your home than anything. The "sand" in White Sands is actually gypsum. Gypsum is the powdery material that is used to make the sheetrock, which is what your walls are made of. We all know what happens when a hole is accidentally knocked in the wall. The powdery gypsum falls out, making a mess.
This same mineral is found in the San Andres mountains that frame the dunes. Erosion takes the gypsum from the mountains and deposits it into Lake Lucero in the Tularosa Valley Basin. The lake only fills when there is ample water, but it eventually dries up. The gypsum deposits are left behind and the wind batters the crystals of gypsum. Tiny particles are then swept into the dune field where it is trapped and stays for our enjoyment.
How Much Time Do You Need At White Sands National Park?
In December or January, you'll have the park to yourselves. With an average of only around 25,000 visitors at this time, you'll get to peruse the visitor's center in peace and have your pick of the best sand hills in the dunes.
I recommend allowing 3-4 hours in the park. You should start at the visitor's center. Learning about the geology of the park is absolutely fascinating. It will be well worth your time to watch the video there and learn as much as you can before heading out. If you didn't bring a sled, you can pick one up in the gift shop of the visitor's center. They have new and used toboggans for between $10-$20.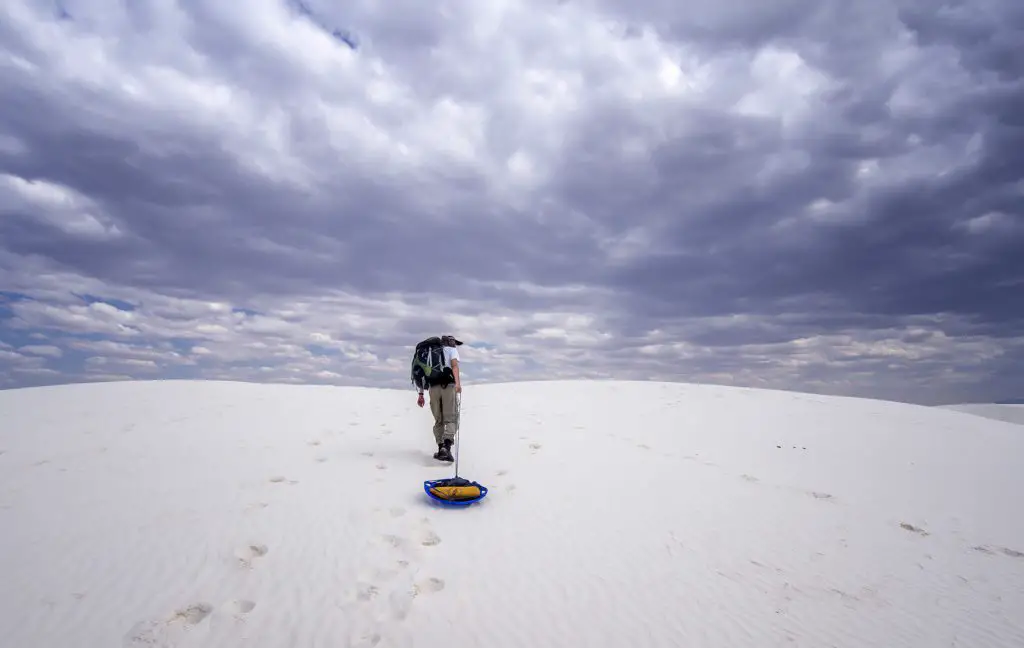 You'll want to then scout out areas in the park to explore. The park road goes back into the dune field 8 miles. I would recommend driving the entire route to see what areas interest you. If you don't have time to enter the dune field and play for a while or you have an impairment, you can use the Interdune Boardwalk, which is a .4 mile wheelchair accessible boardwalk that leads to the top of the dune. Interpretive plaques add to the walk that showcase all of the interesting elements of the park.
There is ample parking space and many covered picnic areas, so make sure you pack a lunch. When we were there, we brought our Blackstone Grill and made hot dogs. We had to fuel up before sledding.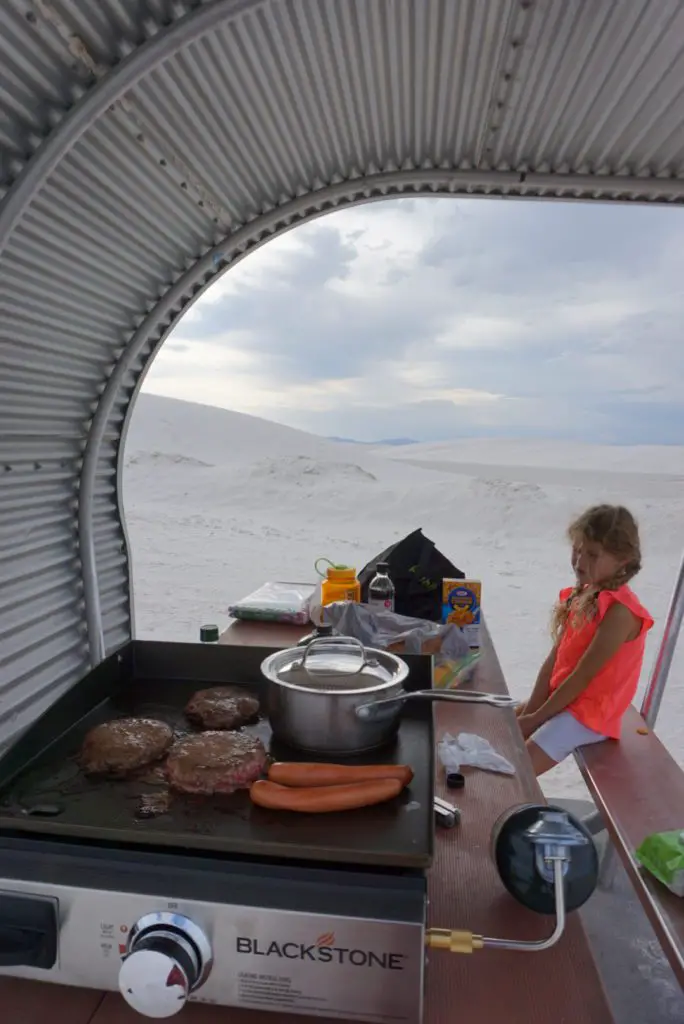 If you want to join a ranger led tour, you will need enough time to do this, which can add 2-3 hours to your time in the park. There are a variety of tours and they are well worth the time invested.
What Should I Bring Into The Dunes In White Sands National Park?
White Sands National Park is a great place to visit in the winter time. You will most likely be blessed with mild temperatures and sunny skies. But, you should still be prepared if you are going hiking or sledding in the dunes.
Sunscreen
The gypsum is not actually white, but clear. As the gypsum tumbles to its resting place, it gets scratched. The scratches reflect sunlight, and this is how it gets its white color. Because it is such a bright white, getting sunburned on even the cloudiest day is a real possibility. Make sure you have a high SPF sunscreen to protect your skin.
Sun Protection
Wind can also be a factor. Bring a good windbreaker so that the gypsum won't sting your skin. A hat and sunglasses are also a must when visiting because the suns rays can be so intense, especially in the winter time. If you are visiting in the earlier part of the day you should layer up, because a s soon as the sun gets higher, you'll be wanting to strip down quickly.
Compass
Cell service is very limited in the park. This can become apparent if you try to use your GPS when hiking off the trails in the dunes. Chances are it won't work. Make sure you bring a compass so you can orient yourself to the markers that have been left in the park to guide you. If you aren't comfortable hiking away from trails, you can stay on the five official trails that are marked to guide you when hiking.
Water and Food
As always, water is probably the most important thing you can bring on a hike. It is very arid in White Sands and your mouth will most certainly be parched. Bring a gallon of water per person, ideally, in a backpack water carrier such as a Camelback, so that your hands are free at all times.
Food is a good second staple, for a quick energy boost or in case you get turned around and it takes you longer to get back to your starting point.
Visiting White Sands National Park In Winter, won't be much unlike any other time you visit. Sun, and warmth will be plentiful and you'll be able to mark off another gorgeous national park on your list. Who says you have to have snow and ice to make holiday memories?