Best Time Of Year To Visit White Sands National Park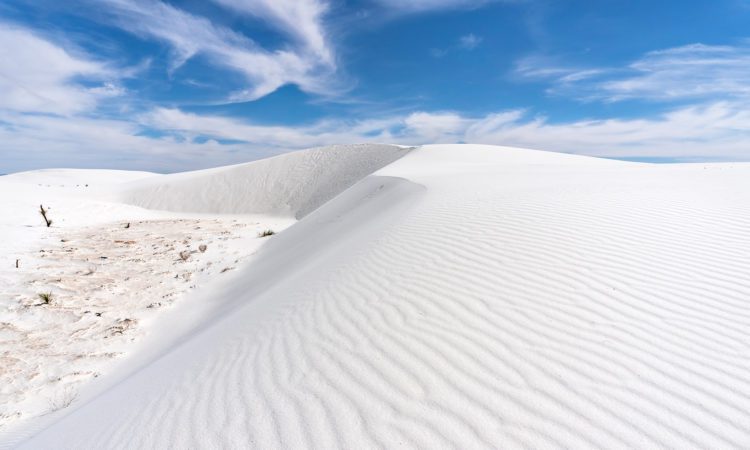 Grounded Life Travel is supported by its audience. When you purchase through links on our site, we may earn an affiliate commission.As an Amazon Associate I earn from qualifying purchases. List of everything we use in our travels.
If you are thinking of planning an amazing Southwest vacation, you will want to know what the best time of year to visit White Sands National Park is.
Is it in the summertime when the kids are out of school and you are itching for a break? Is it the winter time when you will virtually have the park to yourself? Is it the spring, when the yucca are in bloom and the entire park comes alive with new life? Maybe, it's in the Fall when temperatures cool and the Milky Way is at its best viewing capacity?
Yes! That's it! Fall is the best time of year to visit White Sands National Park. But, what makes this Fall such a great time of year to visit?
The weather in the fall time is amazing!
There aren't many places in the United States that you can wake up to high forty degree Fahrenheit temperatures and spend the day in the mid seventies. The fall is also a great time because you are more apt to get some of the 291 days of sunshine that White Sands gets per year. Now that's a lot of rays!
Wind can also be somewhat a nuisance in this part of the country. I've been to White Sands when a wind storm came up, and let me tell you, you feel like you're being whipped by 10,000 tiny ants. Let's just say, it's not comfortable. But, in the fall you are less likely to get these unpleasant days, leaving you with more time to explore.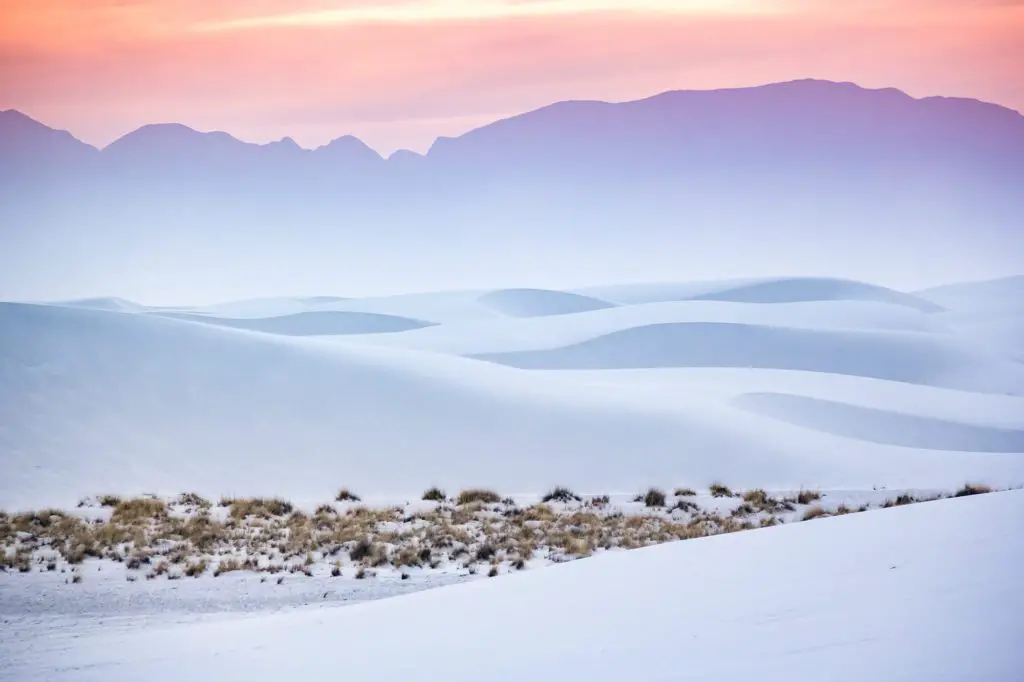 You will have every dune to yourself for dune sledding.
You came to White Sands National Park to see the beautiful scenery, learn some geological history and maybe even take some sunset photos. But, let's face it. The top reason you came was to dune sled.
You've seen all the pictures online of families having the time of their lives while zipping down the best sand hills there are in America. Your cousin sent you a video of her family having a blast shooting down the hills. Your boss told you he got to 30 miles per hour on his sled. Ok, I think he was probably full of it, but the point is, that the secret is out and this is one of the best family friendly, virtually free activities that you can do in the Southwest, if not anywhere.
Crowds are virtually non-existent in the fall. October, November and December get the lowest visitation behind January of any time of the year with under 100,000 people visiting. Just another reason why the fall is the best time of year to visit White Sands National Park.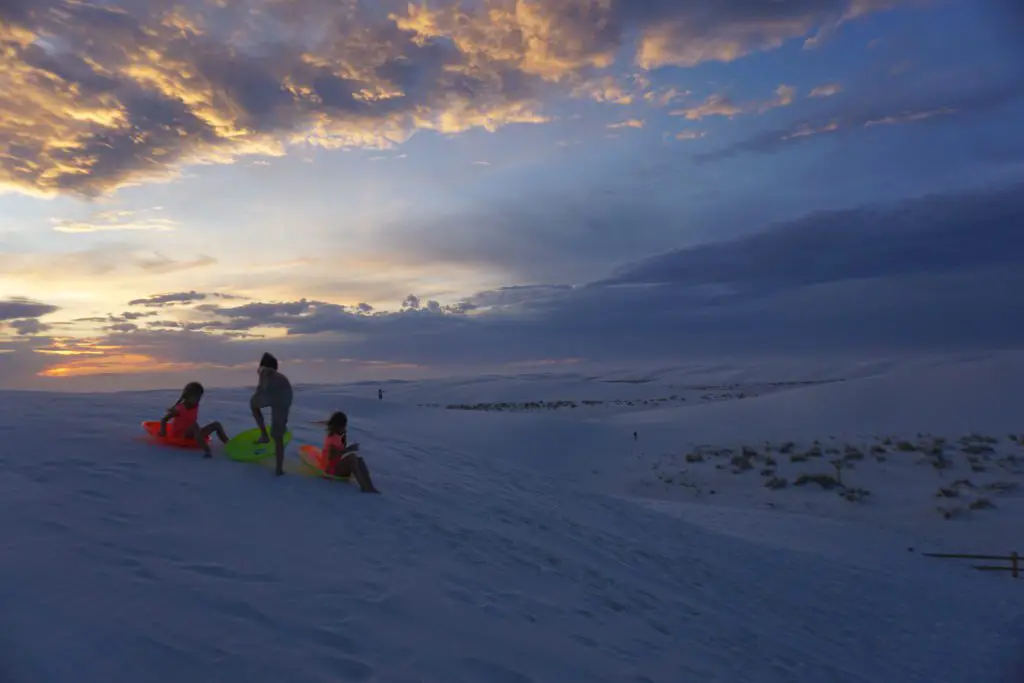 White Sands National Park Tips
For more help planning your trip to White Sands see our list of the best things to do at White Sands National Park and the best things to do near White Sands National Park. A few other posts that might be helpful are:
The Rio Grande Cottonwood changes color in fall.
Fall is an amazing time of year to see the changing leaves wherever you are in America. Aspen in the Rockies, Maple on the East Coast and Birch in the Midwest all explode with color this time of year. But, White Sands National Park is in a desert. What can a desert and fall leaves possibly have to do with each other?
Enter the Rio Grande Cottonwood. This tree can be used as a medicine, a textile material, an instrument and a food. It's as versatile as it is enduring. It's thirsty but doesn't wane and it's roots don't stop until they find water. Many animals of the park live between the roots and the sand and call this tree home. It's beautiful in the spring, summer, fall and winter, but fall is where it really shines.
If you visit in late October or early November, you will have the best chance of seeing this tree magically change to a vibrant yellow that is so stunning, you have to photograph it. The bright white sand against the backdrop of mountains coupled with the golden pop of color make this tree the sole reason to visit in the fall. You won't find this opportunity anywhere else in America. So seize the moment!
Fall is the best time to see the Milky Way
Living in the city is not conducive to stargazing. I live in a big metropolitan area and I'm lucky if I can see the big dipper on most nights. Trees, buildings and light pollution all lend a hand in diminishing the ability to see outer space.
In 2019, White Sands National Park was designated as an International Dark Sky Park. This means that light pollution is either totally absent or at an absolute minimum so that things such as the Milky way can be seen.
The Milky Way is visible right after sunset in the fall, but the Milky Way itself will set earlier every night. The great thing is you can eat dinner and then see the Milky Way right after, without waiting like you have to at other times of the year. Skies also tend to be clearer when it is cooler, so you get the added effect of this in the fall.
If stargazing is on your list of things to do you must do two things. The park closes at sunset every night, so you must get a special permit in order to be in the park after sunset. You also must ensure that you time your visit during a new moon so that the stars are visible. Even the faintest moon can be enough light interference to inhibit good visibility of the Milky Way.
The Alkali Trail is best in the fall
White Sands National Park has five trails to hike inside the park. Most of them are appropriate for visitors of all abilities and skill levels. But the Alkali Trail is in a class of its own.
This five mile trek up and down open wide sand dunes can be physically exhausting even for top athletes. So, it's important that you go during the time of year when it isn't as hot. Going in the fall will give you that extra advantage you need to make this hike as enjoyable as possible. Enjoy the sweeping views of the surrounding mountains and the landscape for miles on this one of a kind trail.
There are other things that are essential to take into account when conquering this trail. The only water fill point is at the visitor's center. Ensure that you have at least three liters of water for this hike even in the fall. You may need to invest in a water hydration system such as a Camelbak.
Sunscreen and adequate clothing is a must because of the sun's rays and the intense reflection from the gypsum sand. Your GPS system will not work in this remote location, neither will your cell phone. So, make sure you have a dependable compass in the rare occasion that you might accidentally wander from the trail.
Visiting White Sands National Park in the fall will be one of the best decisions you'll make for a memory making vacation. With the cooler temperatures, smaller crowds and once a year viewing opportunities, you'll be content with your decision to make this part of your Southwest, road trip vacation.