How To Visit White Sands National Park In A Day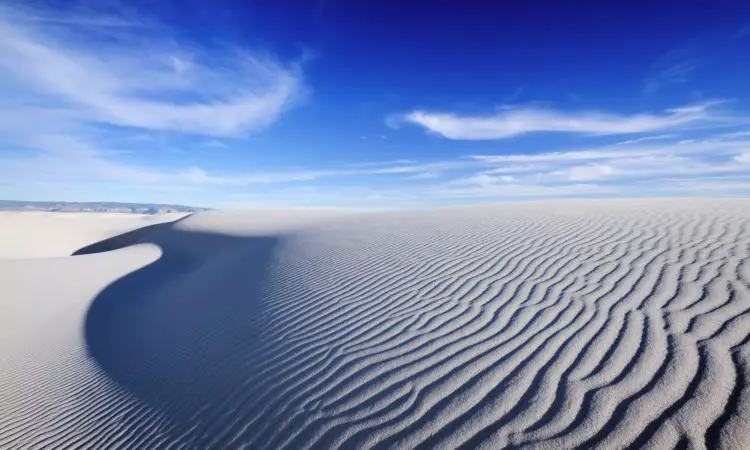 Grounded Life Travel is supported by its audience. When you purchase through links on our site, we may earn an affiliate commission.As an Amazon Associate I earn from qualifying purchases. List of everything we use in our travels.
If you are traveling the Southwest and you are limited on time, you may be wondering how to visit White Sands National Park in a day.
This question is one that many travelers ask. When traveling by car or RV, people usually have an itinerary they try to follow.
My family and I crossed the country 31 times over seven years. We were always traveling with a date that we had to stick to so that my husband could make it to a meeting for work in time. It was essential to stick to a schedule that allowed us to log some miles on the road. But, we also wanted time to stretch our legs and do some sight seeing along the way.
We always loved it when a National Parks or National Monuments would be on our route. We would try to plan ample time to spend exploring and filling our adventure buckets.
Often times it didn't turn out that way, though. The weather was bad in Louisiana so that set us back a day. Or maybe the water heater started leaking in the RV so we had to stop and have it looked at. Furthermore, we might love a place so much, that we may decide to steal a day from the schedule in order to stay longer.
Whatever the case was, we often would find ourselves without the time we had wanted for a stop on our way. So, if you find yourself in this predicament when you reach White Sands National Park, and you only have one day. What should you do to get the most out of your shortened time?
In this guide on how to visit White Sands National Park in a day, learn how to have a blast with just a few hours in the park.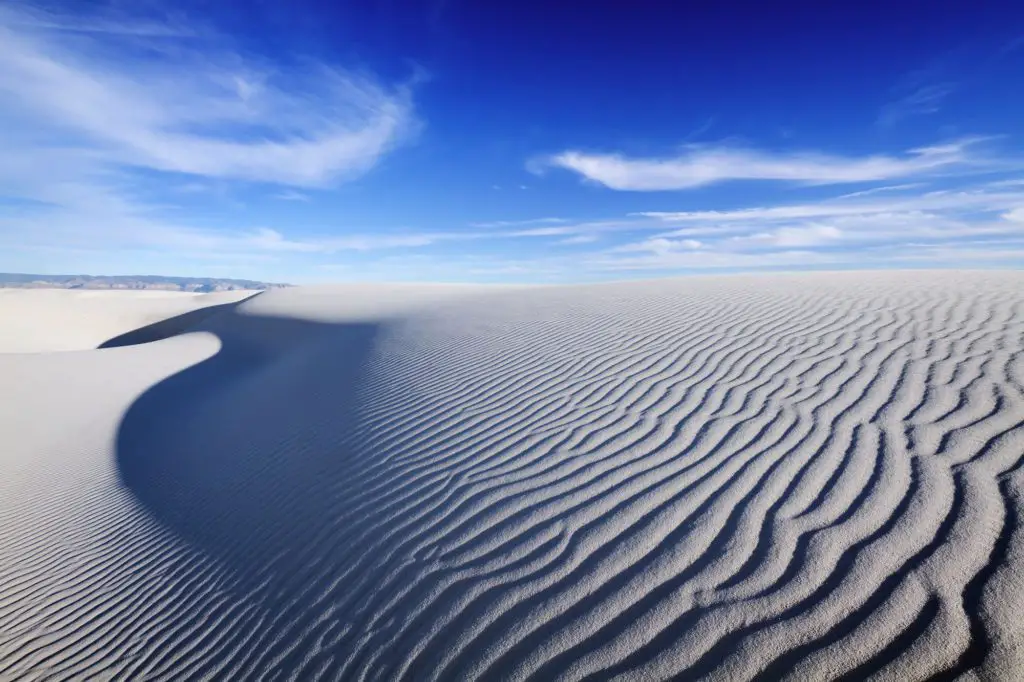 Is one day enough for White Sands National Park?
If you have two to three hours, you can get the flavor of what White Sands is all about. But you will have to come back for more fun.
Everyone should sled on the dunes and everyone should see a sunset. If you visit, you have to walk the Interdune Boardwalk and you must picnic in the gypsum. If you can't accomplish some of these items, you'll want to pen another date in your calendar for a visit.
How much time do you need at White Sand National Park?
That depends. Are you a car sightseer, or do you like to get out in the dunes and squeeze the gypsum between your toes? Are you okay with snapping a couple of selfies and calling it a day, or do you want to schedule time for one of the great hikes in the park?
Anyway you slice it, you can get a lot done in the park with four to five hours. One word of advice is to go in either the early part of the day or later in the day. That way you will be out of the midday hot sun. Milder temperatures are more enjoyable when in the desert.
White Sands National Park Tips
For more help planning your trip to White Sands see our list of the best things to do at White Sands National Park and the best things to do near White Sands National Park. A few other posts that might be helpful are:
How to Visit White Sands National Park in a Day
Hour One
When you enter the park go to the Visitor's Center. This a great place to start to orient yourself and learn what you want to do in the park. The visitor's center is also an architecturally stunning example of the Pueblo Revival Style of building that you will see all over the Southwest.
When you enter, make sure you get your National Park Passport Book stamped. This is a great way to keep track of all of the national parks you have visited.
Next, do yourself a favor and watch the fifteen minute video that informs you all about the geology and history of the park. You will be amazed!
Take a look around the visitor's center and then go ahead and buy a sand sled and some wax if you haven't already. Trust me, this will be the best purchase of your trip.
Lastly, make sure you have enough water for everyone in your group. Ensure you have at least one gallon of water per person. It is very sunny and dry in the Chihuahuan Desert and dehydration can kill you. The Visitor's Center is the last place you can fill your water before entering the park. There is no water in the park, so this is very important.
Hour Two
Drive down Dunes Drive eight miles into the park. You will be able to see the dunes and their beauty and all of the pull off areas. You can then turn back on the loop and stop wherever interests you.
There are five different hikes you can choose from. Since your time might in the shorter range, you may want to do a hike that won't be longer than an hour or so. In this case, I suggest hiking the Interdune Boardwalk, The Playa Trail or the Dune Life Nature Trail.
Interdune Boardwalk-
This walk will only take about twenty minutes. I recommend this for people with physical limitations or for those that don't have adequate time. Even though it is short in length, it is not short on beauty and intrigue. Kiosks line the boardwalk that tell you about the geology, wildlife and plant life of the dunes.
Playa Trail
The Playa Trail is a half mile hike that informs you all about life in the ever-changing dunes. You will learn how the changing dunes inflence the way plants and animals live in the playa. At the end you will be able to travel back in time to the Ice Age to learn about the time when giants of the past owned the Earth.
Dune Life Nature Trail
This trail is great for families that want to stretch their legs and climb some dunes. This one mile loop hike it great fun for the little ones, as it introduces Katy the Kit Fox and her friends. They can scour the trail for Katy and her friends' footprints. Your kids will learn about all of the animals of the playa and how they live together in the dunes.
Hour Three
By this time you will be hungry. Choose from one of the picnic areas in the Yucca, Roadrunner, and Primrose stops along the Dunes Drive Loop. There are 62 covered picnic tables in all and they are complete with a grill at each one. If you have a large group, you may want to choose the Roadrunner picnic area as it has a large pavilion that can accommodate up to twenty people.
Enjoy your picnic as you gaze upon the dunes and formulate a strategy for the next hour of your visit.
Hour Four and Five
You will want ample time for the next activity, because it is some of the most good old-fashioned fun you can have. Sand sledding and sand boarding is an activity that you can't do many places on Earth.
Grab your sled that you bought from the visitor's center, make sure it is well waxed, find a high dune and slide down trying not to scream like an elementary school kid on the playground.
You will need at least a couple of hours for this activity to allow for some rest time in between slides. Let me tell you that this is a workout! A lot of fun, but you will sleep well that night.
Speaking of night, I advise to make sure you do this activity towards sunset. Sand sledding at sunset is one of the best memories I have with my family. It's cool outside and you get a show from mother nature, as you have the time of your life with the ones you love.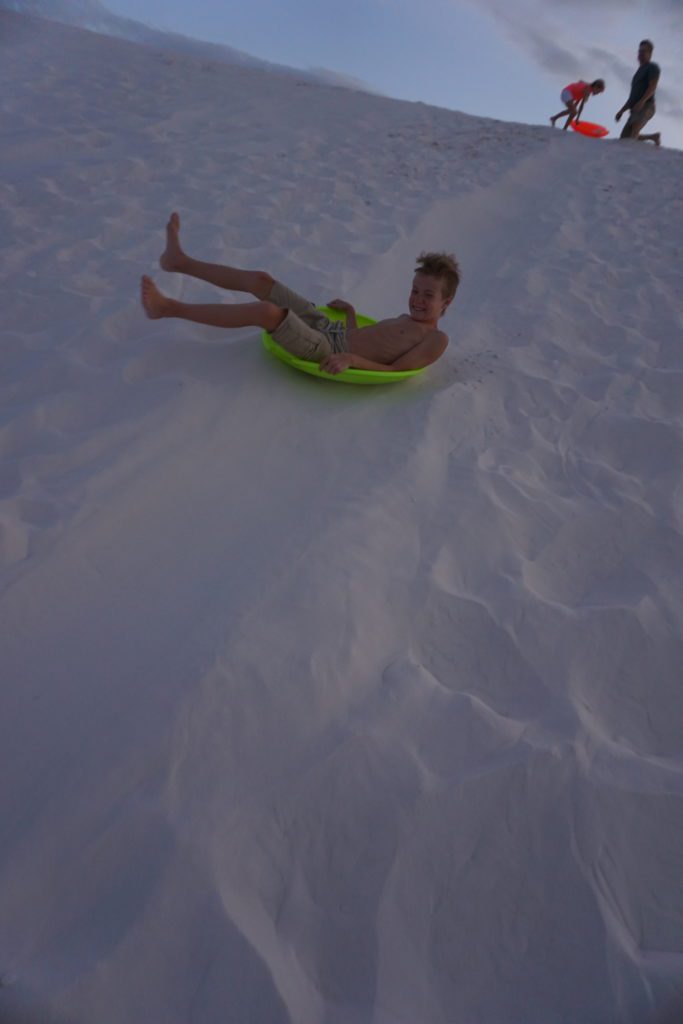 If you're looking for how to visit White Sands National Park in a day, this itinerary will get you in and out with some great memories that will last a lifetime. Don't travel the Southwest without visiting this must see location!