Guide To Camping In White Sands National Park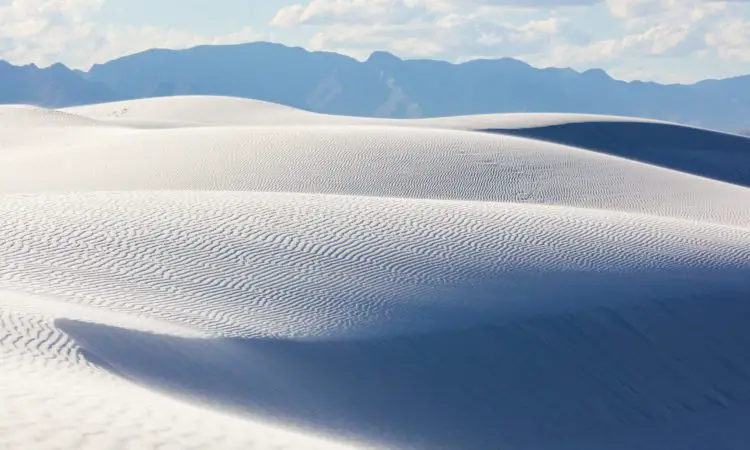 Grounded Life Travel is supported by its audience. When you purchase through links on our site, we may earn an affiliate commission.As an Amazon Associate I earn from qualifying purchases. List of everything we use in our travels.
If you are visiting the Southwest and plan on camping, you will definitely need this guide to camping In White Sands National Park.
You would really be missing out if you didn't try to stay in one of the most beautiful and peaceful landscapes in America. If you are looking to get away from it all, unplug all the technology and just be still in peace and quiet, this place will be one of your most coveted camping spots of all time.
Camping in White Sands National Park is unique and different from any other camping that you've ever done. I'll bet you've never camped anywhere before that you hiked in wearing no shoes. You'll also need to make sure you're prepared for this type of camping, because as beautiful as it is, there are some challenges.
Can you camp in White Sands National Park?
Yes, you can! But it's not the traditional, make reservations online and show up kind of camping. There are a couple of things you need to do before heading out to camp.
First, make sure there won't be any closures on the days that you want to camp. The White Sands Missile Range still does testing on some days. On these testing days, the park will be closed for up to three hours. Therefore, no camping is allowed on these days. You don't want to show up with all of your gear and then be told, "Sorry folks, we're closed!"
Next, you'll want to make sure you arrive at the visitor's center early in the morning to snag a permit. There are only ten campsites and they are all first-come-first-served so you need to be in line early. The ranger will permit you for one night only. If you plan on staying more than one night, then you will need to come to the visitor's center the next morning to get another permit.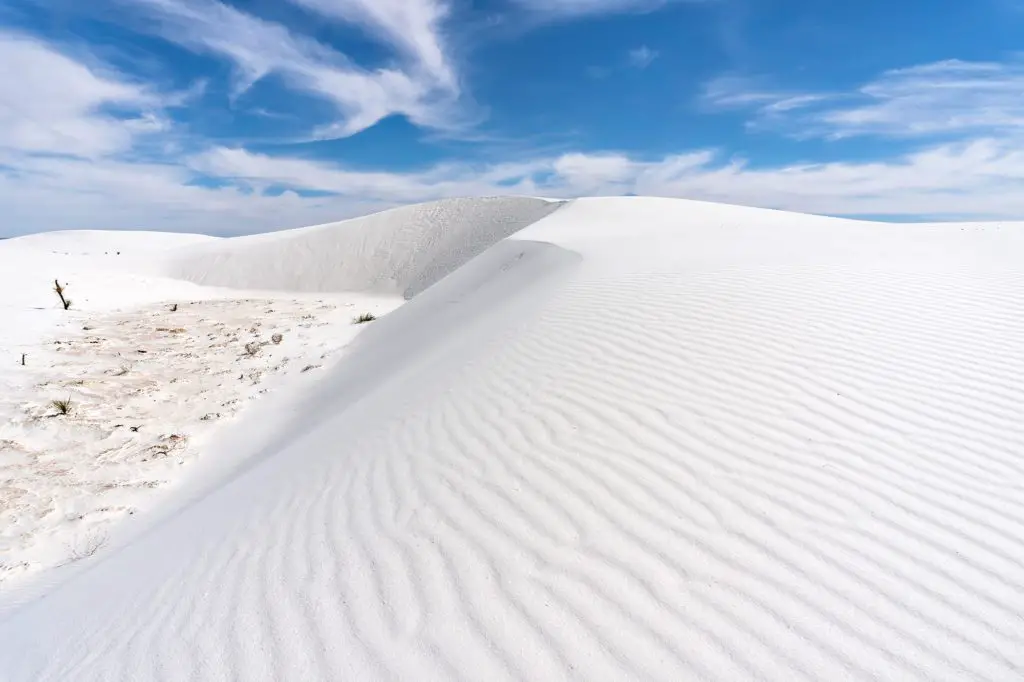 How much is it to camp at White Sands National Park?
Camping in the park is quite affordable. For each person 16 and older there is a fee of $3.00. If you have a child under 16, the fee is $1.50. The only thing cheaper than that is FREE!
You will also be asked to pay an entrance fee when entering the park. Each car is charged a $25.00 fee that is good for seven days. So, if you have a car that fits, eight people, that's a deal. If you are on a bicycle, the fee is $15.00, and motorcycles are $20.00.
But, if you care touring a few National Parks and recreation sites on your vacation, be sure to purchase the "America the Beautiful" pass. For an annual fee of $80, you can enter any National Park, monument, historical site or recreation area for free.
But it even gets better if you have a child in the fourth grade. Your fourth grader can participate in the "Every Kid Outdoors" program provided by the National Park Service. If you have a fourth grader, go to the website in the link provided and they can sign up for the program. So, essentially, if you have a fourth grader, your car load gets in for free! I love this program. I had kids in fourth grade two years in a row. Let me tell you that we really got some mileage out of those passes!
What time of year should I camp in White Sands National Park?
Anytime of year can be a possibility for camping in the park. With mild overnight temperatures most of the year, camping will be comfortable most of the time.
Be aware in winter, temperatures can dip way below freezing, so make sure you have a sleeping bag and clothes that can withstand those temperatures and the possibility for winds. Alternatively, in the summer time, temperatures can get above 100 degrees Fahrenheit. You may want to plan something during the heat of the day out of the direct sunlight, as these temps tend not to be as enjoyable.
Although the wind can kick up at any time, March through May are the months when the winds can become uncomfortable. Make sure you bring long tent stakes and a mallet when you plan on camping any time of year. You don't want your tent blowing down the dunes.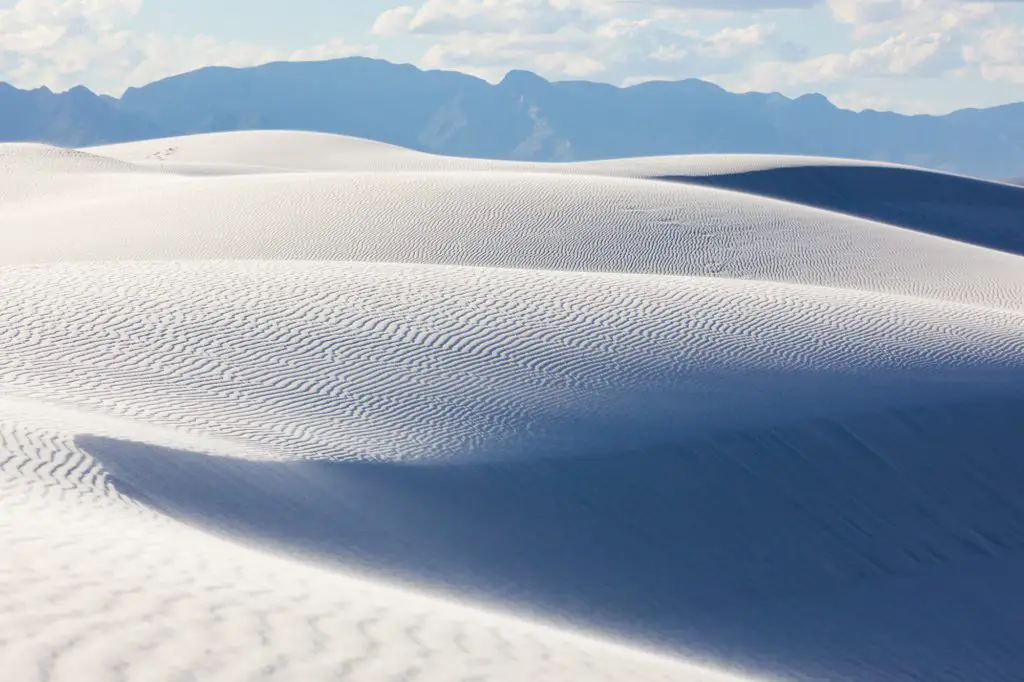 White Sands National Park Tips
For more help planning your trip to White Sands see our list of the best things to do at White Sands National Park and the best things to do near White Sands National Park. A few other posts that might be helpful are:
How do I get to the campsite?
This is the tricky part. The ten campsites are on a two-mile loop, so you will be lugging all of your gear a mile in and a mile out, up and down sand dunes. So, you will definitely not only need to pack light, but invest in a backpack that will help carry all of your gear.
Leave your hiking boots in the car. You won't need them. They will become a loathsome bother as they sink in the deep sand, fill with gypsum and feel like weights on your feet. In fact, you probably don't need shoes at all. This is the one camping experience where you can hike in, enjoy your stay and hike out, all in your bare feet.
Once at the campsites, you will see orange markers indicating each site. The rules state that you have to set up camp within five feet of the marker. Make sure you pitch your tent to follow these rules and whatever trash you pack in you must pack out. This includes human waste. It is a good idea to buy some Wag Bags or human waste disposable bags so that you can pack that out with you, also.
As mentioned, the campsites are organized in a loop. If you want a campsite that will get the least foot traffic and will give you privacy, you should make campsite number five your goal. Since there are ten sites, this one will be right in the middle of the loop. You will probably see very few if any people at this site. This site is ideal for early morning and sunset photography. No footprints, no people, no better place to be!
Are there any tips and tricks for an enjoyable stay?
Cell Service
Remember that you will most likely be in no man's land when it comes to cell service. Make sure you bring a compass in case you wander off the trail too far. Because the white dunes all look the same when you wander from the markers of the campsite, many people have gotten turned around and lost. Be careful, and always be aware of where you are.
Missile Shrapnel
If you see a strange looking object that is metal, do not touch it and alert park authorities, immediately. It is probably a device from one of the missile launches that White Sands Missile Range conducts. These devices can be dangerous, so play it safe and grab a ranger.
Water
Make sure that you bring enough water. It really is tough to stay more than one night without going back to the visitor's center for water. But make sure you bring enough for the day and night you will be spending. Running out of water can be really dangerous in this environment.
Food
You will do a ton of walking up and down hills in this part of the park. That means you will be exerting a lot of calories that you need to replace. Make sure you pack high calorie, high protein foods and snacks to replenish what you lose in the desert. It's fun to eat these kinds of foods on vacation anyway, isn't it?
Sunscreen
Your skin is the only one you will ever have issued to you, so treat it right. Wear sunscreen! You're in the desert and the rays from the sun reflecting off of the gypsum can fry your skin. You will also need a hat and sunglasses. Your eyes are susceptible to sunburn, too.
Sand Sled
Don't forget the implement for the most enjoyable activity in the park. You will be so happy that you chose to haul your sand sled instead of your pillow. Sand Sledding is the most fun activity you can do in the park and you could do it all day right outside your tent. Pick a steep dune and give it a whirl. You won't regret it!
This Guide to camping in White Sands National Park will ensure that you get the most out of your time camping in the park. If you follow these guidelines, you're sure to have an enjoyable and memorable time camping in the desert. Now all you have to do is find your sleeping bag!
**Note** As of this posting, camping is closed at White Sands National Park to allow for rehabilitation of the environment.