Guide To Sledding At White Sands National Park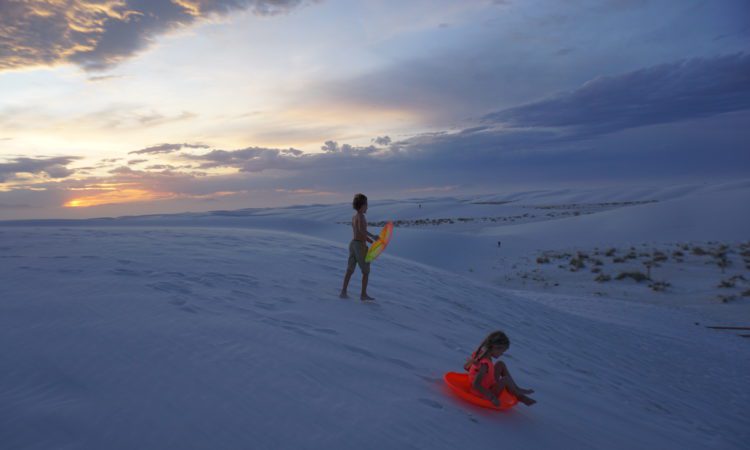 Grounded Life Travel is supported by its audience. When you purchase through links on our site, we may earn an affiliate commission.As an Amazon Associate I earn from qualifying purchases. List of everything we use in our travels.
If you're looking for a great vacation in the Southwest, then this guide to sledding in White Sands National Park is a must read.
Sand sledding or dune sledding in White Sands National Park is a unique experience in America. There aren't many places where you can sled down a hill all day without having to bundle up and throw wet clothes in the dryer at the end.
In fact, chances are, you won't even have to wear a jacket. Dune sledding in White Sands can be pleasurable almost the entire year due to the 291 days of sun and mild temperatures for most of the year.
Can you sandboard at White Sands National Park?
Of course you can! You can dune sled and sand board. I've seen people use snowboards, sleds or even a piece of cardboard. There are varying degrees of success with these implements. But, the best thing to use to dune sled is a sand sled.
Can you bring your own sled to White Sands National Park?
Yes, again! You can bring what you have on hand and make do or you can purchase sleds at the visitor's center. It is best to purchase a sand sled if you don't already have one because they work best with the soft gypsum sand. It's a good idea to bring or purchase wax along with your sand sled purchase as it will make you faster on the sand.
How much are sleds at White Sands National Park?
If you go to the visitor's center you will be able to buy a brand new sand sled for $18.99 plus tax.
Alternatively, chances are, you will be staying in nearby Alamogordo while visiting White Sands. You can find sand sleds at stores such as K-Mart, Wal-Mart or Big 5 Sporting Goods. The cost here is rumored at being as low as $4.99, but call before you go to check the current price.
On my family's first visit, we were rolling down the hill having a great time. A nice man walked up to us and just gave us his two sleds that he and his son had been using. We offered payment, but he refused. You can go this route and make someone's day by giving them your sled when you are finished, or you might even luck out and be at the other end of someone's "pay it forward" act of kindness.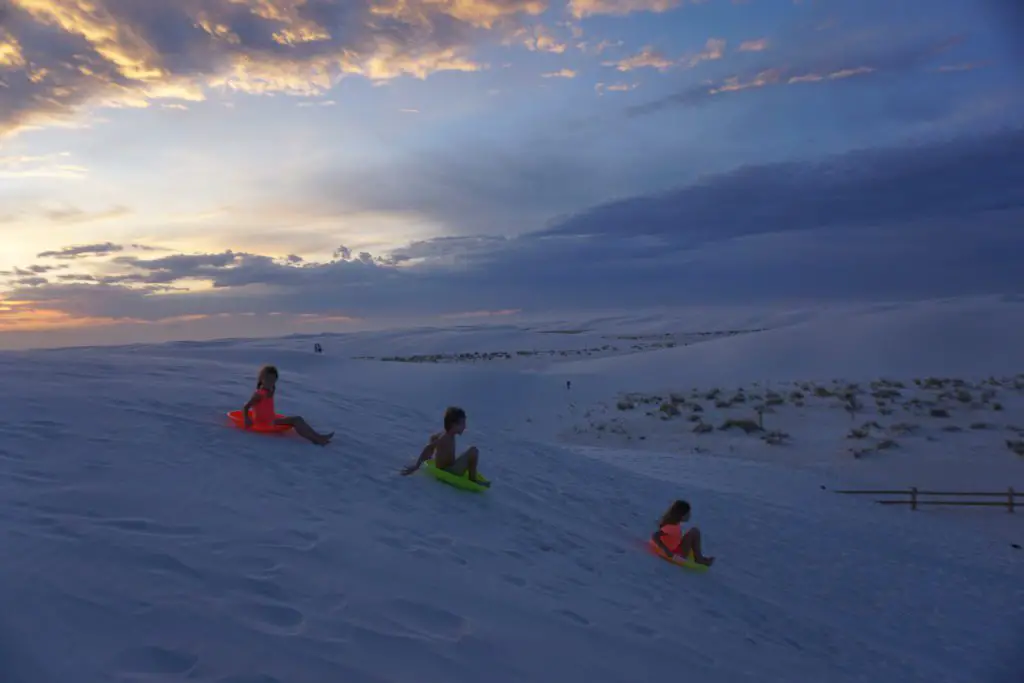 How do you sled down White Sands?
There are a few things you can do to ensure you can get the maximum speed and enjoyment out of your time dune sledding at White Sands National Park.
First, the cooler the gypsum sand is, the more speed you will get. Let's have a little science lesson about the geology of gypsum. The gypsum found in White Sands National Park comes from the nearby San Andres and Sacramento Mountains that surround the dunes.
The wind and rain erode the gypsum within the mountains and bring it down into the seasonal lake, Lake Lucero. The lake dries in spring and summer and leaves crystallized gypsum. These gypsum crystals are further broken apart by wind and as they tumble to their final resting place, the clear gypsum gets scratched on its tumbling journey so much that they appear white, although they are still clear.
Clear gypsum sand does not absorb heat from the sun so it does not get hot like traditional sand like you will find at Great Sand Dunes National Park. The sand there can get up to 150 degrees. Now, that will burn your feet quickly and slow your board down. Just remember, cooler sand, faster speed.
White Sands National Park Tips
For more help planning your trip to White Sands see our list of the best things to do at White Sands National Park and the best things to do near White Sands National Park. A few other posts that might be helpful are:
What are some tips and tricks for a good sand sledding time?
Sand Sledding
It's written everywhere, even on the National Park website, that you must have a sand sled to really get going down the dunes. But, I must tell you that my family and I went dune sledding with a snow saucer on one of our visits and it worked great. You will also read that you need wax to make it work. Well, we did not have wax either and there were some speed records broken that day!
Make a Track
The key to our success was to make a packed down trail with your sled all the way to the bottom of the hill. The packed sand will make it go faster. As you use the same trail it will get better and better. After two or three passes you'll be sailing down the dune.
Use Wax
Wax is proven to make your assault on that hill as quick as lightning, so if you have a chance, purchase some for your sled and rub it all over your sled. After you've slathered it on thick, buff it by rubbing it in the sand. This will polish it so that it's nice and slick.
Do you remember that part in the movie "Christmas Vacation" when Clark zips down the mountain on his sled? That will be you.
Go After a Rain
If you are in the area when it gets a rare rainstorm, think of yourself lucky instead of stewing that a day of vacation has been ruined. Rain will pack the gypsum down making it super slick. The best time to go dune sledding is actually just after a rainstorm. So, this is one instance that you want it to rain on your vacation.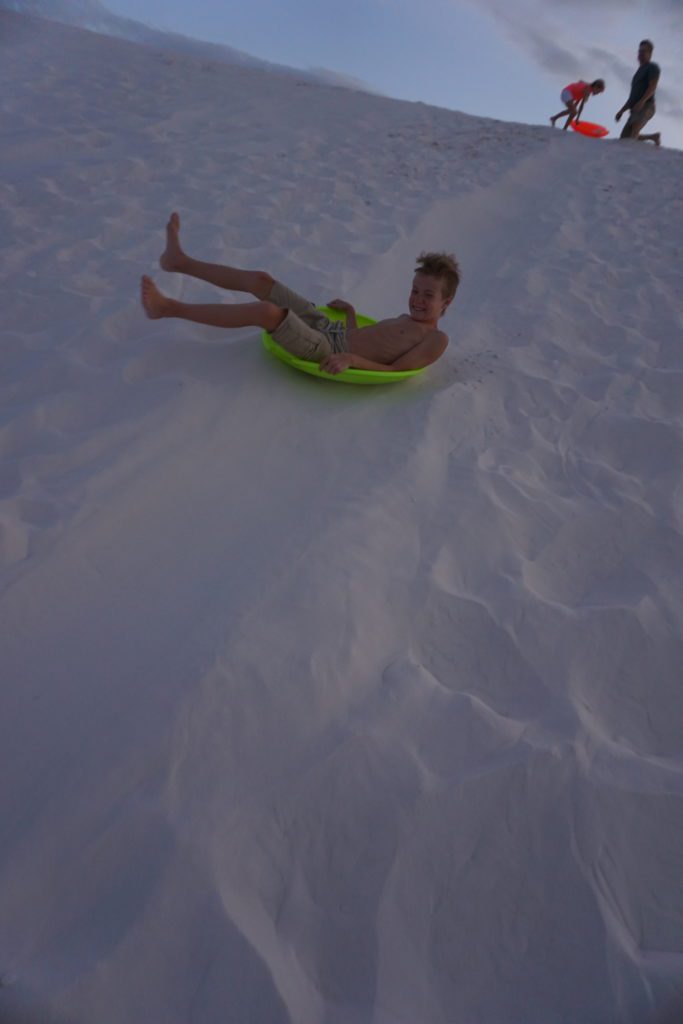 Where can I park and picnic for the day when dune sledding?
If you're wanting to make a day of sand sledding by getting to the park early and staying late, you should pick one of the picnic areas in the park.
There are three picnic areas in the park to choose from. If you drive into the park on Dunes Drive, they will be about six to seven miles in. Yucca, Primrose and Roadrunner picnic areas are named after plants and animals that make the park their home.
There are 62 individual picnic spots complete with an awning, picnic table and grill. In addition to the individual picnic spots, there are two group pavilions at the Roadrunner picnic area. You can bring a group as large as twenty and use the tables and grills under the pavilion. These aren't rentable, but are available on a first come first serve basis.
Do I need special clothing for dune sledding?
I've seen people dune sledding in bathing suits and clothed form head to toe. But there is one thing you need to keep in mind and at bay, the sun.
The suns rays are bright and intense at White Sand Dunes National Park. The sun's reflection off of the clear gypsum can be murderous on your skin.
It's not advised to wear a bathing suit when dune sledding due to the fact that you can't continue to apply adequate sunscreen onto skin that has a layer of sand on it. Wear layered clothing and apply sunscreen to any skin that is exposed.
Make sure you're wearing a hat or other head covering. Sunglasses are a must because it will be almost impossible to open your eyes due to the reflection of the sun on the sand. Keep in mind, your eyes can get sunburned too, so protect those eyes!
Dune sledding is one of the most exciting and unique activities that you'll ever experience. You are definitely doing the right thing if you carve out ample time in your Southwest vacation to stop at White Sands National Park to make amazing memories with your family or friends.