12 Things You Need To Know Before Visiting White Sands National Park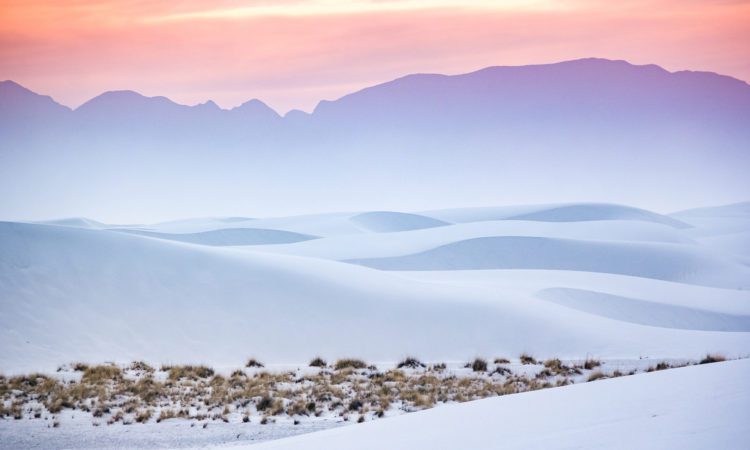 Grounded Life Travel is supported by its audience. When you purchase through links on our site, we may earn an affiliate commission.As an Amazon Associate I earn from qualifying purchases. List of everything we use in our travels.
There are 12 things you need to know before visiting White Sands National Park in order to make the most out of your vacation.
Planning a vacation is no easy task. First, there's the hours of research to see where you want to go. Then, there's the making of reservations from hotels to car rentals. It's a wonder we go anywhere, right? But, if you're going to White Sands National Park, there are a few things to know that can make your planning a little easier and your trip more enjoyable. After all, knowledge is power!
Park Hours
Park hours can be a finicky thing in White Sands National Park. The hours are typically around sun up to sun down. But, this varies by season. The park's only full closure is on Christmas Day.
There also can be closures due to missile testing at the nearby White Sands Missile Range. Closures can last up to three hours when testing is being conducted. So, the rule of thumb is to call the visitor's center to see if there are any scheduled closures at the park during your visit.
Best Time to Visit White Sands National Park
If you ask what time of year is best to visit White Sands National Park, my answer will always be October. The crowds have gone, the weather is cooler and you will have the peace and serenity you are looking for on a fabulous Southwestern vacation.
If you want to camp in the park, this a a great time to do so. You will also have a little longer to watch the night sky and catch the Milky Way, satellites or maybe even a meteor shower.
For more help planning your trip to White Sands see our list of the best things to do at White Sands National Park and the best things to do near White Sands National Park. A few other posts that might be helpful are: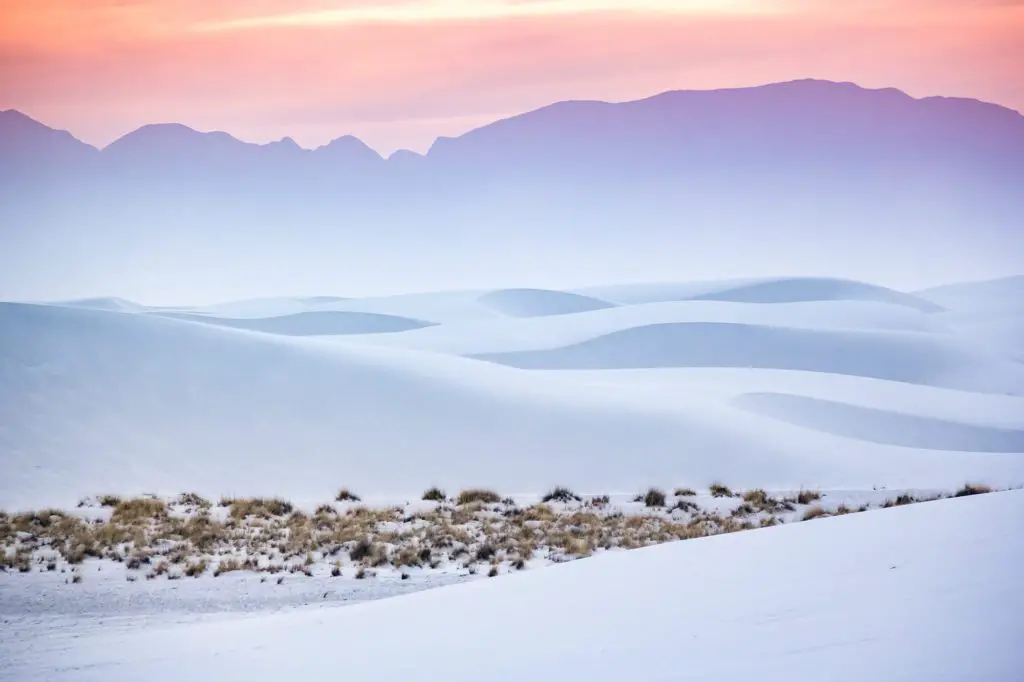 The Cost to Get into White Sands National Park
For a car entering the park, a fee of $25 is charged. If you are on foot or a bicycle, the ranger at the front gate will charge you $15.00. This entry fee is good for seven days. But, if you plan to visit multiple national parks on your trip, it might be worthwhile to splurge for the "America the Beautiful Pass". This pass will get you into any national park, monument or recreation area in America for a one time yearly fee of $80.
Families who have a fourth grader really get a great deal. The "Every Kid In a Park" campaign has been running for several years and allows any fourth grader to obtain a pass good to gain entry to any park for free during their fourth grade school year. This was amazing for my family because we got to use it two years in a row.
Spend Time in the Visitor's Center
The visitor's center is a great place to start in the park. Make sure you ask the park ranger any questions that you have. Take time to watch the twenty minute video about the park. The history and the geology of the park are extraordinary. Fill your water bottles here, as there will not be an opportunity in the park.
Animals in the Park
White Sands is home to a multitude of animals great and small that have had to overcome extreme odds in order to call this park their home. There are docile animals like the 450 pound African antelope that was brought into the area to provide a huntable game to New Mexico. Coyote, foxes, jackrabbits, porcupines and several different species of mice also call the park their home.
But the animals you might need to look out for are of the slithering variety. The Desert Massasauga and the Diamondback and Prairie Rattlesnakes are poisonous and their bite is capable of killing a human. But, believe it or not they are more afraid of you than you are of them. They also will be hiding in the brush on the outskirts of the dunes during the day. So unless you stick your hand where it has no business being or you go snake hunting at night, you should be fine.
Radiation in the Park
In 1945, the U.S. tested an atomic bomb to be used against enemies during WWII. That bomb was set off in White Sands Missile Range, which is part of the lands where the national park lies. Some people are concerned that there may still be radiation.
There is a low level of radiation where the bomb was detonated, but outside that area, only levels that are naturally occurring are measurable. So don't worry that you are going to grow another pinky toe while you visit.
The Geology of the Park
White Sands National Park is quite a misnomer. The sand in the 227 square mile of the park is not actually sand. It is gypsum. Gypsum can be found in products like drywall and some food products. But, it can also be found in the surrounding mountains of the area.
Erosion brings down the gypsum where it crystalizes into a seasonal lake bed. In the summer the winds break the gypsum apart and as they tumble into the dune field, they become the tiny particles you see in the dunes. Fascinating, right?
Hiking in White Sands National Park
There are five trails to choose from in the park. Easy trails include the Interdune Boardwalk or the Playa Trail. These are great for visitors who want a quick jaunt. The Dune Life Nature Trail is a nice walk for families that includes Katy the Kit Fox and her friends. The Back Country Trail and the Alkali Flat Trail are both geared towards back packers and serious day hikers. As always, make sure you take plenty of water, food and a compass when hiking these trails.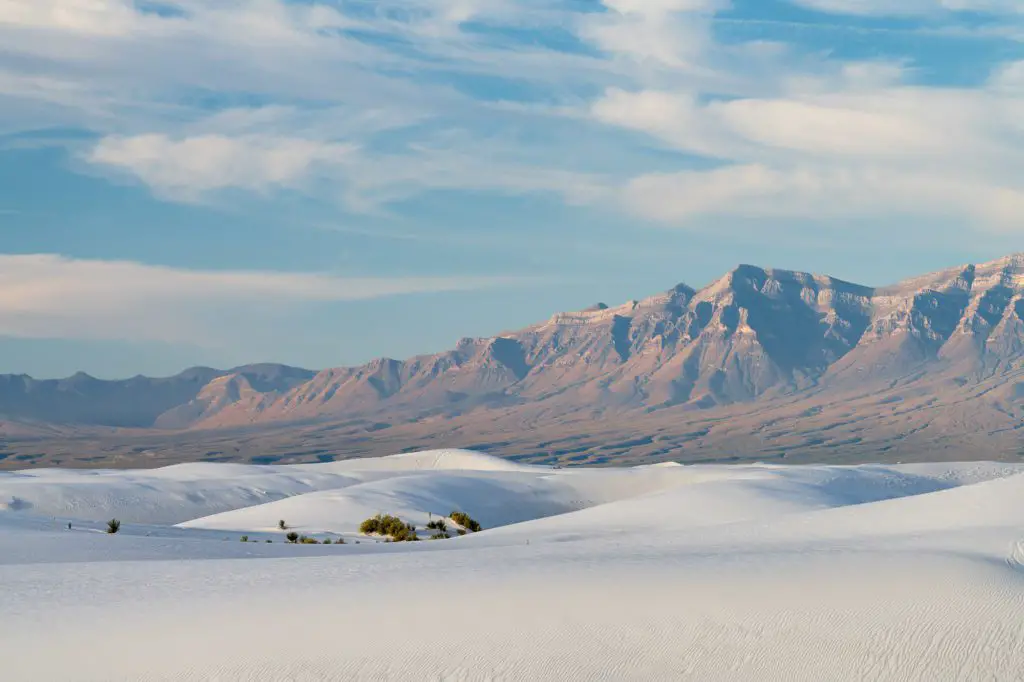 Driving through the Dunes
Dunes Drive extends 16 miles round trip through the heart of the dunes. There are three picnic areas along the drive to enjoy 62 covered picnic tables with grills. Take your lunch or dinner and make a day of it as you stroll the dunes or even sled down them.
Sledding the Dunes
Many people come to see the dunes, flora and fauna and beautiful sunsets in the park. But the best pastime at White Sands National Park is dune sledding. You can buy or rent a sled at the visitor's center and pick a dune. Sled wax is a worthwhile investment to increase your speed. But, the steeper it is the fast you'll go.
This was my kids' favorite activity in all of the Southwest. We've slid down many dunes in the United States and these are the best because the sands never gets hot. The gyspum crystals are clear so they don't absorb heat. The cooler gypsum helps increase speed. This is a must do activity when visiting White Sands National Park.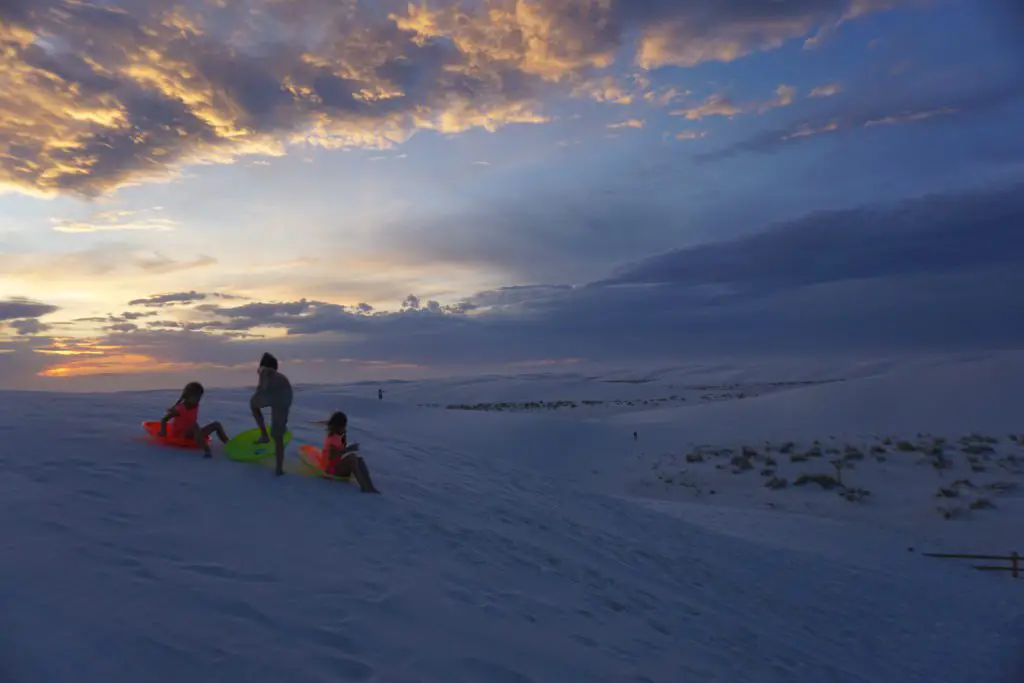 Things To Do Near White Sands National Park
When talking about 12 things you need to know before visiting White Sands National Park, you must know that there are cities nearby for extra recreation and entertainment. Alamogordo, located about 45 minutes from the park, is full of restaurants, museums and even a zoo. This is where most people stay, when visiting the park.
Cloudcroft is also a great place to visit. Located 45 minutes from the park, you will find additional hiking, fishing, horseback riding and even snow skiing in winter.
Las Cruces is about an hour away and has amazing restaurants and historical places of interest as well.
Photography in White Sands National Park
This is definitely a place you will want to bring your "good" camera to. The glistening white gympum against the backdrop of the Sacramento or San Andres Mountains at sunset is something out of a dream.
White Sands National Park has been designated an International Dark Sky Park. Obtain a permit and stay passed closing time in order to photograph the Milky Way or any other celestial event that you fancy.
Whether spending a day or a week, it's important to know the 12 Things you should know before visiting White Sands National Park. Knowing what to expect will make your vacation smooth, enjoyable and you will be ready to make amazing vacation memories.
Are there things to do near white sands?