Where to Stay near White Sands National Park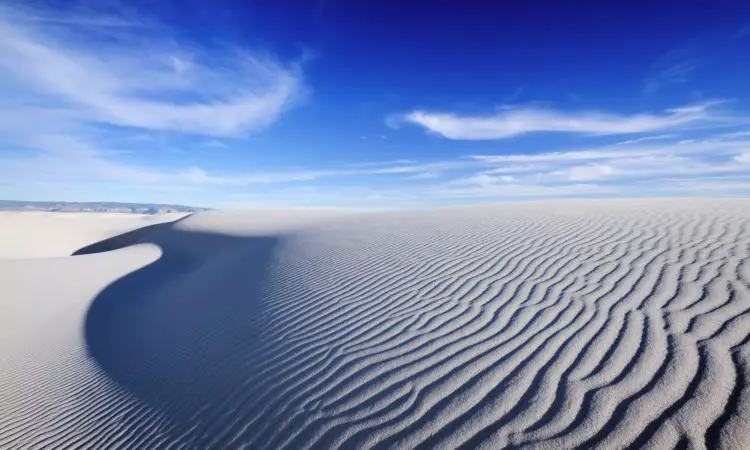 Grounded Life Travel is supported by its audience. When you purchase through links on our site, we may earn an affiliate commission.As an Amazon Associate I earn from qualifying purchases. List of everything we use in our travels.
You're going on vacation and you want to know where to stay near White Sands National Park.
Are you the type that likes all the creature comforts of home? Do you like to sleep under the stars? Or, do you like a little of both? Well, you're in luck because there are accommodations for every type of traveler within reasonable distance of White Sands National Park.
There are three cities that are under an hour's drive to White Sands National Park. All of them offer great dining, recreation and exploration options. But, if you want to spend a decent amount of time in White Sand National Park, you should stay in the closest city to the park.
What town is closest to White Sands National Park?
White Sands feels as remote and wild as it can get when you are trekking through the dunes and there isn't a soul to be seen. But only sixteen miles away there is a city that has everything you are looking for in a perfect Southwest vacation. There are amazing restaurants, world class museums, outdoor recreation and even a zoo.
Alamogordo, New Mexico
Alamogordo, New Mexico is the city hub for White Sands National Park. If you want to spend ample time at the park and want running water and a roof over your head, this is where you should start your search.
There are twenty-one hotels and motels in the metropolitan area. You can stay in a four star hotel and have breakfast included, or go more of the economy route and pay under $100. There is a hotel or motel for every budget in Alamogordo.
White Sands National Park is a popular destination for people that like to travel with their home. People with travel trailers, vans or buses enjoy the adventure of the open road and White Sands fits the bill for fantastic exploration. Alamogordo has seven Rv parks to choose from.
There are also more natural options such a Oliver Lee Memorial State Park. There is also great hiking and a very interesting tour of the historic grounds and ruins of the park.
If you just have a tent, no problem. There are so many places to pitch your tent in Alamogordo. Download the Campendium or Allstays application on your mobile device and pick from the list.
If you want to go a totally different route, then consider renting an Airbnb. You can have all of the comforts of home, a place to cook meals, and a place that can fit multiple people or even multiple families.
Another option is renting a tiny house or even a tipi in the nearby Lincoln National Forest. Both of these options are available near Alamogordo and will promise a unique experience on your vacation.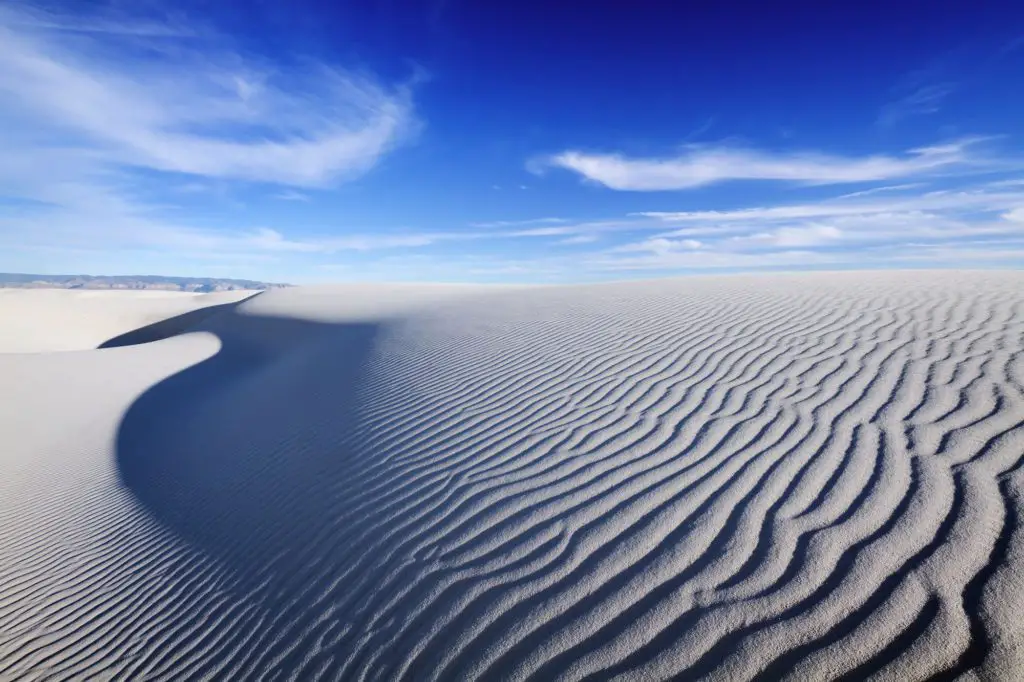 White Sands National Park Tips
For more help planning your trip to White Sands see our list of the best things to do at White Sands National Park and the best things to do near White Sands National Park. A few other posts that might be helpful are:
Are there other towns close to White Sands National Park?
There are other cities that you might consider staying in that are just a little farther away, but not by much. They all deliver a unique experience in the culture and ambience that you expect in the Southwest.
Cloudcroft
Just forty minutes away from White Sands National Park lies another world separate from the arid desert sands and dunes of the park. With an elevation of 8675 ft., Cloudcroft is the alpine haven you might want to escape to in order to avoid the desert heat in the summer time.
Cloudcroft is a destination in itself that boasts incredible hiking and site seeing. Enjoy a day at the Trestle Recreation Area and hike the old line of the Mexican Rails-to-Trails that takes you through historic areas with astonishing views of the Tularosa Basin.
Being an old lumber mining town, there are also museums to explore in Cloudcroft. Learn about how the Mexican Canyon railroad was extended into Cloudcroft to mine timber for the El Paso and Northeastern Railroad. By harvesting timber from the nearby Lincoln National Forest, Cloudcroft was discovered and a thriving tourist attraction was born.
One of the main activities in Cloudcroft is skiing. Although the ski resort is small, with three chairlifts, it packs a big punch with deep fluffy snow and views from the top that will make you swoon. Visit in the winter and take advantage of one of New Mexico's best kept secrets.
When you come to Cloudcroft, you have your pick of hotels, motels, cabins and even hostels. The picturesque alpine setting is perfect to get away from the heat of the desert valley. You can also rent a cabin in the woods if you choose to get away from it all.
There are also almost twenty restaurants to choose from in Cloudcroft including bakeries, coffee shops and quaint cafes. Cloudcroft is a departure from the desert, but one you will invite to esacape the heat.
Las Cruces, New Mexico
Las Cruces is full of the New Mexican history and culture you are looking for on your Southwestern vacation. Less than an hour away, you'll find the mecca of hospitality in Las Cruces.
Standing in the middle of town, it is easy to see the Mexican influence of architecture and culture in this border southwest town. Start at the Plaza de Mesilla and explore the boutiques and restaurants that surround this historic and beautiful area. Walking around the plaza, it feels as if you are in Mexico, with the quaint adobe cottages adorned with the bright colors of Mexican heritage.
Don't miss entering the Basilica San Albino in the heart of the plaza. Although originally built with traditional Mexican adobe architecture in 1851, in 1906 a Roman facade was built over it and remains as it is today. The bell tower houses the original bell for 1870 that can still be heard ringing all around town.
Las Cruces is famous for being the former stomping grounds of Billy the Kid. He was sentenced to hang here in after being found guilty of murdering over 17 people. However, he escaped to a nearby ranch where the sheriff found him and shot him dead. There is so much history in the area to explore.
When it comes to finding a place to stay, that won't be a problem as there are around twenty hotels and motels surrounding Las Cruces great for any budget.
If you are looking for a place to camp, there are several great spots near town. There is even a spot that includes visits to a hot spring during your stay. Camping truly can't get better than that.
If you have brought your house with you on your trip, take advantage of the many RV parks to stay at in the area. There are private parks and state parks to choose from. Some have full hookups and others have dry camp only options. Whatever you choose, you'll have that beautiful New Mexican sky to peer up at when night falls to keep you company.
If you plan on touring the Southwest this year and need to know where to stay near White Sands National Park, you have many options. The only problem that may arise is a change of plans, due to the fact that there is so much to see and do in the area surrounding the park.
No worries, though. This will just give you an excuse to come back soon!