Visiting White Sands National Park In March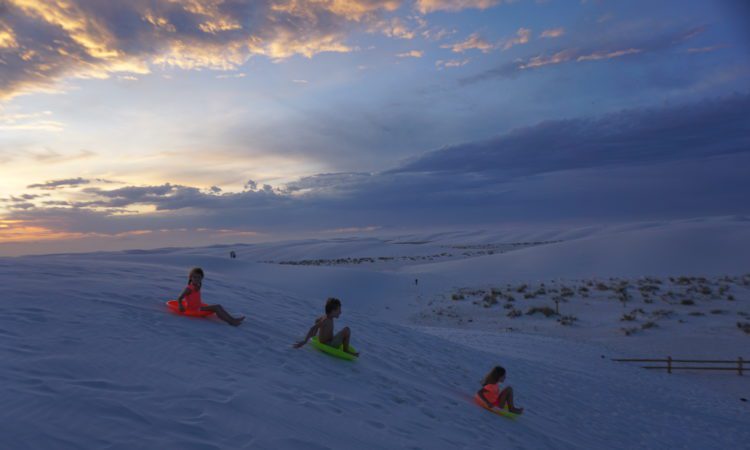 Grounded Life Travel is supported by its audience. When you purchase through links on our site, we may earn an affiliate commission.As an Amazon Associate I earn from qualifying purchases. List of everything we use in our travels.
Visiting White Sands National Park In March can be just what your spring fever needs for a cure.
The days are getting longer and you can see the trees start to bud with the promise of blooming soon and ushering in warmer temperatures with them. It's been a long winter. Why not take some time and visit the Southwest with a stop at White Sands National Park.
What is the weather like in March in White Sands National Park?
Springtime is the best time of year to visit White Sands National Park. Located in the southern New Mexico, White Sands gets the benefit of higher elevation and close proximity to the equator. At 4,235 feet, the weather is pleasant for most of the year. In March, you will often find that the weather is a perfect 70 degrees Fahrenheit most days and only in the 40's at night.
Alamogordo, the city that hosts White Sands National Park, gets on average 285 days of sun a year. So, you are bound to get some lovely days on your vacation to romp in the sand and sun.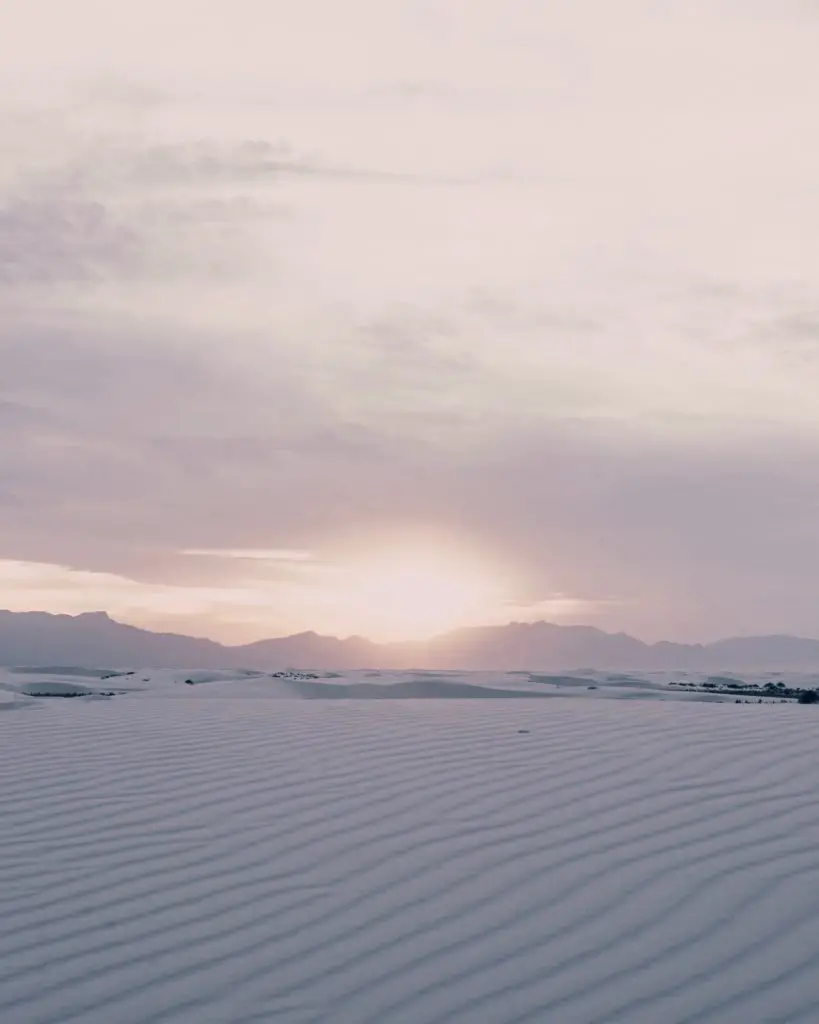 How crowded is White Sands National Park in March?
March is actually the busiest month at White Sands National Park. With a patronage of over 600,000 people, a large portion visit in Spring. But, that doesn't mean you can't have a blast with everyone. The dune field is 227 square miles and runs from the San Andres Mountains to the Sacramento Mountains. One thing is for sure, you will find a space to have fun and to explore with your family or friends in relative privacy. With a playground this big, everyone gets to play!
What is there to do in White Sands National Park in the spring?
All of you spring breakers will be happy to know that White Sands is a blast in the spring time, or any time of year. When visiting White Sands National Park in March, you can take your pick of dune sledding, hiking, biking or even camping. Enter when the park opens and close it down with a picnic dinner and a sunset hike. Whatever you decide to do, it is bound to be a fun time.
For more help planning your trip to White Sands see our list of the best things to do at White Sands National Park and the best things to do near White Sands National Park. A few other posts that might be helpful are:
Where is the best place to dune sled?
If you want to go dune sledding, start out at the Visitor Center. In addition to walking around the museum and watching the video about the park, you can rent or buy sand saucers at the visitor's center.
The best plan to find a good dune to slide on is to drive back to the end of the park drive. That way you can survey all of the dunes and check out the picnic areas. You may want to park here and then have lunch later.
Take off your shoes, pick a dune and have a blast! This is one of the best memories that my family and I made when we visited the Southwest. There's something so special about sliding down the dunes at sunset. You should really try it!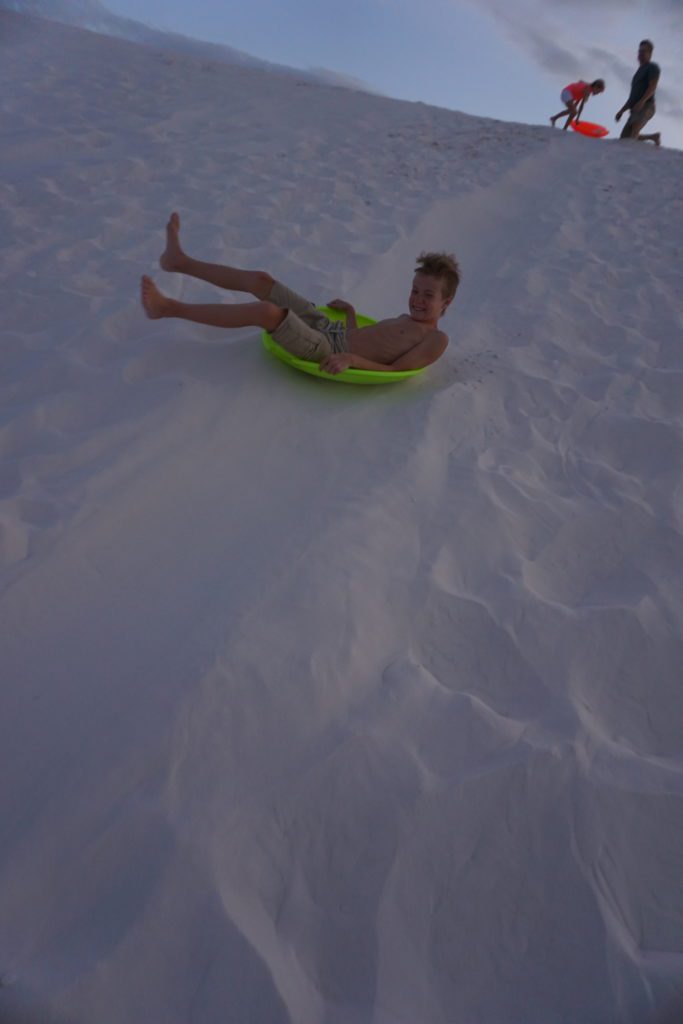 Are there good places to hike in White Sands National Park?
There won't be a shortage of hiking trails at this national park. There are five for your choosing. Start the day with a leisurely Interdune Boardwalk stroll or go for the Backcountry Trail and check out the quiet and serenity that the remoteness of this trail can bring.
Interdune Boardwalk
This is a great introduction to what White Sands National Park is all about. The boardwalk dune is great for those with physical limitations or small children. It is only a .4 mile stroll into the dunes. Ten kiosks will explain the geology behind what it takes to make the largest gypsum desert in the world.
Playa Trail
Travel back in time as you learn about the constant change of the dunes, the animal habitats and what the area looked like 10,000 years ago. This .5 mile trail features outdoor exhibits that will explain what makes the dunes live and breathe with life. Make sure you stay on the trail, as you could damage sensitive ecological elements if you stray.
Dune Life Nature Trail
The Dune Life Nature Trail is great for families that want a little adventure. Make sure you wear your climbing legs on this one mile trail, as you will traverse two great dunes. By following Katy the Kit Fox and her friends on the trail you will be able to identify prints from all creatures who live in the dunes. It's a really enjoyable outing for the kids and they will sleep well that night after so much activity.
Backcountry Trail
If you want to experience the heart of the dunes, the Backcountry Trail is where you need to spend your time. Popular with backpackers and campers, take this 2 mile trail and experience what it might be like to be isolated and in the middle of nowhere as you walk around in solace among the dunes. Make sure you stay on or near the trail as i is easy to get lost in such a white world of sand where everything looks similar.
Alkali Flat Trail
Whoever named this trail must have been on the sauce! Naming it "flat" is definitely a misnomer, because the Alkali Flat Trail is nothing but hills. you should be prepared to hike up and down dunes for five miles, walking passed the remnants of ancient Lake Otero.
Here you will most likely be the only human for miles which comes with a sense of peace. You should make sure you are prepared with everything you need for a hike in an arid sunny climate. Pack sunscreen, food and lots and lots of water. There are no restrooms and there is no way to refill water containers. Be ready for the elements of nature and engross yourself in the solitude that only the sanctity of the desert can bring.
Can I bike through the park?
From the visitor's center you can bike the Dunes Drive, which is the main park road. Even for the most accomplished biker, this will be a unique experience. On Dunes Drive, the first four miles will be paved, beyond that, the next 4 miles will be packed gypsum.
Weather, wind and other variables may make this portion an easy ride or more challenging. There can be potholes, gypsum drifts and washboard roads that any biker will need to be on the lookout for. Therefore, road bikes are not recommended when biking in the park for this reason. The fatter tire your bike has, the better. Make sure you save energy and time for the 8 mile trek back. Whatever the day brings, it is certain that this will be an experience that you won't soon forget.
Can I camp in White Sands National Park?
You can obtain a permit at the visitor's center for a night pass to camp. You will need to backpack in on the Backcountry Trail because it is a two mile trail to the dune field where you can camp off of the trail.
Rules of the park dictate that you set up your camp within five feet of the campsite marker and have your tent set up by sunset. Make sure you dig a latrine and pack out all trash as any responsible camper would.
If you are camping or hiking into the dune field it is crucial that you have a compass. Many have gotten turned around and lost in the white world of gypsum where all dunes suddenly look the same.
Visiting White Sands National Park in March can get a little chilly by nightfall. Therefore, when camping, ensure you have proper jackets and sleeping bags to keep you warm.
Visiting White Sands National Park in March will give you a multitude of activities to enjoy. The only problem will be building in enough time to get it all done. You and your family are sure to have a wonderful time this time of year, enjoying your visit to White Sands National Park.