Riding Amtrak With Mobility Issues
Inside an Accessible bedroom on a Viewliner
Grounded Life Travel is supported by its audience. When you purchase through links on our site, we may earn an affiliate commission.As an Amazon Associate I earn from qualifying purchases. List of everything we use in our travels.
In this guide to riding Amtrak with mobility issues we share some tips to make your trip better. Train trips are a fun experience and Amtrak helps to make them even better for those with mobility issues. We'll answer questions about accommodations for disabled passengers on Amtrak.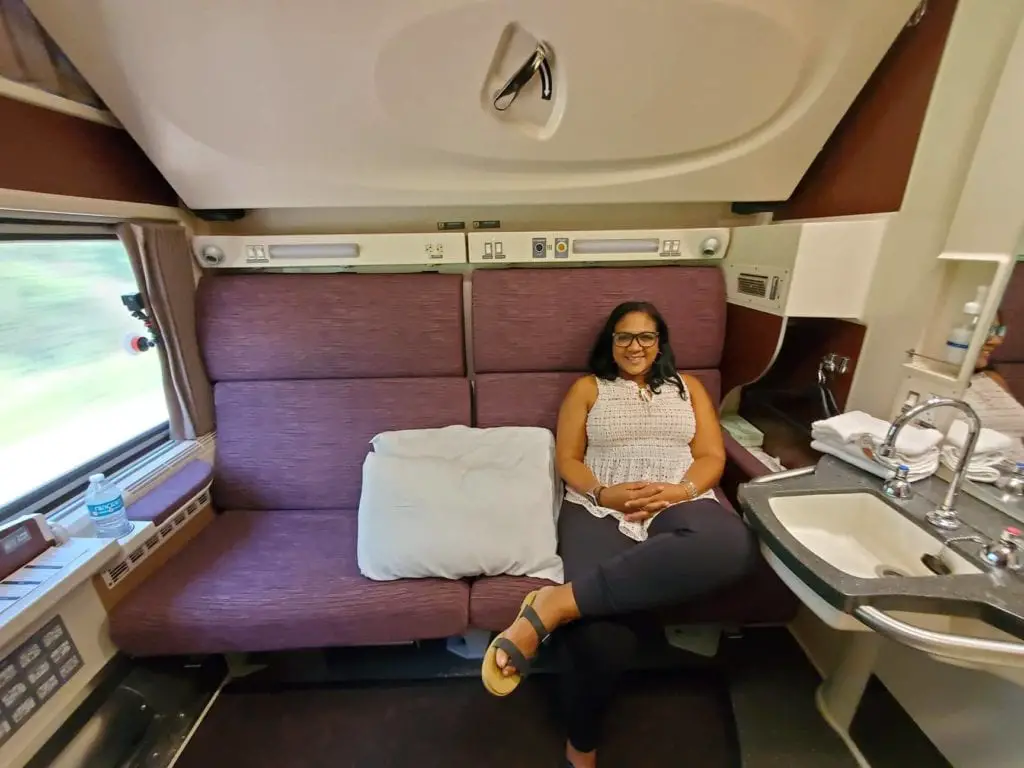 Can Handicapped People Ride Amtrak?
Anyone can ride on Amtrak. Amtrak provides several accommodations for handicapped passengers. If you are riding in coach, you will find accessible seating. You will also find accessible restrooms on the train. The staff is always very helpful to all passengers and is always willing to help in any way they can. In this guide to riding Amtrak with mobility issues we will answer more of your questions about your next journey. One thing to keep in mind is the amount of movement on the train as it travels.
Can You Take A Mobility Scooter On Amtrak?
Mobility scooters are welcomed on Amtrak. There are some restrictions to consider before bringing your mobility scooter on board Amtrak. Your scooter must not weigh more than 600 pounds, there are now travel scooter options available in a smaller size. The scooter must have 2 inches of ground clearance. It must also be less than 30 inches wide and 48 inches long. There are ramps available at nearly all stations to help you board the train if you can not physically board on your own.
Can You Travel By Train In A Wheelchair?
The quick answer to this question is yes, you can travel by train in a wheelchair. If you are in the US, you will likely be traveling by Amtrak. Amtrak does have restrictions about the weight and size of the wheelchair as noted above. Manual and powered wheelchairs are both welcomed on board. If you don't have your own but need one to board or disembark the train, nearly all stations can provide one for use.
Does Amtrak Have Accessible Rooms?
Amtrak has a limited amount of accessible rooms available on each train. On the Superliner trains you will find a bathroom inside your Accessible Bedroom. Showers are just outside the room. On a Viewliner I you will also find a bathroom inside your room. On the newer Viewliner II you will also find the shower inside your room as well as a bit more space. If you have your mobility scooter or wheelchair in the room, here are some measurements to help you figure out your needs: door clearance is 56 inches, the lower berth is 20 inches off the ground and the height of the toilet is 18 inches. Be sure to book your accommodation as soon as possible to be able to book the accessible room.
Accessible rooms are the hardest to book on Amtrak as they are sold out well in advance. If you are in need of one be sure to plan your trip far into the future or you might need to be flexible on your dates.