Complete Craters Of The Moon National Monument Visitors Guide
Grounded Life Travel is supported by its audience. When you purchase through links on our site, we may earn an affiliate commission.As an Amazon Associate I earn from qualifying purchases. List of everything we use in our travels.
Craters Of The Moon Visitors Guide
Craters of the Moon National Monument and Preserve exceeded our expectations. There is so much to see and so much to do. In our opinion, this should have been a national park. We found very little information about this park before our visit so we put together this Craters of the Moon Visitors Guide to help you on your visit. This beautiful park is located in the state of Idaho and is a common stop for people on their way to Yellowstone. This is a volcanic activity area covered in mostly black lava rock and scrub land grasses. We have visited Volcano National Park and this is the closest thing we've see to it on the mainland.
When To Visit
This beautiful park is open year round but it is not recommended in winter as the snow makes the loop road inaccessible from November until about April. We visited in early October with our camper van and it was already a bit chilly at night. The wind can be a bit crazy in Idaho so be prepared for the high winds you will encounter in this park. We had up to 40mph winds (no that is not a typo). We spent a full day at this park and we wish we would have had time for 2 days.
Lodging And Services
We came over from nearby Twin Falls but we decided to stay in Arco, Idaho. There are few hotel/motel choices in Arco but we had our camper van and camped at the local KOA. The KOA had good services, laundry, bathrooms, showers, games and picnic areas. It is a bit cold at night so be sure to bring a heater if you are here anytime between September and April. Temps drop quickly at night and the wind makes it even chillier.
Lava Flow Campground
There is also a campground in the park with fewer services, which is available on a first come first served basis for $15 per night. There are 42 spaces, none of which can be reserved. During times when the water is turned off at the park, the sites are $8 per night. The campground is set among the lava flows and is ideal if you don't need hookups. There are tent only campsites and also sites with enough room for an RV. If you miss out on a spot here, the Arco KOA would be a good fallback option.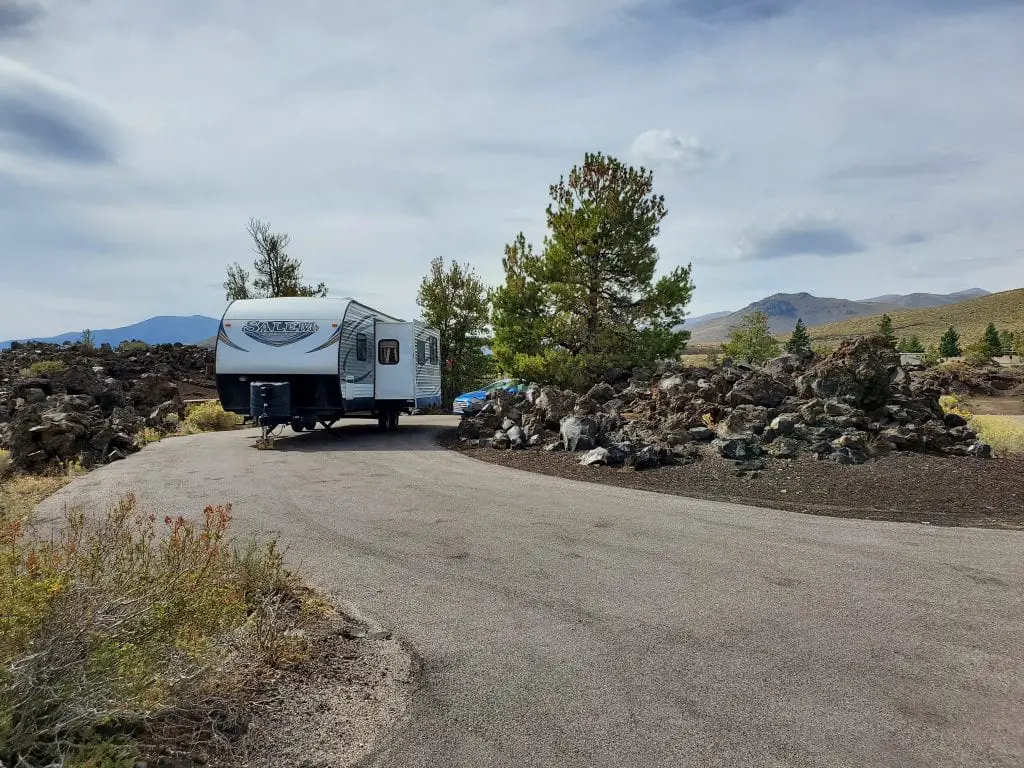 We suggest bringing plenty of water and snacks on your visit as you will have access to neither on your visit. There are several restrooms available in the parking areas. This park is very windy and tends to get cool very quickly. Bring a jacket, hat and mittens depending on when you visit.
Loop Road
Loop Road is your ticket to this park. This road is a 7 mile, one way loop around the entire park. You will get the opportunity to stop at the overlooks and trailheads around the park. This is the best way to explore Craters of the Moon. You can pick up a map with a description of what you will see at each stop at the Visitors Center near the entrance.
North Crater Flow Trail
This is the first stop you will come across as you leave the visitors center. This stop is on the right as you pass the campground area. There is a parking lot and you will see the trailhead on the left. This trail is wheelchair accessible and good for strollers too. This is a short .3 mile hike but if you want something a bit longer, you will find another trailhead that is a 1.8 mile hike and leads to the spatter cones parking lot.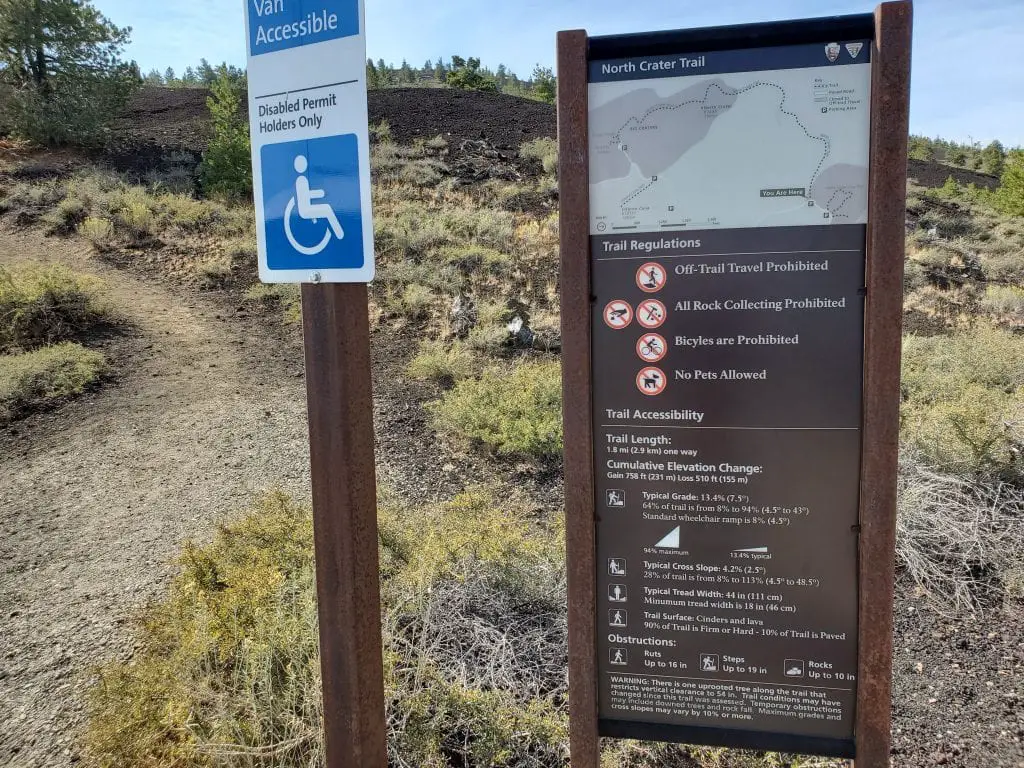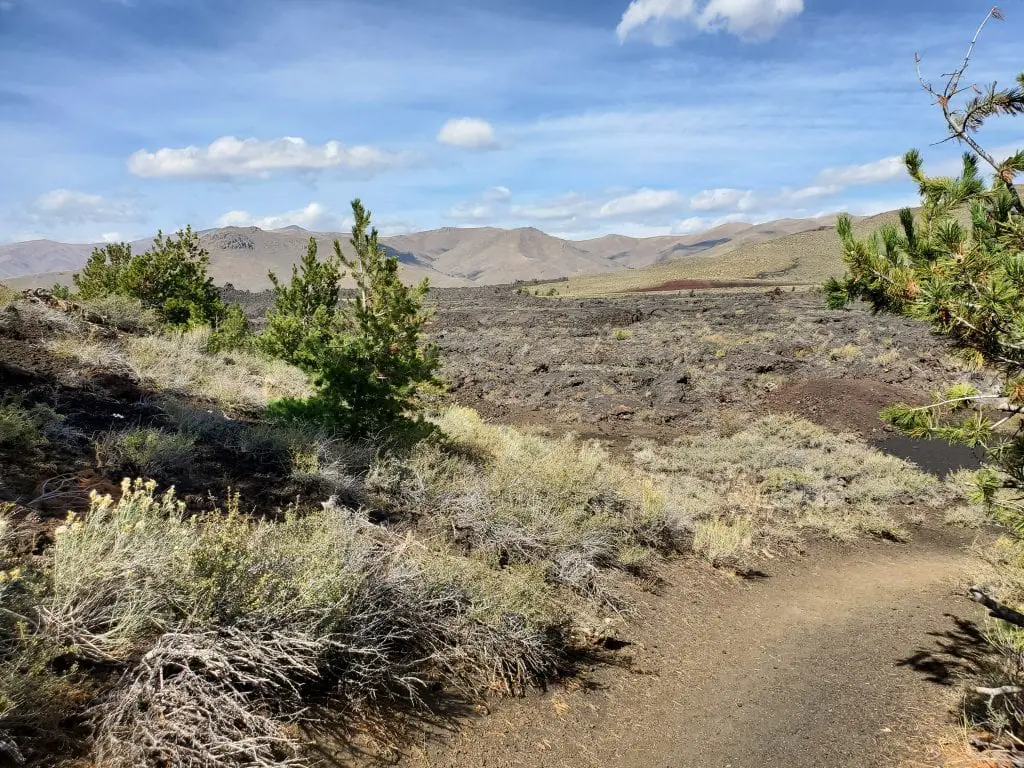 Devil's Orchard Nature Trail
This trail is similar to the North Crater Flow trail, it is .5 mile long and is paved. It is wheelchair accessible and stroller friendly. You will find lava fragments as well as old trees with very unique shapes. This is a very informative trail. You will find placards around this trail with in depth information. Take your time exploring here. This is a great spot for taking photos.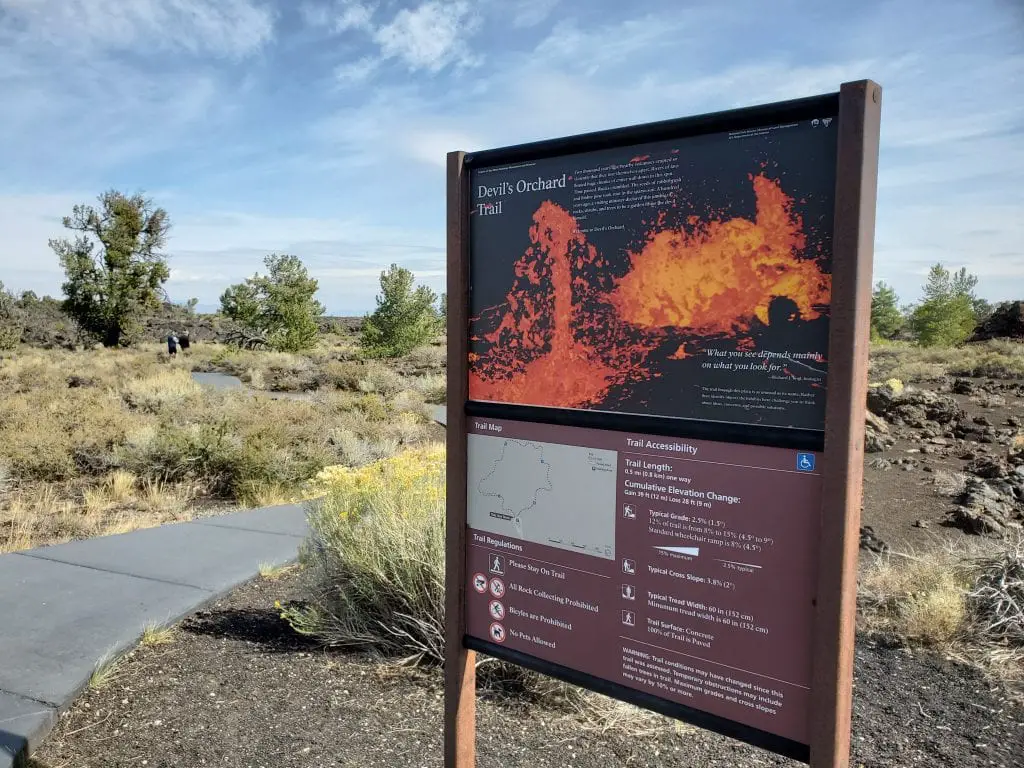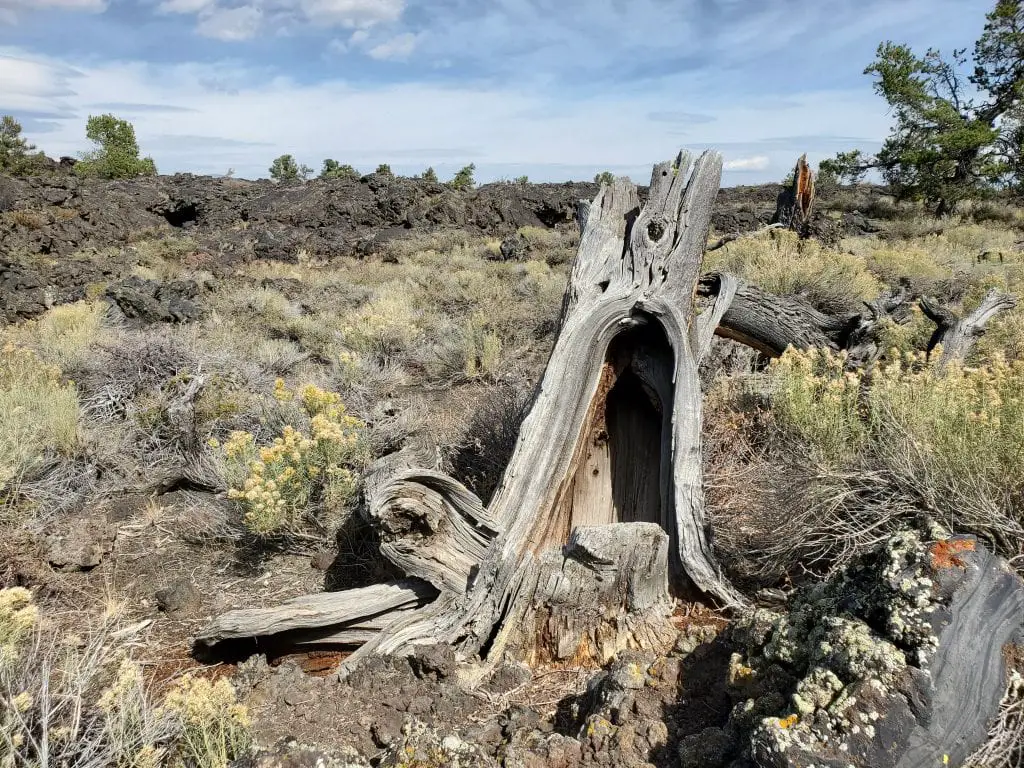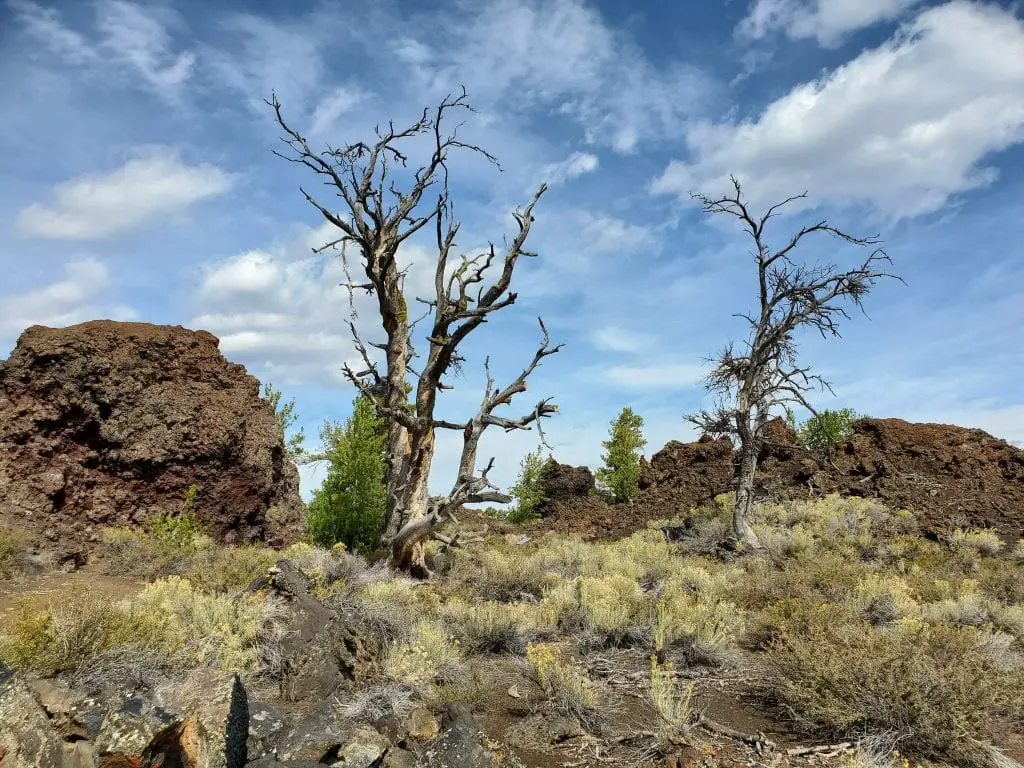 Inferno Cone
Inferno Cone is one of the most popular spots in the park. You can park in the parking lot off of Loop Road. This is Stop 4 on your park map. You can view the cone from the parking lot or you can venture out and hike up. The hike is just .5 miles but be aware it's very steep and the winds can reach 40mph or higher on the way up as you can see from our hike up. Also be aware that the first "summit" you can see is not the actual summit, you will need to keep walking up to actually summit. It's a tough road up but it's completely worth it for the views.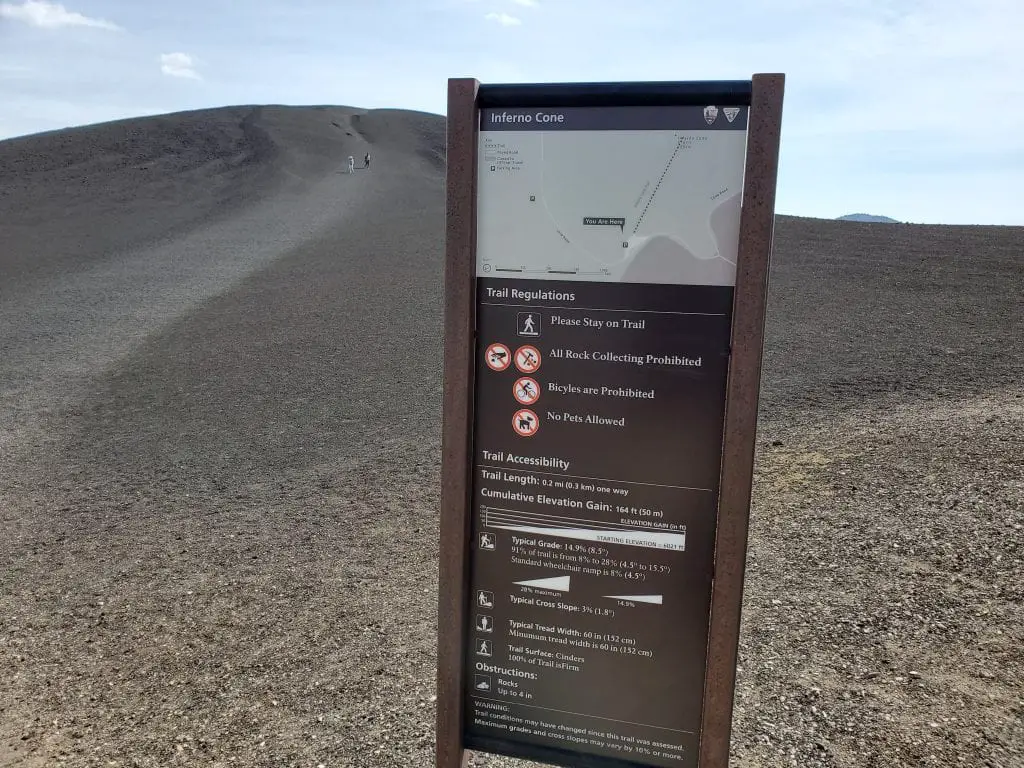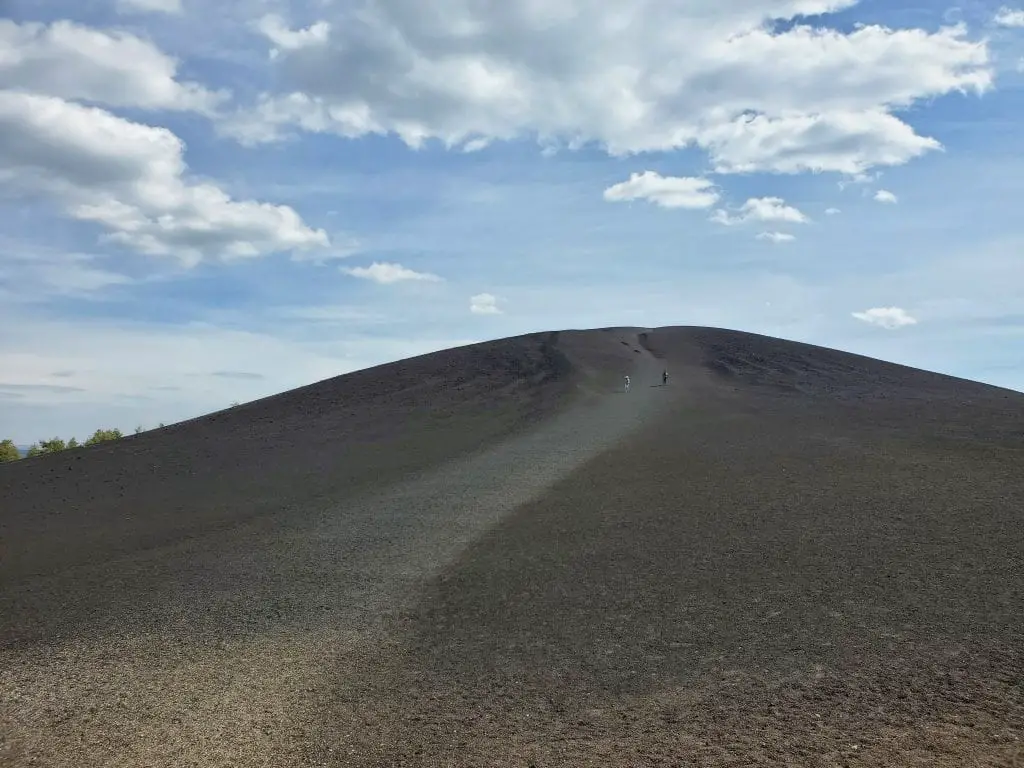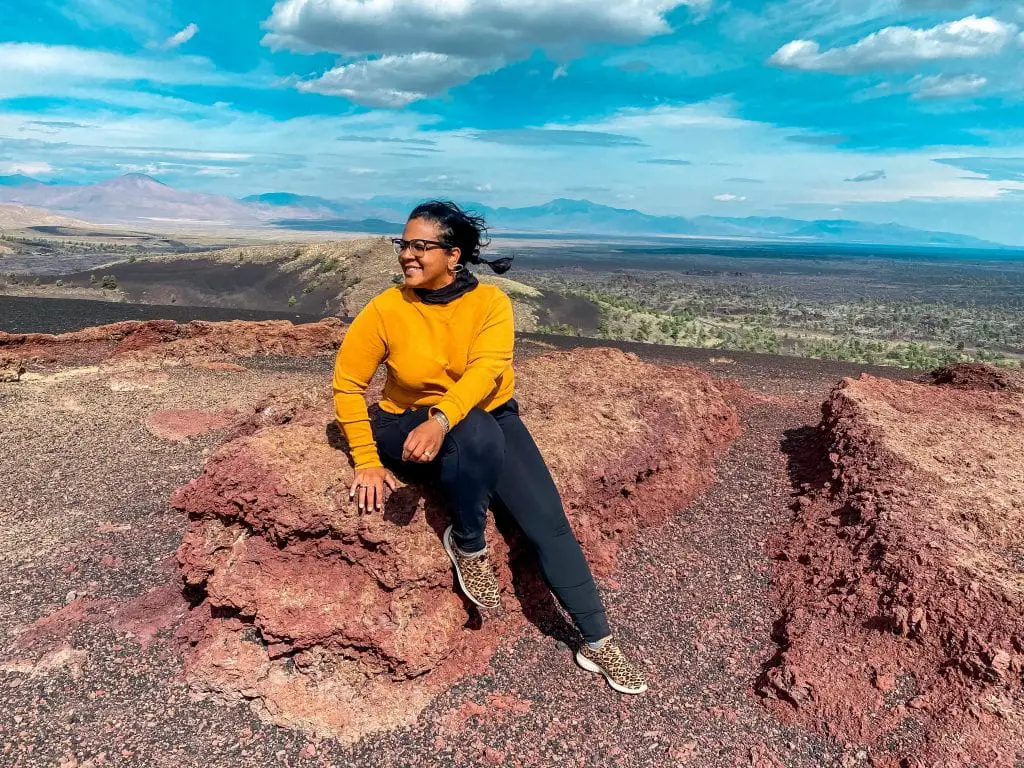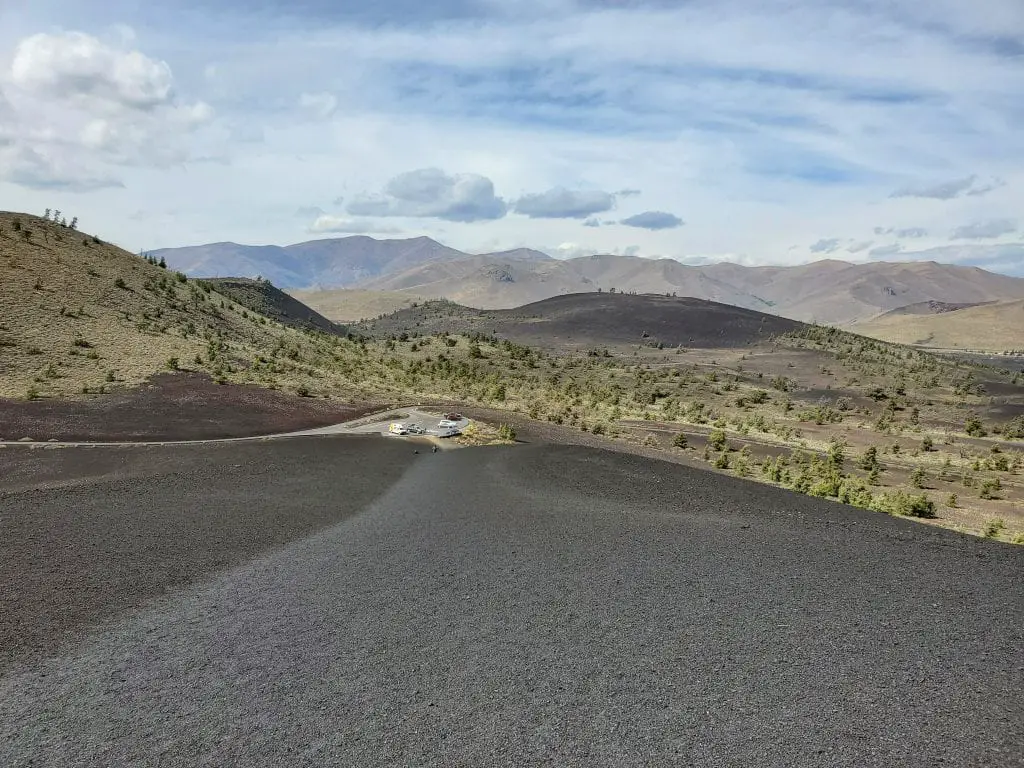 Spatter Cones And Big Craters
These miniature volcanoes are accessible via a short trail from the parking lot. You will find a viewpoint at the end. This area is fenced at the viewpoint for safety. You can see inside a small crater here. One of the trails is a bit steep for wheelchairs and strollers but still accessible. This is a beautiful area.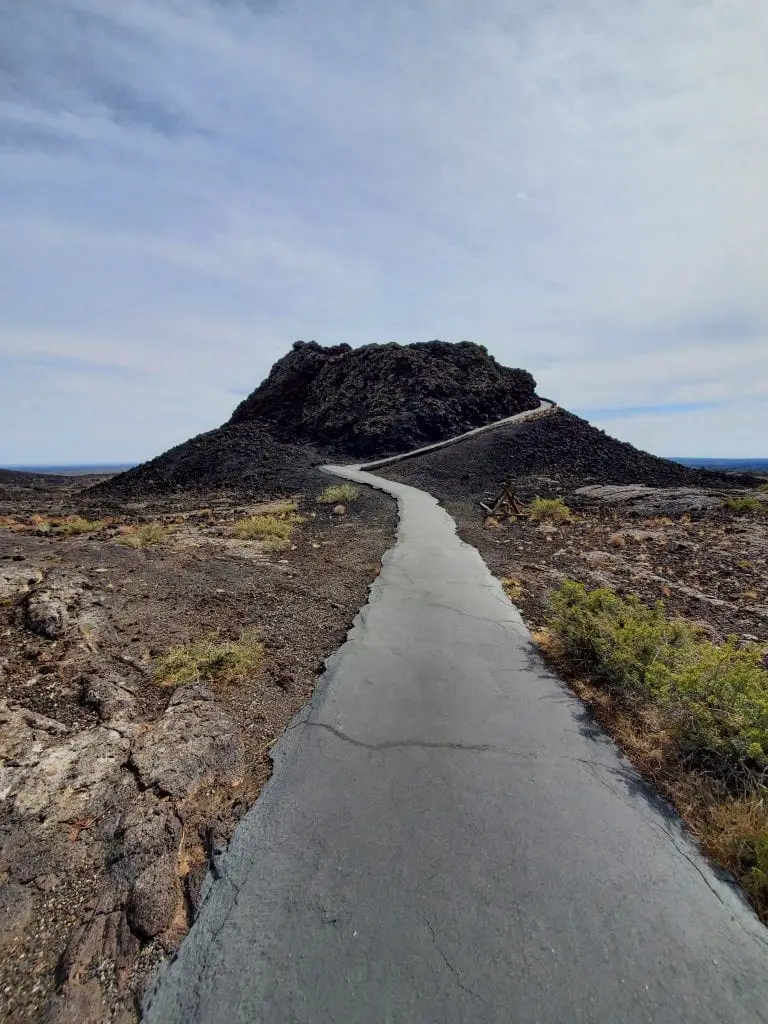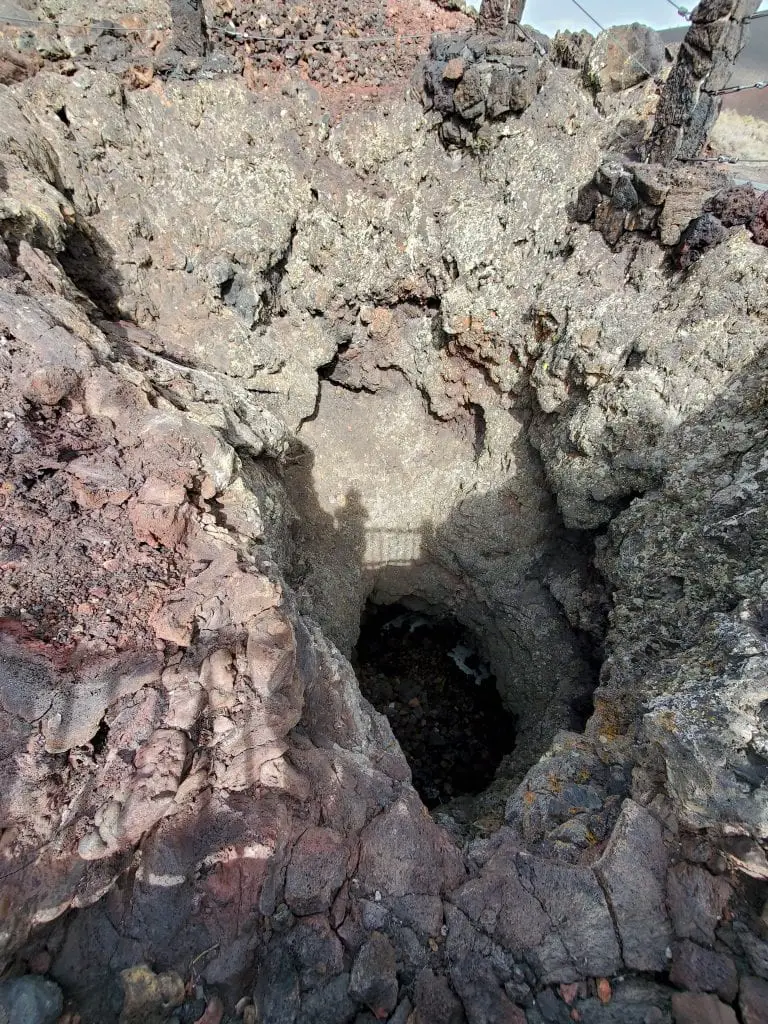 Other Areas To Explore
We visited the park in early October of 2020, and restrictions were in place so some areas were off limits like the caves. We hear this is a great area to explore. You can still hike out to the caves but you can not go inside. A permit is required to enter the caves. You can also stop in the Lava Fields, this is a great view on your way out of the park. We had such an enjoyable time in this park and we would recommend it to all.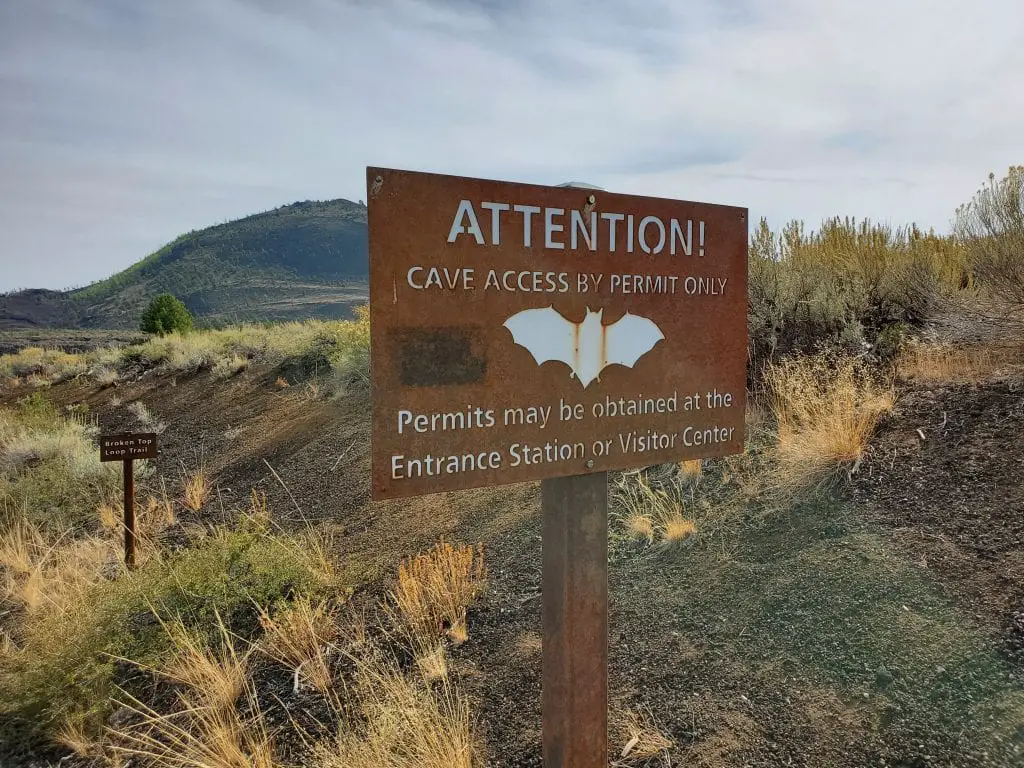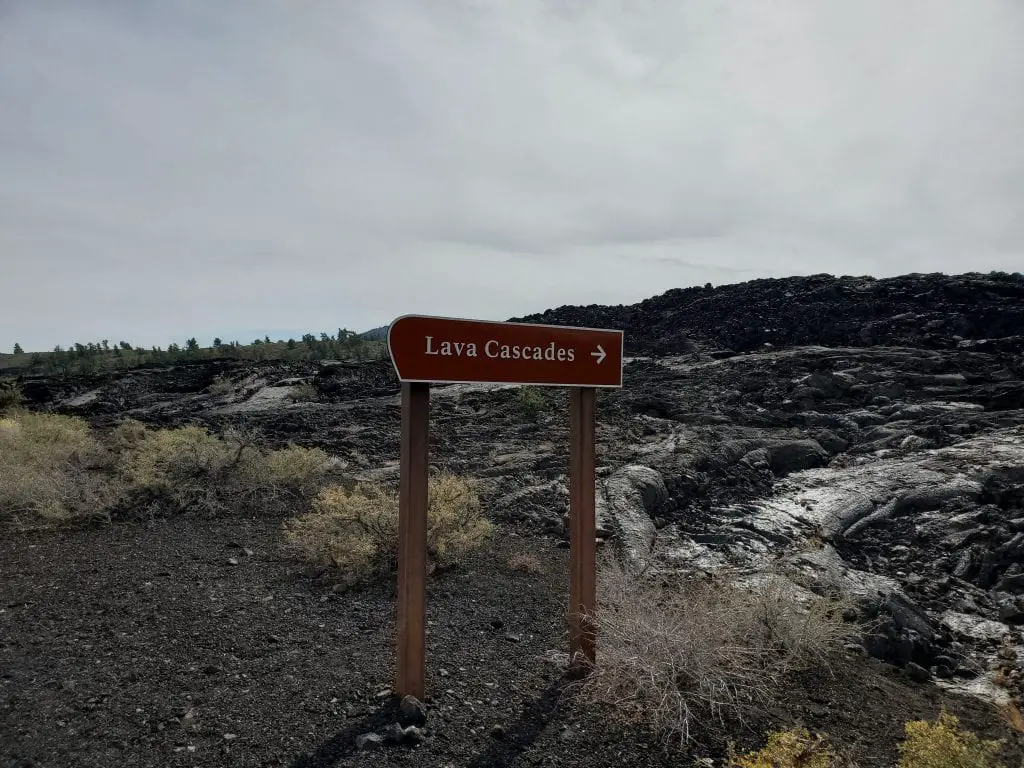 Tags :
craters of the moon
idaho
national parks