Best Amtrak Trips From New York City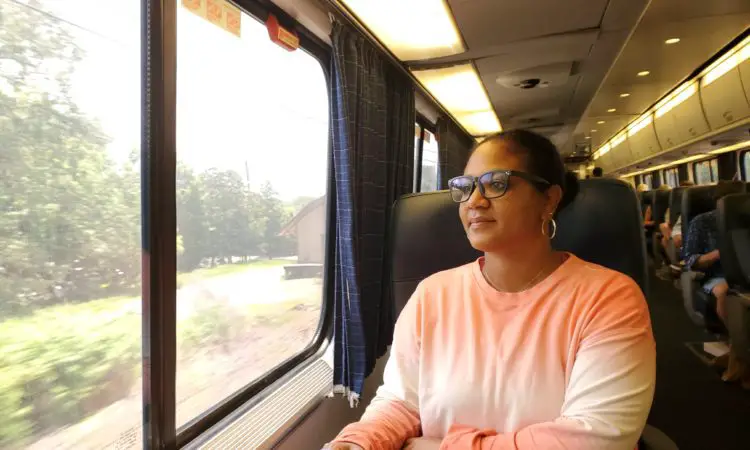 Grounded Life Travel is supported by its audience. When you purchase through links on our site, we may earn an affiliate commission.As an Amazon Associate I earn from qualifying purchases. List of everything we use in our travels.
"The Big Apple", "Gotham" and "The city that never sleeps", are just a few nicknames that one of the the biggest, brightest and most loved cities in the world has gained in the 368 years it has existed. From Time Square, to the Statue of Liberty to the Empire State building, there are so many places to explore in this fascinating city filled with unique spots and exciting places.
You could spend months here and still not see everything there is to experience. However, there are places near and not so near that are just a train ride away that have there own mystery and intrigue for you to explore. From New York City, you can get to Boston, Upstate Vermont, Niagra Falls and Washington D.C., by traveling on an Amtrak route that will not only be fun but allow you to multitask while you travel. Get some work done or sit back and enjoy the famously fabulous scenery there is to see across this Eastern part of the country.
Before taking off on your trip check out our list of 20 must have items for your next Amtrak trip.
Boston
How to Get to Boston On Amtrak
The trip from New York City to Boston is one that everyone should aspire to take. Two great cities, one great mode of transportation that can show you some of the most beautiful country in the east. With gorgeous historical cities and the picturesque Long Island Sound, this trip is not just a journey, it becomes part of the destination. Clocking in at four hours driving time, your Amtrak trip will beat that time by thirty minutes. Rest, relax, enjoy the scenery and get to your destination quickly.
The Acela train by Amtrak will get you to where you need to go in utmost comfort. The Acela boasts both First Class and Business class seating with WiFi capabilities and comfortable seats that recline and include a footrest. Are you hungry? Visit the cafe car and grab a bite to east on your short journey. If you are all business on this trip, the quiet car can help you focus to get that all important work done. If you are seated in First Class a great advantage is complimentary hot meals and beverages at your seat. Chalk this up as just another way you are saving by not having to stop to eat on your drive to Boston.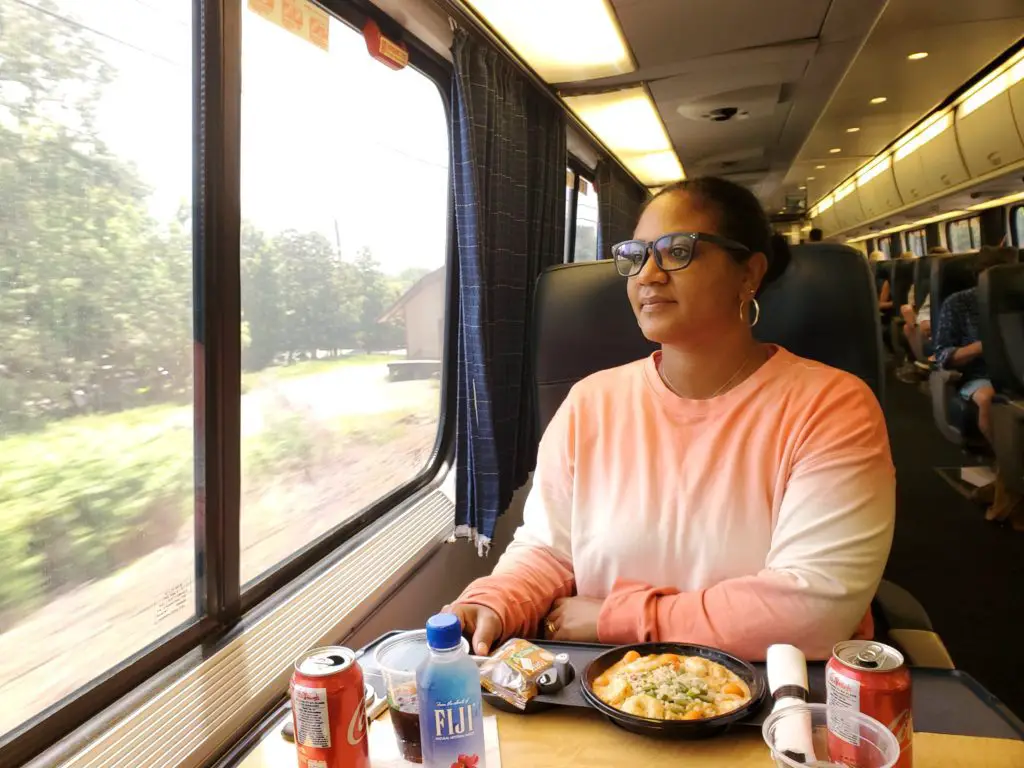 An alternative to the Acela and a more budget friendly option is the Northeast Regional train that runs hourly during the week. This train also offers Coach and Business Class seating, comfortable seats and complimentary drinks along with free WiFi.
If you have a First Class ticket on the Acela, you have the option of visiting the Metropolitan Lounge at Moynihan Train Hall and the Boston South Station to grab a drink or have a business meeting.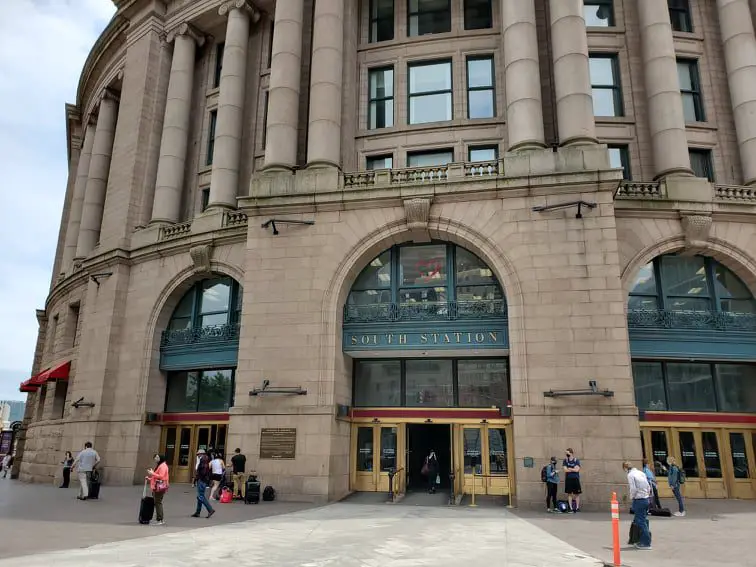 What to do in Boston
Boston is filled with all things old and new. If you are there for a history tour, there is almost no other place that tops it. Start at some of the most iconic sights like the site of the Boston Massacre, then visit the Old State House and learn about its fascinating history. Continue down the "Freedom Trail" and hit all sixteen stops of significance.
Next, it's time to get a taste of Boston. You know you can't leave without tasting some Boston Clam Chowder or their world famous lobster rolls. Luke's Lobster Back Bay or Lobstah On A Roll, will have you covered in that department. To end the day, take a horse and buggy ride or stroll the Boston Common. This city is so exciting and walkable, the sky really is the limit!
A close hotel to the station in Boston is the Intercontinental. We've also stayed at the Club Quarters, and had a great visit while saving some money.
We love to use Go City to save on our admission tickets in Boston. They have all inclusive passes to everything you could want to do while you visit Boston.
Upstate Vermont
How to get to Upstate Vermont
Aww, Upstate Vermont. Just the mere mentioning conjures images of spectacular autumn canopies and the crackle of fallen leaves under your feet. To get to this once a year phenomena will only take about 7.5 hours, compared to 5.5 hours when driving. Watch as the scenery whizzes by your window while you sip on a pumpkin spiced latte with your tunes playing, or read a book and catch up on some work. It's your choice because you aren't behind the wheel!
The Amtrak Vermonter starts your journey from NYC Moynihan Train Hall At Penn Station and arrives at Burlington, Vermont. The Vermonter features Coach and Business Class seating with a Cafe Car offered for those snack cravings. Free onboard WiFi, ample storage for your luggage and comfortable seating round out the Vermonter's list of luxuries. If you plan on sight seeing, consider taking a bike and store it conveniently with Amtrak's Carry-on Bike Service.
What to do in Upstate Vermont
Exploring the Vermont countryside and its quaint little towns is a top trip for many in the fall. Meander around Burlington, VT and its gorgeous streets and historic homes or put your bike to use and bike the Island Line Trail and the shoreline of Lake Champlain. After seeing the beautiful Adirondacks on your bike, stop by Burlington City Arts to get a taste of Vermont arts and culture. Next, head to Church Street Marketplace for some amazing Mediterranean or some farm to table cuisine. Whatever you do, almost anywhere in Vermont in the fall will be a major win with your crew.
Niagara Falls
How to get to Niagara Falls
Getting to this iconic American destination has never been more fun when riding on Amtrak. This nine hour excursion will take you through beautiful wine country, gaming lands and along state parks. You can make this drive, but you must consider the traffic that you will almost certainly battle coming out of New York City and through some of the more populated cities in the east. With no traffic the drive would be a little over seven hours and includes toll fees.
The Empire Service train with Amtrak offers Business Class service, complete with luxurious leather seats with footrests and complimentary beverages. Board the Empire Service at New York Moynihan Train Hall at Penn Station and get off the train in beautiful Niagara Falls.
What to do in Niagara Falls
Well, this goes without saying. But, there is one thing that completely steals the show, here. Niagara Falls was America's first state park. Trains have been bringing hoards of visitors to Niagara Falls since the early 1800's and interest has never waned. Watch as 3,160 tons of water tumble down the falls every second. Alternatively, you can descend into the falls for a boat ride and get up close enough to get drenched by the spray of the thundering falls.
Niagara Falls has been a tourist hot spot for centuries and there's no shortage of other things to do. Visit the Skylon Tower and gaze at the beauty of the falls at night as you dine on one of the best buffets in America. Visit the Butterfly Conservatory and experience the wonder of thousands of dazzling butterflies encircling you. If you want to do something away from the falls, Niagara has a plethora of wineries to tour and some surprisingly good wines to taste from the region.
Washington D.C.
How to get to Washington, D.C.
There are many trains that run from New York City to Washington, D.C. The Acela will be quicker as it is a high speed route.
The Acela picks passengers up at New York's Moynihan Train Hall, and goes to Washington's Union Station. Furthermore, it is high speed and tops out at 150 mph. Therefore, it can get you to your destination in an astounding 2 hours and 35 minutes. This train has every amenity you would ever need including a First Class car. Dine in at your seat and have a hot meal or grab something quick in the cafe car.
The Northeast Regional isn't high speed, but if you need to make a stop in between New York City and Washington, D.C., this is the train to go with. There are 15 stops in between your destination, therefore, taking this train can take you virtually anywhere you need to go on the Northeast Corridor. Featuring Coach and Business Class with extra wide seating, you will be comfortable and entertained with the provided WiFi access.
Union Station in Washington D.C. also features a Metropolitan Lounge for first class Acela passengers and sleeper car passengers on other trains.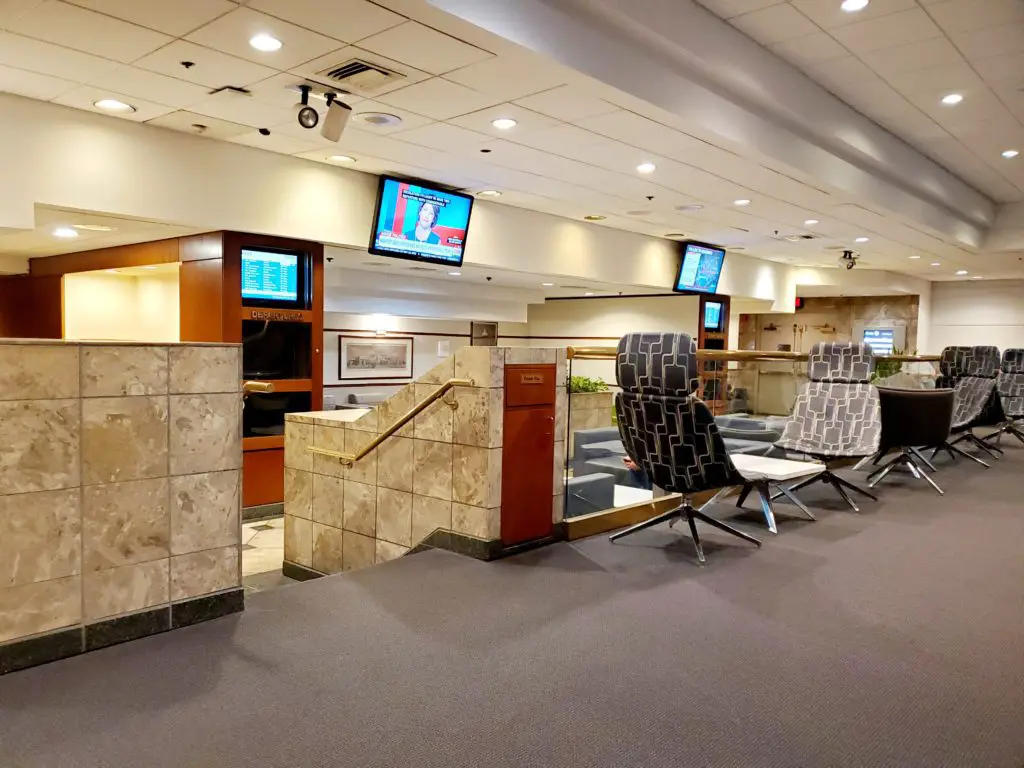 What to do in Washington, D.C.
Washington D.C. is a wonderland of history and architecture. If seeing America's most valued and iconic sites is on your bucket list, then you have come to the right place. See the sights by foot, bike, Segway or double decker bus. Visit the museums and historical sites by day, or enjoy the stunning display of city lights by night. Take a guided tour, or do it yourself. Whatever you decide to see the Lincoln Memorial, the Smithsonian, the U.S. Capitol and the White House is up to you. Unfortunately, you can't see all of these and much more in one day. Take a week and enjoy it all!
These exciting routes from New York City will give you all that you are looking for on a trip in the east. From the mesmerizing sights of Niagara Falls, to the spectacular monuments America's founders built, these Amtrak routes can get you there to make those coveted vacation memories.
In Washington D.C. we recommend staying at the Phoenix Park Hotel, which is the closest hotel to the station.