Amtrak Superliner Roomette Review: What You Need To Know
Grounded Life Travel is supported by its audience. When you purchase through links on our site, we may earn an affiliate commission.As an Amazon Associate I earn from qualifying purchases. List of everything we use in our travels.
What Is A Roomette
An Amtrak Superliner Roomette is a private sleeper car room on overnight trains that will accommodate up to 2 passengers. By day they feature two comfortable chairs and a fold out table. At night the room is converted into a bunk style sleeping accommodation. Roomette's are perfect for passengers looking for privacy but also interested in saving money over the cost of a bedroom. Amtrak Roomette's will fit up to 2 people with 2 suitcases. The rooms are 3'6″ wide by 6'6″ long.
Are Superliner Roomettes Private
Roomette's are completely private with a door that closes and locks and a window draping to cover the window to block out any unwanted light. Passengers that reserve a roomette will have it to themselves and won't share with any other parties. There is a speaker in your roomette so you can hear any passenger announcements while you have the door closed.
What Is Included With An Amtrak Roomette
The cost of your roomette includes your ticket, sleeping accommodations, 3 meals per day, and non-alcoholic drinks. Meals are served in the dining car from a set menu. The menu will be the same at lunch and dinner. Roomette passengers will also have a sleeper car attendant assigned to them to help them throughout the journey. Roomette passengers have access to the cafe if they would like to purchase additional food.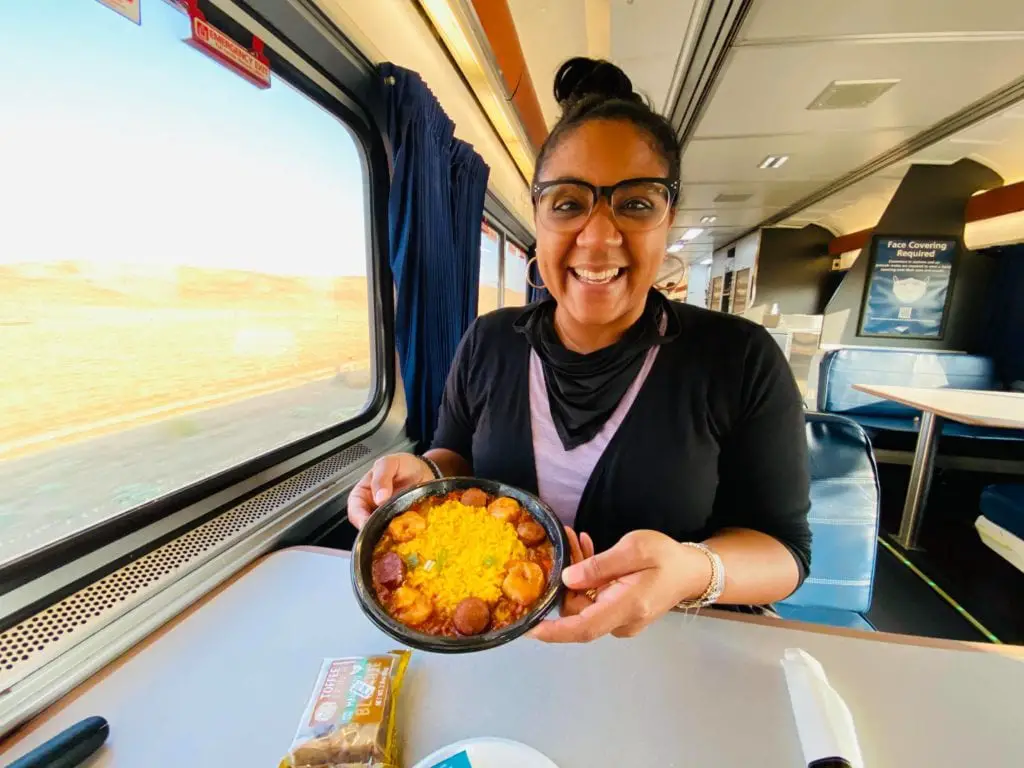 Full list of items included with an Amtrak Roomette:
Private Room With Upper and Lower Berths
Dedicated Sleeping Car Attendant
Complimentary Metropolitan Lounge Access
Priority Boarding
Complimentary Meals
Fresh Towels and Linens
Access to a Private Restroom (In Car)
Access to an in Car Shower
Free Checked Baggage
Check out our review of every Amtrak Dining Car meal.
How Much Does A Roomette On Amtrak Cost
Summer fares for 2 people in a Amtrak Roomette are:
A Roomette can also be bought at near half price during the Amtrak BOGO Sale. During this buy one get one free sale two people can travel in a Roomette for the price of one. Another option to save money on a Roomette is to buy it using points earned from the Amtrak Guest Rewards program.
Video Review: Buy One Get One Free Sale
What Does A Roomette Look Like On Amtrak
At night the top bunk fold down from the ceiling and the chairs fold flat to form a bed on the bottom level. The space on the upper bunk is slightly smaller than on the lower bunk.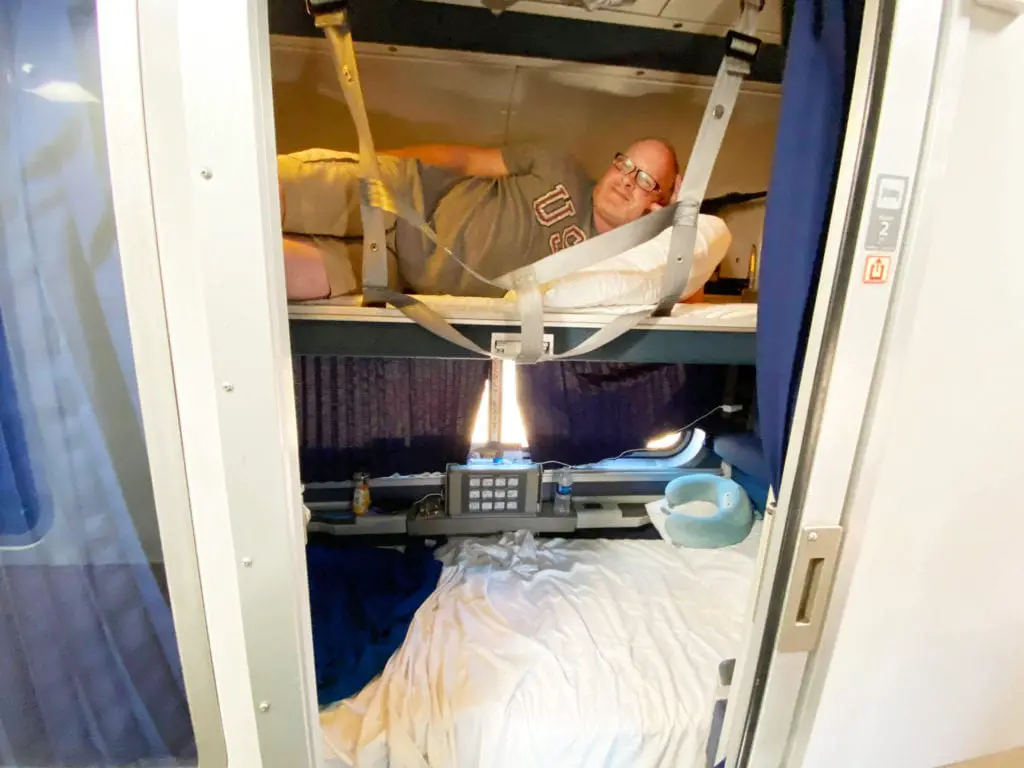 What Is The Difference Between A Roomette And A Bedroom On Amtrak
A Bedroom is twice the size of a Roomette on Amtrak. The extra room allows for a private bathroom in the cabin. Although the Bedroom is bigger, it still features upper and lower berths for the sleeping accommodations. The meals and other included items are identical with both rooms. The Roomette is a good way to save money if you want private accommodations.
Are Amtrak Sleeper Cars Worth It
Amtrak sleeper cars are a great way to see the country in a private accommodation. Getting a sleeper car is worth it as you'll be getting free meals and bags included. When you add up the cost savings of a hotel in addition to the other benefits, the Amtrak sleeper car is a good value. Amtrak routinely runs sales, making it an even better deal.
Do Amtrak Roomettes Have A Bathroom
Superliner Roomette's do not have a bathroom in each individual cabin. There is a shared bathroom in each sleeper car that is shared between all the passengers in Roomette's on that car. Viewliner Roomette's, found on the east coast only, do have bathrooms in each individual cabin. These cars are single level and taller which give extra space for a restroom in each cabin. There are no Viewliner trains east of Chicago.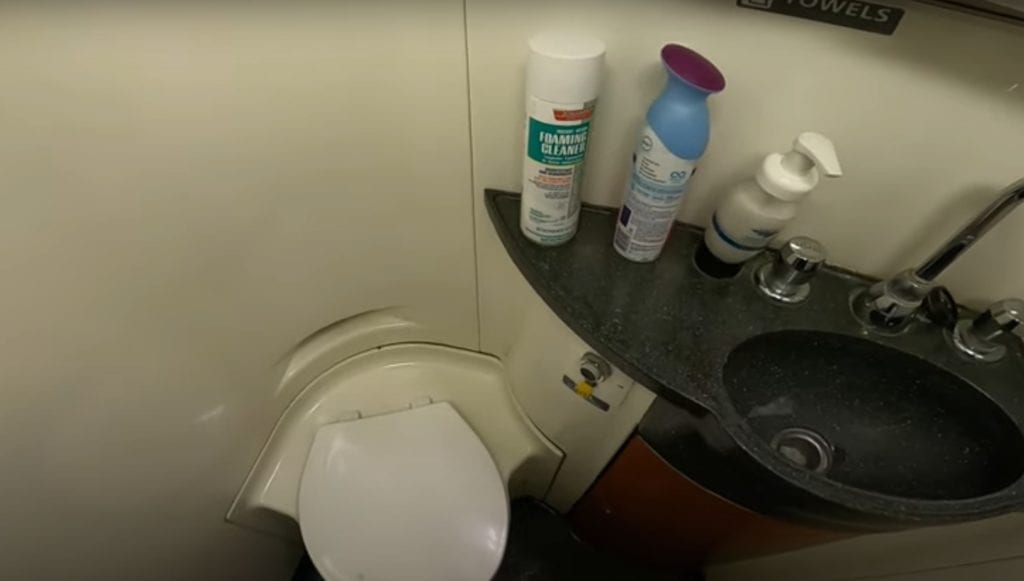 How Can I Get A Cheap Amtrak Roomette
Amtrak Roomettes can be purchased on sale during the Amtrak BOGO sale (buy one get one free). When using this discount, passengers can save up to half off their Roomette if two passengers are traveling together. To be notified of when the sale is starting you can sign up for Amtrak Guest Rewards.
Which Amtrak Trains Have Superliner Roomettes
Amtrak routes with Superliner Roomettes include:
Auto Train
California Zephyr
Capitol Limited
City of New Orleans
Coast Starlight
Empire Builder
Southwest Chief
Sunset Limited
Texas Eagle
How Do I Book An Amtrak Roomette
Amtrak tickets can be booked online at amtrak.com, on their app, or over the phone by calling 1-800-USA-RAIL. For a complete guide to your booking options, check out our Amtrak booking guide.
Tags :
Amtrak