Visiting White Sands National Park In Summer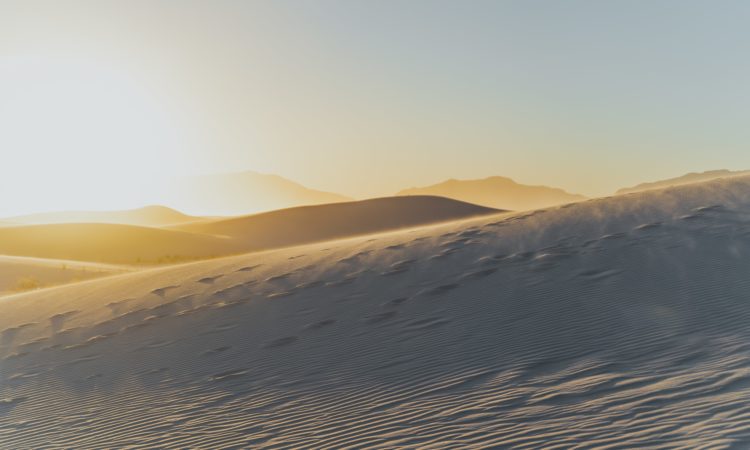 Grounded Life Travel is supported by its audience. When you purchase through links on our site, we may earn an affiliate commission.As an Amazon Associate I earn from qualifying purchases. List of everything we use in our travels.
Visiting White Sands National Park in summer may not be on your radar. But, it can be a great addition to your road trip plans.
If you are planning on touring the Southwest, this is definitely one place you must put on your agenda. Although White Sands National Park may not be a place that is easy to get to, it's well worth the effort.
Imagine watching the sunset over the mountains as you relax in the silky powder of the dunes. There aren't many places left where you can do this, and experience the peace and quiet that comes with the vast expanse of such a place as White Sand National Park.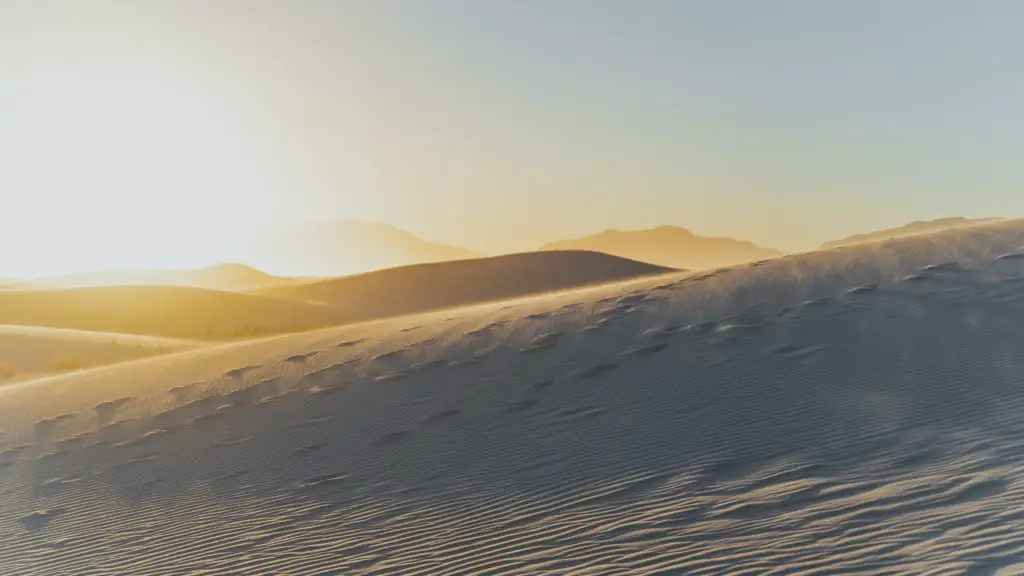 How hot is White Sands National Park in June?
It's the southwest, in June. Visions of a dry, arid desert complete with all the venomous things that can kill you, slithering by as you try to quench your parched throat, dance in your head. Is this a good idea, or are you signing up for pure torture?
You can assure your kids that they won't die an early death of heat exhaustion on this vacation. It is hot, that is a fact, but it is a dry heat. Standing in the sun at 95 degrees Fahrenheit in White Sands National Park, is entirely different from standing in the sun at 95 degrees in Atlanta. The humidity really does make a difference.
But, you do need to keep an eye on temperatures in the summertime. If temperature climbs above 95, you may need to wait. You can also plan to go to the park early in the morning or later in the evening, as my family makes a habit, when visiting.
As long as you prepare the correct way, you should still be comfortable, even in the heat of the day. Visiting White Sands National Park in summer, will still be a vacation that goes down in the books.
Is the sand hot at White Sands?
This might be the most interesting factoid you'll learn all week and I'm going to geek out for a moment. The "sand" in White Sands National Park doesn't get hot. Because it is not sand at all, it doesn't absorb the heat that traditional sand does. The "sand " in White sands is actually gypsum in powder form.
The San Andres and Sacramento Mountains that surround the dune field in White Sands contain high levels of gypsum that erode and are carried down the mountain by rain. The gypsum is then deposited in Lake Lucero, where is lies until the lake dries up in summer. After the lake dries, the wind batters the gypsum flakes and they become smaller and smaller until they become just a powdery material lying in the dune field. The scratches that the flakes incur on their way to the dune field make the gypsum appear white, even though it is clear.
Because it is clear, each piece of gypsum does not absorb heat. Therefore, you can walk barefoot on the powdery gypsum on a hot 100 degree day in comfort. The dune field also will not absorb heat, then . So, it will be much more comfortable to your body than if you were at the beach on a hot day, or even standing on a city street. Ok, geek out over.
What should I wear to White Sands National Park?
When visiting White Sands National Park in summer, you need to protect your skin from the sun. The first advice is to visit early or later in the day. That way the sun's rays won't be as intense. The white gypsum is very reflective, thus intensifying the rays. You'll need to use a high SPF sunscreen that you reapply every couple of hours to make sure you have the ultimate protection.
Wearing a hat, windbreaker jacket and sun protective sunglasses is also a good idea. The rays of the sun are so acute, you may not even be able to see the dune field without sunglasses.
One thing you don't need on the dune field is shoes. Going barefoot helps immensely when trying to climb a hill or merely traversing in the sand. So, you can leave those trusty hiking boots in the car.
The most important thing you can have on your person, on a hot summer day, is an ample water supply. Invest in a hydration pack, such as a Camelback or an Osprey. Having your hands free while you're hiking or sledding on the dunes is a must, so these are great to wear as a backpack. How much water you have can literally mean life or death, if you were to get lost in the dunes. So, make sure you have at least a gallon of water per person and you should be protected from dehydration.
A compass is also something you should have with you at all times in the park. It is very disorienting when hiking in the dunes. If you venture away from the trail, you may get turned around quickly. A compass can keep you from wandering and getting into a dangerous situation.
Is it safe to hike in summer at White Sands National Park?
Hiking is a favorite activity at White Sands. There are five marked hiking trails in the park for you to enjoy. There are simple strolls such as the Interdune Boardwalk, where you can quickly read about the park and its flora, fauna and geologic history, while exploring the dunes. You also might find that easy hikes such as the Playa Trail and Dune Life Nature Trail will satisfy your appetite for exploration.
For the more physically fit and adventurous types, the two mile Backcountry Trail may pique your interest. On this trail you can get intimate with what makes this park so special, as it passes through dune fields, beautiful plants and wildflowers and all the animals who make the park their home.
Can you go sledding in White Sands National Park in summer?
Dune sledding is one of the most fun activities in the park. Sledding is a bit of a misnomer, because using a sled is probably not the best way to go down the dune. Invest in a saucer that is slightly curved like a shallow bowl. These work best in the powdery gypsum and allow you to gain speed down a hill. Instead of getting stuck in the sand, like a sled or piece of cardboard may cause, a saucer will stay on top of the sand allowing for maximum speed and fun.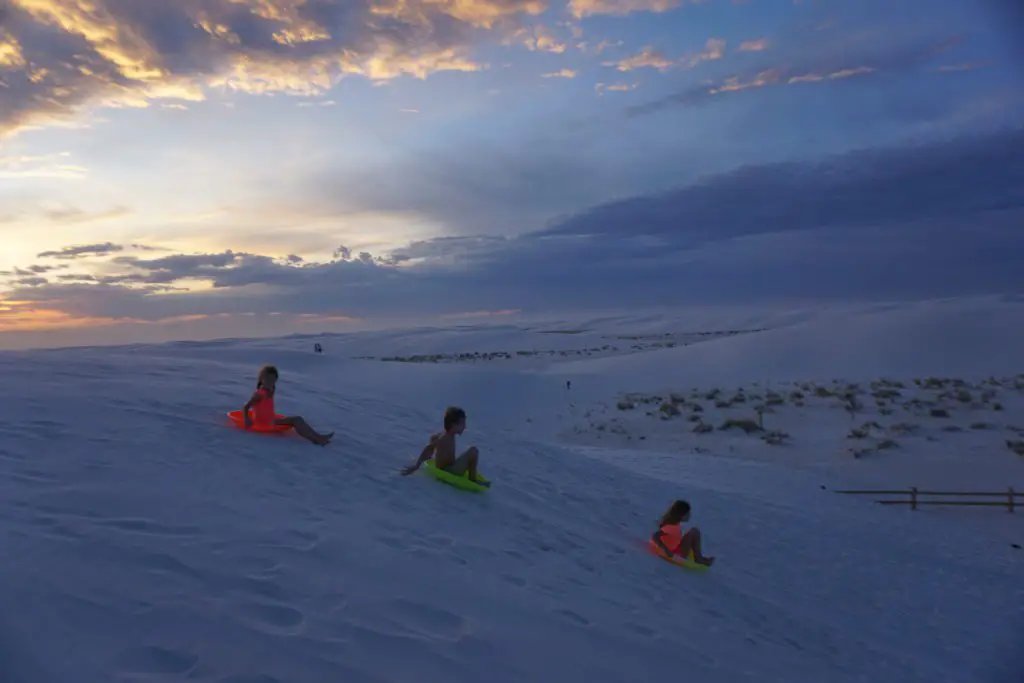 My family and I have countless hours logged, speeding down the hills in White Sands National Park. It is definitely a memory making activity and something everyone should try at least once.
A pro tip, is to go after a rain. The gypsum will be packed down and you"ll sit on top of the sand so you'll gain speed quickly. If no rain is in the forecast, speed can also be gained when the sand is the coolest. So, early morning and late evening make for some memory making magic. Kill two birds with one stone and watch the sun rise or set while you brave the dunes.
Completing your road trip in the Southwest this summer, just wouldn't be the same without a visit to White Sands National Park. Take the time to absorb everything that makes this area fascinating. It will be one national park you won't soon forget.
White Sands National Park Tips
For more help planning your trip to White Sands see our list of the best things to do at White Sands National Park and the best things to do near White Sands National Park. A few other posts that might be helpful are: