12 Things You Must See In Grand Teton National Park and How To Photograph Them
Grounded Life Travel is supported by its audience. When you purchase through links on our site, we may earn an affiliate commission.As an Amazon Associate I earn from qualifying purchases. List of everything we use in our travels.
Grand Teton National Park is a dream for photographers and nature lovers. Not only is the scenery beautiful, it is easily accessible.
There are so many options when visiting the National Parks, it can be confusing to determine how you should best spend your time. We are veterans of the National Park System and have published thousands of pictures of our travels. We are here to help you decide what to do, when to do it, and how to photograph it.
1. Oxbow Bend
The absolute best view in Grand Teton National Park is at Oxbow Bend. The views can be incredible at sunrise, the middle of the day and at sunset. There views are roadside with no hiking needed, making it a very popular viewpoint.
You can either walk along the road, down by the river bank or get a view from the parking lot. 14 years ago I set out to capture the perfect picture at Oxbow Bend and determined the best view to be from the corner of the parking lot.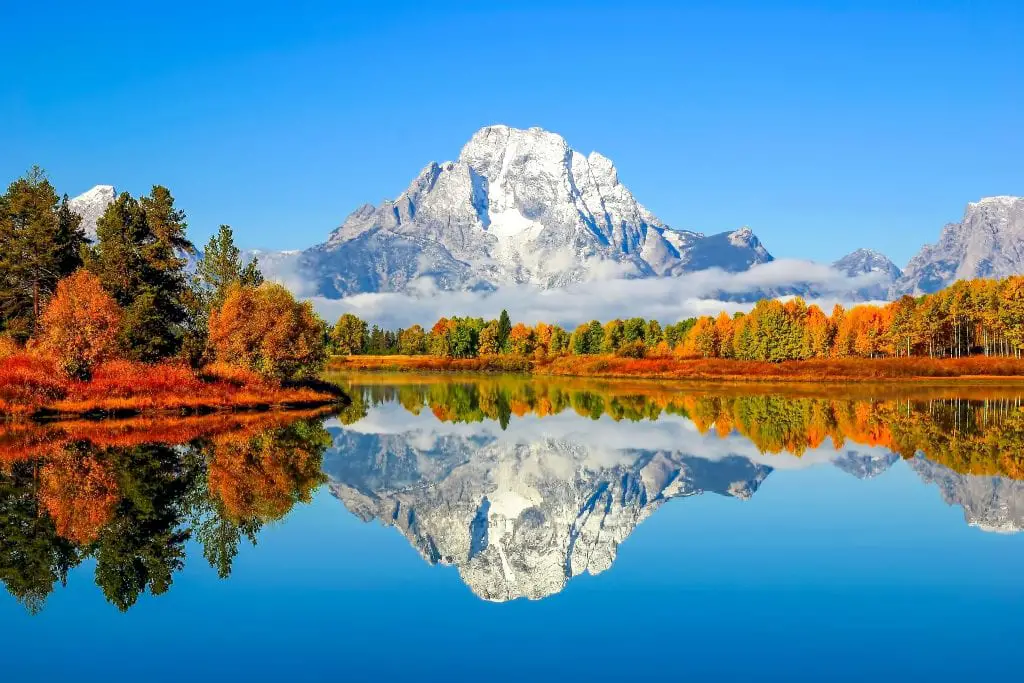 Mid morning is the best time to capture a reflection of Mt. Moran in the water at Oxbow Bend as that is usually the time when wind is the lowest. Check the weather forecast for low wind before making a plan if you want to see a reflection. During the day the view is best photographed from 9am to noon. After that, the sun will start to creep into your pictures and it isn't as photogenic until sunset. Crowds are low in the middle of the day as everyone thinks the best time to visit is sunrise or sunset.
On our visit this year, we decided to go at sunset and were not disappointed. There was a large crowd but we got there about 45 minutes before sunset and put our camping chairs in the secret spot that I staked out many years ago. By the time sunset approached there was a line of photographers fighting for real estate behind us once they realized this was the only perfect spot.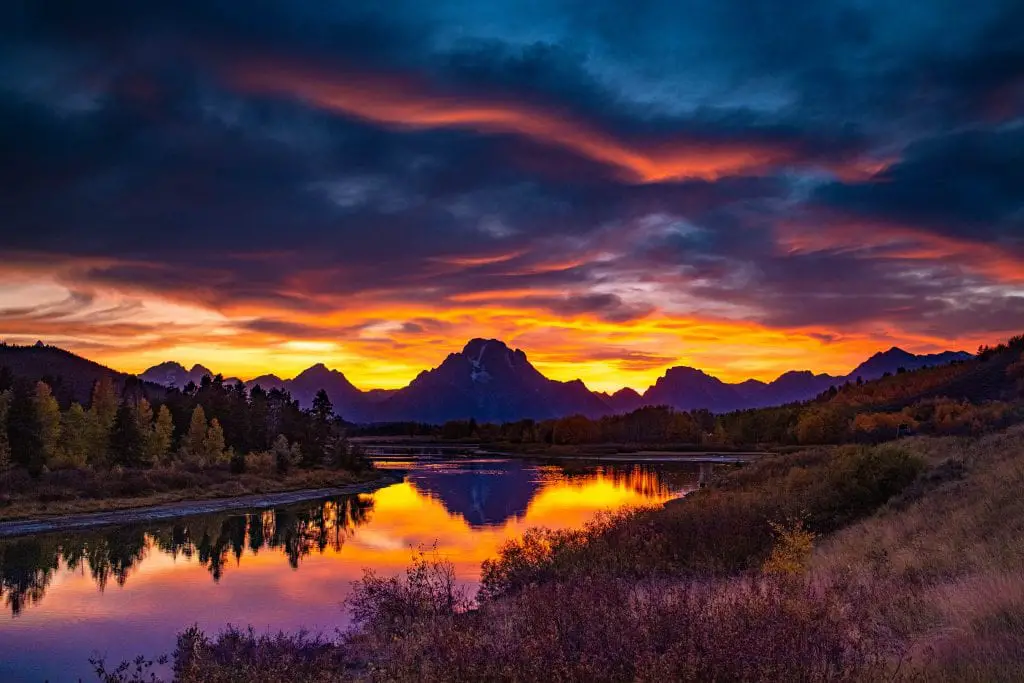 This wide angle lens was necessary to get the beautiful sunset in the shot. Notice the growth of bushes obstructing some of the river in the foreground. These bushes make it impossible to get a shot with a reflection further down the road. There is essentially only one spot where you can get either of the above two pictures.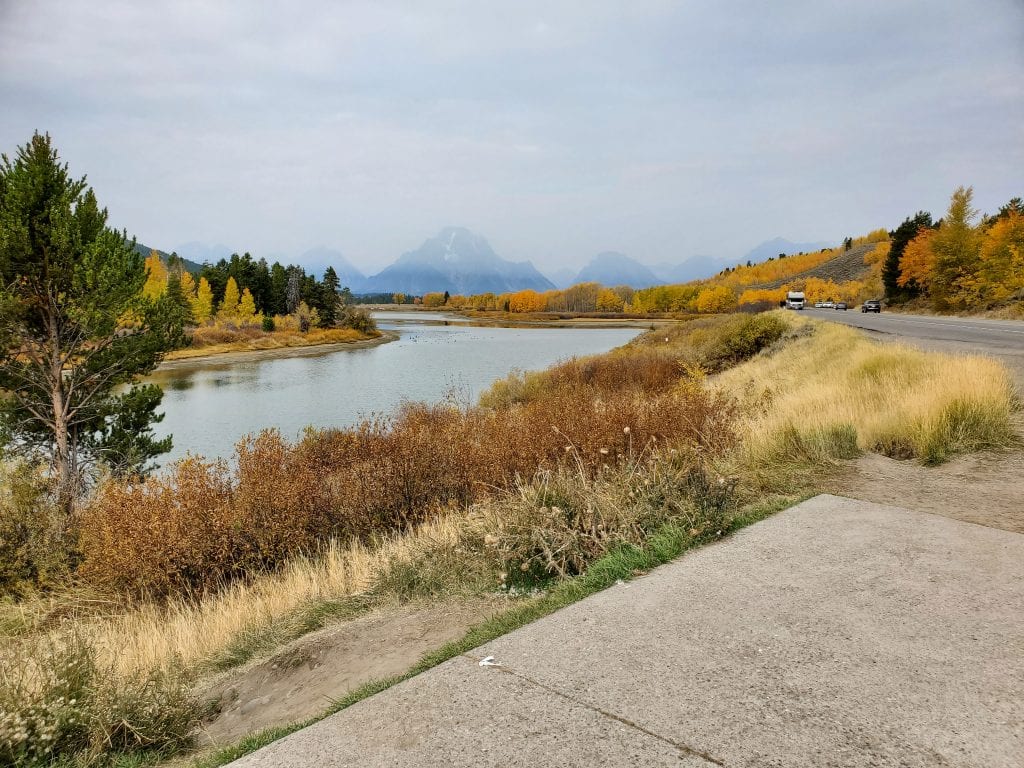 You'll want to be on the right side of this slab of pavement in the corner of the parking lot, about 4 feet to the left of the corner. This spot will get very crowded at sunrise and sunset, so get there early!
You could also walk do to the river bank and get a nice shot. The view is somewhat compressed from the lower elevation though.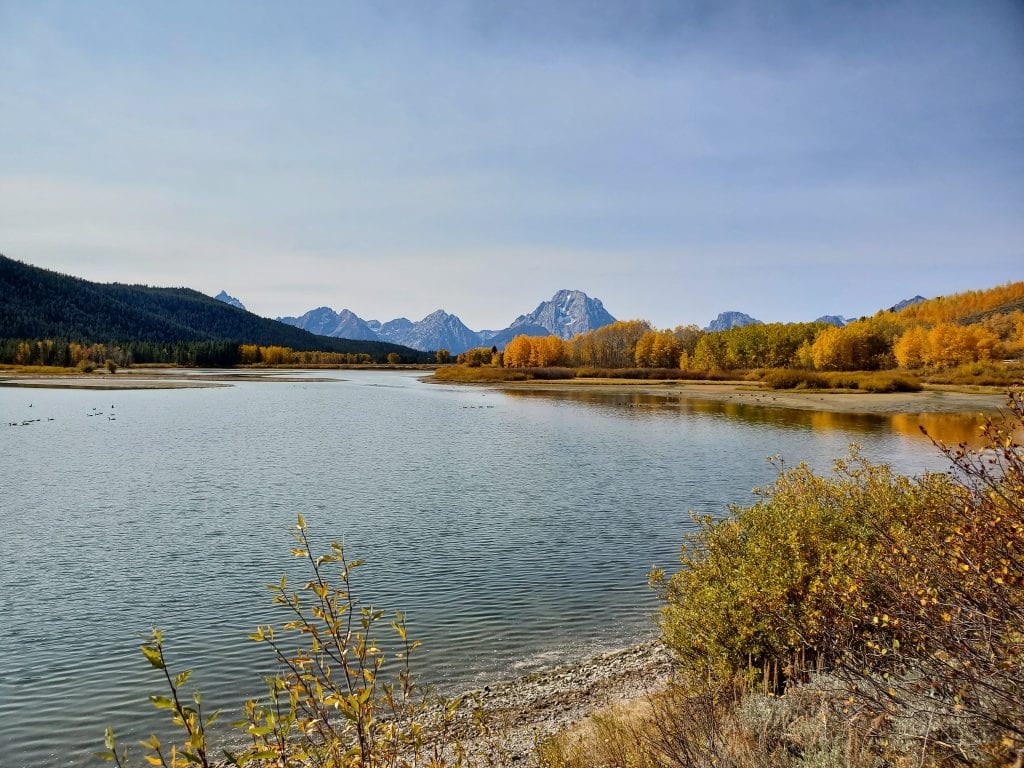 2. Snake River Overlook
The Snake River Overlook is a viewpoint in Grand Teton National Park made famous by Ansel Adams. You can stand in the same place he did, but your view will be slightly less of the river due to tree growth over the years.
You'll be facing West, as with most views in the Tetons, so you'll enjoy a great view at sunset and a nice one at sunset as well.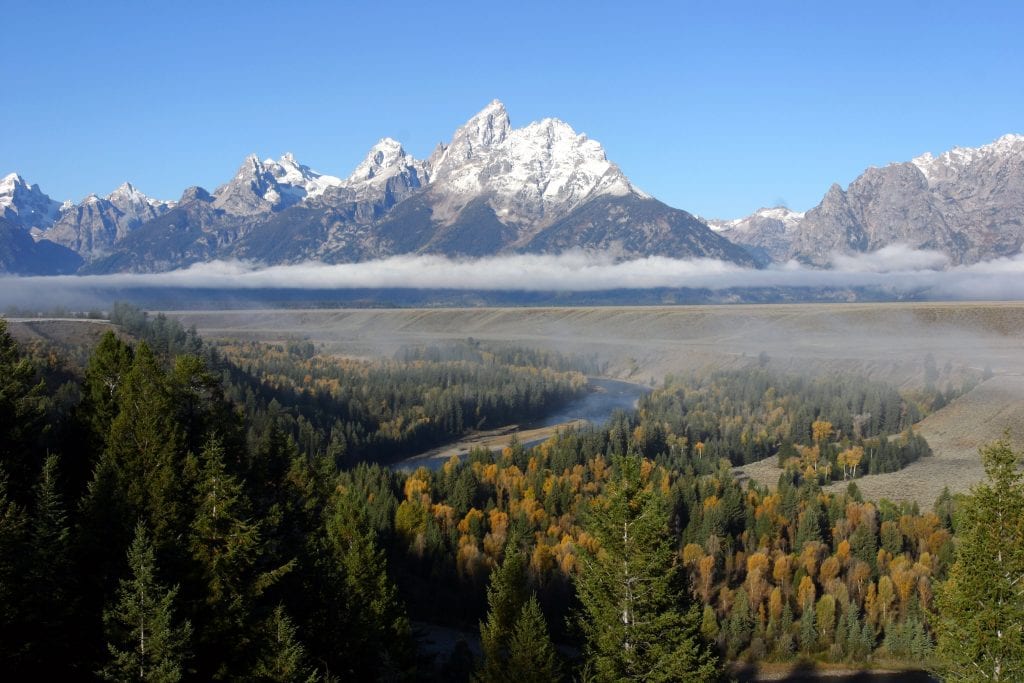 If you want to get the whole view in good sunlight you'll want to be there mid morning. A lens of 35mm will get you a good view of the scene. There is plenty of space to setup a tripod.
Parking is done via the parking lot which is large enough to park an RV and is not generally crowded. We had no trouble finding parking. There is no hike as it is just a short path to the viewpoint. The path is accessible to strollers and wheelchairs.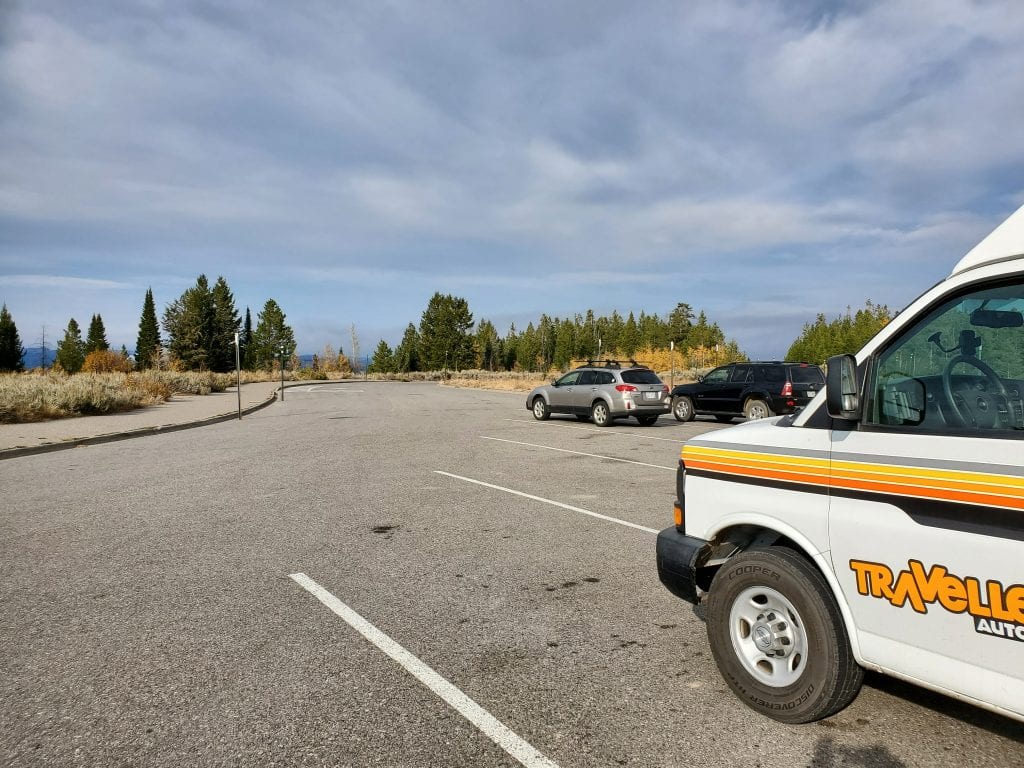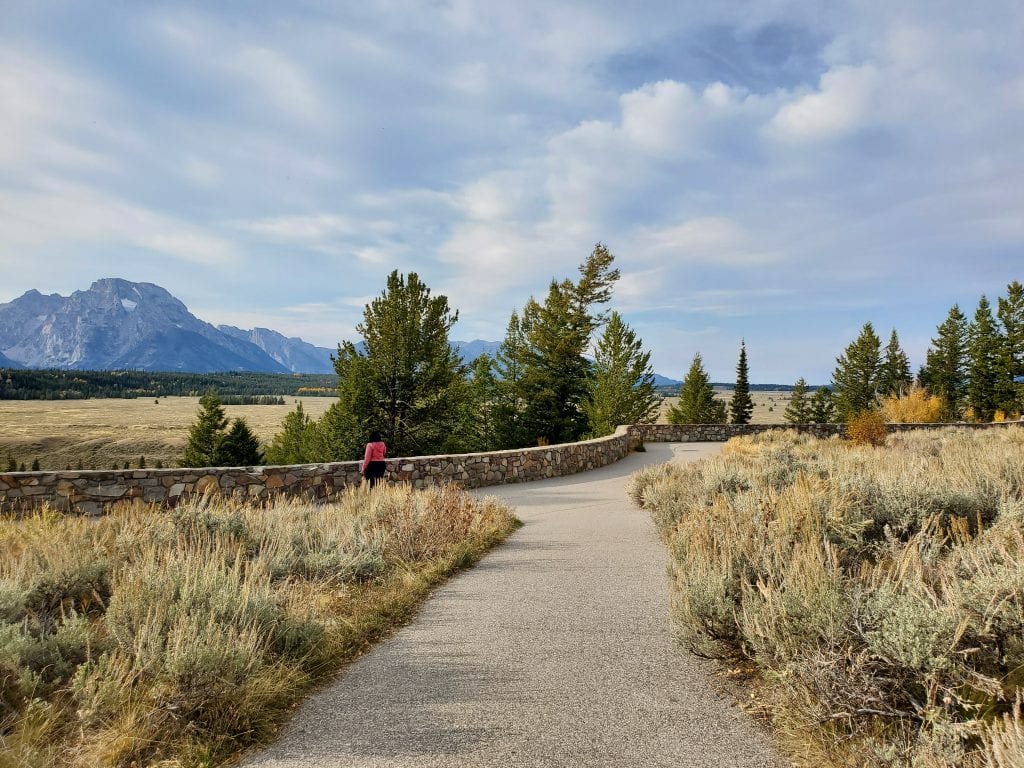 3. Schwabacher's Landing
A favorite of photographers for years, this is one you shouldn't miss even if you aren't there to take photos.
Schwabacher's Landing will bring you right to the edge of the Snake River and give you a majestic view of the Grand Tetons. Photographers will assemble here early in the morning for a sunrise view of the mountains. You'll get an incredible glow on the tip of the mountains just after sunset.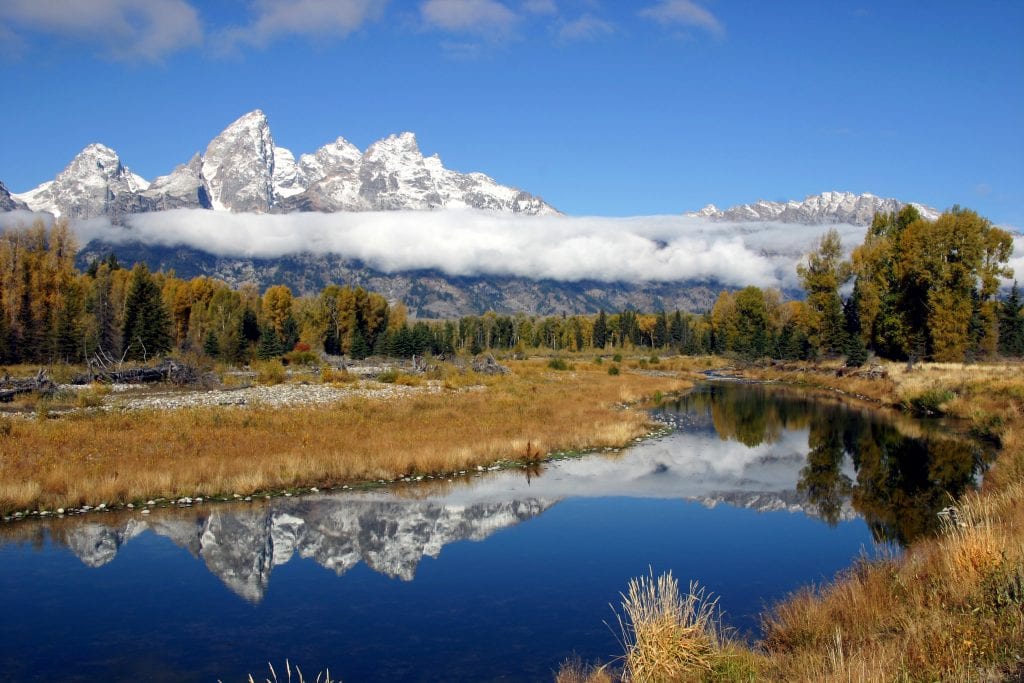 Most photographers will show up at sunset, but the same as Oxbow Bend, the wind is usually least at mid morning as in the picture above. This is the best time to get fully lit reflected images of most locations in the area.
To capture views of this range you'll wide wide angle lenses in the order of 24-35mm. There is plenty of room for a tripod, but you'll be sharing this location with many others during peak times, so get there early to claim a spot.
To get to Schwabacher's Landing you'll head west on a small road which turns to dirt. Check the map below for the exact location of the turnout. Parking is difficult during peak times.
4. Elk Ranch Flats Turnout
The Elk Ranch Flats turnout is the best area to see wildlife in Grand Teton National Park. On the east side of the road you'll be able to see bison grazing in the fields and on the west side of the road you'll see horses.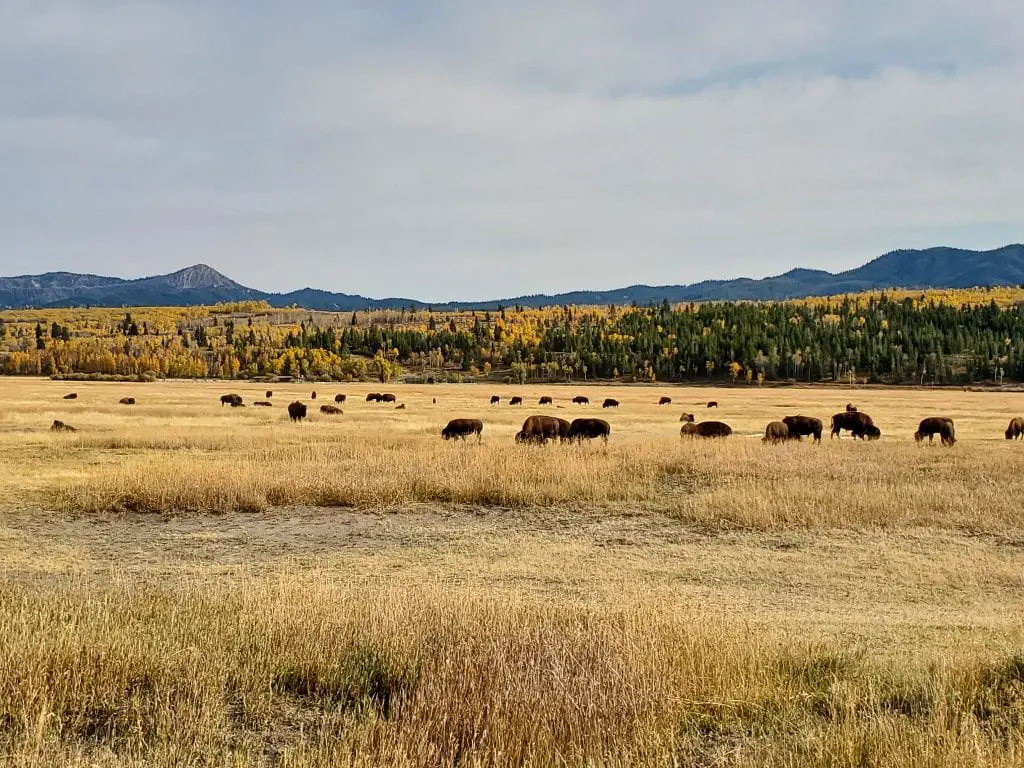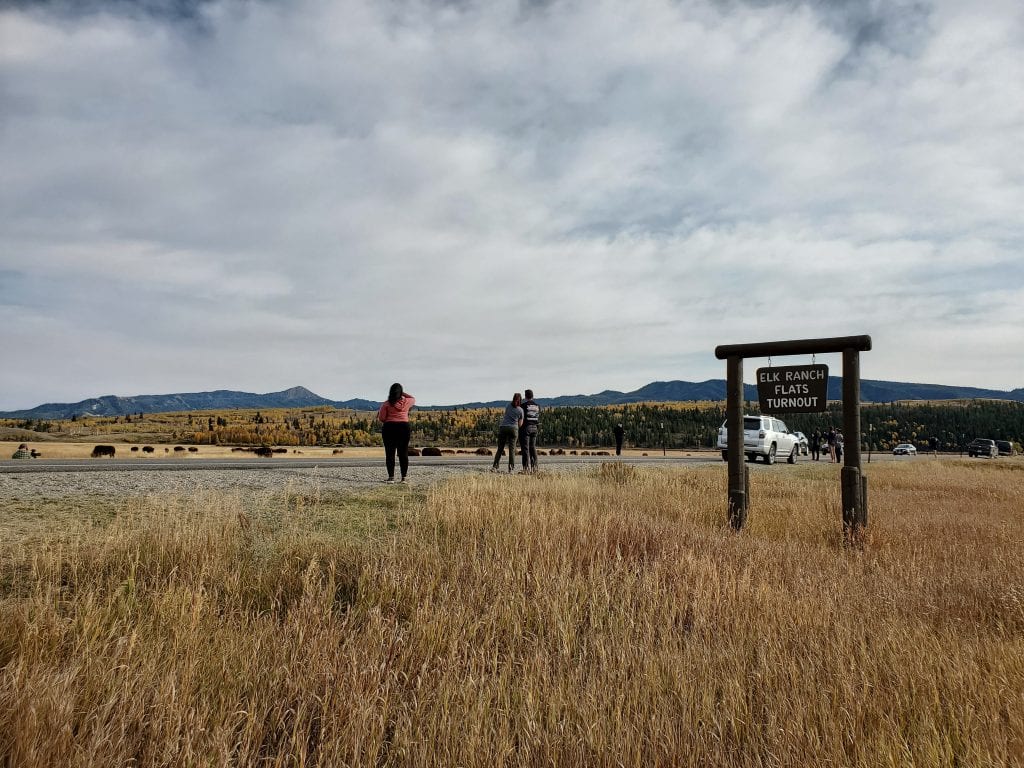 Depending on how close the bison are to the road you'll either be able to get out of your car or need to stay in it. We experienced both situations. If they are really close to the road, approach from the south and just pull over to the side, you'll be able to take pictures and view right from your window. If the bison are further in the field, you can park in the parking lot and walk across the street to setup your camera or tripod.
The Parking Lot is adequate to hold an RV and there is plenty of parking because many people park on the side of the road. There is no hike.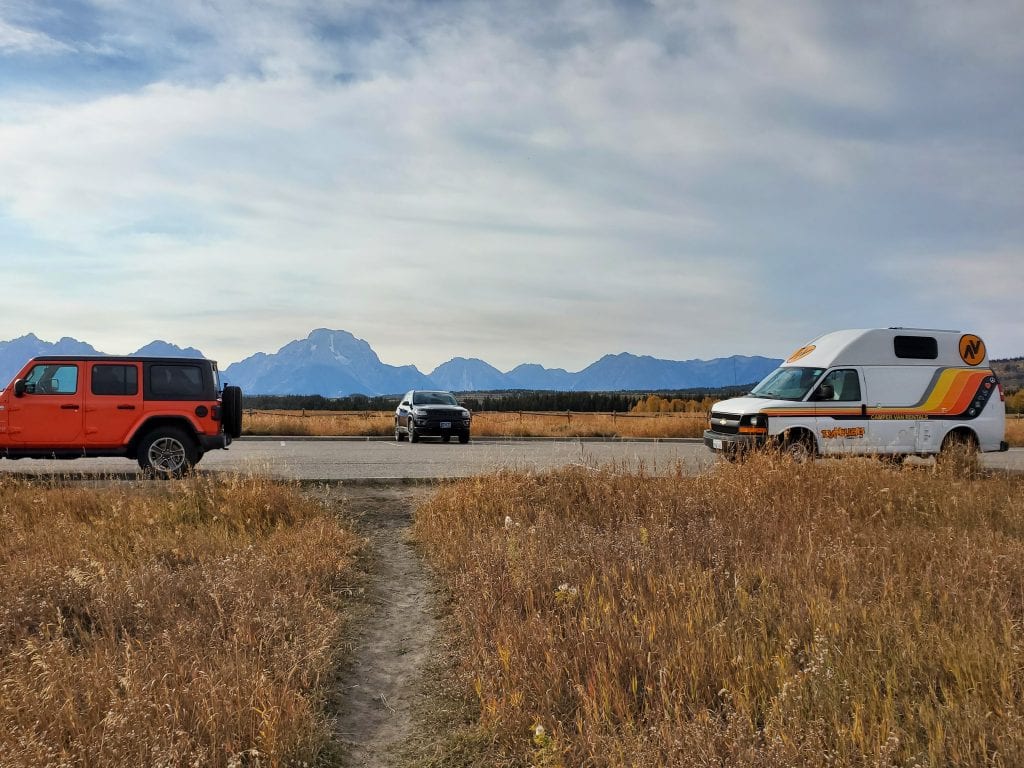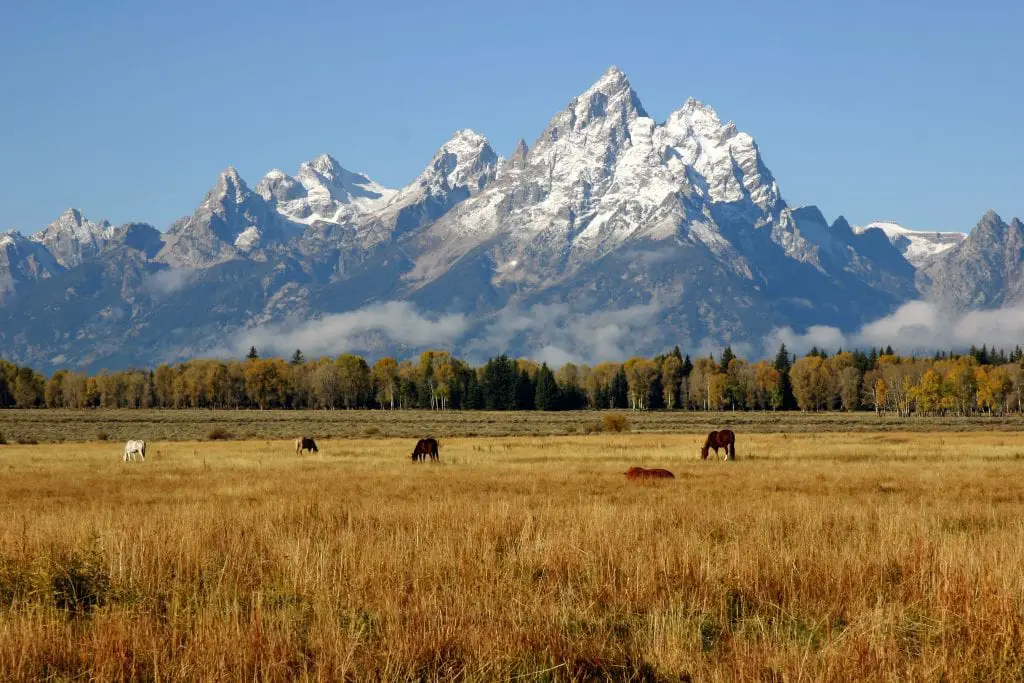 5. Blacktail Ponds Overlook
The Blacktail Ponds Overlook is located just north Antelope Flats Road on Hwy 89. The overlook faces west and gives a panoramic view of the mountain range, river and fields. It is a place where many people setup to look for Elk and other wildlife.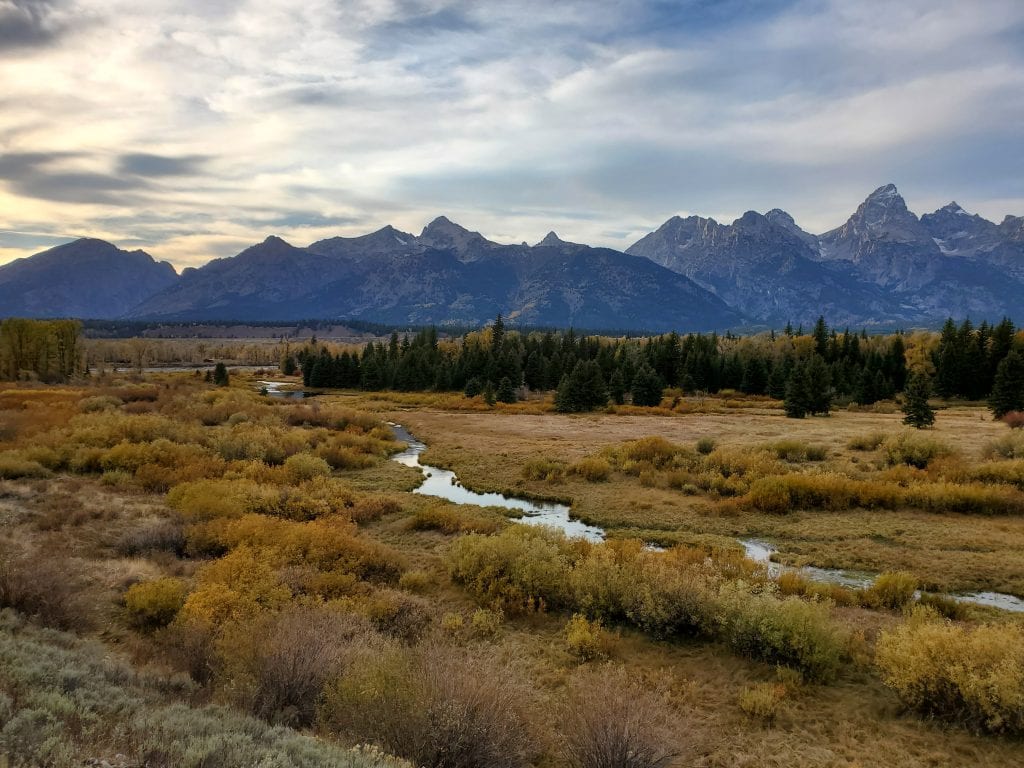 There is a set of stairs leading down into the valley where we saw people fishing and setting up to take pictures. This is one of the best areas to walk around.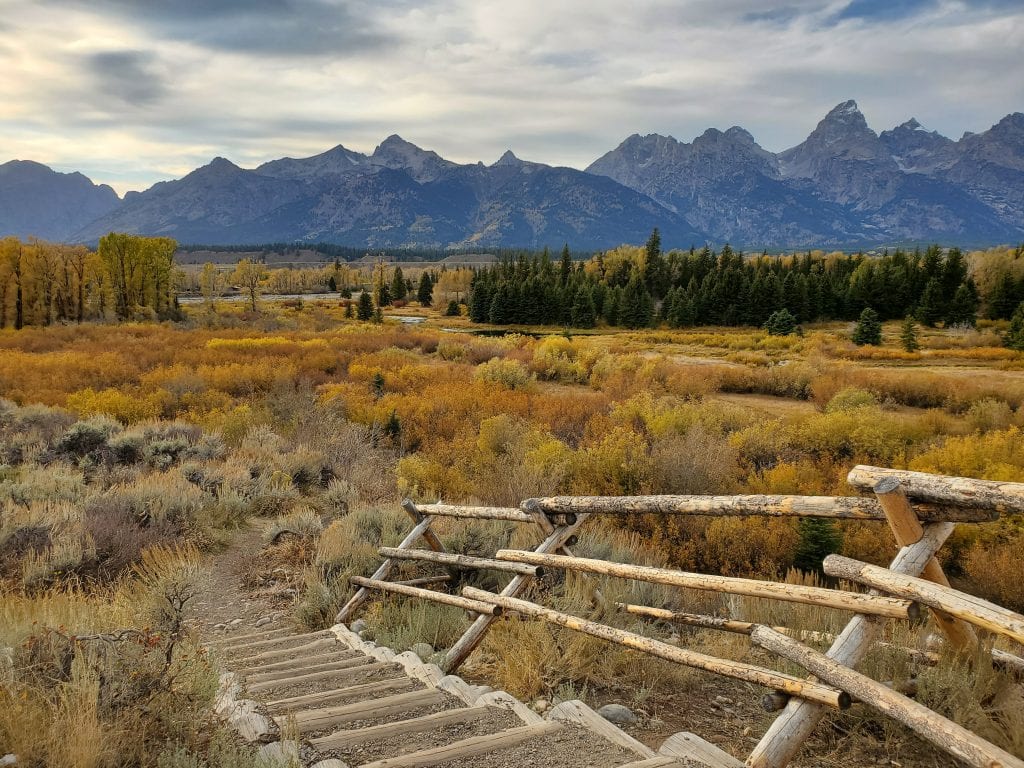 Parking is done via a maintained parking lot with space for plenty of cars and also Rv's. The path to the overlook is very short.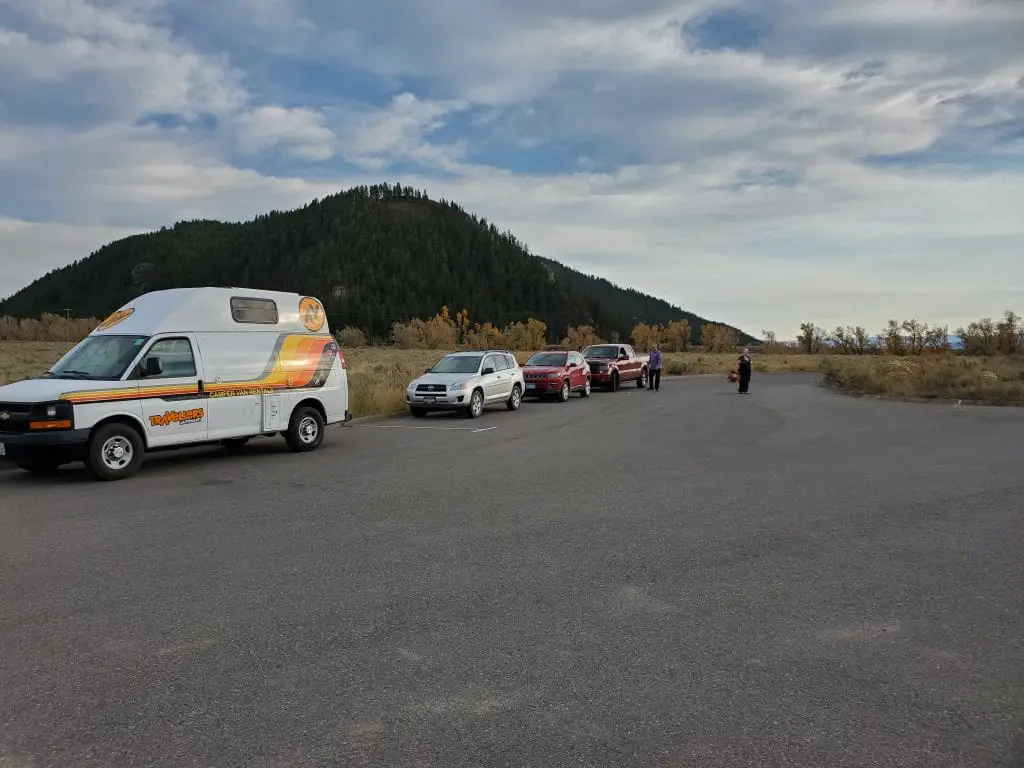 From the lot it is just a short walk to the viewpoint.
This viewpoint faces west, as most do, and will get busier in the evening as people try to see Elk and wait for the sunset. We were there about an hour before sunset to enjoy the view, but we ultimately decided to drive up to Oxbow Bend and watch it there.
6. Mormon Row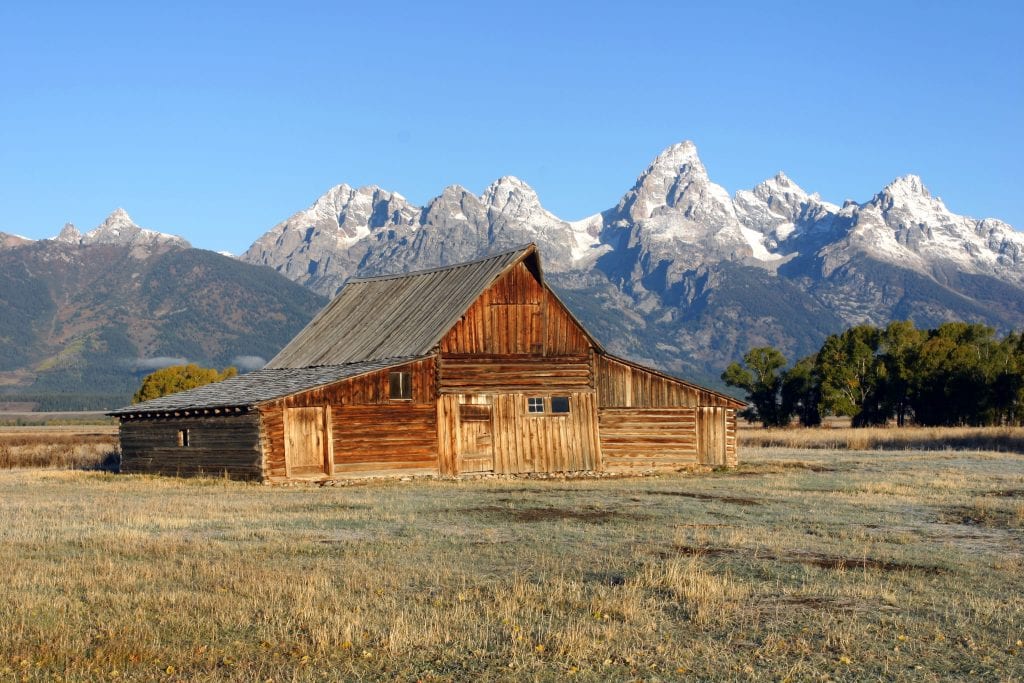 Mormon Row is located off Antelope Flats Road in Grand Teton National Park. It is a dirt road with a few parking areas and several old barns and buildings from a Mormon settlement. You are free to walk among them and take pictures.
The best known and most photographed is Moulton Barn, which has the mountain range behind it, and lines up perfectly for photographs.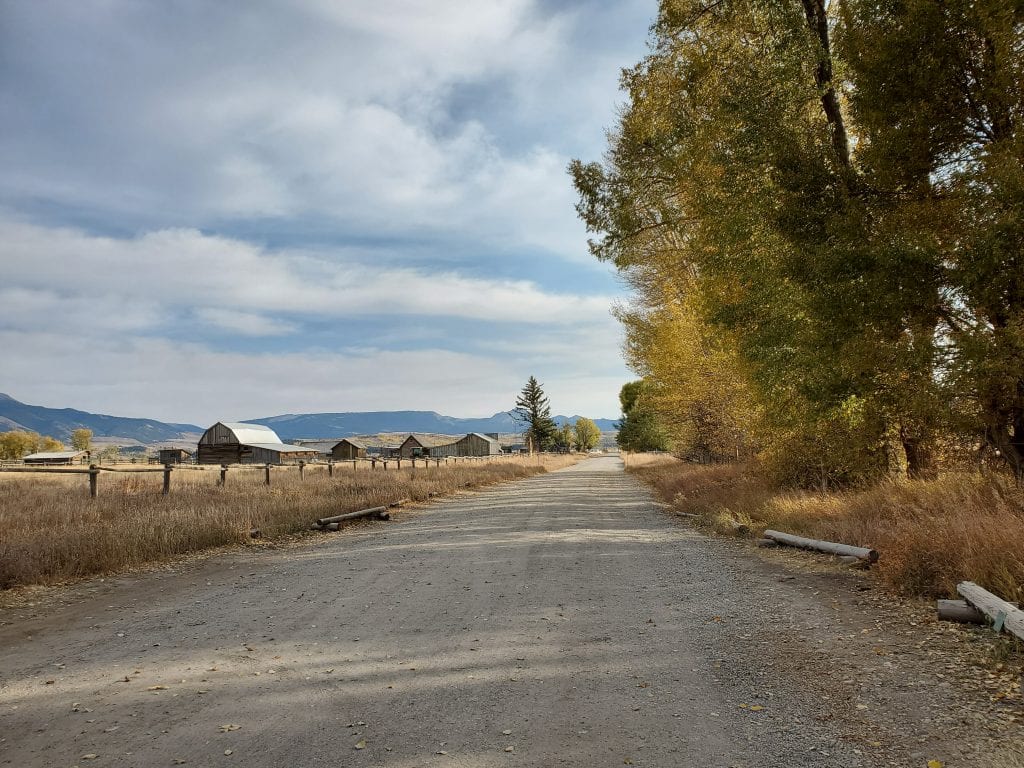 Depending on the time of day, you may see bison roaming around this area as well.
You'll be facing west when photographing the barn, so you'll get good light at and after sunrise. You'll also be able to see the sun slip over the mountain tops at sunset if you prefer that view.
During the day it can be hard to get a clean view of the barn without people taking pictures being in your picture. If your main goal is landscape photography, I'd shoot for going at sunset when other photographers will be there and it'll discourage people from walking in your shot, also people not interested in photography will not be there at that hour.
There is no hike as the view is just of the dirt parking lot. It might be tough to park an RV there if it is really crowded, but at most times there is plenty of parking.
7. Jackson Lake Dam
One of the prettiest viewpoints that nobody talks about is Jackson Lake Dam. We stumbled on to this spot just driving around. There was a little smoke in the air the day we visited, which made photography tough, but this is an incredible vantage point under normal circumstances.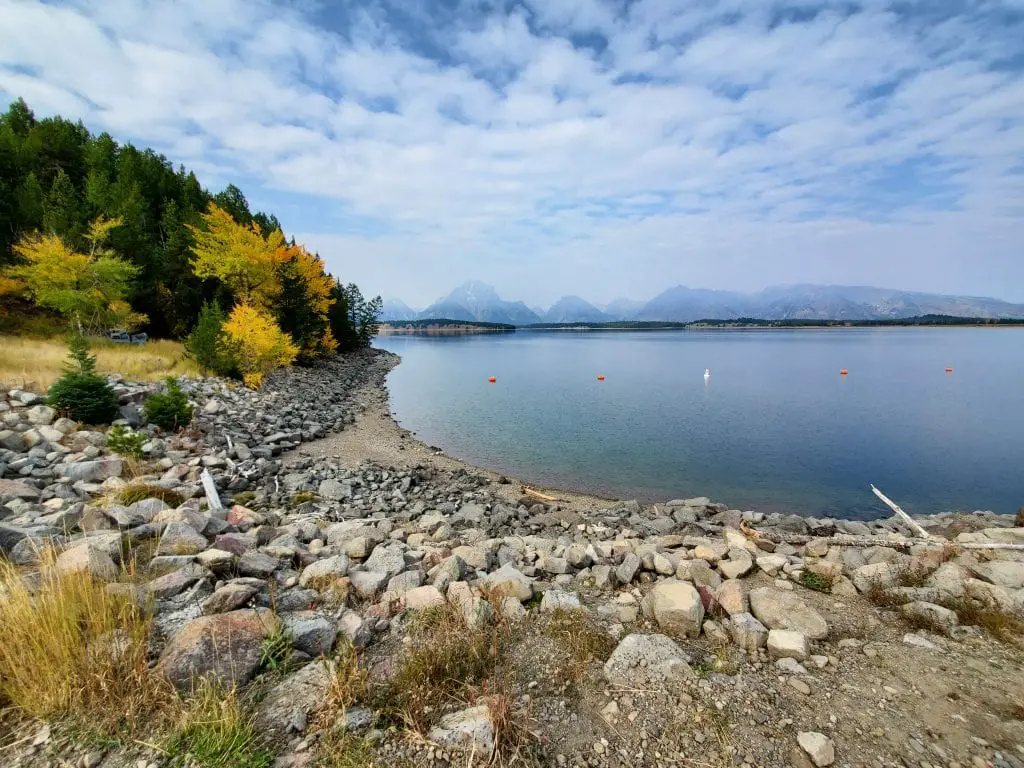 It is reached by going west on Teton Park Rd. just north of Oxbow Bend. There is a parking area with a short walk down to a bridge that crosses the dam. There is also a pedestrian walkway on the bridge that you can use to take pictures.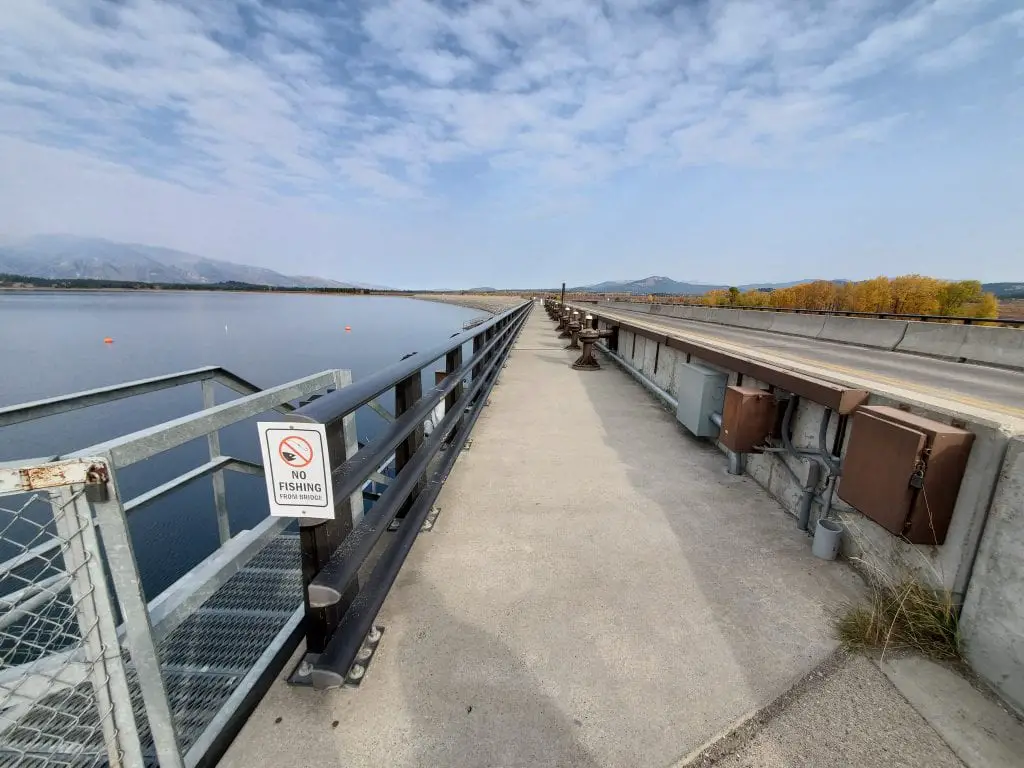 This view faces west, like almost every other view in the park, so mid morning is perfect for full illumination. There is plenty of space for a tripod and we never saw more than 5 other people at this location.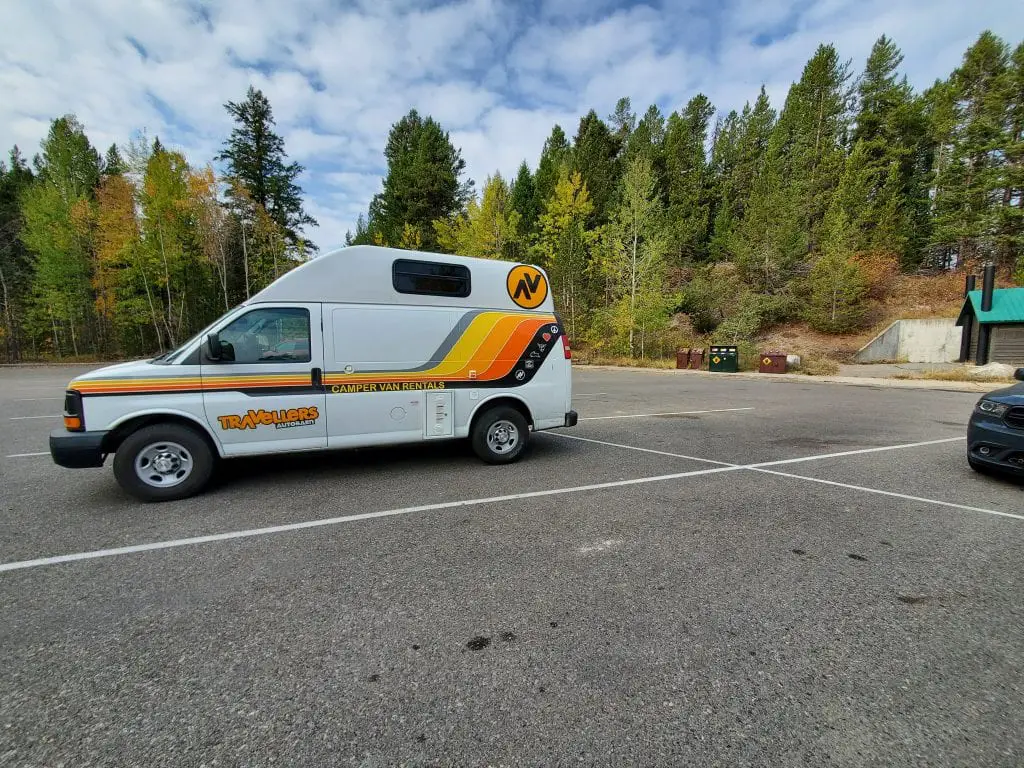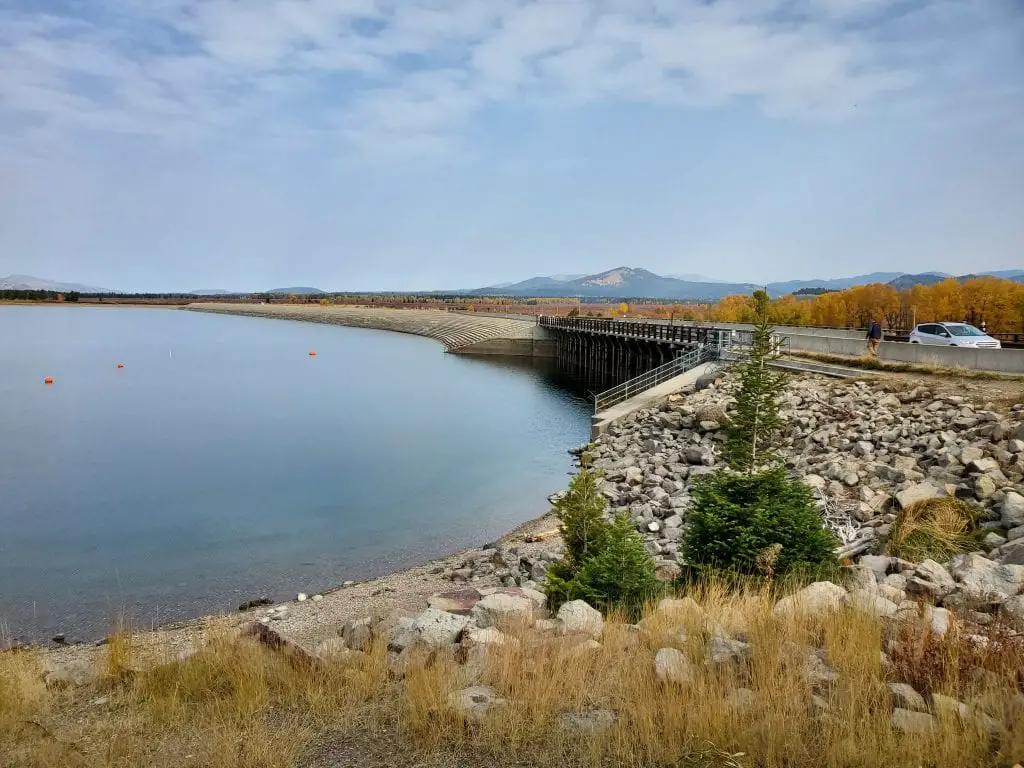 8. Taggart Lake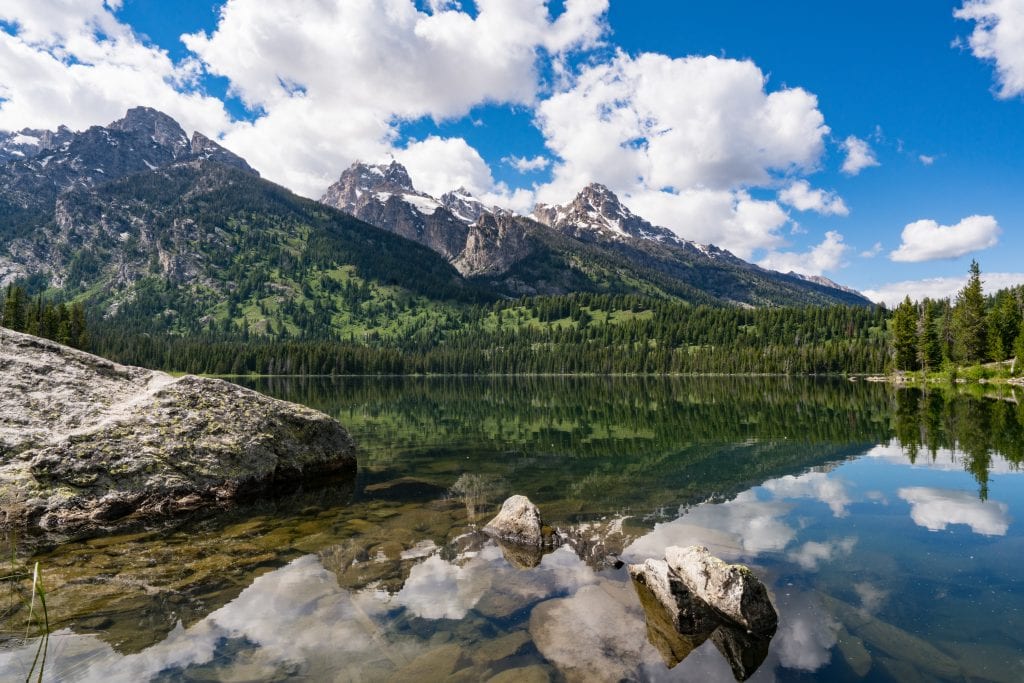 The Taggart Lake Trail is a 3 mile round trip hike of moderate difficulty. You are rewarded with a beautiful reflection view of the mountains in a clear lake. The trail is accessed from the Taggart Lake Trailhead on Teton Park Rd.
Keep in mind although this is a moderate hike, you are at almost 7,000 feet of elevation, so it could be more challenging if you are from a lower elevation area.
The photo pictured here was taken with a 24mm lens so you'll want something at least that wide to capture the mountain, reflection in the lake and a few clouds if they are present.
9. Teton Park Road
If you've met you limit for hikes on a given day, you don't have to stop seeing beautiful scenery. Teton Park Road is the most scenic road in the park and worth the time to drive from one end to the other.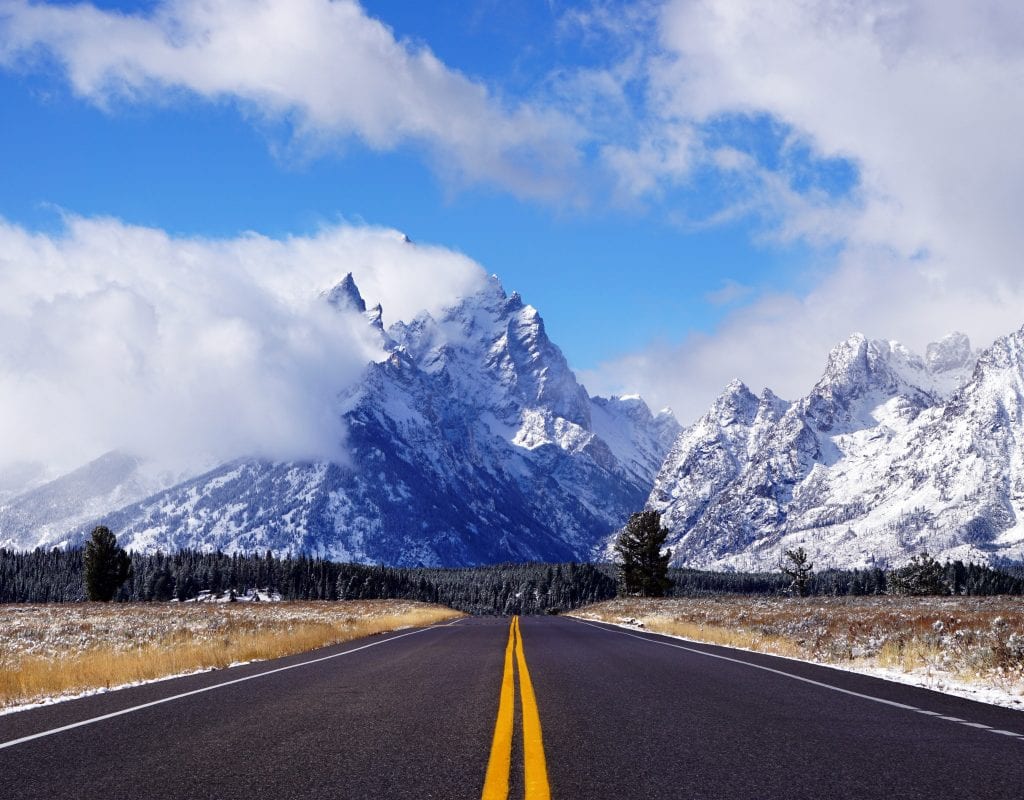 The drive should take around 1 hour if you stop at a few pullouts for pictures. We prefer driving the road from north to south in the morning. This gives you the best views and quality of light.
Teton Park Road goes from Moose to the Jackson Lake Junction.
10. Chapel of the Transfiguration
The Chapel of the Transfiguration is located in Grand Teton National Park south of Mormon Row. It was built in 1925 and has a great setting with the mountain range set behind it. Your view will be to the west. It is well worth a visit when driving down Teton Park Road.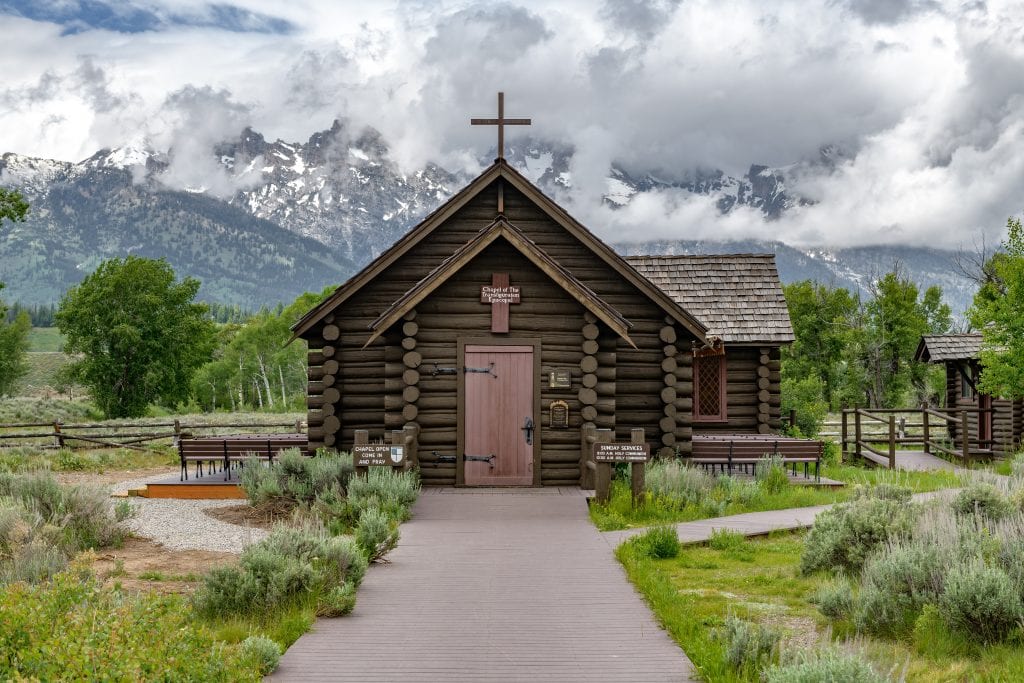 11. Leigh Lake
Leigh Lake is situated near Mt. Moran and you'll likely have peace and quiet as you explore this place of natural beauty. It is an easy trail with only 50 feet of elevation gain, making one of the best things to do in Grand Teton National Park with kids.
After making the 1.8 mile hike you'll have views of yet another mountain lake with reflections. The trail begins at the Leigh Lake Trailhead off of Teton Park Road. The hike will take you past String Lake. From the trail you'll also have views of Teewinot Mountain.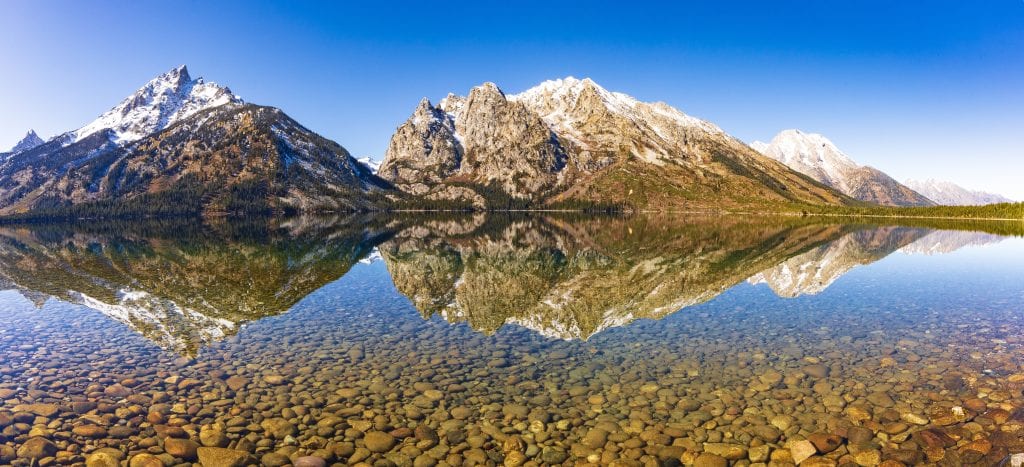 As you'll be shooting a lake with reflection here, you'll want to bring a 24mm lens or wider. Personally, for mid morning hikes like this, I don't carry a tripod as modern cameras are more than capable of capturing a great image without one. Saving that extra weight lets me do additional hikes later in the week!
12. Jenny Lake Scenic Drive
The Jenny Lake scenic drive will take you along the east shore of Jenny Lake and provide you with spectacular views of the mountains.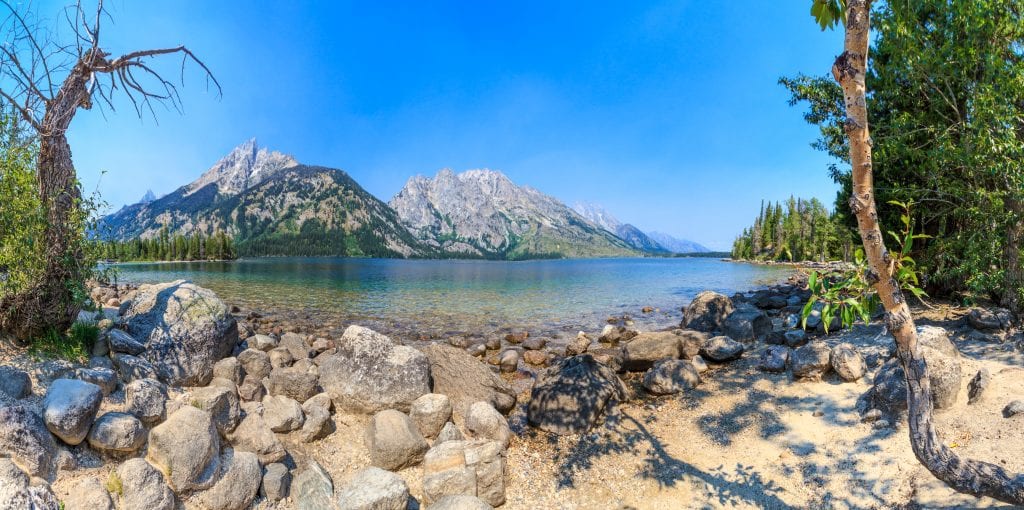 It is a 3 mile drive that is one way and heads south. If viewing wildlife or scenic views use on of the many pullouts provided.
Map of Grand Teton National Park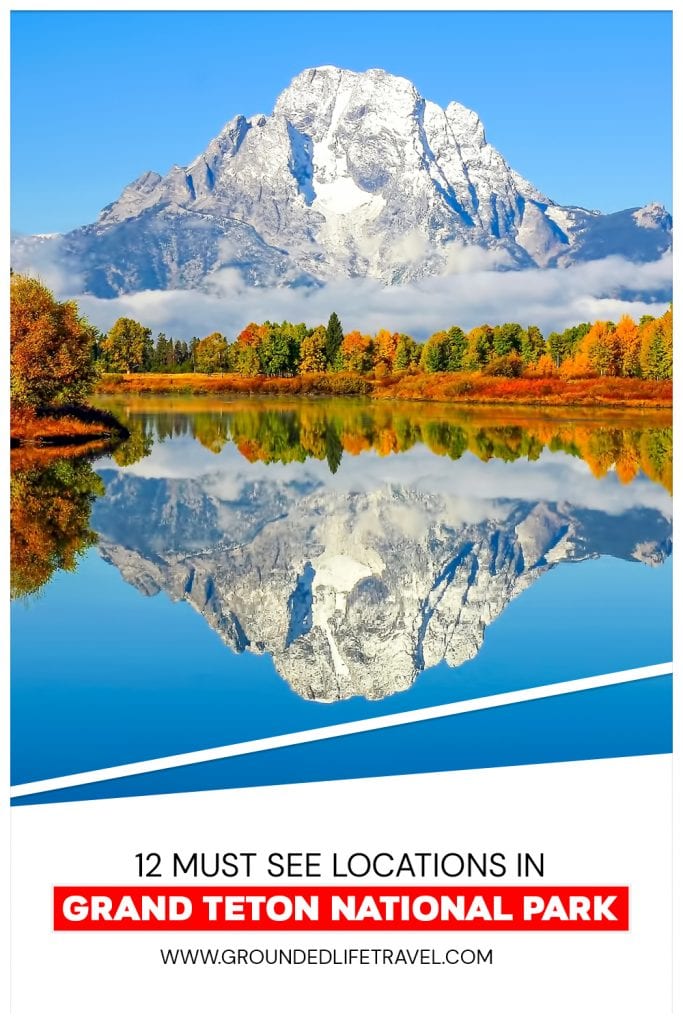 Here are a few other Grand Teton posts you might find useful:
Tags :
featured
grand teton
national parks
wyoming