Guide To The Grand Teton 42 Mile Scenic Loop
Grounded Life Travel is supported by its audience. When you purchase through links on our site, we may earn an affiliate commission.As an Amazon Associate I earn from qualifying purchases. List of everything we use in our travels.
The Grand Tetons are majestic and beautiful and the park covers so much ground that this Guide To The Grand Teton 42 Mile Scenic Loop will help you plan your trip.
Whether your trip is a day or a week, you will really want to make sure you take this loop, which covers many of the park's major popular and scenic stops.
How do I get to the 42 Mile Scenic Loop?
There are actually three points in which to start the loop. It will depend where you are traveling from as to where you would like to enter.
From Yellowstone
Many people will be coming from Yellowstone after a nice week of site seeing. When coming into Grand Teton, you will drive south onto John D. Rockefellar, Jr. Memorial Parkway. At Jackson Lake Junction you will enter the loop.
From Jackson
If you are staying in Jackson you will be driving north to come into the park . You will enter the loop at Moose Junction. You can pay your park fee here. The fee is $35 for seven days of entry, or you can purchase an annual park pass for $80 and this will give you entry into any national park in America for a year.
From Dubois
If you are coming east from Dubois, you can enter the park through Moran Junction after traveling over Togwotee Pass. You can also pay your fee at this station.
How long does it take to travel the 42- mile loop?
This answer really depends on your travel style. Do you like to stop at every view point and point of interest? Do you want to do a hike on the loop? If you just want to drive through and take a couple of stops you can do it in one to two hours.
if you will be staying in the park for a few days, I suggest that you drive the loop and take note of all the places that you want to stop. Then, you can plan according to where you want to stop. Drive the loop again and you can make a whole day out of stopping at view points or hiking at some of the great spots on the loop.
Is the loop open all year long?
As a loop is concerned the entire loop is not open all year long. Parts of the loop are maintained and plowed all winter. If you want to see Grand Teton in the winter, accessibility will be limited in some areas. Highway 191/89/287 runs through the park from Yellowstone and is plowed and open all year long. There may occasionally be closures due to significantly poor conditions, but otherwise it will be open.
Highway 26/287 is also open year round and will take you from the interior or eastern Wyoming through Togwotee Pass into the park.
Much of the park is open, but not accessible by car. You can park in certain spots and enjoy cross country skiing, snow-shoeing, or snow-mobiling on roads that are maintained but not plowed for vehicle use.
What will I see on the Grand Teton loop?
Inner Loop
The park loop is a great introduction to all that there is to see at the park. Scenic views, wildlife and amazing outdoor activities can all be seen and experienced from the loop. If you are coming from Jackson, you will be traveling north. There are many spots to see on the loop, and here are some featured highlights.
Moose Junction
Start the loop at Moose Junction. You can decide whether you want to take the outer or inner loop at this time. If you take the inner loop, you will take a left onto Teton Park Road. Here you will find the Park Headquarters, the Craig Thomas Discovery Visitor's Center. Stop here for park maps and permits if needed. At the Moose Entrance Station you can pay the entrance fee or show your park pass.
Chapel of the Transfiguration
The Chapel of the Transfiguration is located at Menors Ferry Historic District. Here you can learn of William Menors and his 1894 Homestead in the Teton Valley. The Chapel is a beautiful place to reflect, pray or see the gorgeous landscape coupled with a beautiful church.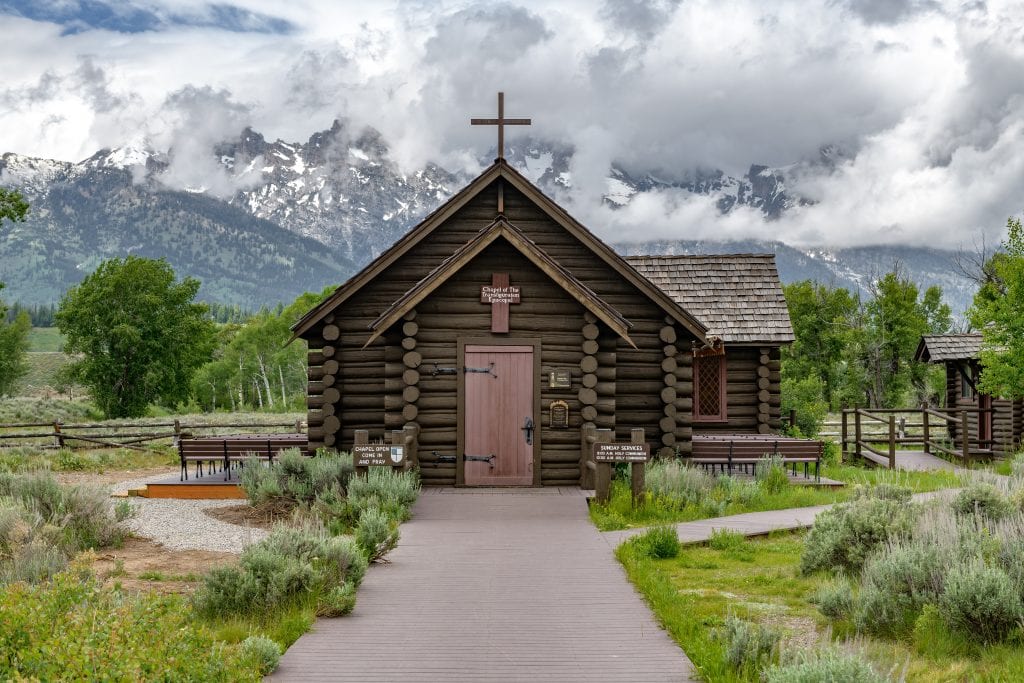 Taggart Lake Trailhead
Up the road and on the left you will find Taggart Lake Trailhead, which is one of my favorite hikes in the park. An easy to moderate hike awaits you and one or maybe even two lakes are the payoff. Hike to Bradley Lake to make this a stop worth making time for. There are also many other backcountry hikes that you can connect to in order to make this a backpacking trip you won't soon forget.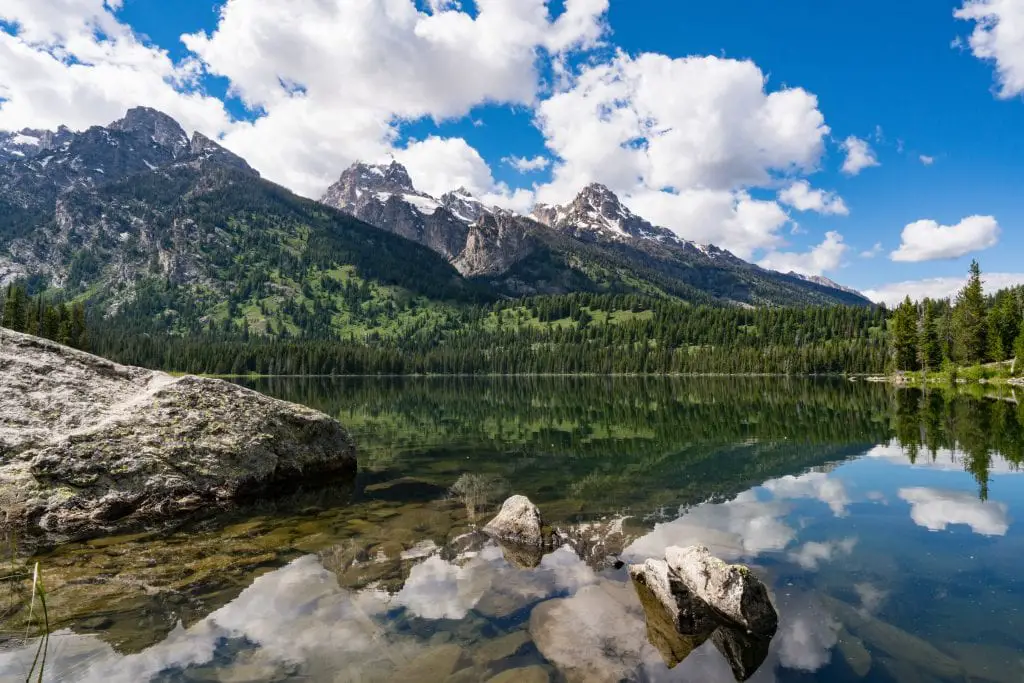 Teton Glacier Turnout
You can travel into the past by pulling over to view the ancient glacier that still clings to the Grand Teton peak in the shadow of its neighbor, Middle Teton. Make sure you take out your good camera for the shot of the sweeping valley against the Tetons in this great photo opportunity.
South Jenny Lake Junction
Continuing north you will soon come to the Jenny Lake Trailhead and the South Jenny Lake Junction. If you only have a little time to dedicate to a hike, most would say that Jenny Lake is the hike to do. This is a unique opportunity to not only hike but to ride to the hike on a shuttle across a stunning lake. When you get to shore you can hike to Hidden Falls and to Inspiration Point, which would be a great addition to your trip.
Jenny Lake Trailhead is also the launching point for numerous backcountry hikes and backpacking trips. Stop at the Jenny Lake Visitor's Center to get an overview of what your choices are for exploration.
Cascade Canyon Turnout
Still continuing north, you will come to Cascade Canyon Turnout. Here, you will see where glaciers carved a u-shape into the mountains, providing a chance for conifers of all varieties to thrive. Another great photo opportunity awaits you here.
North Jenny Lake Junction
You will come to North Jenny Lake Junction, which will allow you to travel an additional small loop from Teton Park Road. This loop features Leigh and String Lakes as well as the Jenny Lake Overlook.
Signal Mountain Road
Turning left from the the small loop back onto Teton Park Road you will come to Signal Mountain Road. If you would like to take another side trip, Signal Mountain is a great place to drive up a mountain and see a stunning view of the valley and mountains before you. There is also a trailhead if you would like to hike it instead.
Jackson Lake Lodge
Back on Teton Park Road you will start to see the magnificent Jackson Lake come into view on your left. Jackson Lake Junction will give you the choice to go right and continue the loop, or go left and explore Jackson Lake Lodge. This is a great place to refuel, walk around the lake or lounge at the beach. After you visit, you can go south and continue on the loop.
Outer Loop
At Jackson Lake Junction, you will take a left and follow signs for Oxbow Bend Turnout.
Oxbow Bend Turnout
Up until this point, it has mainly been about the views and the hiking. Although it is possible to see wildlife anywhere, Oxbow Bend Turnout is famous for being inhabited by moose, elk and bear. You will always know that a forest friend has been spotted when you see a gaggle of cameras converge.
After Oxbow Bend, you will see a river access point to you right. This is also a great place to get out and stretch your legs and gaze at the Snake River.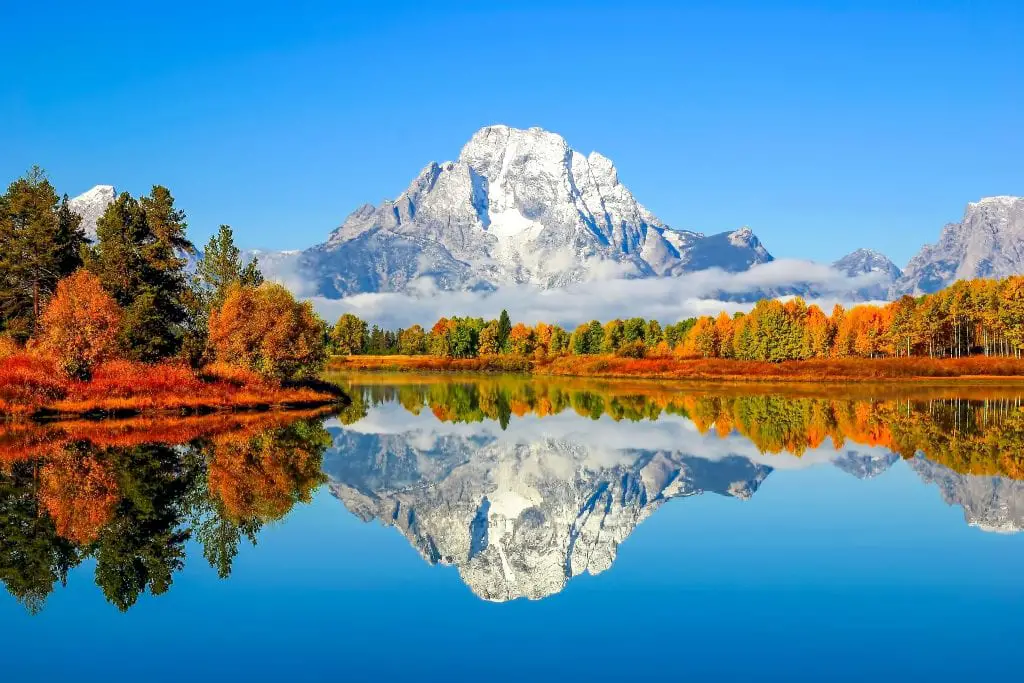 Cunningham Cabin Historic Site
The highway winds through thick aspen forests and ranch lands until it comes to Cunningham Cabin Historic Site. This is a great example of a historic homestead from the late 19th century. It's a peaceful place to explore and enjoy the views that were enjoyed by enterprising ranchers so long ago.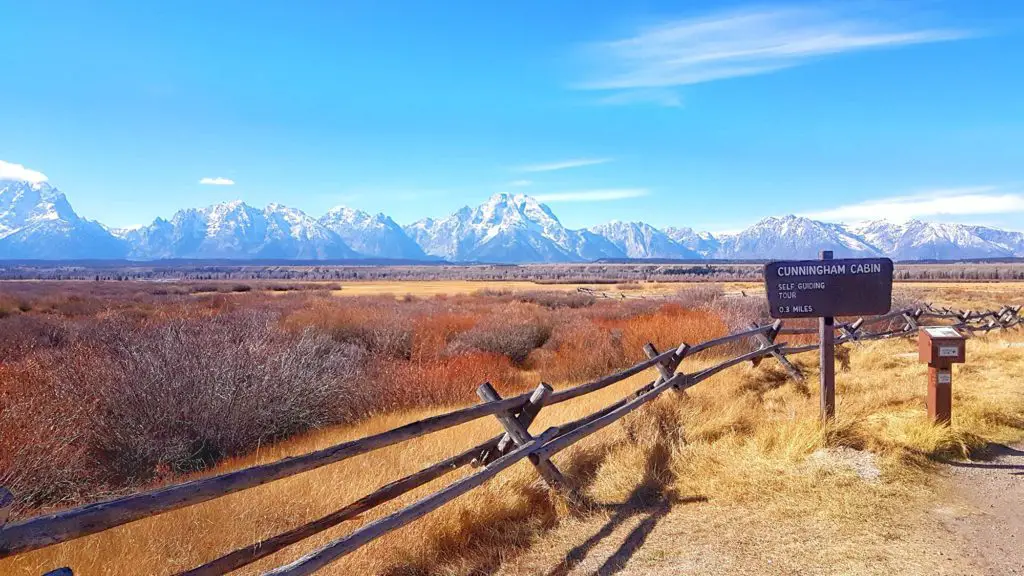 Snake River Overlook
Ansel Adams made this next stop famous with his photograph of the bend in the Snake River beneath the towering Tetons. Try your hand at replicating his photo. How close can you get to the original?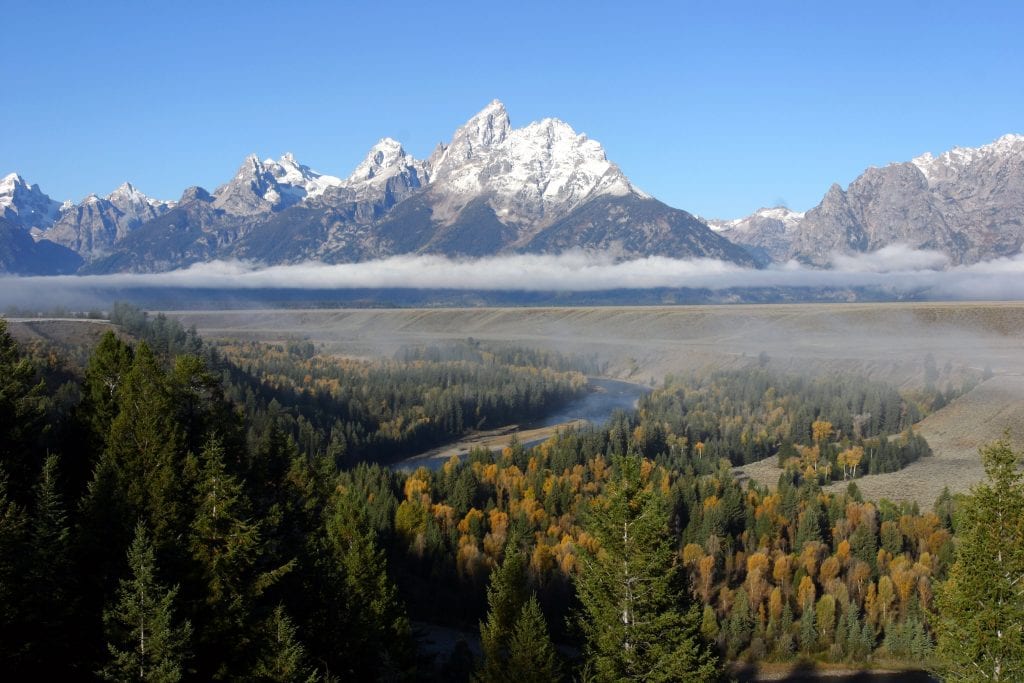 Schwabacher Landing
Another stunning place to hike or to just relax and enjoy the scenery, Schwabacher Landing is a lovely place for a picnic and wait for moose to pop their head out of the forest or a beaver to peak out of their dam. This is one of my favorite places in the park and my trip is never complete without visiting.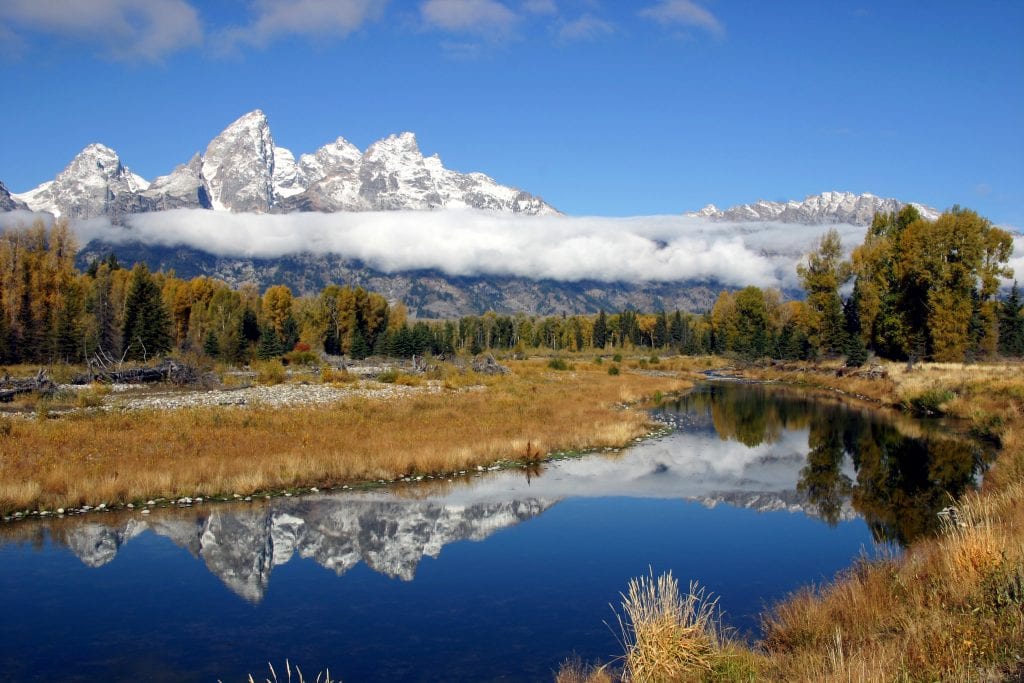 Antelope Flats
After another viewing opportunity of the glacier on your right, you will come to Antelope Flats on your left. This is where you will find Mormon Row and the Moulton Barns. This is one of the most photographed areas of the park and a great place to spot bison. The picturesque barns with the Grand Teton looming in the background always make for an amazing photo.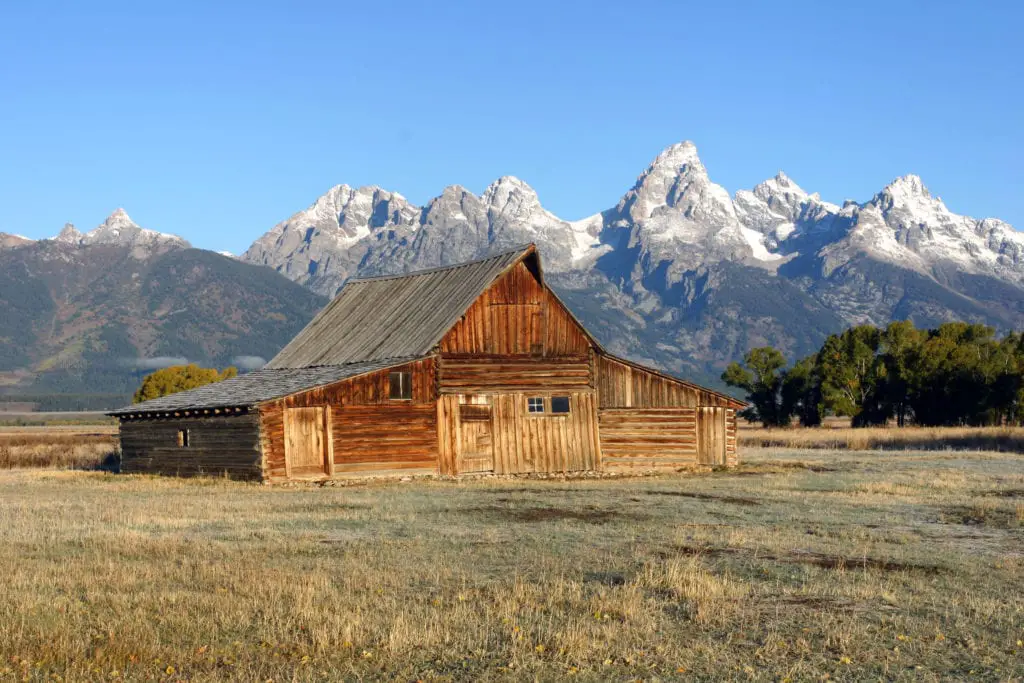 Now, back at the Moose Junction, you have completed the 42 mile scenic loop.
Moose-Wilson Road
The Moose-Wilson Road is not a part of the loop per se, but I would be remiss if I didn't mention it as a fabulous chance to see wildlife. Access the Moose-Wilson Road from Moose Junction. You will travel down a 15 mile narrow road that meanders through marshy and wooded areas that attract moose and bears. You are almost guaranteed to see wildlife on this stretch of road and I would definitely put it in you itinerary.
The 42-Mile Scenic Drive is a great way to get acquainted with the park and pick and choose the things that you would like to do on your visit. If you have a day to drive it, you can get the flavor of what Grand Teton National Park is all about, but a week is wholeheartedly better!
Here are a few other Grand Teton posts you might find useful: