How To See Grand Teton In A Day
Reflection of mountain range in a lake at Grand Teton National Park
Grounded Life Travel is supported by its audience. When you purchase through links on our site, we may earn an affiliate commission.As an Amazon Associate I earn from qualifying purchases. List of everything we use in our travels.
You need to know how to see Grand Teton in a day. Not because you wanted it that way, but because you had no idea it would be so magnificent!
I've heard it time and time again. So many people make the mistake of visiting Yellowstone and they leave no time for the Grand Tetons. They figure, "we'll just drive through and take some shots".
But when they head south, it's right about the time that they round the bend and the view of the Tetons explodes into their craniums, that they know they've made a BIG mistake.
You have reservations in Jackson for the night, but then you have to keep going. You have one day to see one of the most iconic places in the American west. How do you make the most of it? You buckle down and learn how to see Grand Teton in a day.
Morning
You wake up early when you want to see Grand Teton in a day. The sun is not even a glimmer over the horizon yet. You want to make sure you jam your day with as much explorations as possible. So, you head south out of Yellowstone National Park where you have been all week.
You head down Hwy 89 and you pass Flagg Ranch and Jackson Lake Overlook. You jot these down in your notebook as things to come back to see. The sun is just beginning to rise when you make it to your first destination of the day. You need to fuel up for what is to come so you decide to splurge and watch the sun paint the Grand pink as you gorge yourself with one of the best breakfast buffets in the west.
The Mural Room at Jackson Lodge
Imagine dining with sweeping views of the Tetons as you feast on eggs your way and fluffy Belgian waffles. The sun rises in the east, which paints the snowcapped Tetons to the west, a brilliant pink, purple and gold that your eye hasn't seen before or since. It's decided that this is definitely the best breakfast you have ever had.
After taking in the view and getting your fill of as much bacon and sausage your stomach can stand, you continue on your way. It's still early and the mist of dawn has not burned from the grasses in the meadow yet. You turn off the highway again to see what's in store next.
Oxbow Bend
You did your research and you know that early in the morning is the best time to see wild animals here at the bend. You hit it just right with the long line of cameras that are poised for that perfect shot. Not only do you see a elk grazing up close but you are lucky enough to see 399 and her four cubs.
399 is a grizzly mother and grandmother famous for the lineage of 16 cubs she has produced over her 25 years. In 2020, she emerged with four cubs from her den. You are overjoyed to see this sight and are able to get some good shots before heading back on the road.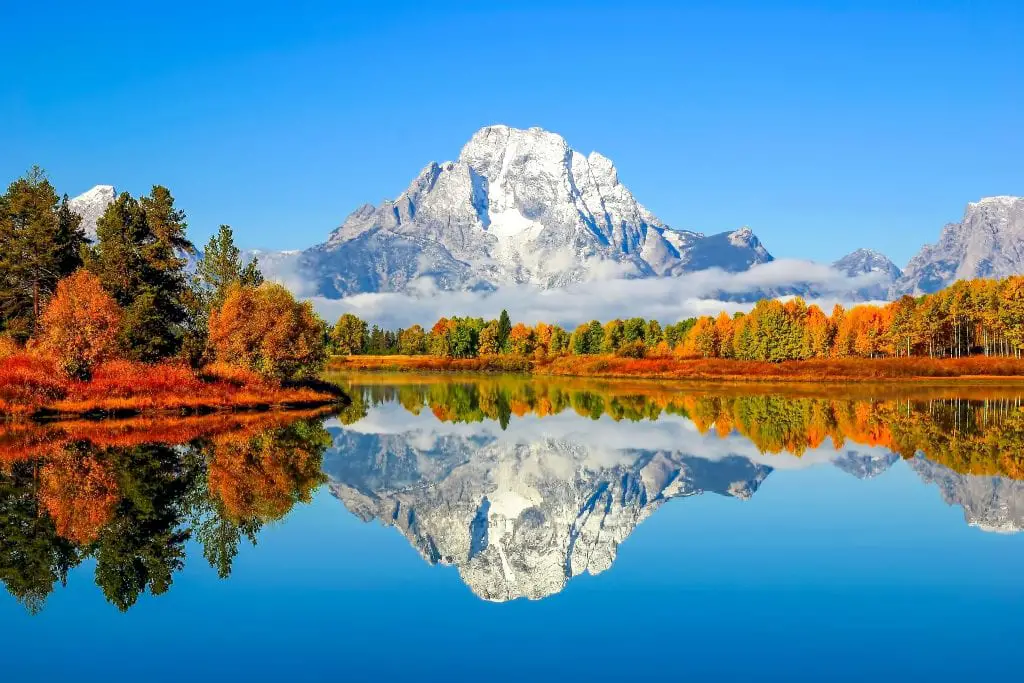 42 Mile Scenic Drive
You turn back west towards Jackson Lake Junction onto the 42 Mile Scenic Loop Drive. This is really the beginning of your little road trip. Driving the 42 Mile Scenic Loop Drive will highlight all of the major spots in Grand Teton National Park. You can pick and choose where to stop, where to hike, or where to just take a quick snapshot and run. But for the purposes of designing the perfect day in the Tetons, I will outline my suggestions.
Jenny Lake
The scenic loop drive will start at Jackson Lake Junction. You will travel south west and pass Jackson Lake Dam, Chapel of the Sacred Heart and Signal Mountain. All of these warrant a stop. But, you may want to just take note of these attractions for when you have more time.
Jenny Lake is at the top of my list for gorgeous lake and mountain views and a lovely hike. Everyone simply has to make time to enjoy it in all its splendor.
You have two choices at this point. Either take the shuttle across the lake, which is an $18.00 fee round trip, or $10.00 fee one way. If you choose to hike to the Cascade Canyon Trailhead and decide not to take the shuttle, it is a 2 mile hike. Beyond this point you can hike the half mile to Hidden Falls and a little under a mile to Inspiration Point.
After you see the stunning views and get your fill of rushing water, you can either take the shuttle back or hike the loop back to the parking lot. Jenny Lake is one of the most visited areas of the park and a must see if you have time in your one day itinerary.
You will be missing out on String Lake and Leigh Lake hikes by taking the Jenny Lake Trail, so make sure you jot these down for your next vacation in the Tetons.
Afternoon
Taggart Lake Trail
Continuing south you will come to Teton Glacier Turnout and you can take a quick photo here that won't take long. The Glacier may not be here much longer, so you want to make sure you document it was there.
Your next stop after that will be the Taggart Lake Traihead. This is an amazing 3.3 mile hike to an aspen laden alpine lake that is just beautiful with views of the Grand and Middle Tetons in the background. Here you can picnic or take a midday siesta on one of the many boulders placed around the lake.
This is one of my favorite hikes in the park. My family and I recently hiked it in the fall and it was a blaze with yellow aspens and red black hawthorns. We hike Taggart Lake every time we visit the park.
If you decide the Jenny Lake hike did you in, and you need an alternative to hiking another trail, keep driving.You are probably hungry for lunch. You can either stop at Dornan's Pizza and Pasta at Moose Junction, or you can stop at their convenient store and grab a lunch for a picnic. The Craig Thomas Discovery and Visitor's Center is also here if you need to grab more information or use some nice restroom facilities.
Antelope Flats and Mormon Row
After leaving Dornan's you will take a left to go north 191/26/89, continuing on the loop. You will see Antelope Flats Road on the right. This is where you will want to spend a little time photographing the famous Moulton Barns and Mormon Row. You know, the most famous barns in America. If you're lucky like we were, you'll be able to kill two birds with one stone and get some bison in the photos as well. Bison, Moulton Barn and the Tetons in the background. Photography doesn't get much better than that.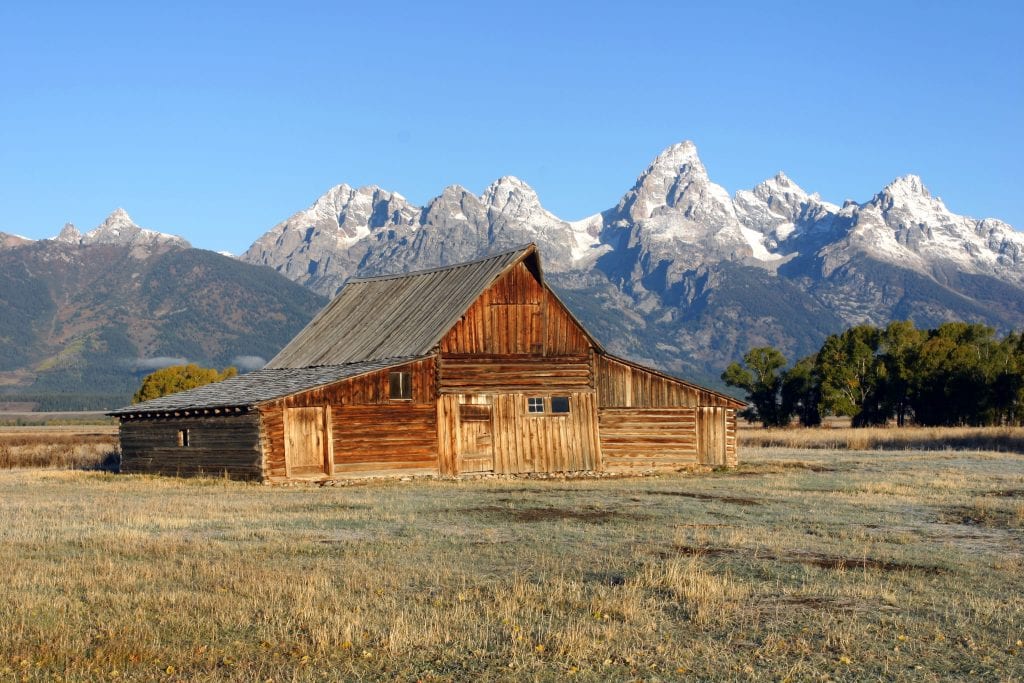 Schwabacher Landing
After leaving Antelope Flats, go back out to the highway and take a right. You will see Blacktail Ponds Overlook to your left. Keep going and you will see Glacier View Turnout. It's your choice wheather you would like to stop. But, if you didn't eat some pizza at Dornan's, you're probably famished.
Keep heading north to Schwabacher Road. Turn left and park at one of the two parking areas here. Midday is not the best time to come to Schwabacher Landing, but you really can't leave Grand Teton without strolling by the beaver ponds and looking for a slurping moose. There are plenty of flat places to cop a squat and dine on your Dornan sandwiches or have a tasty treat, while you sit in silence and take in the breathtaking view of the Tetons and they reflect in the pond.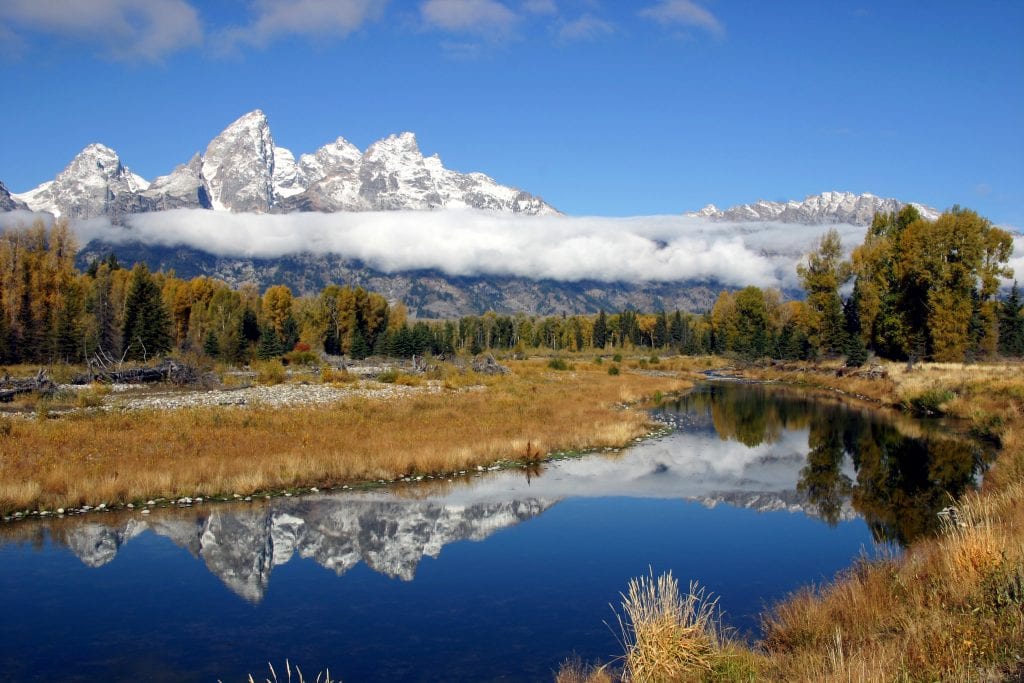 Evening
It's been a long, exciting day, but you have a couple of more things on your agenda. From Schwabacher Landing, take a left to continue north. Pass or stop at Teton Point Turnout if you want another photo and then continue on.
Snake River Overlook
Ansel Adams made this place famous by his classically perfect photo of the bend in the Snake River leading towards the Grand. You can try to reproduce this picture, but it is impossible. As you peer out at the scene, you will see that the trees have all grown in the bend of the river obstructing the curve. In the eighty years since he took the photo, the environment has changed. So, you get what you get and you don't pitch a fit!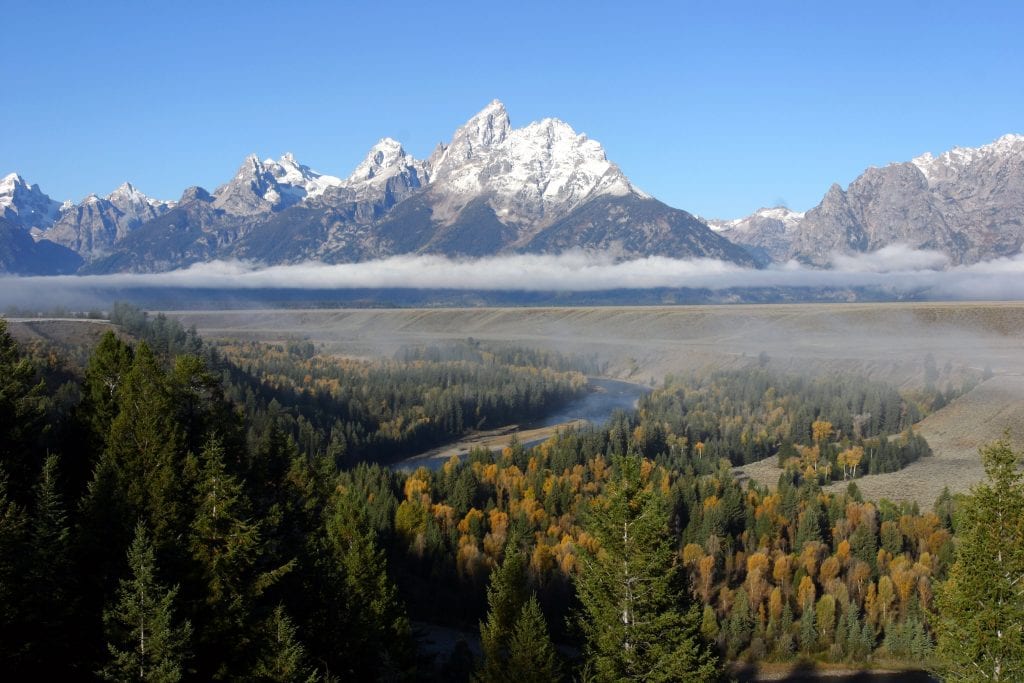 Gros Ventre River At Sunset
It's getting later in the day and you're tired! Learning how to see Grand Teton in a day is exhausting. You decide to turn back south because you want to make one more stop before you head towards Jackson.
You've done your research and you know that the moose like to converge at the Gros Ventre River at dusk to get their nightly drink. It's like a nightcap for moose. So you take a left on Gros Ventre Road and spot a gathering of people with their camera equipment on the side of the road. This is a telling sign that there is wildlife around.
You get to the river just in time to see a cow moose with her new born calf drinking from the river. The reflection of the setting sun and the peace of the golden hour it just what you needed to top off your perfect day in Grand Teton National Park.
Off to Jackson you go, headed for a soak in a hot tub and some take out from Annie's Thai Kitchen on Broadway. After, you'll drift to sleep, dreaming of moose, waterfalls and those magnificent mountains. Next trip you won't need to know how to see Grand Teton in a day, because you'll have a week!
Here are a few other Grand Teton posts you might find useful: