11 Things You Need To See At Mount Rainier National Park
Grounded Life Travel is supported by its audience. When you purchase through links on our site, we may earn an affiliate commission.As an Amazon Associate I earn from qualifying purchases. List of everything we use in our travels.
Mt. Rainier is the gem of Washington state and one of the most talked about things when you are visiting Seattle. If you are lucky, the mountain will be out, and you'll get to see it in all of its glory as we did on our last visit!
Plan to spend a full day covering this park if you don't plan to hike and 2-3 days if you do, as there is much more to see than you might imagine.
1. Myrtle Falls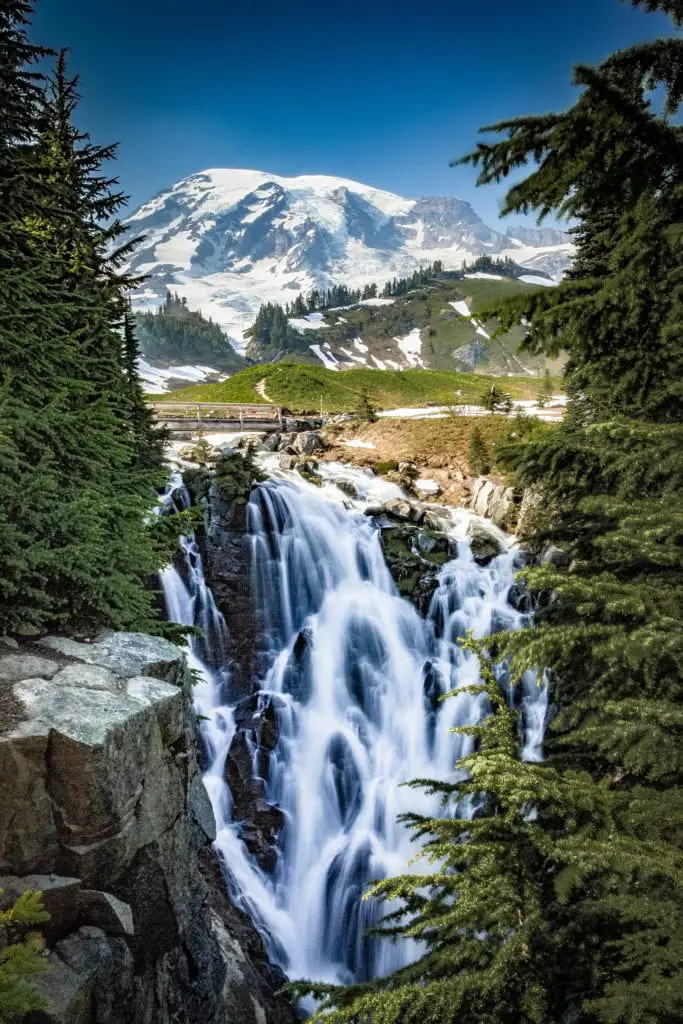 Myrtle Falls is a 72 foot high waterfall at the base of Mount Rainier that is reached via the Skyline Trail. It is an easy walk to the falls from the parking lot at the Paradise visitors center. There is a short steep decline down stairs once you reach the falls to get to the viewing platform.
2. Skyline Trail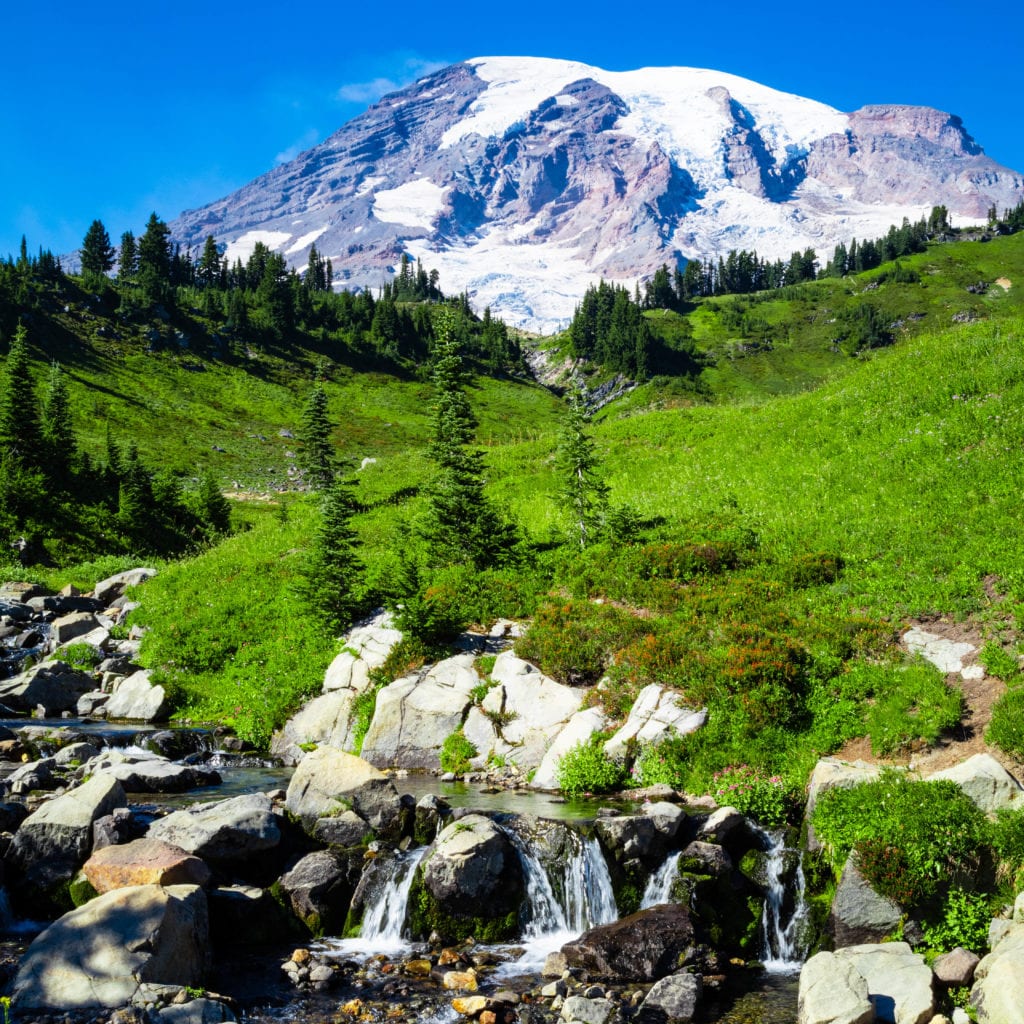 Skyline trail is a 5.4 mile loop trail of moderate difficulty that takes around 4 hours. This trail starts at the Visitors center at Paradise and one of the first things you'll see is the above mentioned Myrtle Falls. If you only have time for 1 hike, this is considered the best one to do.
3. Tipsoo Lake Trail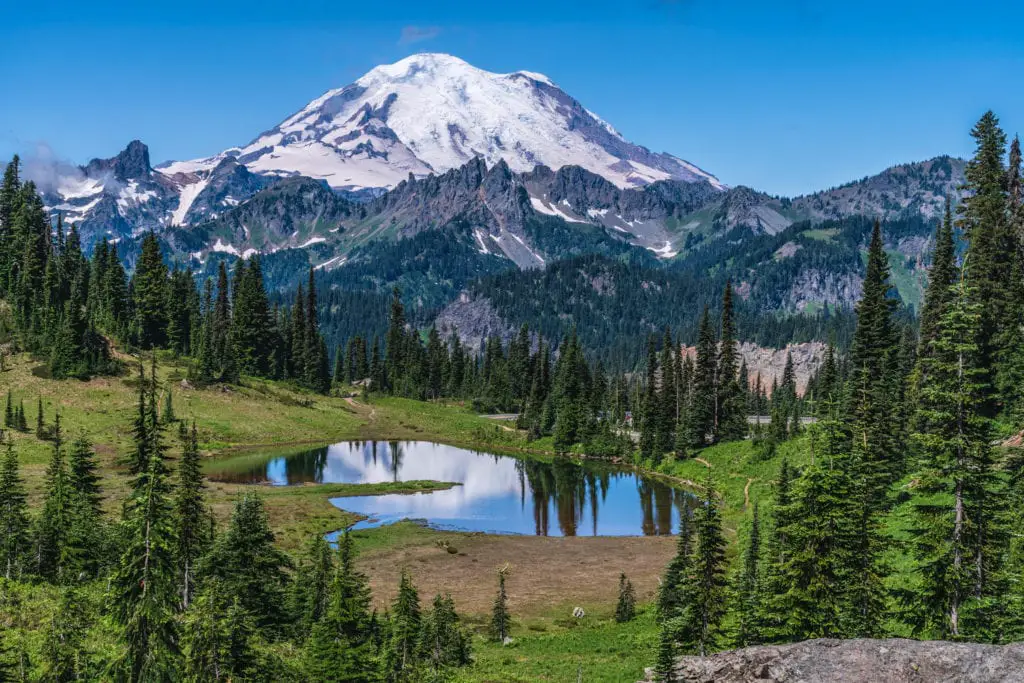 Tipsoo Lake and the Tipsoo Lake trail is considered an easy family friendly hiking area. It features a .8 mile loop with view of Mount Rainier reflected in the lake if you are lucky. You may also see wildflowers growing in the surrounding meadows. Plan to spend around an hour here.
4. Grove of the Patriarchs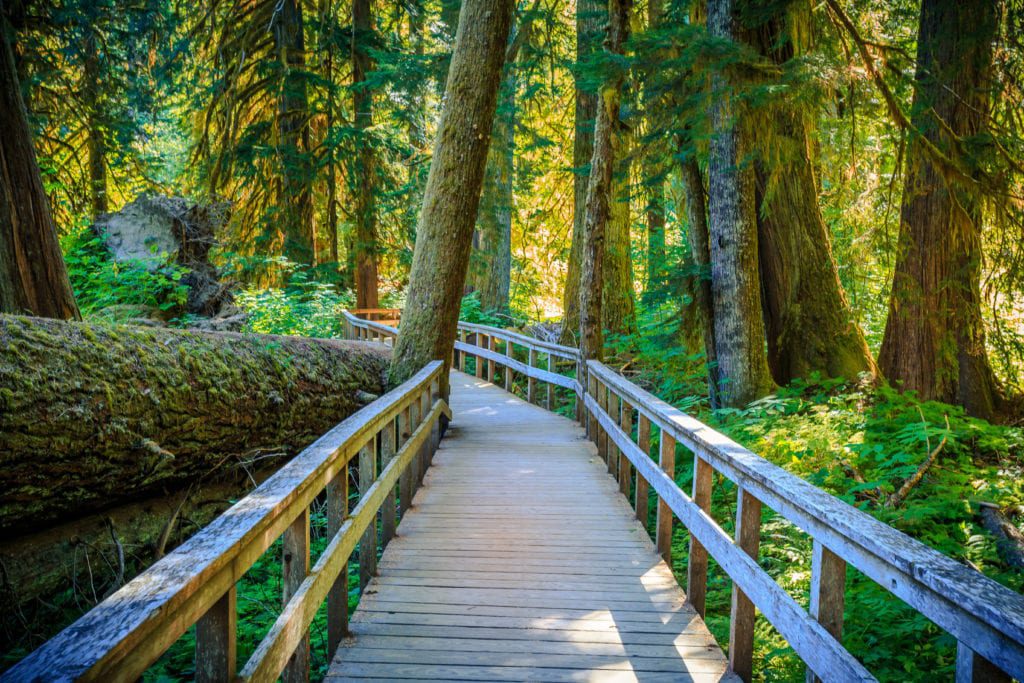 Grove of the Patriarchs is a flat and easy family friendly hike in Mount Rainier National Park. It is 1.5 miles round trip and should take about an hour. You'll be entering a magical place featuring some of the biggest trees you've ever seen.
5. Reflection Lake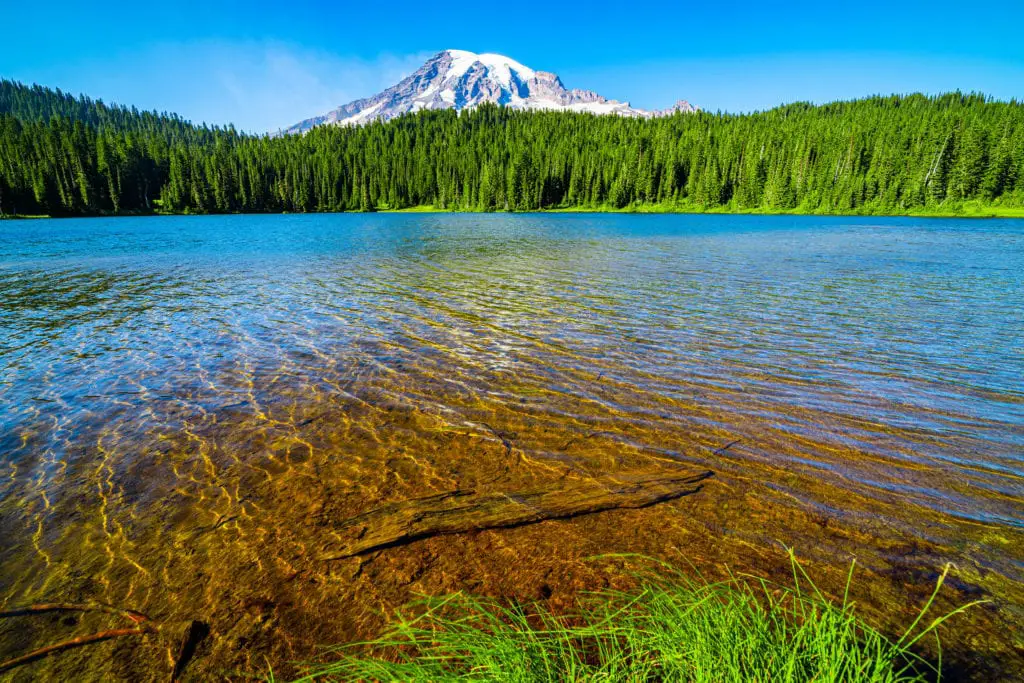 Reflection lake is an alpine lake that has walking paths and a parking area. It is just a short walk to the lake from the parking lot. It is tough to see a true reflection as you'll need both clear weather and no wind. We had a clear day, but the slight wind caused ripples in the water. This is a great area to spend about an hour exploring.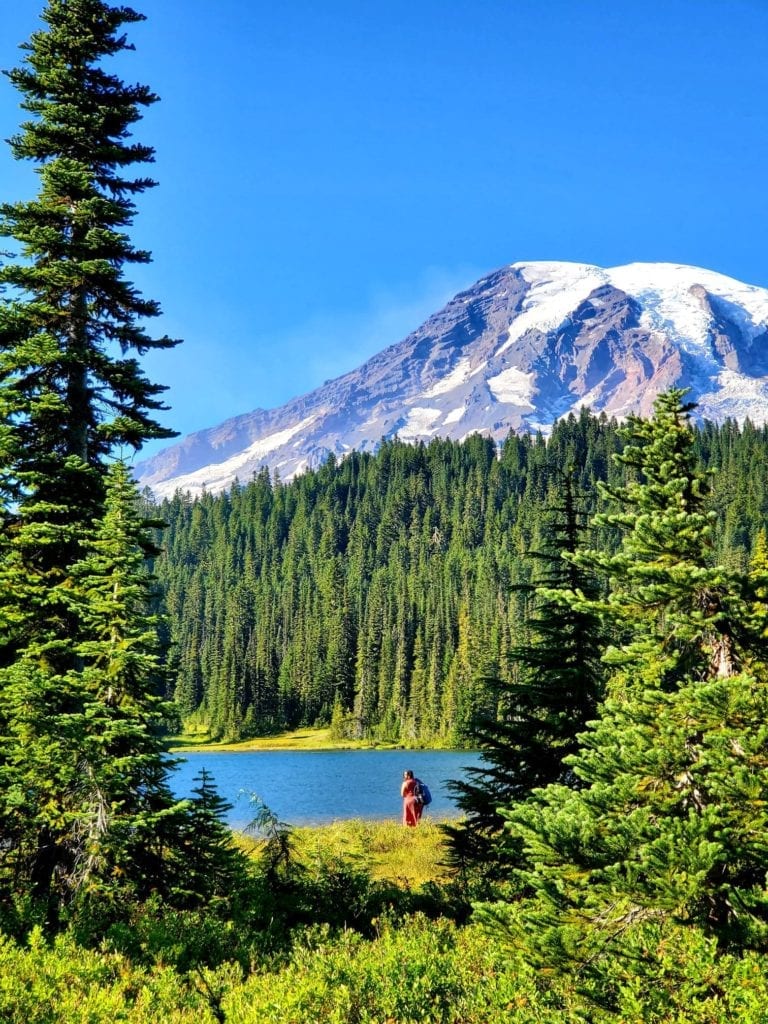 6. Narada Falls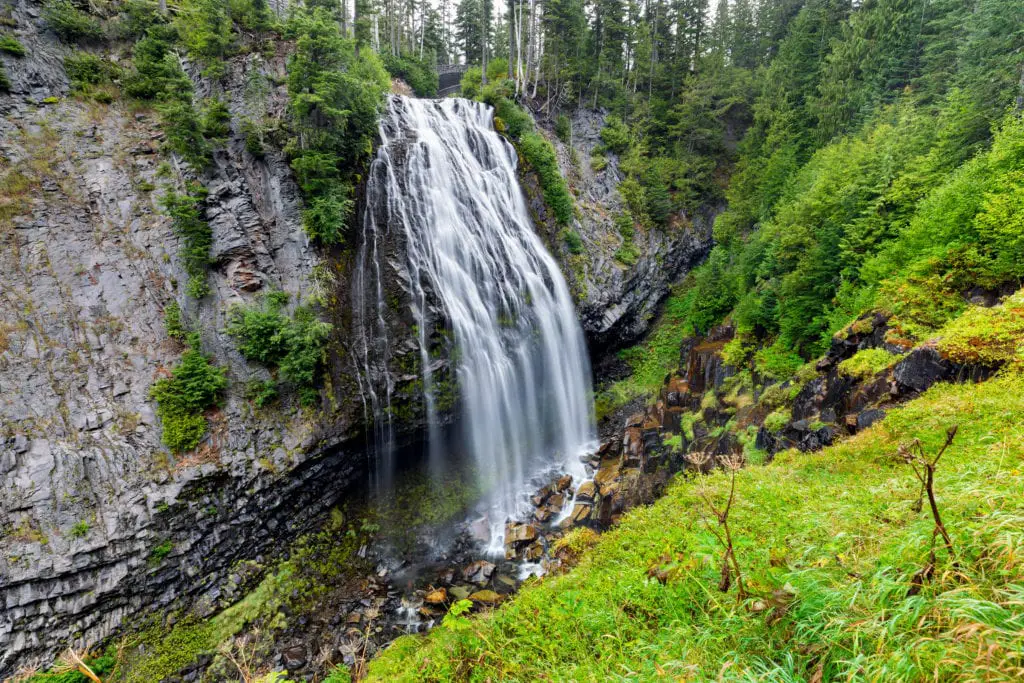 You'll pass Narada falls on the road from Longmire to Paradise. The view is roadside so this is a quick and easy stop on your way to seeing the mountain.
7. Longmire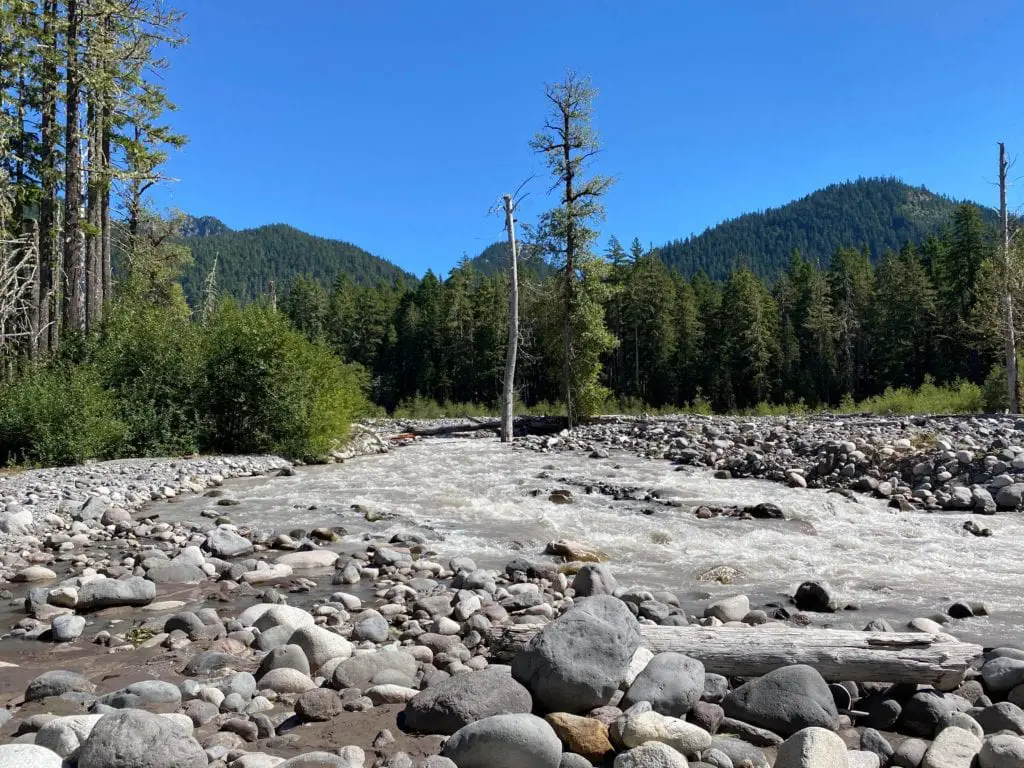 Longmire was the first part of Mount Rainier National Park to be able to be reached by road. It also served as the first entrance station and visitors center. There are beautiful stretches of road to get out and explore in this section of the park with many pullouts to take a break or have a picnic.
8. Sourdough Ridge Nature Trail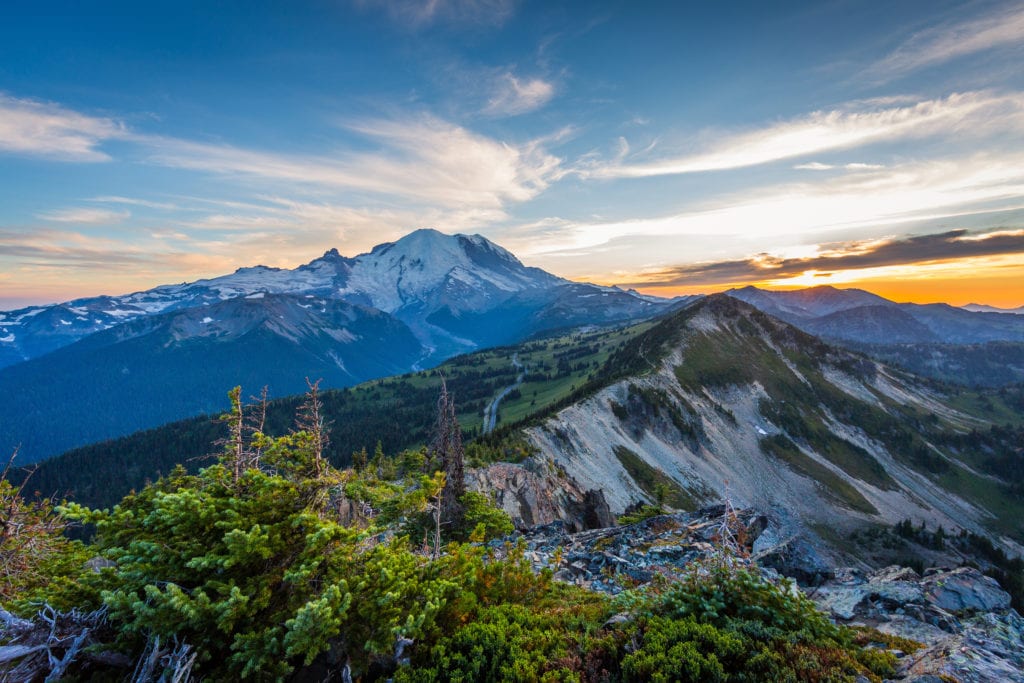 This four mile one way hike will give you glimpses of the beautiful mountain peaks, wildflowers in meadows and a glacier. This hike is accessible from the Sunrise section of the park, and should be a less trafficked trail than the Skyline trail.
9. Comet Falls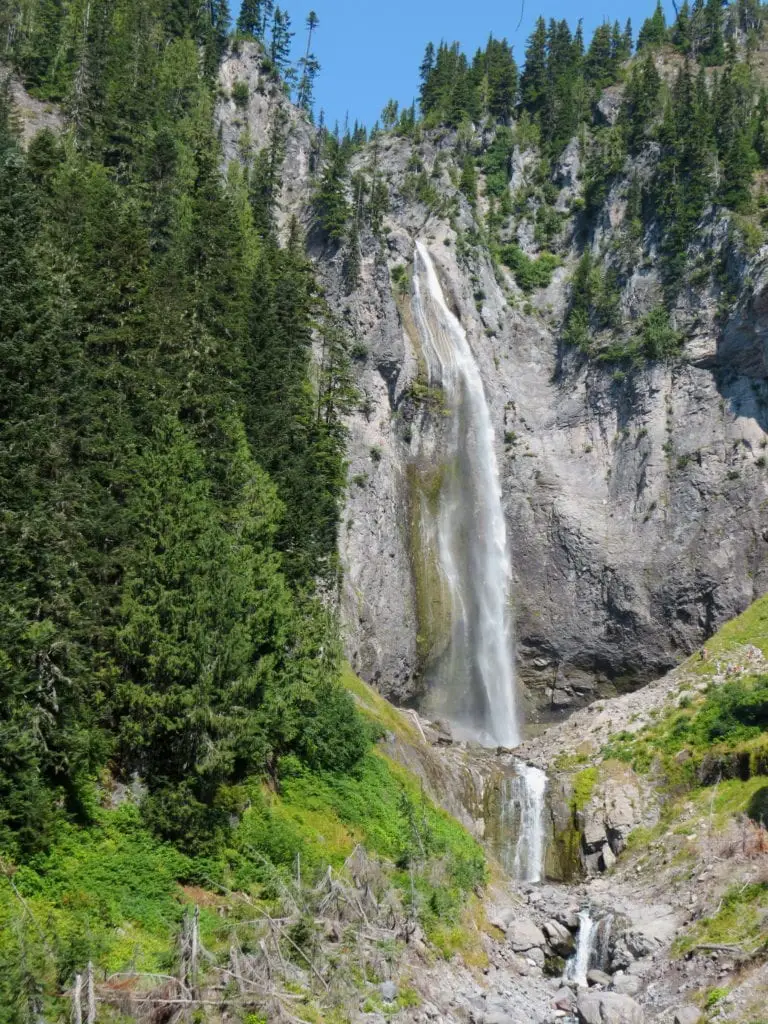 Comet Falls is a 3.8 mile roundtrip hike of moderate difficulty including an elevation gain of 1,300 feet. If you are a true waterfall lover, you'll not want to miss this one as it is considered the prettiest falls in the park. Unlike Myrtle Falls though, you cannot see the mountain in the background of the falls. Parking is limited in this area.
10. Silver Falls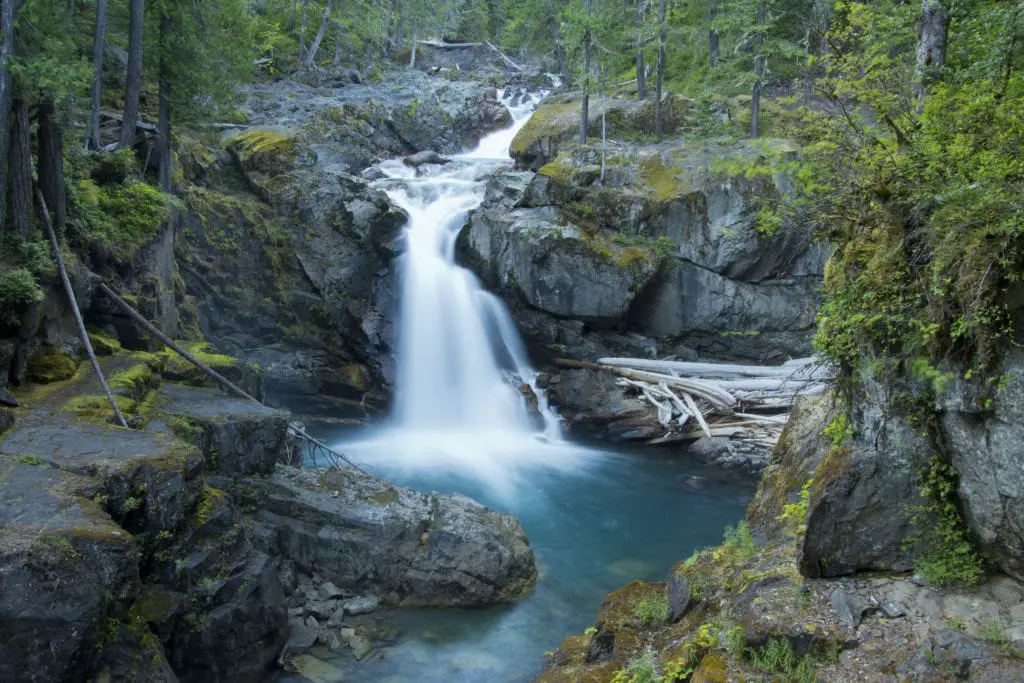 Silver Falls is an underappreciated hike in the Southeast corner of the park. It is a relatively easy hike at 1.1 miles and could be handled by hikers of all skill levels. While you won't be alone on the trail, expect some solitude as you gaze at this beauty.
11. Drive To Paradise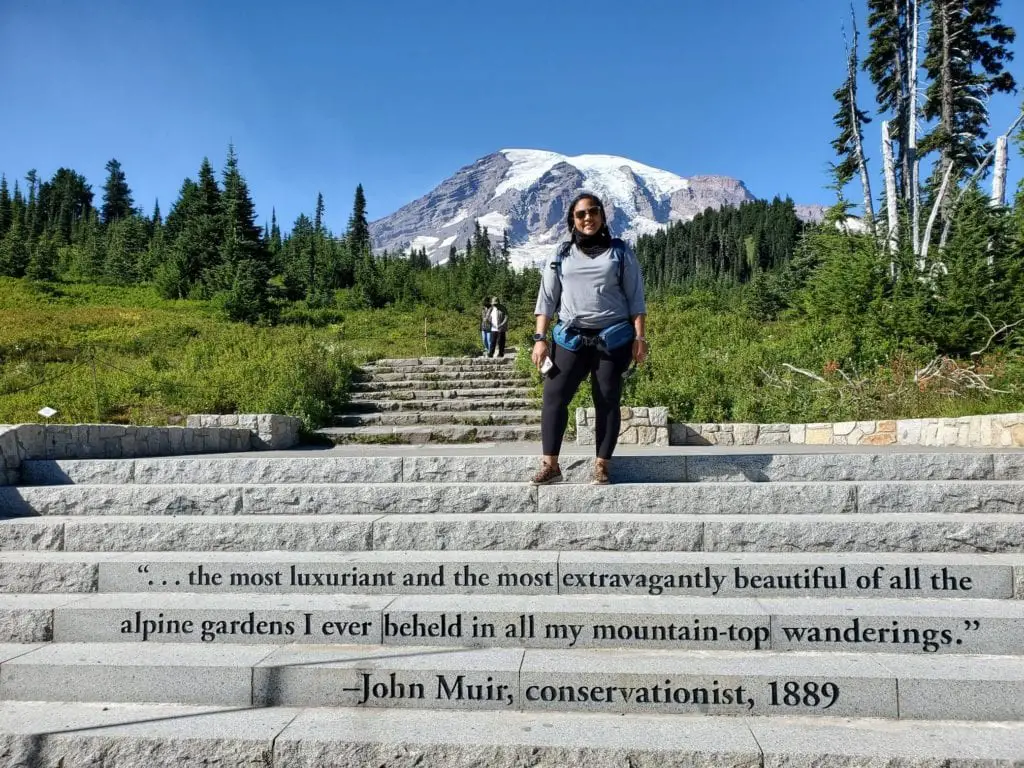 We drove to Paradise, as our first order of business in the park. It gave us that first awe inspiring moment, which is your first glimpse of Mount Rainier up close. As you round the bends on this drive you'll suddenly have the mountain right in front of you on the road, which is a breathtaking sight. Even if you don't plan to hike at Paradise, you should still visit just for the sights along the drive.
Mount Rainier is probably the prettiest up close snow capped mountain in the National Park system, with Mt. Moran at Grand Teton National Park taking a close second.
Tags :
mount rainier
mt. rainier
national parks