Top 10 Things To See In Bryce Canyon National Park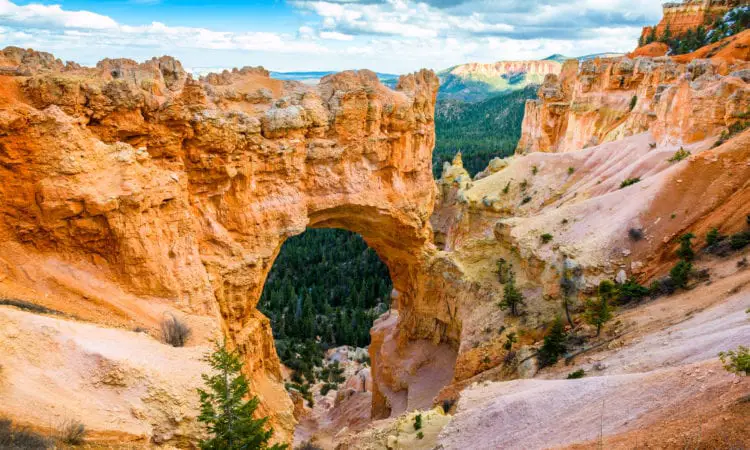 Bryce Canyon
Grounded Life Travel is supported by its audience. When you purchase through links on our site, we may earn an affiliate commission.As an Amazon Associate I earn from qualifying purchases. List of everything we use in our travels.
Bryce Canyon is one of the Mighty 5 national parks in Utah. This park is very popular in the summer time. It's also very popular because of the All American Road, State Highway 12 that leads to the park. There are lots of things to see at this park, we put together a list of the top 10 to help you plan your visit. Before you go, be sure to book your lodging, there is limited lodging around Bryce and only one lodge inside the park. Be prepared to ride the shuttle to avoid traffic and parking issues.
1. Fairyland Point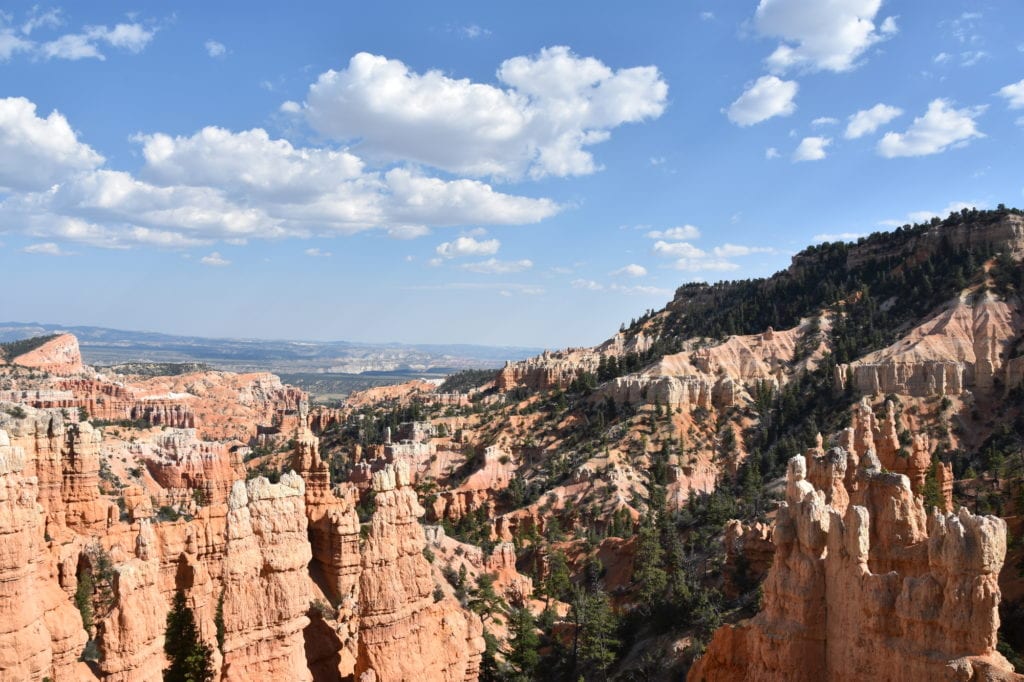 This one is a bit of a hidden gem. You can find it along the rim trail of Bryce Canyon. It is not going to be as crowded as some of the other points. There are fewer hoodoos at this point but the rest of the scenery is worth the stop at this spot. This point can be found outside of the fee area, it is the starting point for the Rim Trail. you can also enjoy the views of Sinking Ship from this viewpoint. From Highway 12, turn onto Highway 63 and drive past the entrance sign for about 3 miles, then left on Fairyland Road and you will find the parking area about a mile down the road.
2. Bryce Point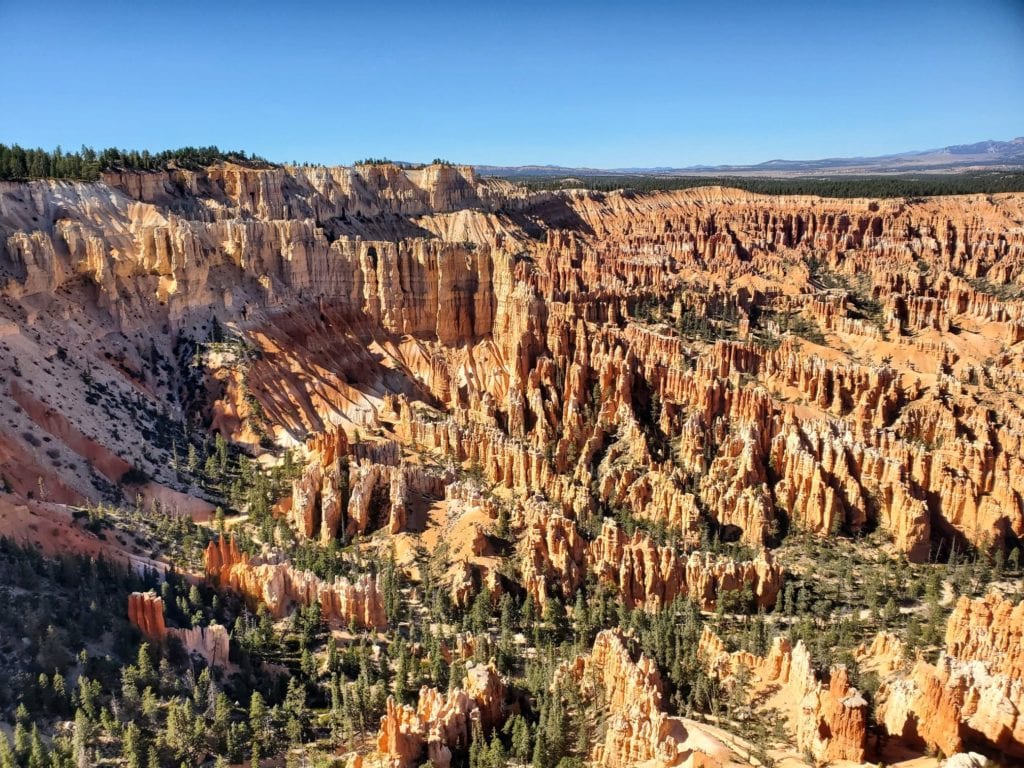 One of the great things about Bryce Canyon is that no two viewpoints are the same. Just when you think you've seen beauty in the hoodoos, you are presented with yet another spectacular but different view. Bryce Point is about 200 ft. higher in elevation than Inspiration Point (listed below). This viewpoint will make you feel like a bird soaring about the hoodoos below. There is a short hike to this viewpoint from the parking area. You can take the shuttle to this viewpoint but if you want to drive it's on the way to Inspiration Point about 1.5 miles from the visitors center.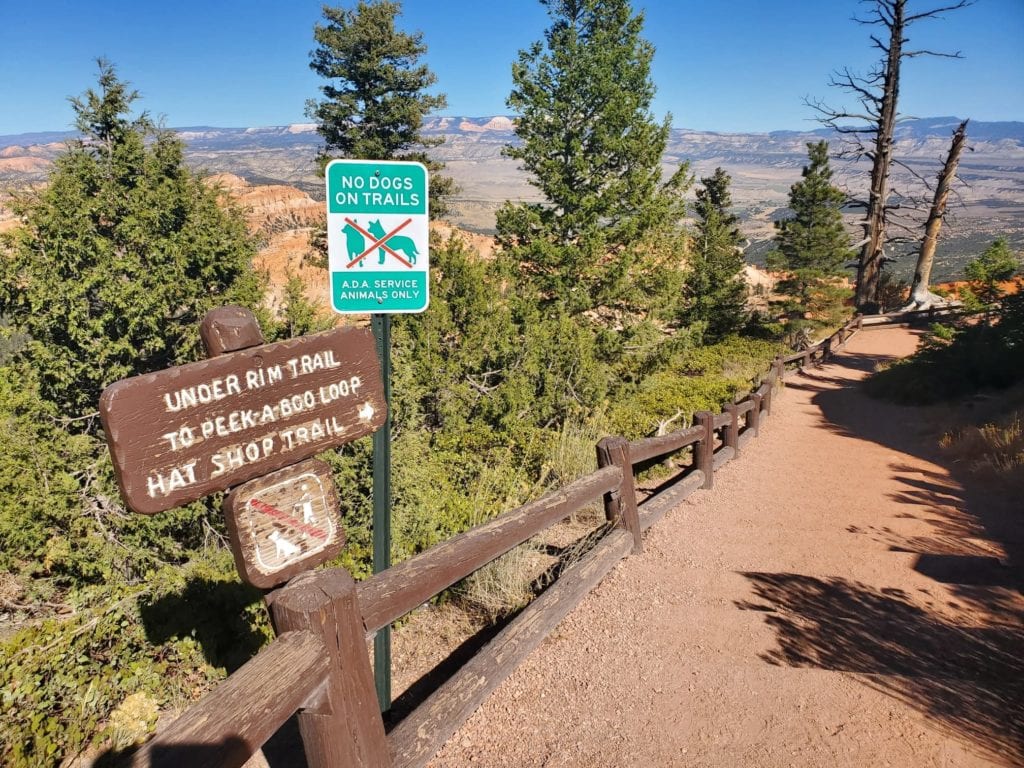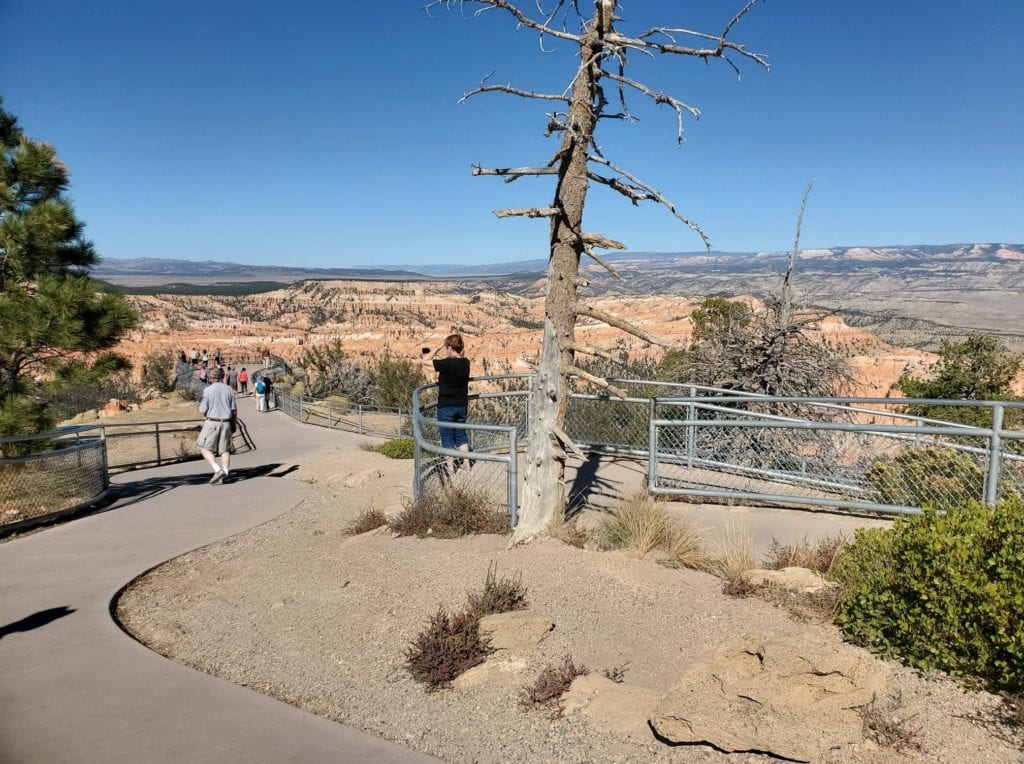 3. Mossy Cave Trail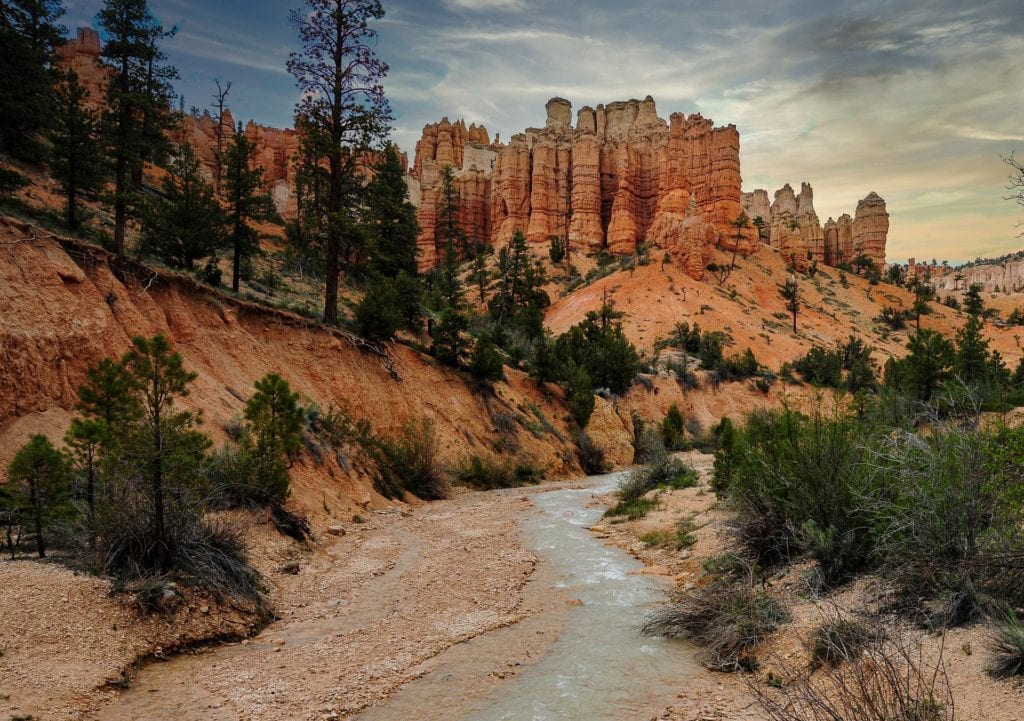 The name of the is one is deceiving, you think you are hiking this one for the Mossy Cave but the waterfall is the real showstopper here. This is a well marked trail that is family friendly. The waterfall only flows from May to about October. Follow along the river to reach this cave of dripping water (thus the moss). You will be overwhelmed with the the glorious green plants you'll encounter growing around the red rock formations. This trail can be found off of Highway 12 near the town of Tropic. There is a small parking area, it's a short .8 mile round trip hike.
4. Sunset Point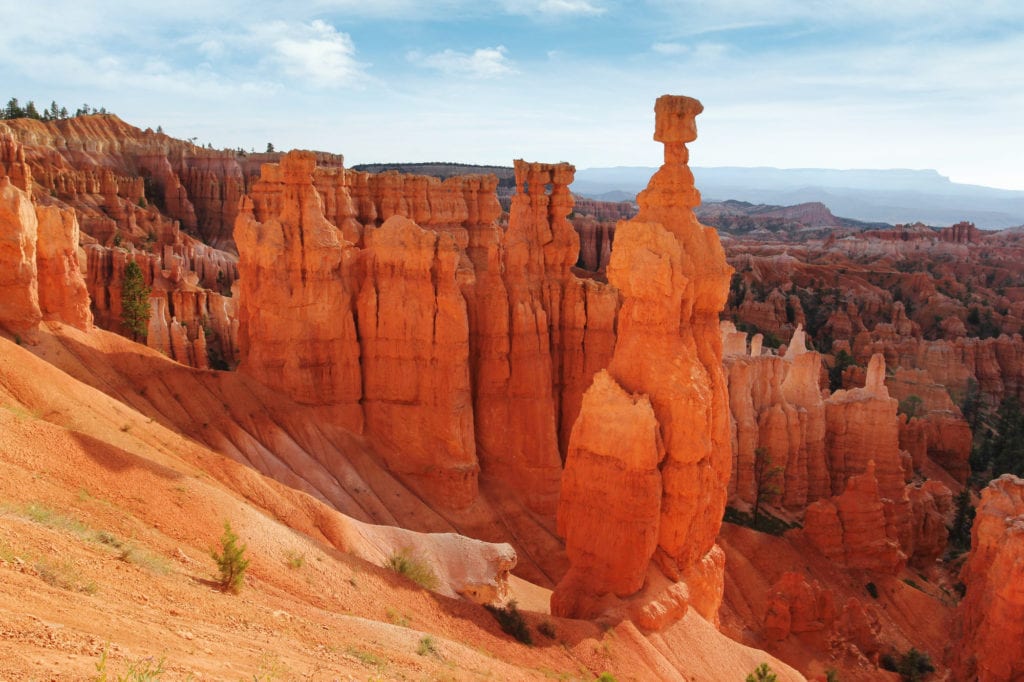 You would think this one is only beautiful during sunset but you'll be surprised when you see it's beautiful all day. However, it's spectacular at sunset. My favorite part of this viewpoint is Thor's Hammer in the center of the viewpoint. You can take the shuttle to this viewpoint but if you choose to drive, it's only 1 mile from the visitors center. There is a large parking area here.
5. Sunrise Point
Like Sunset Point, this one is gorgeous no matter the time of the day but sunrise is spectacular. You can use the Rim Trail to reach Sunrise Point from Sunset Point, it's only about a mile between the two. You can also easily take the shuttle between the two. You can view Bryce Amphitheater on your way from Sunset Point. Keep a watch for the horseback riders in this area.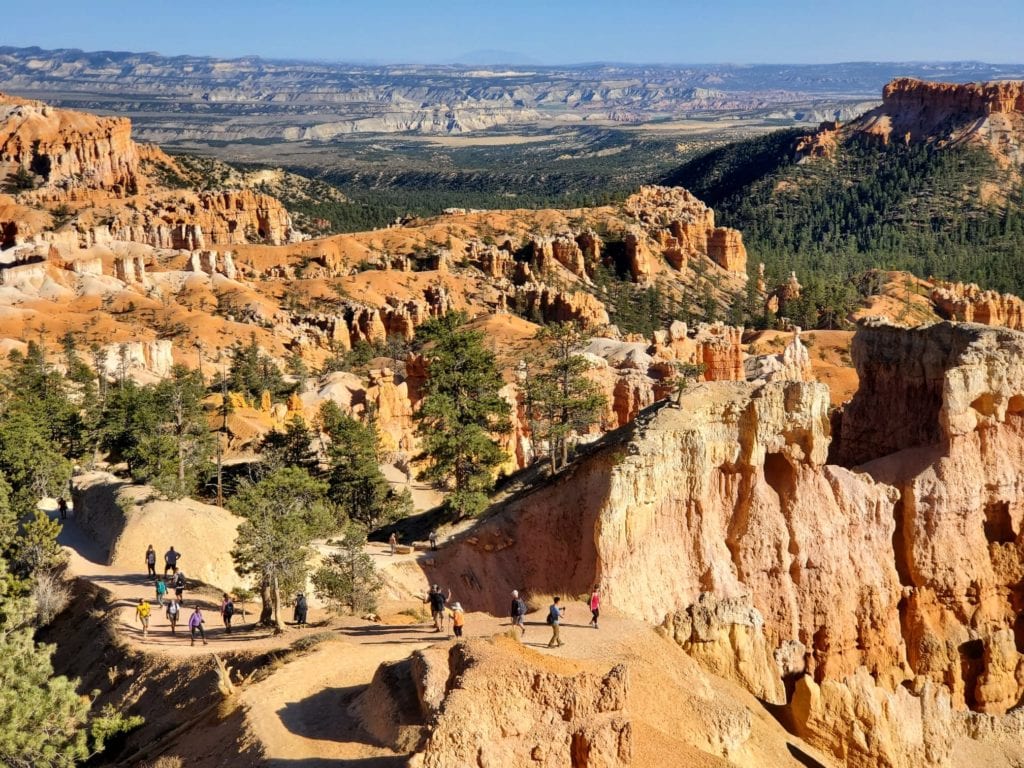 The Queens Garden hike starting at Sunrise Point is considered the easiest hike into the canyon. If you only want to do one, this is the best choice.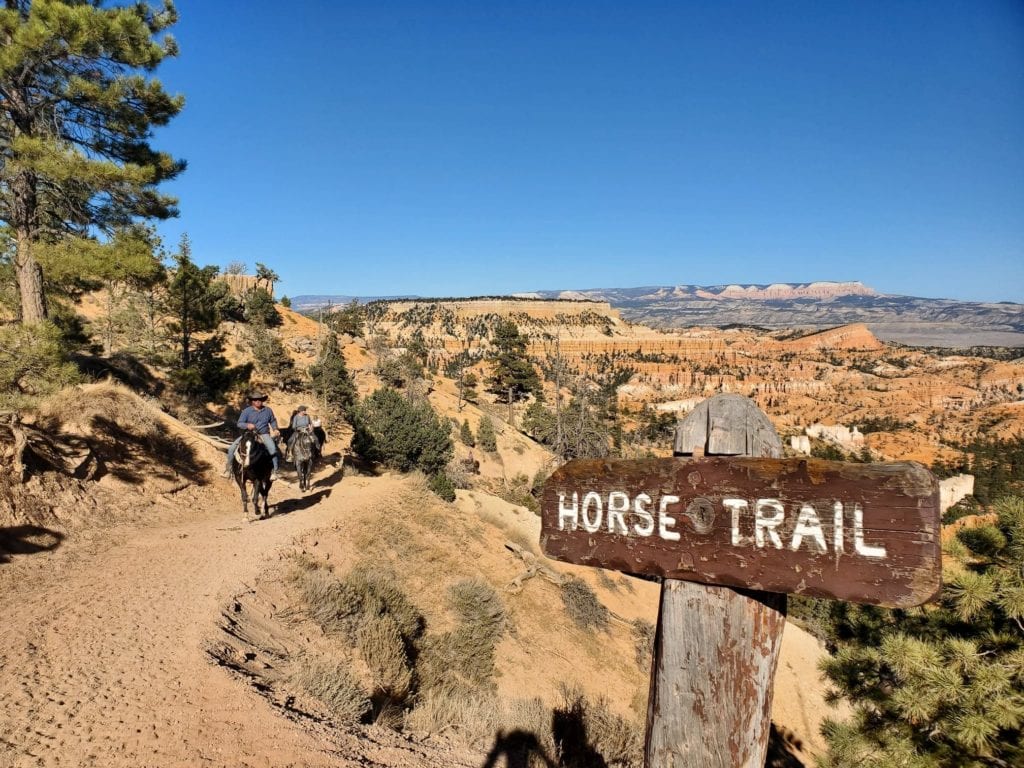 6. Hike The Rim Trail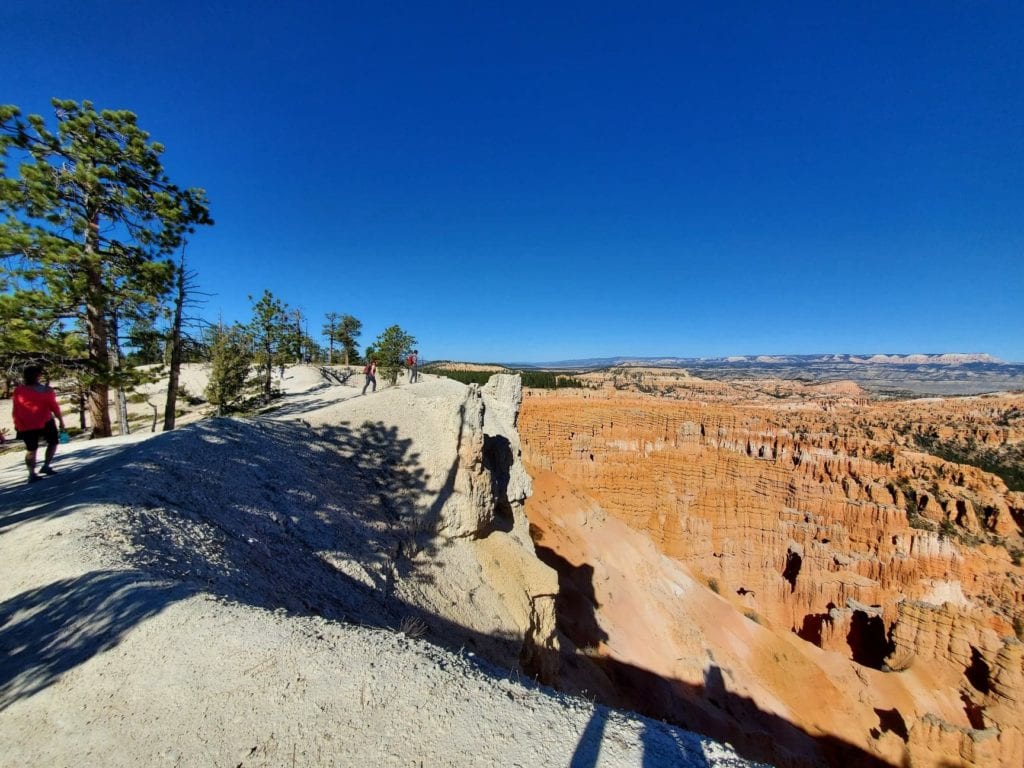 The Rim Trail connects many of the trailheads in Bryce Canyon. You can hike this trail from Fairyland Point to Bryce Point. The views are spectacular. Pay close attention as you hike along, it's easy to lose track of how close you are to the edge. The most popular part of this hike is from Sunrise Point to Sunset Point, it's only about a mile long. The whole trail is 11 miles long.
7. Natural Bridge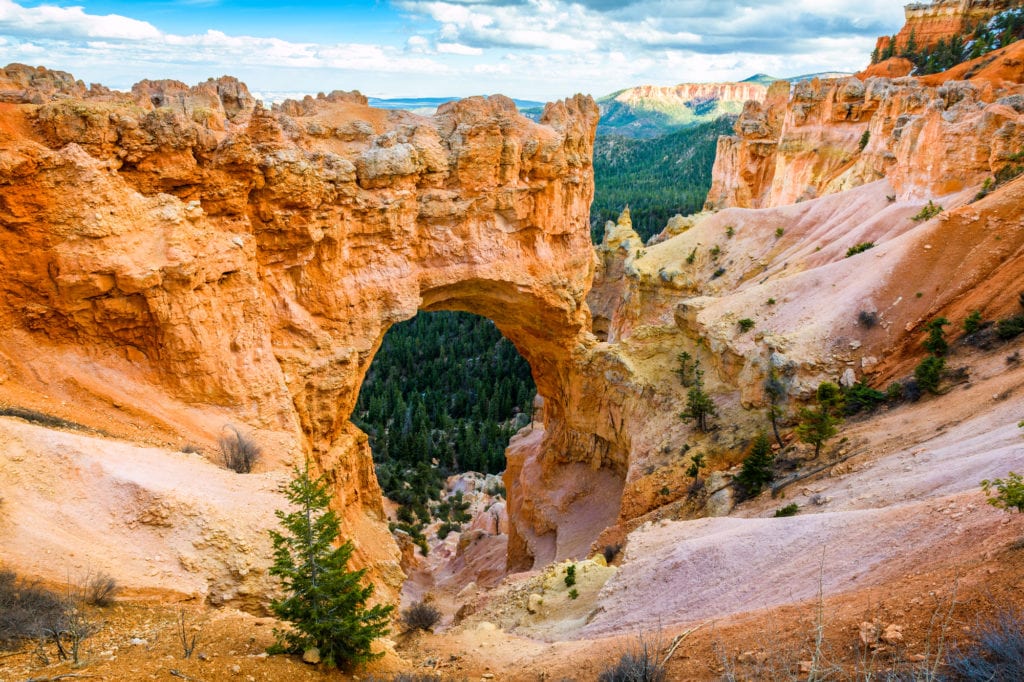 If you have been to Arches or Canyonlands National Parks before your visit to Bryce, you think you've seen all the arches you can see. Natural Bridge is here to blow you away. It's a beautifully suspended bridge with a forest of deep green trees all around. The contrast in the colors is stunning. This is a popular quick stop, it's located near Rainbow Point. There is a small parking area near the viewpoint. There is not much hiking involved in this viewpoint.
8. Inspiration Point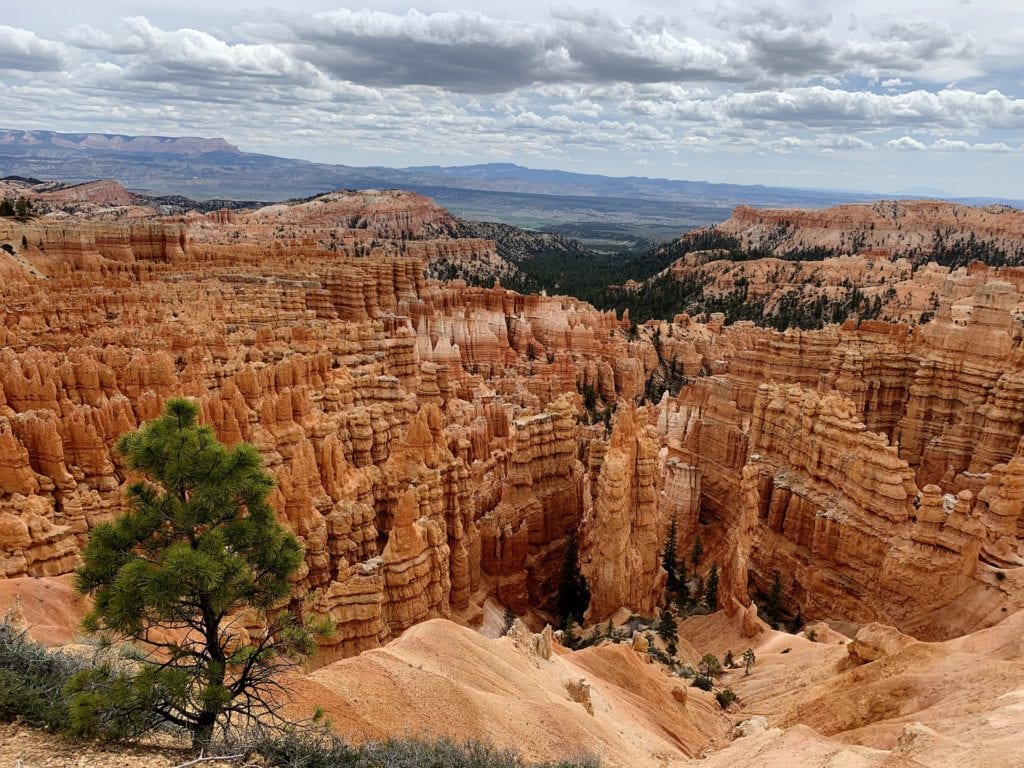 This viewpoint is very popular. When you arrive you will quickly see why. This viewpoint is perched high above the many levels of hoodoos that fill the canyon below. You could stand here for hours staring at the different layers of the red and white rock that has been eroded away. We enjoyed trying to find different shapes and special formations. There are three viewpoints, each one gaining elevation. You will not be disappointed in this stop. It certainly lives up to it's name, you will leave inspired. You can easily take the shuttle to this viewpoint but if you choose to drive, it's only 1.5 miles from the visitors center.
9. Stargaze
Bryce Canyon is an International Dark Sky Park. If you love stargazing or photographing the night sky, this is the place. The rangers even offer night programs. Even if you have never thought of yourself as a stargazer, I promise, when you set eyes on the Milky Way, you will become one. If you plan to take photos be sure to find your spot early and set up for a long night.
10. Rainbow Point
I know I may sound like a broken record but here is yet another stunning viewpoint. It is a popular overlook. This viewpoint will offer a little bit of everything, from hoodoos, to a sea of pine trees. Many people don't stop here because it's near the end of the scenic drive and they're tired but this is worth at least a quick hop out of the car for a few minutes.
Tags :
Bryce
national parks