Grand Canyon Vs. Bryce Canyon
Sunset at Grand Canyon south rim
Grounded Life Travel is supported by its audience. When you purchase through links on our site, we may earn an affiliate commission.As an Amazon Associate I earn from qualifying purchases. List of everything we use in our travels.
There is nothing like it.
The Grand Canyon is a boundless 20 million year old weathered abyss that has captured the world's attention for eons. Men and women have explored it, written books and songs about it and acted in plays and movies portraying it. The Grand Canyon is one of the most treasured natural phenomenons on the planet to which most of us are familiar with.
In contrast, Bryce Canyon is another national park that doesn't get as much attention. It is also a colossal terrestrial ditch that time and weather has formed into an amazing sight for human eyes. Although not as enormous as its older cousin, the Grand Canyon, it is beautiful, colorful, and more approachable. The silver tinged sky plays off the pinks, reds, oranges and yellows that Bryce throws at our retinas, making a rainbow pale in comparison.
Both are large chasms in the earth. Both are beautiful. There are similarities and differences that make these two bucket list worthy national parks exciting to visit. If you can only visit one of the Grand Canyon or Bryce Canyon on your trip, you should choose the Grand Canyon, as it is the more memorable park.
The Grand Canyon is a much bigger ditch than Bryce Canyon
The Grand Canyon is an enormous crevasse in the earth with a measurement of 1,902 square miles. To put this in perspective, it is about 700 square miles larger than the size of Rhode Island. This makes the Grand Canyon the largest and the longest canyon in the world. It is no wonder that people get so overwhelmed when they see it for the first time!
In contrast, Bryce Canyon is only 55 square miles. This is about the size of San Francisco. Bryce Canyon is definitely smaller, but that doesn't mean is fails to bring awe to all that see it. The multi-colored sandstone formations are closer to the viewing eye and the brain seems to absorb its presence easier than the enormity of the Grand Canyon.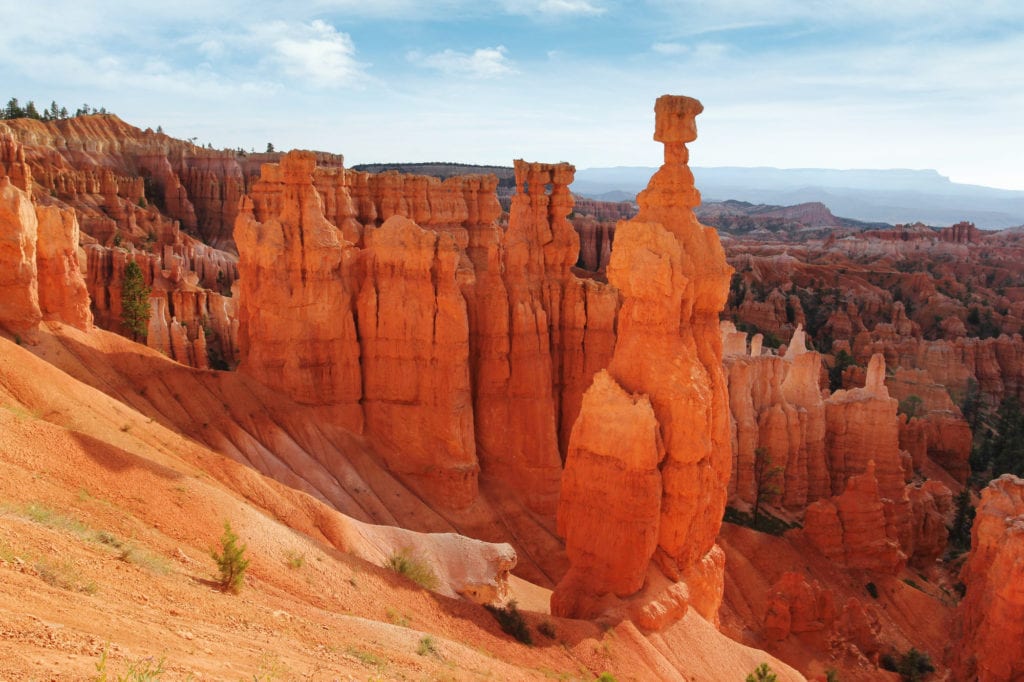 The topographic features of both parks are vastly different
The Grand canyon was formed by the Colorado River slicing through and eroding away hundreds of millions of years of rock. This process has made the viewpoints along the edge very high in comparison. Peering down, you can see the Colorado River over 6,000 feet below at some points. You can also see archways, petroglyphs and waterfalls. The Grand Canyon has varied features over a very wide area that shows you it's not just a huge chasm in the ground.
Although Bryce Canyon is called a canyon, it was actually formed in a completely different way compared to the Grand Canyon's Colorado River cutting through the minerals over millions of years. Therefore, it is technically not a canyon at all. After the Colorado Plateau was created due to uplift, elements of wind, snow, water and extreme temperatures created erosion that occurred over millions of years. This erosion gave us the beautiful hoodoos, which are pillars of rock that have a totem pole-like look that are capped by a more erosion resistant layer of rock. These hoodoos take on fantastic form that are amazing to see.
Grand Canyon has more visitation than Bryce Canyon
The Grand Canyon is the most visited national park behind Great Smoky Mountain National Park. With almost 6 million visitors in 2019, the crowds at Grand Canyon National Park are almost always in full swing, especially at the more popular South Rim. Being off of Interstate 40, one of America's major interstates, the convenient location of the Grand Canyon makes it easy for many people to visit as a main attraction, or on the way to other sites in the Southwest.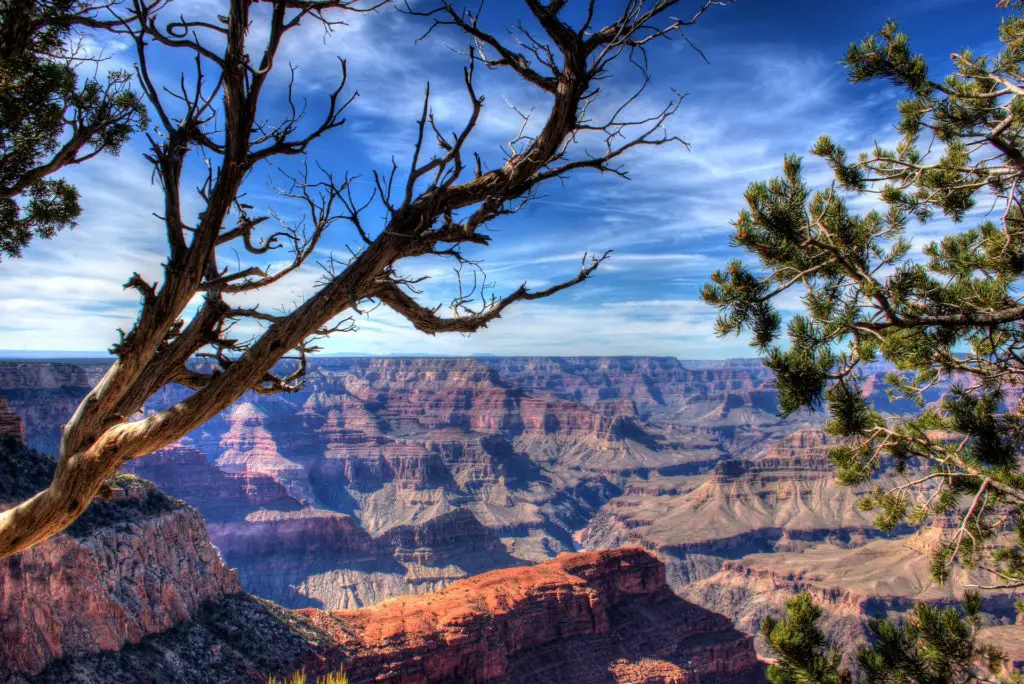 Bryce Canyon is a little tougher to get to in terms of convenience, therefore it doesn't get the visitor-ship that the Grand Canyon gets. Tucked away between Grand Staircase Escalante and Dixie National Forest is gets just 2.6 million visitors a year. Many of these patrons are on a trek to see the Utah's "Mighty Five" national parks. Bryce Canyon is on the trail with Zion, Arches, Canyonlands and Capitol Reef national parks. But, it still is the most remote national park in the group and because of its higher elevation can get inclement weather frequently in the winter, which occasionally furthers its difficulty in visiting.
Both parks have an eclectic mix of wildlife
If you want to see wildlife in the Grand Canyon, you will have an ample opportunity due to its size and varying climate. There are so many animals that live in this park that you are bound to see one of the 373 birds, 89 mammals, 47 reptiles, 9 amphibians or 17 fish species that live in the park. One of the most sought after animals for visitors is the Rocky Mountain Elk.
When I visited in April one year, the Elk were all emerging and they had overrun the South Rim of the Park. In the morning and at sunset, it was difficult to go anywhere without almost bumping into an elk. You are supposed to stay 100 feet away from any elk, because they can be aggressive. But, it was difficult due to the shear masses of them. In the 1930's, elk were almost hunted to extinction. With reintroduction into the area, who would have predicted that they would practically own the South Rim!
Bryce Canyon also has its share of interesting plentiful animals. There are 59 species of mammals, 175 species of birds, 11 types of reptiles, and 4 kinds of amphibians.
Behind the Bryce Canyon's mule deer, the most plentiful animal is a little smaller. The Utah Prairie Dog is as cute as it is fun to watch. If you stop along any of the meadows in the park's north end, you will see hundreds of little heads popping up, surveying and checking out the lay of the land. They communicate to each other with delightful barking sounds that make them even more adorable. Stop at the visitors center and get yourself a stuffed rendition of this lovable park mascot.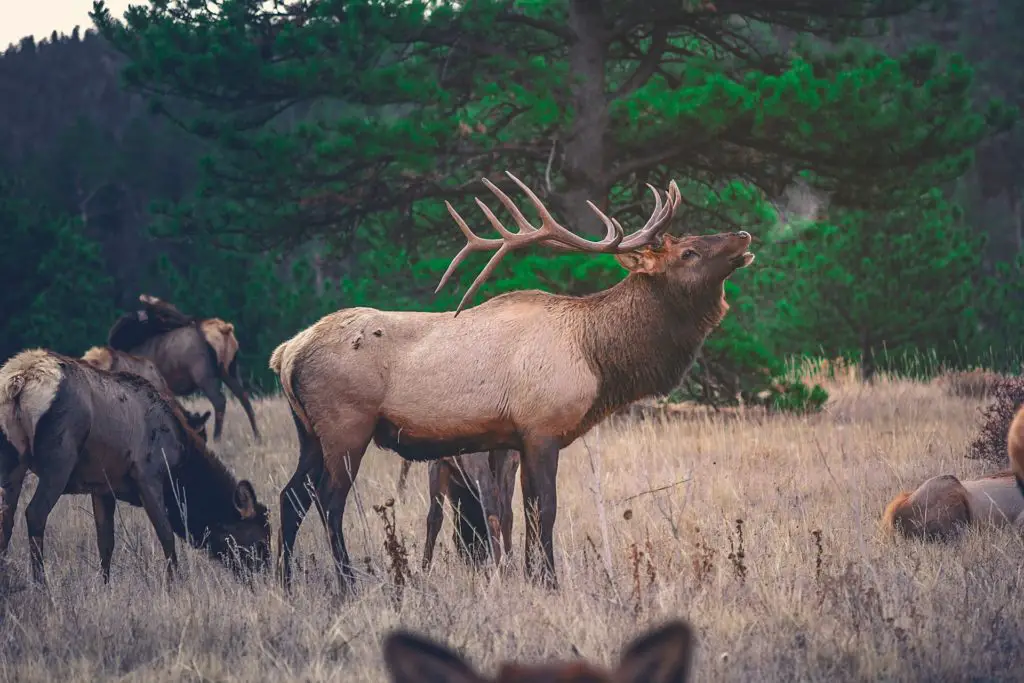 There are more amenities and activities at the Grand Canyon than at Bryce Canyon
The Grand Canyon South Rim Entrance is the entrance that the vast majority of visitors come to enjoy. There are restaurants, hotels, campgrounds and outfitters for every activity right outside the park. There are also many restaurants lodges, hotels and cabins inside the park.
If you want to take a day from hiking or traveling from one viewpoint to another, you can ride a mule into the canyon or take a hot air balloon ride or helicopter ride over the Grand Canyon. You can even hire a jeep to take you around the sights of the canyon or charter a raft to go down the Colorado River. The activities are far and wide and boredom is scarce.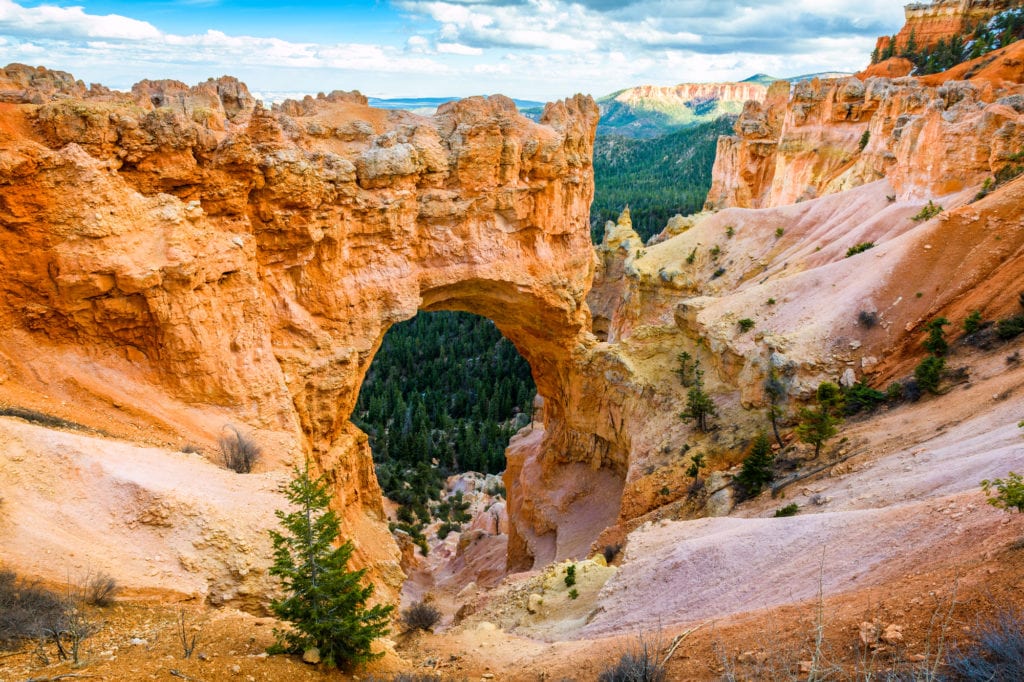 Bryce Canyon offers only a few places for accommodations and camping. There are also only a few restaurants compared to the dozens of culinary establishments at the Grand Canyon.
But, there are activities at Bryce that will satisfy many travelers. In addition to hiking and viewing the different stopping points in the park, patrons can enjoy horseback riding between the hoodoos and in the natural amphitheaters of the canyon. Additionally, because the park is at 8,000-9,000 feet you are guaranteed snow in the canyon. The rim of the canyon makes an amazing place to snowshoe and see the canyon below. Bryce is also a certified Gold Tier International Dark Sky Park. This means that the viewing opportunities for meteor showers, the Milky Way and other celestial events are superior to that of the Grand Canyon.
Although the Grand Canyon and Bryce Canyon differ in many ways, they both will give your traveling group ample things to do. Plan a vacation to see both and you will see how each park will give you many memories to cherish.