Which Airport to use for Yosemite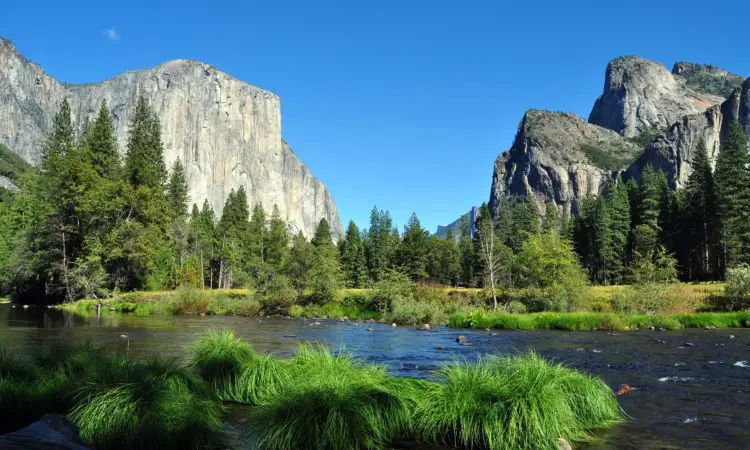 Grounded Life Travel is supported by its audience. When you purchase through links on our site, we may earn an affiliate commission.As an Amazon Associate I earn from qualifying purchases. List of everything we use in our travels.
Yosemite is a vast national park encompassing almost 1,200 square miles of land in an array of elevations, topography and environments. It varies so much in temperature and weather because of its climate, that part of it must be closed during winter, while the other operates in many cases like it is a spring day.
On one side to the east, there are cities that are close to sea level and then rise slowly, then abruptly as you get closer to the Eastern Sierra Mountains. Once over the mountains traveling east, elevation only falls slightly. Alpine mountain towns are then revealed with the quaint mountain feel that you crave when wanting to get away from it all.
This is why it is essential when booking your travel, to figure out where you would like to stay in the park and where you would like to fly into. There are a few choices in airports when coming to visit Yosemite. Choose the one that will be most convenient to your visit to make things run smoothly on your vacation. There are a few questions that you may want to ask yourself before booking a trip.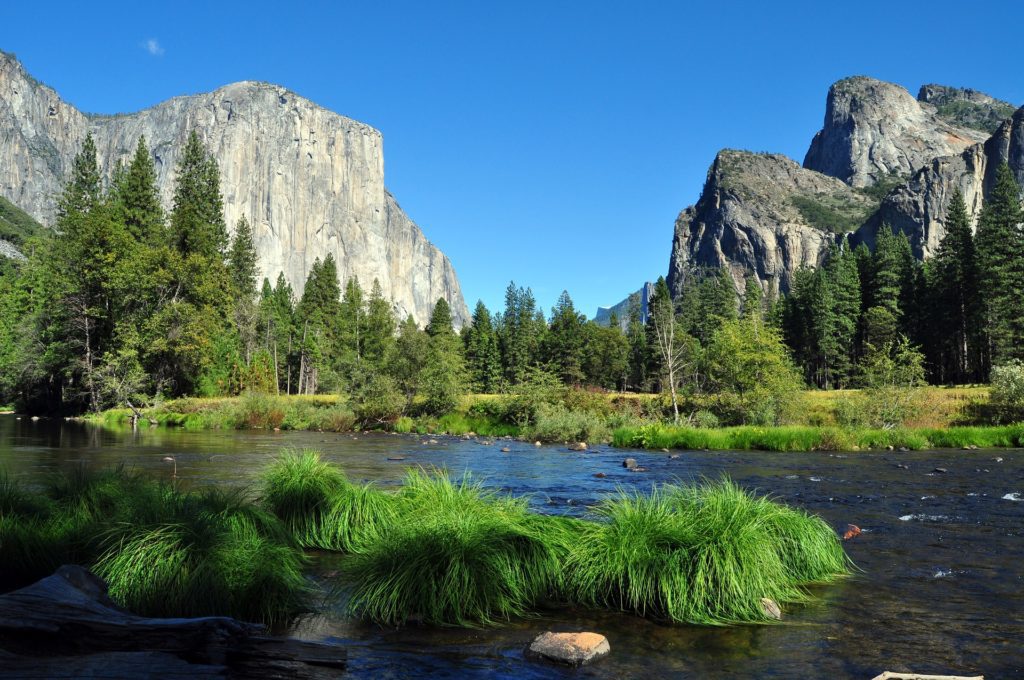 What time of year am I going to go?
The time of year really matters when you are visiting a park that varies in elevation by 6,000 feet, collectively. While one side of the park may feel like summertime, the other side may still be smack dab in the middle of winter. Roads could be closed, or you may need chains to navigate those roads. Either way, you need to know before you go.
Would I like to do anything outside of Yosemite?
Looking at all the airport choices may make you want to plan your trip as a larger road trip that can take you through a few quintessential California stops. Let's say you want to visit the Golden Gate Bridge and Drive some of Highway 1 on the coast. You would want to fly into San Francisco so that you can explore those areas and then drive to Yosemite for the second part of your trip.
Here are the airports that have the closest proximity to the Yosemite Valley, where you can visit anytime of year.
San Francisco International Airport (SFO)
San Francisco International Airport can be reached from anywhere in the world. It is a great airport to fly into if you want to visit San Francisco and all the sights in the city, as well as if you want to visit the wine country areas of Sonoma and Napa Valley. A vacation combining these areas with Yosemite will be a dream come true for most travelers.
SFO is about 190 miles from Yosemite Valley and about 4-4.5 hours drive. Depending on the year, you may have more traffic, so you need to account for that as well. Once out of the city, it is a straight shot through sweet little towns like Sonora and Buck Meadows to Yosemite Valley.
Fresno Yosemite International Airport (FAT)
The Fresno Yosemite International Airport (FAT) is the best airport to use when flying to Yosemite. It is close to Yosemite Valley clocking in at only 95 miles and only 2.5 hours. If you want to couple a visit to Yosemite with some attractions convenient to Fresno Airport, there are many other things to do. Visit San Luis Obispo and enjoy their thriving art scene. Likewise, you could spend a couple of days in the Central Coast wine country in Paso Robles.
San Jose Mineta International Airport (SJC)
San Jose Airport is a good option with a drive time of 4-4.5 hours and 178 miles to Yosemite Valley. There are also other points of interest you might want to explore to make a fun California road trip. Consider visiting the redwoods at Big Basin Redwoods State Park. The coast also isn't far if you want to also spend a few days in Santa Cruz and take some surf lessons. Combing sea and forest on your holiday could be an amazing getaway.
Oakland International Airport (OAK)
Oakland Airport is a smaller airport than SFO, so it might be more convenient for the person that doesn't travel as often. (OAK) is also 180 miles and 4-4.5 hours to Yosemite. Airfare could also be cheaper than some of the other surrounding airports. Take in an Oakland A's baseball game or explore the many seaside trails that are available before you trek on to Yosemite Valley. Oakland really is an underrated city that is worth checking out.
Are there some airports that should only be used seasonally?
There are two airports on the eastern side of the Sierra Nevada range that can be used during the warmer months, but access to Yosemite will be closed due to snow during the winter time. If you are visiting from June to October, you should have the ability to fly into these airports and access Yosemite. Flying into these airports opens up the potential for an amazing adventure and should definitely be researched.
Reno-Tahoe International Airport (RNA)
Reno Airport may not be one of the airports that first comes to mind, but it is the perfect place to land if you want to combine Lake Tahoe or the casinos of Reno with your Yosemite destination. While it is a little farther away at 213 miles, taking about 4.5 hours to reach the eastern gates of Yosemite, there are ample activities to couple with your Yosemite visit. Start at Lake Tahoe's Incline Village which is only 40 minutes away from the airport. Get in some hiking or kayaking on beautiful Lake Tahoe and then drive to the eastern gates of Yosemite by way of the city of Lee Vining and Tioga Pass.
Mammoth Yosemite Airport (MMH)
Mammoth Yosemite Airport is the perfect place to fly into if you would like to see some sights outside of Yosemite, but also include Yosemite in your trip plans. The airport is only a 30 minute and 30 mile drive to Highway 120 in Lee Vining where the eastern gates to Yosemite are located at Tioga Pass. But, in this case, getting there is a whole experience in itself. There is so much to see in that 30 miles that you could make a vacation just from what is on Highway 395 going up to Lee Vining.
There's Mammoth Lakes where you can hike, bike and enjoy water sports. There is also Devil's Postpile and Rainbow Falls which are great features to visit in the national park service. Continuing north, you will also find Convict Lake and June Lake, which are gorgeous alpine lakes where you can camp. June Lake is the cutest little town with two more alpine lakes surrounding it. Don't miss driving the June Lake Loop for some unforgettable scenery. Mono Lake is also a definite must see before you take a left on Highway 120 to the gates of Yosemite. This lake is a point of interest that you will not soon forget featuring interesting formations and fabulous photography opportunities. In my opinion, if you have the time. This route is as exciting and breathtaking as Yosemite itself.
There are a multitude of decisions to make when planning your trip to Yosemite. Picking the airport to fly into can add a special side trip to your adventure that you might not initially realize is an option. With careful planning and some investigation into what interests you, your Yosemite vacation will be the dream you were hoping for.