Visiting Yosemite in March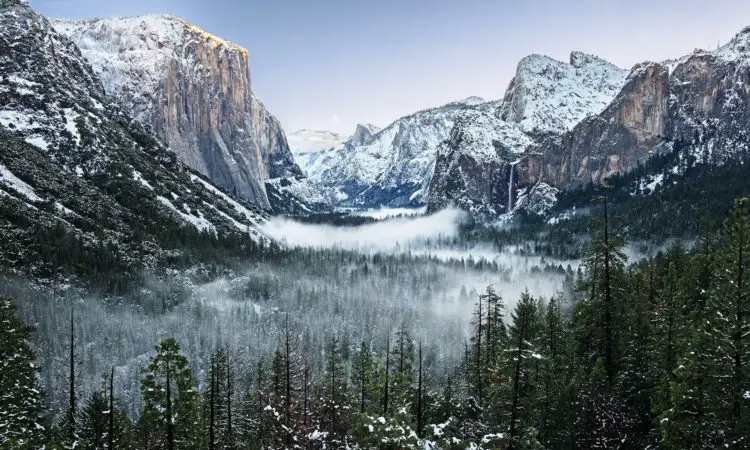 Grounded Life Travel is supported by its audience. When you purchase through links on our site, we may earn an affiliate commission.As an Amazon Associate I earn from qualifying purchases. List of everything we use in our travels.
Spring time is just the best, isn't it?
Warm weather, abundant sunshine and flowers! Oh, the flowers!
So many places in the United States will be bursting with color as all of the organic beauty awakens from their winter slumber…except in Yosemite.
It's still winter in Yosemite. White blankets of snow will still cover much of the park. Trails and the valley will get snow and rain during this time as well. But, with snow and ice come some opportunities to see the park in a way that is unique and exciting. Visiting Yosemite during the winter months is a must do.
Will it be really cold in Yosemite in March?
Yosemite is a unique park in that it lies in elevation from 4,000 to 10,000 feet. This gives the visitor a great chance to see Yosemite anytime during the year, due to its accessibility and year round climate.
Yosemite Valley's temperatures in March vary from a 58 degree high to a 33 degree low. It tends to be rainy or cloudy. But, there's plenty of sunshine sprinkled in with those days to give you ample time to see the park in all kinds of light.
In contrast, Tuolumne Meadows is at 8,600 feet and has an average high of 45 degrees and an average low of 21. It is this fact that keeps Tioga Road closed during the winter months. Therefore, keeping you from seeing some of the attractions.
Even though some roads and trails are closed in the higher elevations, there is so much to do in the rest of the park that visiting in March is totally worth it.
Is Yosemite Valley open during the month of March?
Yosemite Valley is open all year long every hour of the day! So, there is nothing stopping you from seeing Yosemite Falls, feeling the spray of Bridalveil Falls or sitting by the rushing Merced River.
Yosemite Valley is the most visited area of the park during the winter, because many iconic features and trails will still be open. Accommodations are also open so you won't have to worry about having to stay outside the park in winter.
Stay at the famous Ahwahnee Hotel as you have your breakfast, while staring out the picture window. It looks like a painting. Half Dome, El Capitan and Yosemite Falls are just simply breathtaking!
You can also find very nice accommodations that are perfect for families at the Yosemite Valley Lodge. This lodge is situated in Yosemite Valley and is convenient to everything. You can catch the shuttle year round so you won't miss anything that you want to see. The views are also to die for! Yosemite Falls in particular is just steps from the lodge.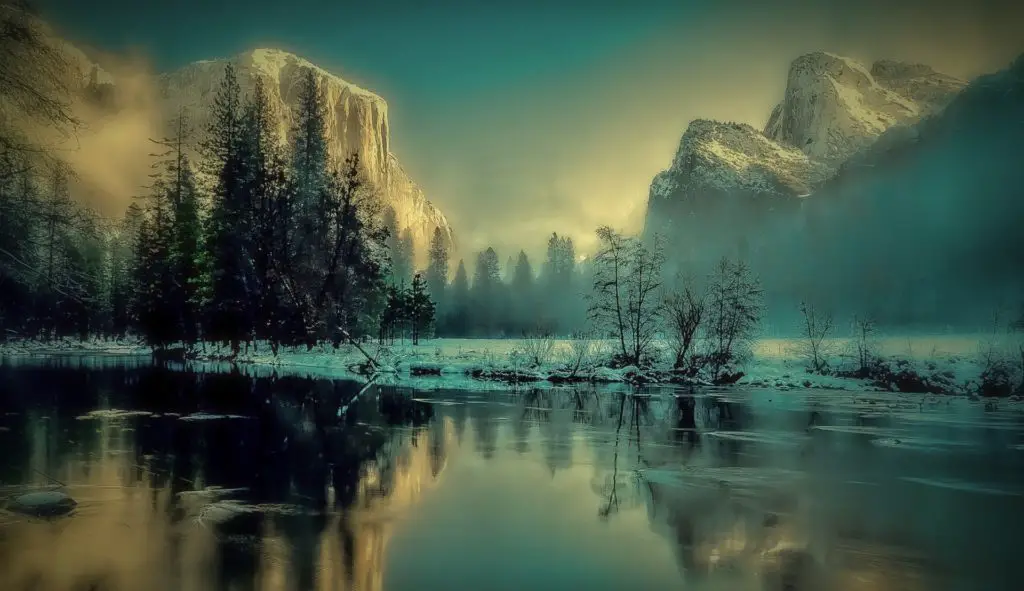 What are some of the best places to see in Yosemite in March?
The snow will most likely steal the show and you won't be able to help yourself from taking photos. But, don't hesitate to fill that camera card up. This is such an exclusive opportunity to see features of the park that are elusive to the masses in warmer months.
Tunnel View
This is the most photographed view in the park. Tunnel View encompasses Bridal Veil Falls, Half Dome and El Capitan in all their frozen splendor. You won't want to miss getting this photo and just gazing for a while at the peace and serenity that a crowd-less vista will bring.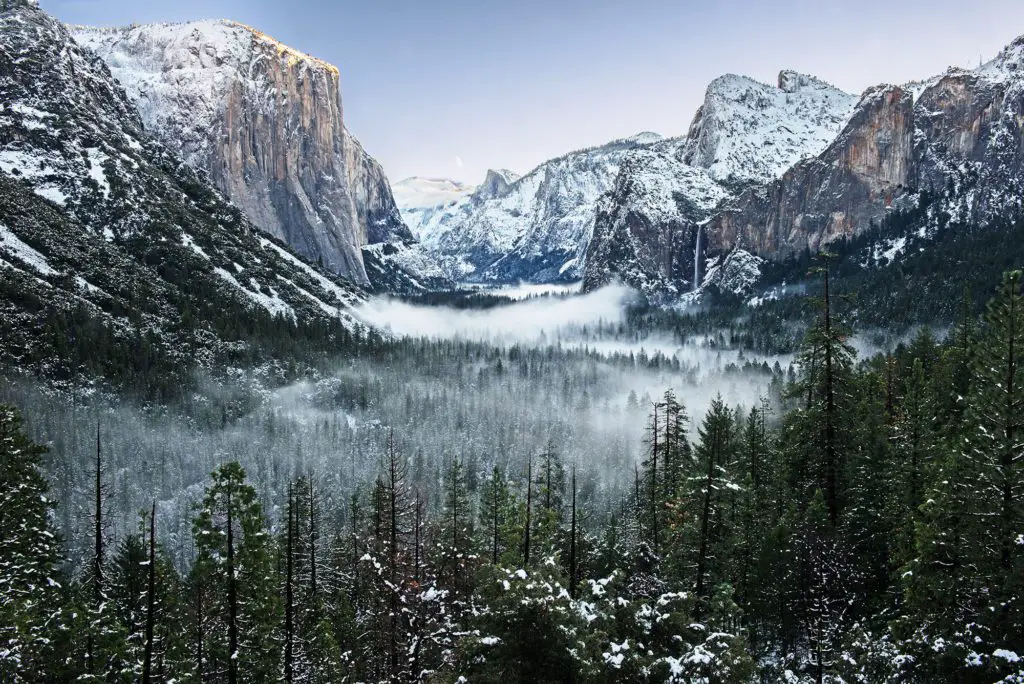 Sentinel Bridge
Who doesn't like a snowy walk on a boardwalk to a bridge spanning a beautiful river? The experience of getting there is what this stop is all about. You'll have an impressive view of Half Dome. If it's clear enough you"ll also be able to sneak a peak of Yosemite Falls.
Yosemite Chapel
This is the cutest little chapel in the Eastern Sierras! It will evoke images of those Norman Rockwell churches you grew up seeing on your grandmother's wall. Built in 1879, it is the longest and oldest still standing structure in the national park and is listed on the National Register of Historic Places.
Hetch Hetchy
Hetch Hetchy is even lower in elevation than Yosemite Valley. So, it's going to be warmer and drier, giving you a chance to explore the reservoir and its surroundings. The 5.5 mile hike to Wapama Falls is a great way to see this part of the park. Everyone loves a fabulous payoff at the end. One thing to note is that Hetch Hetchy Road is open from 8 a.m. to 5p.m. during the winter, so plan accordingly.
Luckily, the National Park Service is on it, when it comes to plowing roads. They will dilligently clear the roads on an as needed basis on Wawona Road (Highway 41), El Portal Road (Highway 140), Big Oak Flat Road (Highway 120 from the west), and Hetch Hetchy Road. This gives you ample time to explore these areas and the features they offer.
However, roads can get icy or slick at any time during your stay at Yosemite. Therefore, you should be proactive and rent or bring the right vehicle. A 4WD vehicle or SUV is highly recommended so that you aren't slowed down on your mission to see all things beautiful.
If you have nothing but a regular sedan, fear not. You can still buy or rent snow chains, which are required at the front entrances to ensure everyone is safe on the roads. The entrances also rent these chains and will even put them on for you for a fee if you didn't bring them.
Is there a way to get to Tuolumne Meadows in winter?
Tuolumne Meadows will be covered with three to five feet of snow and Tioga Pass will not be completely plowed until early to mid-May. But, that doesn't mean there's not a way to get there. For the die hard adventurer with excellent cardio endurance, there is a way to get to Tuolumne Meadows.
At the eastern side of the Sierras, is a town called Lee Vining. You can start your trek there, up Highway 120 and Tioga Pass, sixteen miles to Tuolumne Meadows. Be sure to leave early in the morning before any melt happens. In mid-afternoon there are more chances for an avalanche.
But, when you get to the top on the brink of the meadows, you'll fins a skiers hut. The hut is equipped with ten bunk beds, a fireplace and enough wood to keep you there all winter. All this is free of charge.
Make sure you bring a tent and are used to snow camping though, as getting a bed has no guarantees. Either way, you'll be welcomed with a smile and a few stories from traveling strangers, now friends. The scenery is breathtaking and you'll get a chance to see this part of the park in a way few on the planet get to see it.

Visiting Yosemite in March is a marvelous time of year to be out in nature enjoying the quiet solitude of the park. Although visiting in winter may have a few challenges, planning and knowledge will keep surprises at bay and will lend to an amazing winter escape that you didn't even know you needed.