Best Things To Do Outside Yosemite National Park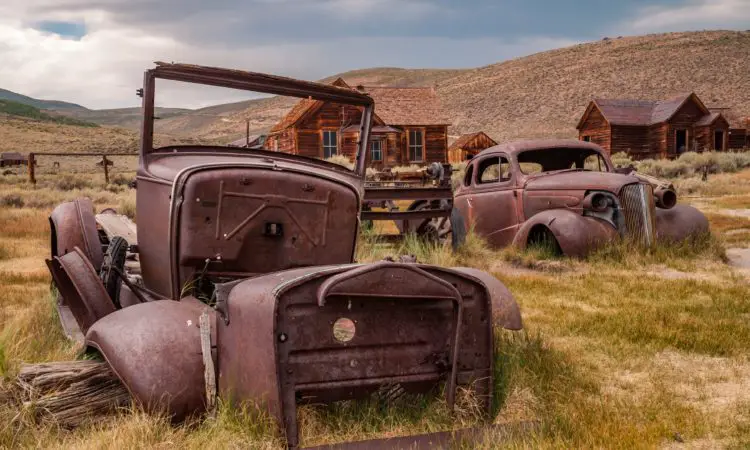 Grounded Life Travel is supported by its audience. When you purchase through links on our site, we may earn an affiliate commission.As an Amazon Associate I earn from qualifying purchases. List of everything we use in our travels.
Yosemite has all the heavenly, grandiosity that you have seen in Instagram pictures, photos on the internet and calendars on your office wall. It really is something you have to see in person. As beautiful as those pictures are, the real thing is even better.
However, the glory of Yosemite doesn't stop at the entry gates. The surrounding area outside of Yosemite has so many amazing places that are begging to be explored. Most of these places are in the remote Eastern Sierras outside the eastern gates of the park.
Not accessible during winter from the western gates of Yosemite due to heavy, deep snow, the Eastern Sierras aren't visited nearly as often as the western part of the mountains. However, there are so many fabulous and captivating places that you may not even know about. There is so much to do, that I would argue, you would need a separate trip from your Yosemite itinerary just to explore these areas.
The Highway 395 Corridor runs from Hesperia, CA to the Canadian Southern border and has some of the most dazzling scenery you can find in the United States. In that 1,305 miles of road you will see things that will amaze you and intrigue you. One could write a book about everything there is to do on this route, but I will focus on the part that runs outside Yosemite National Park.
If you are on a Yosemite vacation and make it all the way down Tioga Pass, passed the eastern gates of the park and into the city of Lee Vining, a new adventure awaits.
Mono Lake
Otherworldly is the word I would choose to describe Mono Lake. It is unlike anything you have probably ever seen, because what it took to make such a place is literally a freak of nature.
Believed to be as much as three million years old, Mono Lake receives water from up to five main tributaries. Mono Lake receives the water, but there is no outlet. The water that goes into the lake evaporates, but leaves behind saline and minerals that are deposited into the lake bottom. Calcium Carbonate in high concentrations is deposited into the lake and it has piled over centuries onto the lake bottom. When Lake levels fell, the calcium carbonate or tufas were exposed and these are the formations you see today.
Walking around Mono Lake is unlike any experience you will have. The tufas along with the high population of brine shrimp attract nesting birds such as gulls. These birds will mate and their offspring will make their way to the Pacific Ocean to live their lives.
This scene culminates in one awesome photographer's dream. Because of where the tufas lie, you can get a fantastic sunrise show if you get there early enough. At the end of the day, enjoy when the sun sets on the tufas and you will be left with a hauntingly beautiful display.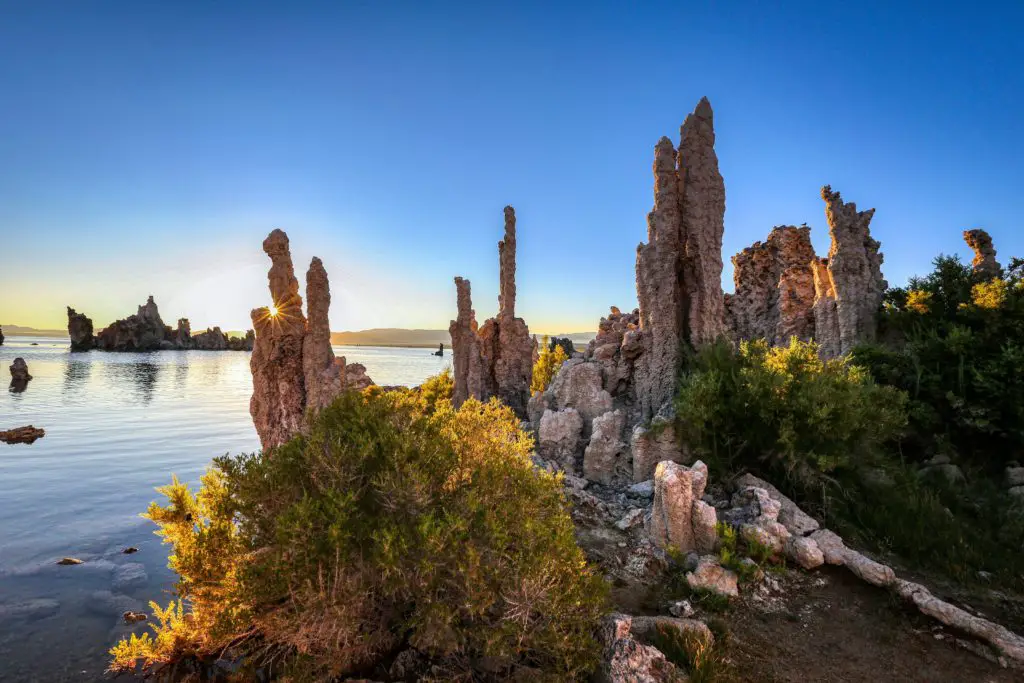 Bodie State Historic Park
Off of Highway 395 and up U.S. 270 you will find a place that has been lost in time. In the late 1800's and early 1900's the town of Bodie saw sporadic prosperity when hungry prospectors struck gold. The goal of becoming rich spread throughout America and Bodie was home to up to 10,000 people at one point. The town enjoyed a heyday of mining over $17 million of gold at its peak. However, when the gold mining dried up, many left until finally the town was completely abandoned.
Because of Bodie's remote location, frustrated and hungry people just took with them what they could carry as they moved on to the next place to try to strike it rich. Therefore, Bodie is the most preserved ghost town of the old west that you will ever find in America. School rooms are left as if school was in session that afternoon. The General Store is still fully stocked, and the church is ready for the Sunday sermon, complete with bookmarked bibles.
It has to be seen to be believed, but you will walk the town with a ghostly haze, eerily following you. You can almost feel the presence of a vibrant, thriving town that is no more. Bodie is the town that time forgot and it is such a treasure to witness a place that seems as it was frozen in a time capsule.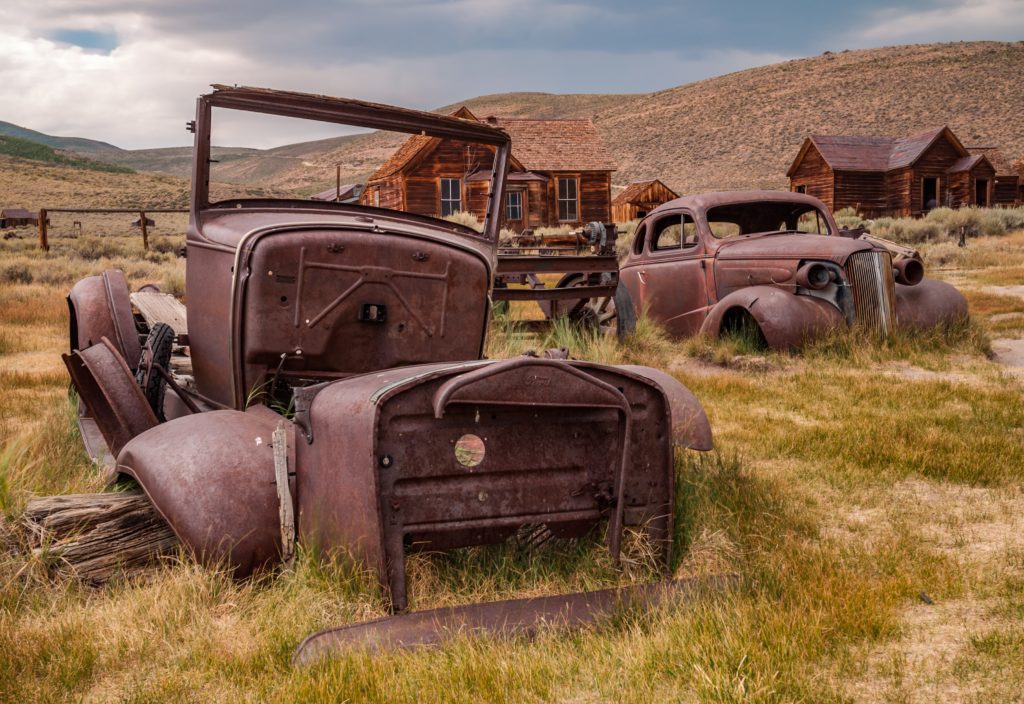 June Lake Loop
The June Lake Loop isn't far outside Yosemite and is one of the most stunning displays of alpine lakes you can find that are easily accessible by car. Right along Highway 395 traveling South, you can take the June Lake Loop. It will take you passed June Lake, through its sweet little town, passed Gull and Silver Lakes and through the beautiful aspen forests that hug the banks. As you round the bend near Silver Lake, the forest grows dim with the overhang of 11,000 foot Carson Peak. Make sure you look up at this point to grab a seasonal glimpse of Horsetail Falls. It is an amazing sight right off the road.
There are also a few places to pull off and have a picnic. Enjoy the shoreline of Silver Lake underneath the quaking aspens and stop by the Silver Lake Resort to get in some canoeing on one of the most beautiful Sierra Nevada lakes that exists.
This area is truly stunning and I was fortunate enough to spend a couple of months camping here with my family. The June Lake Loop is one of the most astonishing places in America and it will make a fabulous vacation for you and your crew.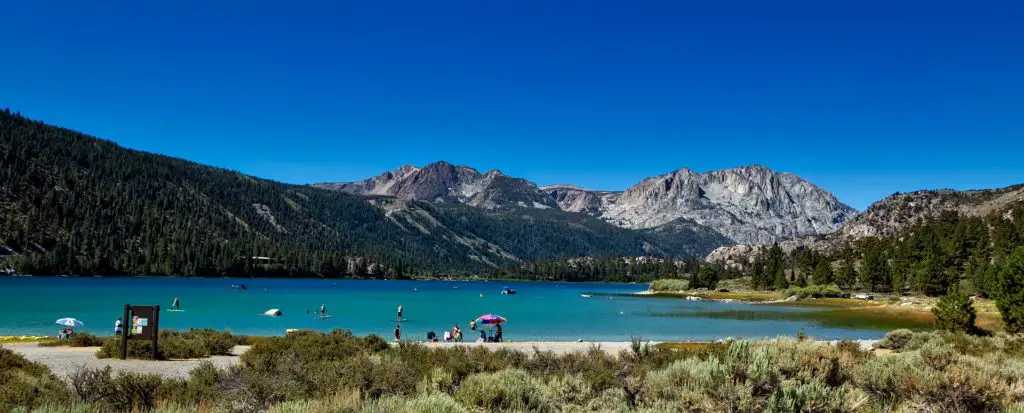 Mammoth Lakes
Mammoth Lakes is somewhat of a misnomer and I can only think that this was a marketing ploy to get the masses from L.A. County to come visit and bring their starlet-earned money. However, an old gold mining company came up with the name and it stuck. Today, thousands come every year, not only to ski its gorgeous and groomed terrain, but to see the sights of the glimpses of Yosemite in the beautiful lakes that surround Mammoth Mountain.
Drive up Lake Mary Road and see Twin Lakes and the beautiful waterfall that runs into it. Lake Mary, Mamie Lake, and Lake George are a perfect picnic destination. Horseshoe Lake is a fascinating relic of history and science. See the dead trees affected by the carbon dioxide gases emitting from the ground due to the earthquake of 1994. Don't stay too long, as you could get a headache and nausea from the gases.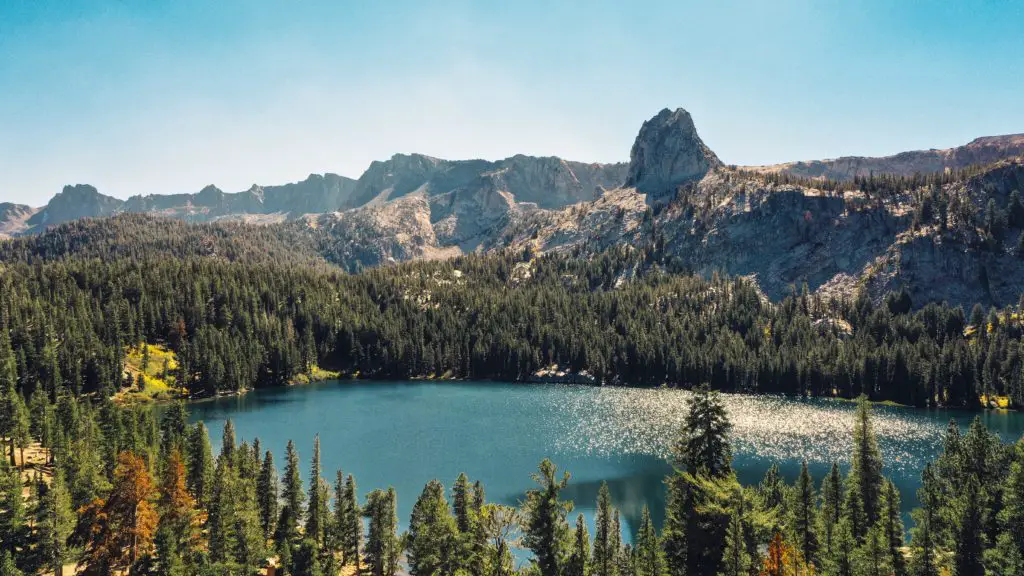 Devil's Postpile and Rainbow Falls
If you are in the Mammoth Lakes area, you have to go to Devil's Postpile and Rainbow Falls. Both are delightfully, fascinating and right next door to each other! Take a picnic lunch and make an afternoon of exploring million-year-old geology and chasing waterfalls.
Devil's Postpile is an amazing example of what happens when lava flows, then cools and cracks, then a glacier sheers off the top resulting in a display that you won't see anywhere else. If you sit on top of the postpiles, you can see the deep scrapes left by the moving ice over 100,000 years ago. Down below, witness erosion as you stand in the pile of broken columns effected by wind, rain, snow and ice.
Rainbow Falls is a lovely addition to this excursion reached by a shuttle or you can continue on the trail from Devil's Postpile for a 4.9-mile round trip hike.
The scene is remarkable, with a rushing waterfall that emits the famous rainbow that gives the iconic Sierra Nevada site its name. Enjoy the mist as you cool down from your hike, before turning back towards Devil's Postpile.
Bishop and Keough Hot Springs
Bishop is a charming town to stay in if you need a base for your exploration in this part of the Eastern Sierras. There are restaurants, bakeries and even a golf course. But, one thing in which you may not be privy to are the hot springs. There are several wonderful hot springs in the Eastern Sierra, including Keough Hot Springs.
Keough Hot Springs has a manmade pool that is very comfortable and soothing in order to rest your weary traveling bones. However, the best part is outside the resort where you can pick from several small natural pools that are a comfortable 97-101 degrees.
Bathe in nature as you listen to the birds sing and gaze at the snow-capped mountains. It's a relaxing retreat that was a welcomed surprise on our travels. The bonus of it all it that it is free!
Bristlecone Ancient Pine Forest
Driving south on Highway 395 just south of Bishop, you will see signs for the Bristlecone Ancient Pine Forest. Drive up through the White Mountains until you get to the Schulman Grove Visitor Center. This will give you all the information you need to walk through a grove of the oldest living things on Earth.
Take one of two trails from the visitors center. The first trail that is .8 miles will take you through a grove and give you sweeping views of the Sierra Nevada Range. The second trail is a 4.5 mile hike and will usher you through the Methuselah Grove, where the ancient 4,850 year old "Methuselah" pine lives. It is unmarked to protect its identity, but its brothers and sisters are not any less impressive. Battered and gnarled from the elements of time, they are a specimen of beauty and intrigue that you simply must see.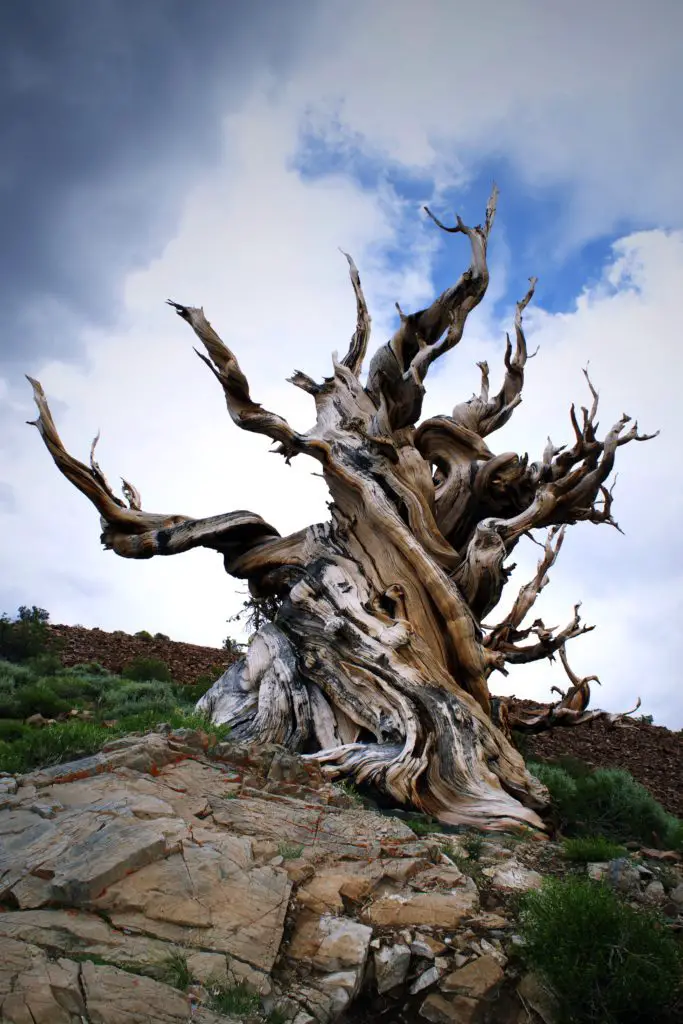 Manzanar War Relocation Center
During World War II, the United States government ordered more than 110,000 Japanese immigrants and Japanese American citizens to leave their homes, businesses and lives and travel to one of ten relocation centers in America. Manzanar was one of these relocation centers and still tells the story of this atrocity of American history.
Spend time in the visitors center and see artifacts from families that spent more than 3.5 years living, working and schooling in the desert of the Sierra Nevada Mountains. This is an important part of history that is rarely told, and is a must-see stop on Highway 395.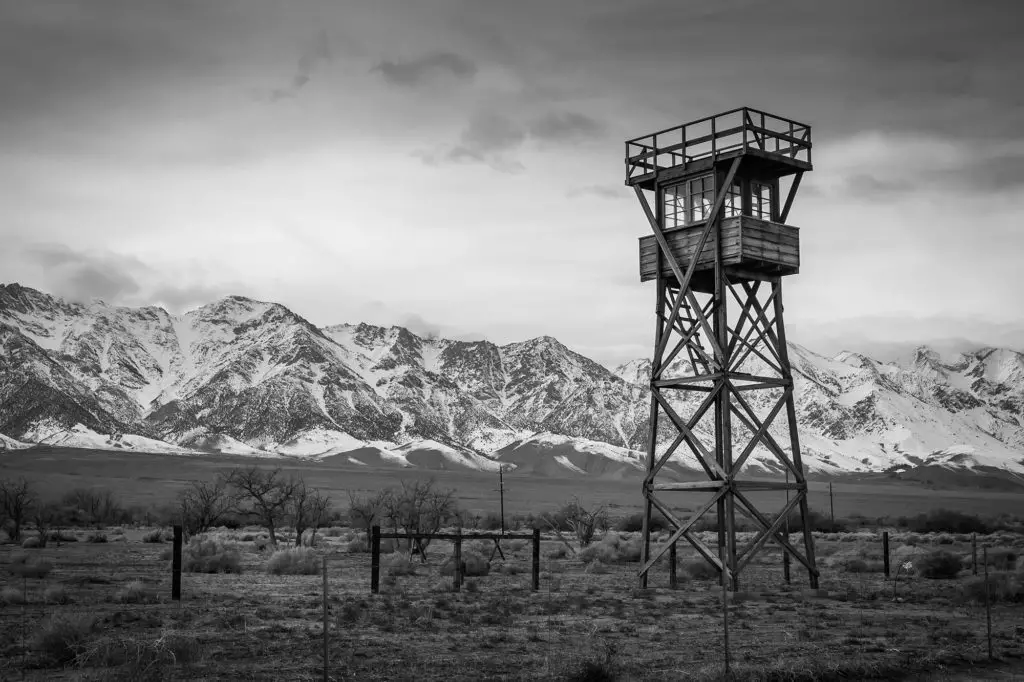 Alabama Hills
The last stop on trek down Highway 395 is two hours from the eastern gate of Yosemite, but your travel will not be in vain. Alabama Hills is a fantastic place to explore in a vehicle or on foot. The rock formations are only upstaged by towering Mount Whitney, which stands at 14,505 feet in elevation and is the tallest mountain in the contiguous 48 states.
The bulbous sandstone rock formations beg for you to climb and jump from boulder to boulder. There are hiking trails that will take you through some of the formations and to destinations such as Mobius Arch. Through wind, rain and time, this arch is perfectly formed and is a great place to get a photo with Mount Whitey playing in the background.
The camping is also fantastic in Alabama Hills. There are hundreds of miles of road that lead to all kinds of camping spots among the rocks. Pitch a tent and watch the show at night as the Milky Way makes an appearance and dances across Mount Whitney.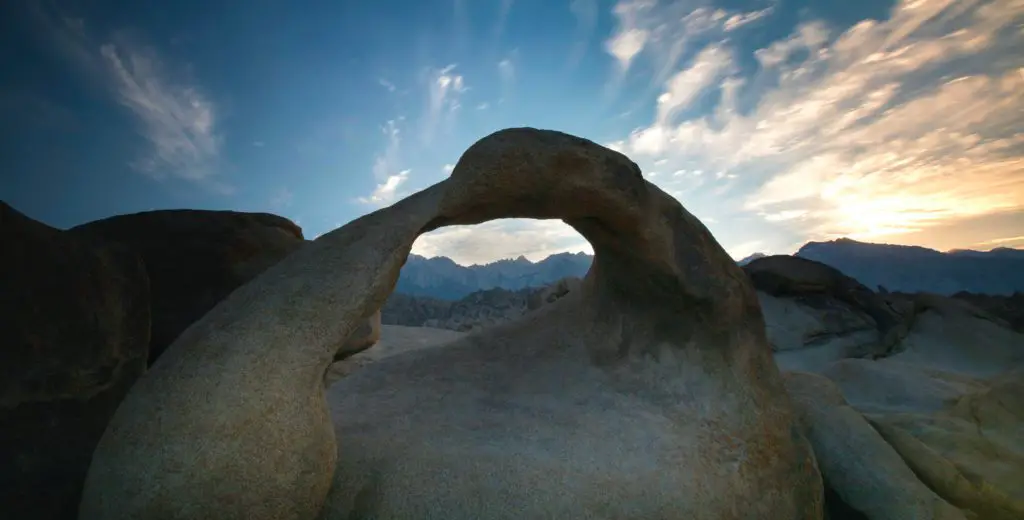 Traveling outside of Yosemite and down Highway 395 can give you an adventure that you didn't know awaited you. Therefore, next time you're looking for exploration outside of Yosemite, give this area of the Eastern Sierras a try. It will be the vacation that many will clamor to hear all about it.