May Is The Best Time of Year to Visit Yosemite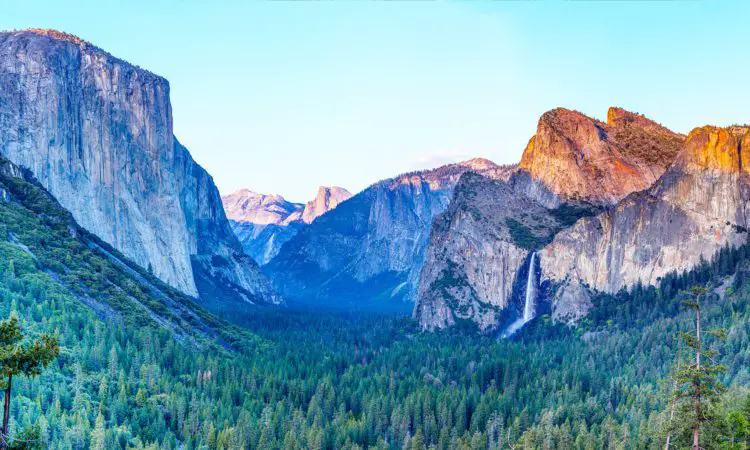 Grounded Life Travel is supported by its audience. When you purchase through links on our site, we may earn an affiliate commission.As an Amazon Associate I earn from qualifying purchases. List of everything we use in our travels.
There really isn't a bad time to go to Yosemite. From its peaks and valleys, to its meadows and tall tree groves, there's something fabulous to see at anytime of year.
The park lies in an impressive range of elevations, so weather in one area of the park can feel like summer, while it is still winter in other parts of the park.
But there is one time during the year that I like to call, "the Yosemite sweet spot". With timing and a little bit of luck, there are a few weeks in May that are the absolute best time to visit Yosemite.
What is the weather like in May in Yosemite National Park?
This is the tricky part. May can act like it has a dual personality. One moment it's 75 degrees and sunny and the next there's a foot of snow on the ground. Much of the park that is frequented by tourists lies between 4,000-10,000 feet in elevation. So, your chances of having snow are greater the higher you go.
In Yosemite Valley it is virtually unheard of to get snow in May as temperatures should hover around a perfect 73 degrees, with lows in the mid 40's. Days may start out cool, but you'll be shedding layers as the day goes on.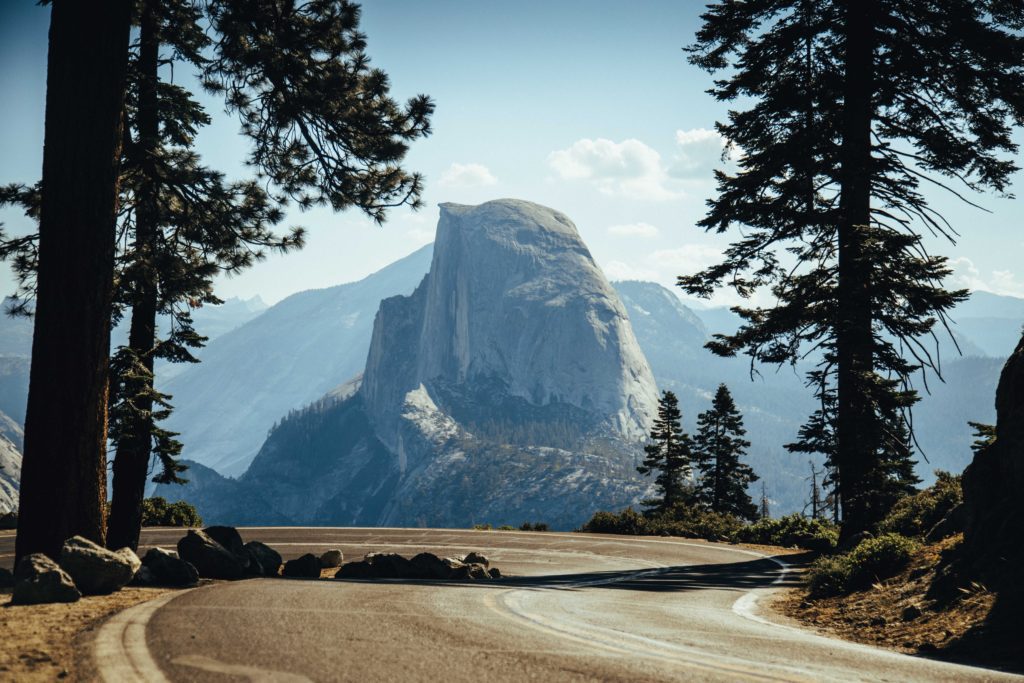 Will the entire park be open in May?
Make sure you keep those layers, because the higher you go, the more snow will still be on the ground making it chilly. In fact, the other tricky part to going in May is that there is a possibility that part of the park will still be closed in May. Tioga Pass tops out at almost 10,000 feet in elevation which means there will definitely be snow on the ground in May. The real question is, will the road be open?
Historical data taken from the last twenty years suggests that Tioga Pass has been opened in the month of May 70% of the time. With half of those dates being in the earlier to mid part of May. So, chances are you will be able to see the entire park with Tioga Pass being open in May.
Is it crowded in Yosemite in May?
This is one of the big questions in addition to "why would I want to visit in May if I might not be able to see the entire park"? One of the reasons to visit in May is the lack of crowds.
Spring break can bring out the crowds from all corners of the globe in March and April and the summer season in June and July will bring out families clamoring to spend their two week vacation on a summer road trip. This leaves a few weeks in May where school is in session. Therefore, the crowds will be more tolerable than in the summer months.
Will the waterfalls be rushing in May?
Waterfalls are another main reason you should visit the park in May. The High Sierra gets around 400 inches of snow every year. So, when the temps go up, the water must come down. Down the mountain that is. All of that snow melts and trickles down drop by drop, then in bucketfuls until it reaches the waterfalls of the park.
In May, you will be able to see the most impressive display of waterfalls that any National Park has to offer. Trust me, you will not want to miss this. To stand in the spray of the park's namesake waterfall, Yosemite Falls and feel the spray on your body is exhilarating!
Bridalveil Falls is also a waterfall not to miss when it is running at full tilt. You will get so wet standing near this waterfall, that it is advised you wear a poncho. You won't only be wet but cold. But, you will never feel more alive.
These are only experiences you can have in early spring in Yosemite. By September, the waterfalls can be reduced to a near trickle or no water at all. Now, I don't know about you, but if I came to Yosemite and couldn't see the iconic waterfalls, I'd be abundantly disappointed.
Will campgrounds in Yosemite be open in May?
Yes…and no.
Camping in Yosemite is the pinnacle of outdoor enjoyment. Staying in a campground in Yosemite is a goal that many campers have on their bucket list. It's AMAZING!!!
But, it can also be stressful to get a site. As of 2022 all campground will either be on a lottery or reservation system. It is imperative that if you want to camp in Yosemite, that you plan well in advance as demand is higher than ever.
Many campgrounds open depending on the weather. In May, you will still have four to choose from totaling almost 500 sites inside the park.
Upper Pines Campground
Upper Pines is located in Yosemite Valley at 4,000 feet in elevation and is the only campground open all year with 238 sites. Ensure that you reserve well in advance anytime of years as it is one of the more popular campgrounds. Upper Pines welcomes tent campers as well as RV campers under 35 feet.
Lower Pines Campground
Lower Pines Campground is a gorgeous spot along the Merced River. Many of Yosemite's iconic features in Yosemite Valley can be accessed from this campground which makes for a perfect location. This campground is open from April to October. Tent camping and RVs of 40 feet or less are welcome in this campground. If you are RV camping, it's imperative that you check to see if your reserved site will accommodate your RV length as they all vary.
North Pines Campground
North Pines Campground also is open from April to October and will accommodate tents and RVs up to 40 feet. This campground is great because, along with the other two campgrounds, it is located within walking and biking distance to trails and is convenient to groceries and other services at Curry Village and Yosemite Village.
Camp 4 Campground
Camp 4 is located in as beautiful of a setting as the other campgrounds and contains 61 sites. This is a great campground to stay at if you intend to climb El Capitan, as it is frequented by the climbing community. This campground is on a lottery system, so you can come to the campground without a reservation and apply by paying a non-refundable $10 fee per camper. The success rate is 10%, so have a backup plan!
What are my options for other lodging inside the park?
There are four hotels and lodges within the gates of the park to stay. All are beautiful and exemplify Yosemite and the grandeur that the park exudes.
Ahwahnee Hotel
This hotel is the crown jewel of Yosemite in terms of where to stay. The Ahwahnee Hotel has history, beautiful architecture, luxury and a fantastic location. You really can't go wrong with this hotel, especially if you plan to spend a lot of time in Yosemite Valley. You can sit in the dining room of the hotel and see Half Dome, Glacier Point and Yosemite falls as you finish your breakfast. With hotel rooms and cottages to choose from, there is sure to be a perfect fit for your crew.
Yosemite Valley Lodge
If you want to be close to Yosemite Falls and you love skiing, this might be the right choice for you. Yosemite Lodge is a classic hotel with all the luxury and amenities that you desire on your vacation. Suites are spread out over fifteen lodges. Access to a shuttle to the Badger Pass Ski Area and other Yosemite destinations are the icing on the cake at this lodge.
Curry Village
Curry Village is a great marriage between a rustic, outdoorsy stay and the amenities that you want when on holiday. You can choose from almost 500 accommodation in the form of a cabin, canvas tent or motel room. Curry Village couldn't be more convenient with restaurants, shuttle service and even an ice skating rink. Outdoor enthusiasts of all kinds will enjoy this great place to stay in Yosemite.
Wawona Hotel
If you desire a tranquil stay without the nag of technology, then the Wawona Hotel is for you. It prides itself on helping you tune in with nature and your surroundings. This is a great place to stay if you want to spend a lot of time at the sequoia groves as it is very near Mariposa Grove.
Choose from 104 rooms that are clean and cozy and have the historic feel that you crave. If you're lucky, you might get to participate in one of the "piano parties" they have in the main lobby. Wawona Hotel is a happy, comfortable taste of old Yosemite.
Visiting Yosemite in May is without a doubt the best time to visit the park. With the waterfalls the quieter park and the beautiful weather your vacation is bound to be one that you will never forget.