Best Places To Watch Sunrises and Sunsets in Yosemite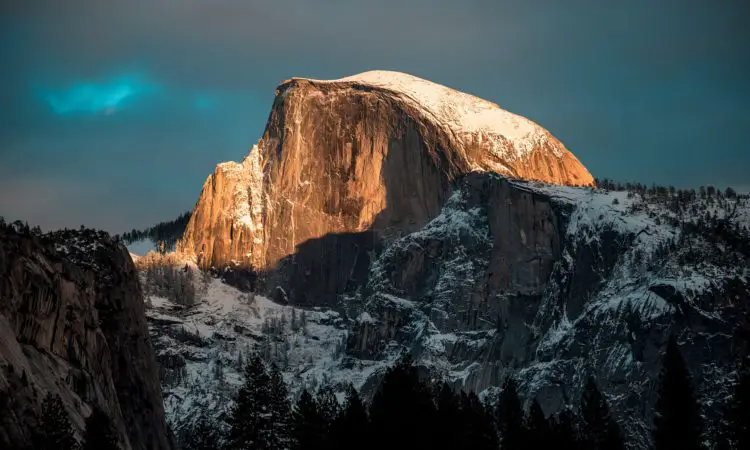 Grounded Life Travel is supported by its audience. When you purchase through links on our site, we may earn an affiliate commission.As an Amazon Associate I earn from qualifying purchases. List of everything we use in our travels.
John Muir said it best when he wrote, "How glorious a greeting the sun gives the mountains."
There is something about a magnificent sunrise or sunset that restores and strengthens our souls as humans. After seeing this event of the heavens all seems right with the world, if only for a few moments.
There is no better place than Yosemite to experience this otherworldly phenomena that we may sometimes take for granted. With all it's cliffs, valleys, mountaintops and meadows, there is always a beautiful place to see the sun awaken or dip into slumber. But, some places have that extra something special that keep people talking. Yosemite is the place to have that moment to yourself or with a loved one, making a memory to hold on to.
Should I aim for a sunrise or sunset in Yosemite?
This boils down to what kind of personality you have. Are you are morning person? Do you enjoy getting somewhere and waiting for hours for the big event? Are you okay with fighting for a spot to get that perfect view or do you need to be in silence in a secluded spot?
If you don't mind getting up a couple of hours before the sun rises, jumping in the car and driving a ways to get that view or that perfect shot, then you will probably enjoy a sunrise.
Sunsets are good for the person that has a difficult time waking up in the morning, likes to stay active until late into the day and doesn't mind possibly hiking in the dark.
Either way, you won't be disappointed with what Yosemite has to offer in the way of a show at dawn and dusk.
Where can I see the best sunrises in Yosemite?
Glacier Point
Considered to be the creme de la creme of all sunrise spots in the the park, Glacier Point should definitely be on your radar if a glorious sunrise is on your itinerary.
One thing is for sure, you will have to get up EARLY. Glacier Point is not close no matter where you are staying. Chances are you will need to leave from where you are staying one to two hours ahead of time. Glacier Point is one hour's drive time from Yosemite Valley and longer than that if you are staying outside the park.
But, when you get there, you will probably be amazed at the lack of other's gumption to crawl out of their beds at that hour. It probably won't be difficult to find parking and if you are a photographer, opportunities for that amazing shot will be endless.
With Half Dome sitting fixed as if the curtain were about to open, you will see the first glimmers of orange light over the horizon. A wash of colors slowly glides, then dims as the sun burst forth and steals the show.
One thing to consider when adding this activity to your trip is that the road will be closed from about the beginning of November to late May. So, if you are visiting the park in the summer months then you should be primed to see one of the most fantastic sunsets anywhere on Earth.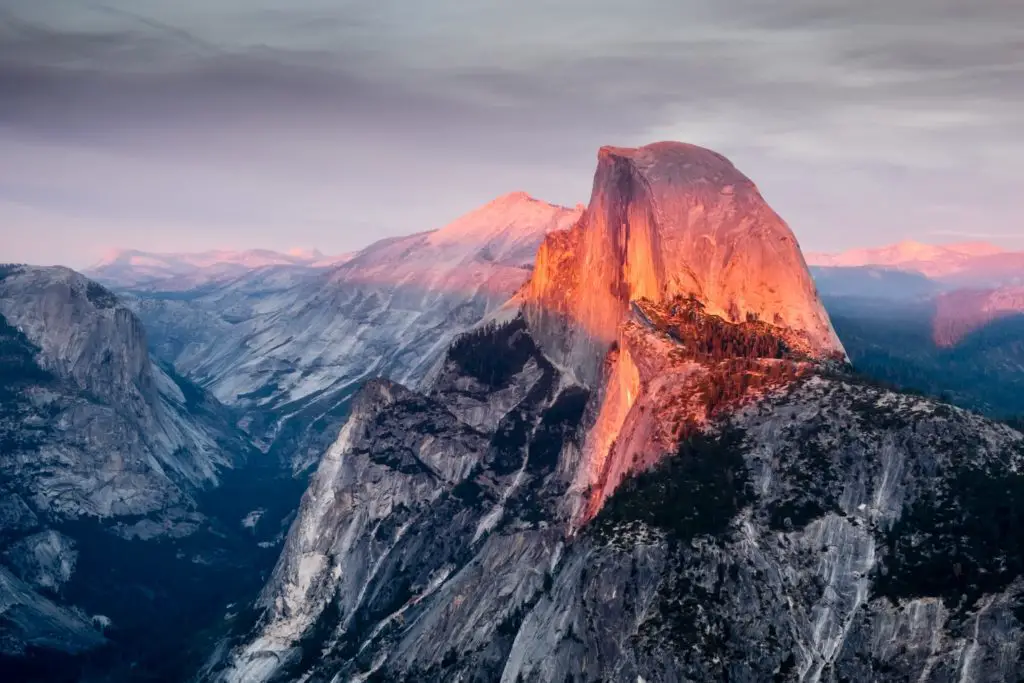 Panorama Trail
Taking the Panorama Trail at the top of Glacier Point Road can also give you an amazing view of the first morning light, but this may come with a little walking in the dark. But, if you are willing and able, you will be able to see a unique perspective on the sunrise that you may not be able to get at Glacier Point.
Just like Glacier Point, Panorama Trail is also a seasonal view due to the snow and ice of winter so plan to see a lower elevation sunrise if you are there in the colder months.
Tunnel View
Tunnel View Is the first viewpoint you will come into in the valley. This view is amazing because you can see the entire valley below you and all its big players. El Capitan, Half Dome and gorgeous Yosemite Valley. The sun will rise and as it does it will brush El Capitan. This gives the image of the top of El Capitan as if it were on fire and it's absolutely gorgeous. One great aspect about this view point compared to those like Glacier Point is that this one gives you the ability to catch some more sleep.
Sentinel Dome
Sentinel Dome is great for that 360 degree view of the entire valley. Not only can you see the sunrise, but you can see the valley and how the light plays on its various features. It is as if you are on top of the world here, and in a lot of aspects, you are. This is an amazing spot for the serious photographer.
El Capitan Meadow
El Capitan Meadow is an option, but it won't be a direct sunrise. The beauty of this location is that when the sun rises Half Dome casts a shadow onto El Capitan and it is a brilliant thing to witness. Some say that this is the best place to witness the sun rise in the entire park nd although it is not direct, there is a peace you get when observing the light and how it illuminates the valley.
Where can I see the best sunsets in Yosemite?
Glacier Point
I know you're probably thinking you have a case of deja vu right now, but you are reading correct. Glacier Point has great sunsets, too. But, I guess this is not difficult to comprehend due to it being on a point.
One difference between the sunrise and sunset is that you may need to plan a little more for the sunset. Unlike the sunrise, the sunset is a very popular time for people because it's easier than getting up so early in the morning. Make sure you get there early to get a parking space. You'll also already be in the park, so the drive in isn't so daunting.
Although it's not a direct sunset view, the prize is when the sun sets and Half Dome turns orange. It is a heavenly sight and one that many people plan their trip around.
Taft Point
This is one view that you'll have to work a little for. Taft Point is a 2.2 mile hike that you can reach by parking at the Sentinel Dome parking lot. Get there early because it will fill up. But once you hike to the point, you will be able to see the sunset over El Capitan. Bring your dinner and enjoy the show with a cliffside picnic. Come prepared with a headlamp or a good flashlight as your hike back will be partly in the dark.
Cook's Meadow
Cook's Meadow is on the valley floor so the sunset won't be a direct one. Get there early and walk around the meadow in the shadow of Half Dome as the valley grows darker. Springtime is a lovely time for wildflowers in the meadow and you can enjoy these before the main event. When it's time, the view that you get gazing across the meadow as the sunset reflects on Half Dome is definitely worth seeing.
Tunnel View
Any time of day is a great time to visit Tunnel View, but sunset is one of those iconic Yosemite moments that you must have. This is a popular activity here at Tunnel View, so you will definitely have company, so again, get there early to snag a parking space.
As the sunset illuminates the valley and all the big players, you'll be glad you spent time at one of Yosemite's best sunset spots.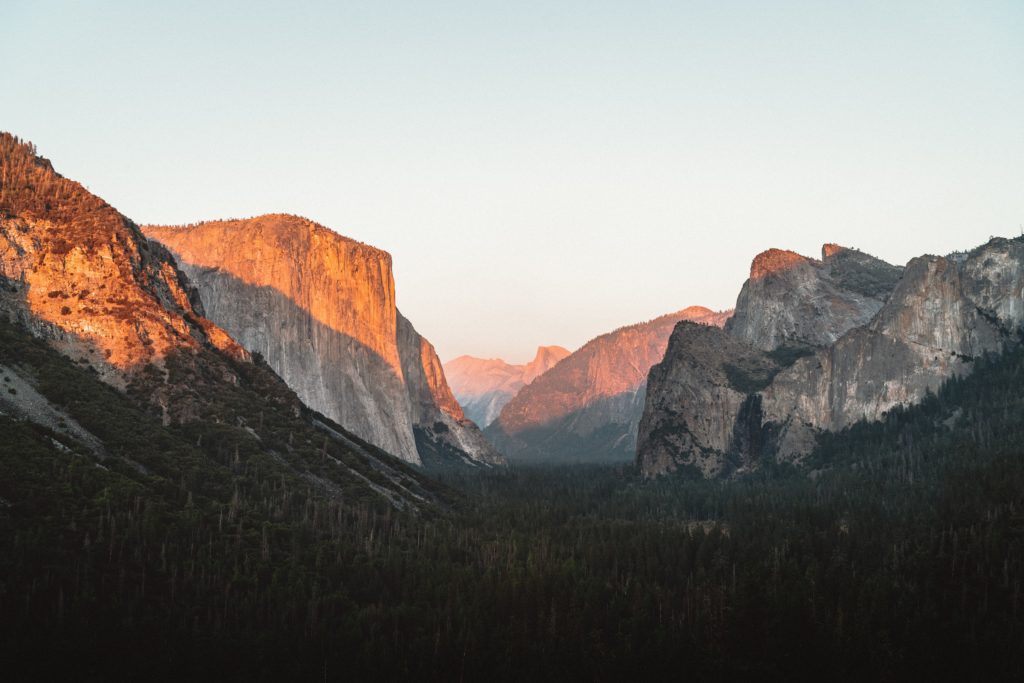 Cathedral Lakes
This one is for the back country camper that likes a challenge and a handsome payoff. At 8.8 miles, you will definitely work for this one, but it will be the best adventure you could have in sunset hunting. Grab a permit and search for one of the immaculate campsites near the lake. Watch the sunset over the lake as the reflection plays over the water and enjoy the best of the great outdoors.
You really can't go wrong with a sunrise or a sunset in Yosemite. Both are gorgeous and will give you that almost spiritual experience that we all crave when we see the sun rise or fall. You are sure to find that classic Yosemite experience, whichever you choose.