Visiting Yosemite National Park in February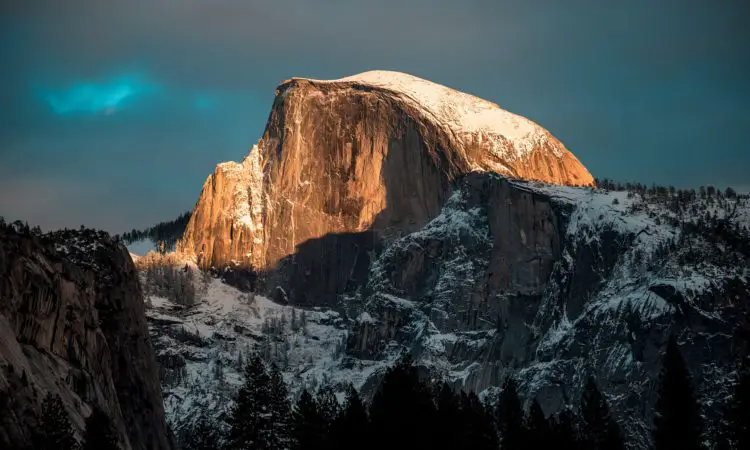 Grounded Life Travel is supported by its audience. When you purchase through links on our site, we may earn an affiliate commission.As an Amazon Associate I earn from qualifying purchases. List of everything we use in our travels.
The frigid days of February are not usually a time that most people would decide to visit one of America's favorite national parks. But, this is precisely why you should visit Yosemite in February.
In February, the park is a frozen tundra. It's silent in the Yosemite Valley, where the usual hustle and bustle of cars, people and activity keep the park buzzing. In contrast, February is in a blanket of quiet white, where the only sounds are the footprints of the occasional elk or the shreik of a hawk up above.
February may not be the most popular month to visit, but it is a unique way to see the park in the stillness of winter that many people will never experience.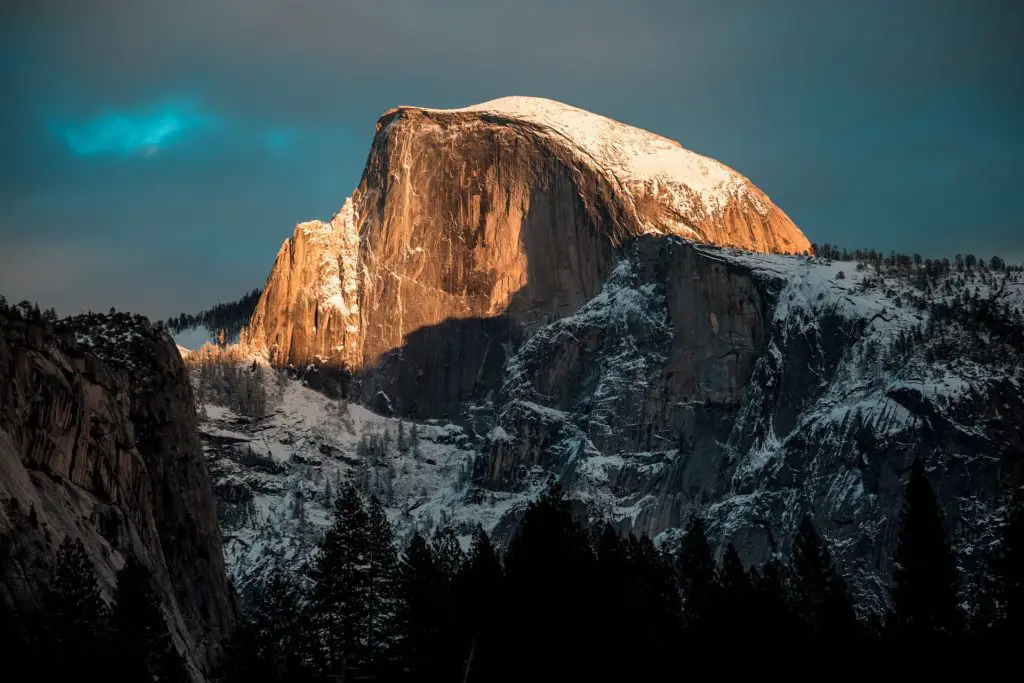 Is the park fully open in February?
This is the main challenge with visiting in February. Although there is so much to do in the park in winter, much of the park is inaccessible due to snow. With much of the park being above 6,000 feet, the snow is deep.
Tioga Pass and Glacier Point Road will be closed in February, so the points on these roads will have to be visited either by cross-country skiing or by visiting at another time of year.
But, Yosemite Valley and Wawona are accessible by car all year long. So, all of the attractions that you would like to see such as, Bridalveil Fall and Half Dome can be seen in winter.
The Glacier Point/Badger Pass Road is also plowed starting in December to allow for cross county skiing to Yosemite Ski and Snowboard Area. Here, you can downhill ski or snowboard in some of California's freshest powder.
Are there places to stay in the park in February?
There are so many places open inside the park for your accommodations in February. Pick from the glorious Ahwahnee Hotel and have a grand view from the dining room of all the iconic features of the Valley. Enjoy the history of one of the most beautiful hotels of any national park in the nation.
If you want to keep the budget a little tighter, book a stay at Yosemite Valley Lodge and have the convenience of being able to walk only steps to Yosemite Falls and have the shuttle pick you up at your doorstep. This is a great place if you have a larger crowd traveling with you or for families.
If you are the rustic type, Half Dome has heated cabins and tents right outside Half Dome. Feel like you are in nature with some of the creature comforts still surrounding you. Get up and see Half Dome as the morning light shines on its grandeur.
Yosemite West is also a great place to rent a cabin through a rental agency. Only twenty-five minutes from Yosemite Valley, this will be a great launching point if you have a large family or are traveling with another group and want to share a cabin.
Outside of the park there are other lodges, hotels, bed and breakfasts and cabins for renting. This is a great place to rent a cabin if you want to stretch out and cook some of your own meals. No matter what time of year, there is never a shortage of places to stay.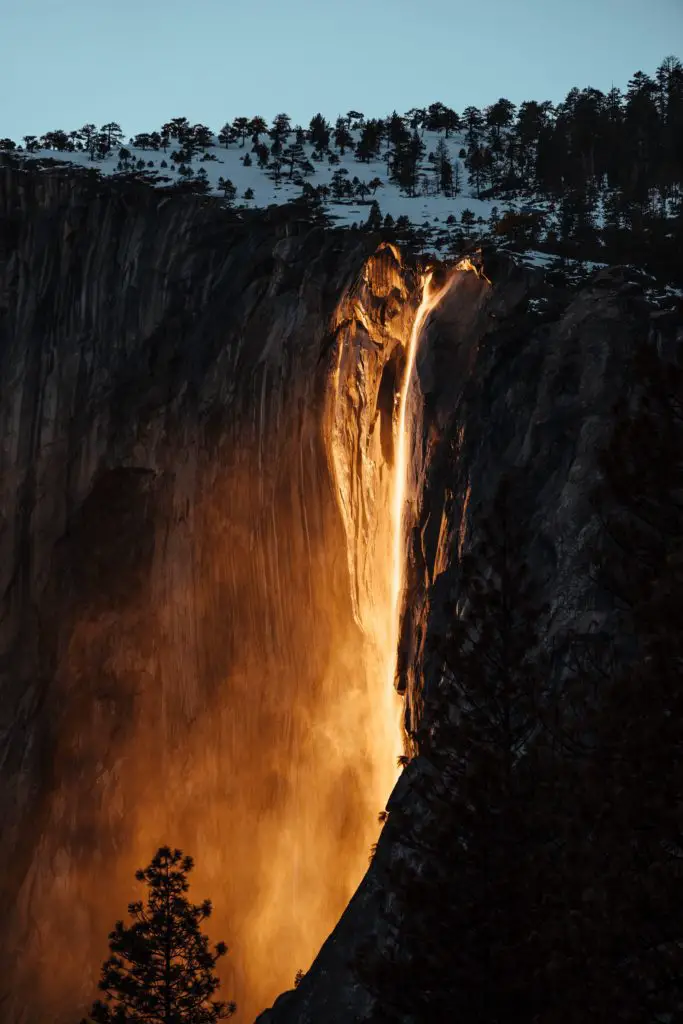 What is there to do in Yosemite in winter?
There is no shortage of winter activities in Yosemite. Exploring the park in winter is like a totally different vacation if you have been at other times of the year. The snow adds an element to your adventure that is unmatched.
Mariposa Grove
Mariposa Grove is the largest grove of sequoias in Yosemite. Containing 500 giant sequoias, this is an adventure you will want to plan for on your trip. The park service closes Mariposa Road two miles before the grove, so you will need to plan to snow shoe or cross country ski to the grove adding 4 miles to your trek.
But when you get there, what a magical wonderland you'll find! Sequoia trees that reach to the heavens covered in new fallen snow, some over 3,000 years old.
If you are really adventurous, bring your tent and camp in the forest for a once in a lifetime, unbelievable experience. You will need a permit to camp in the grove. So, make sure you obtain one from the visitor's center before beginning your trek and make sure you bundle up!
Horsetail Falls
At every other season of the year Horsetail Falls is a waterfall that flies under the radar. Beautiful in its own right, but not famous like Bridalveil Fall or Yosemite Falls…
Until February.
For two weeks every February, the sun, the tilt of the earth and where the waterfall is perfectly aligns to produce a fantastic phenomenon.
As the sun sets, it illuminates the waterfall making is glow an amazing fiery orange. This makes it look as if there is lava or fire coming out of the rock face. The "firefall" as it is called is one of the most unique and amazing sites in the park, if not the world. However, only a select few will get to see this event as it only happens a few sunsets a year. Be one of the lucky few in February to witness this rare occurrence.
Ski To Glacier Point
Because Glacier Point Road is closed during the winter, you can't get to Glacier Point unless you cross-country ski there. This is not something that is recommended for the beginner. If you take a day trip, you will start at Yosemite Ski and Snowboard Area, formerly Badger Pass Ski Area and ski the 10.5 miles to Glacier Point. This should take an experienced skier 4 to 5 hours. So, the trip back will also take this amount of time. If you're an experienced cross-country skier, this could be a fantastic once in a lifetime trip!
Ski and Snowboard
Yosemite Ski and Snowboard Area is a great place to see some amazing views and enjoy your favorite sport. Pick from five lifts that can take you to some of the best terrain in the west. Lift tickets are affordable and most of the trails are for the beginner to intermediate skier, which will please almost anyone in your family.
Go Snow Tubing
If you are wanting to do something that is super fun and exciting with your crew, try snow tubing at Yosemite Ski and Snowboard Area. You can rent a snow tube and shoot down the hill. This will be the best $25 you've ever spent. Trust me!
Ice Skating
Yosemite is the perfect place to go ice skating in winter. The Half Dome Village Ice Skating Rink awaits you and your family in Curry Village. Skate under the shadow of Half Dome in the crisp frigid air of the valley. This will be a vacation memory that you and your family will cherish.
February in Yosemite will be a magical vacation that is definitely out of the ordinary. Escaping the crowds, having much of the park to yourself, and enjoying some winter sports will be an experience you will want to repeat with your loved ones.