How To Get To Yosemite National Park
Grounded Life Travel is supported by its audience. When you purchase through links on our site, we may earn an affiliate commission.As an Amazon Associate I earn from qualifying purchases. List of everything we use in our travels.
Getting to Yosemite National Park can be an adventure in itself. With changing topography and elevations, every part of the park is gorgeous. But, there are several ways to enter the park and all of them have something special to add to your vacation of a lifetime.
How many entrances to Yosemite National Park are there?
There are five entrances to the park. One to the north, three to the west and one to the east. Every entrance is different and has various points of interest on the way that you will want to explore. But, some are closed in winter, some close seasonally in the early evening and others are open all the time. Doing your research and being prepared can help with your vacation running smoothly and alleviate the stress that can sometimes come with traveling.
Which entrances have times when they will be closed?
Both Hetch Hetchy and Tioga Pass will close in winter. Hetch Hetchy closes at sunset everyday during the winter and Tioga Pass will close after the first major snowfall (usually around early to mid November). Tioga Pass remains closed until the roads are plowed, which is usually in mid to late May. But, these entrances are fully open in the warmer months and ready for your exploration.
Hetch Hetchy
The entrance with the funny name will be a good choice if you are coming from the Bay area. If you are coming from downtown San Francisco, reaching the Hetch Hetchy Entrance will take you around three hours and 180 miles, driving in from Highway 120 to Big Oak Flat Road.
Groveland is the major point of interest outside this Yosemite gate. Visit the Groveland Yosemite Gateway Museum and see what you are about to embark on when visiting Yosemite. Learn the history and the geology of this unique place on the planet. You can also stop by the famous Iron Door Saloon to have a meal and a pint and immerse yourself in a piece of gold rush history.
Once at the Hetch Hetchy Entrance, you may be expecting to pay a fee. But, there is no fee at this gate. Enter and enjoy all that this area of the park has to offer.
Hetch Hetchy gets its name from the Native Americans that once called this valley home. They called a mush that is made from a plentiful grass that grew in the valley "hetchetci", and the name for the valley was born. John Muir once described the Hetch Hetchy Valley as Yosemite Valleys twin in its form and grandeur. But, that description changed when San Francisco voted to dam the valley for a reservoir for the city. Yosemite Valley's twin is now gone, but we can still see the beauty of the reservoir and Wampama Falls year round and contemplate what once was.
Tioga Pass Entrance
The Tioga Pass Entrance is the most remote entrance and is the highest in elevation at almost 10,000 feet. Therefore, it closes for the winter. So, if you are traveling between November and mid May, this entrance won't be an option for you. Tioga Pass is made accessible by way of Hwy 395 to Highway 120 from the city of Lee Vining. This entrance would be convenient if you are traveling from Reno or Las Vegas. From Reno the entrance is accessed in 2.5 hours and 150 miles. From Los Angeles the trip is longer at 5.5 hours and 350 miles.
You may ask, if you can't use the entrance half of the year and it is so remote, why even bother?
There is so much to do in the Eastern Sierras, that I think most people aren't aware of. If you are traveling Highway 395, there are a multitude of highlights to add to your trip. You could easily add another week to your Yosemite vacation by traveling to this entrance and spending time on the Highway 395 corridor.
There are many alpine lakes to explore such as Mammoth Lakes, June Lake, Convict Lake, Gull Lake and Silver Lake. Additionally, there are geological points of interest such as Obsidian Dome and Mono-Inyo Craters. There is also Mono Lake that is a salt water lake with wild rock formations and the old ghost town of Bodie. These are just attractions outside of Yosemite. If you want to travel a little farther, there are other interesting and beautiful things to see in the area that will surprise and excite you.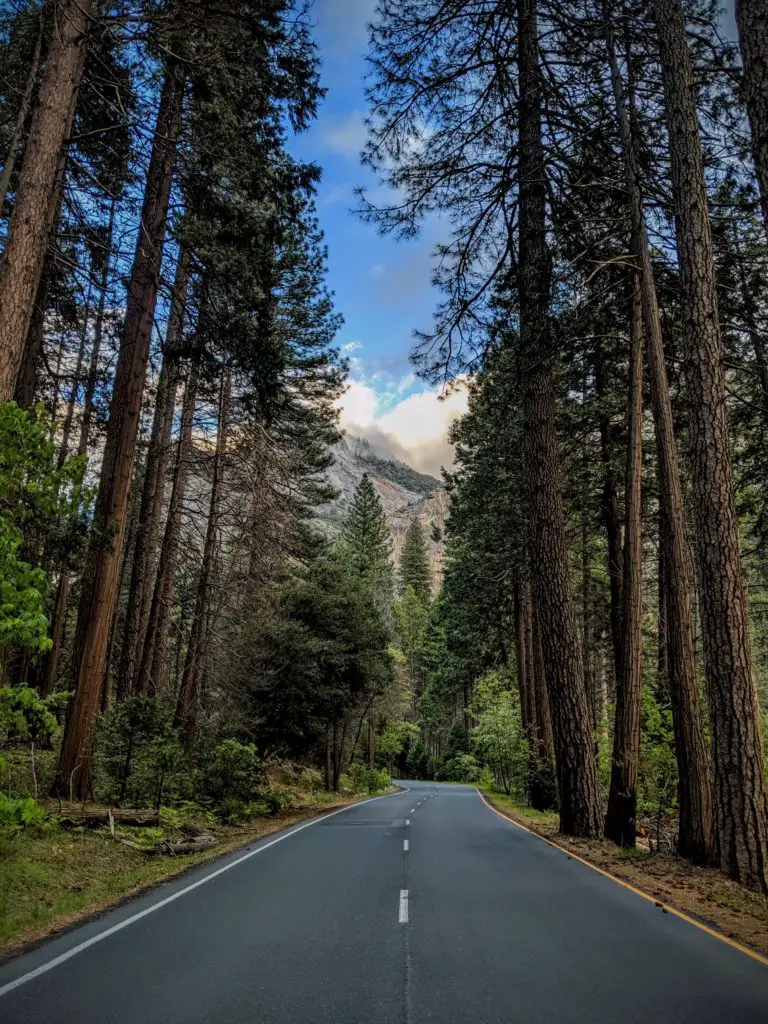 Big Oak Flat Entrance
Big Oak Flat is the most used entrance in Yosemite National Park, welcoming one million visitors every year. Most visitors will come from the San Francisco Bay area to enjoy the sights of the Merced Grove of Giant Sequoias and the Tuolumne Grove of Sequoias. Accessing this entrance will take you around 3 hours and 160 miles from the Bay Area traveling through Groveland on Highway 120. If you like big trees, this is a great entrance to take.
Merced Grove is the smallest of the great sequoia groves you will see at the park featuring about twenty trees, but it will also draw the least amount of crowds in the warmer months. So, this is a good choice if you want a little peace and quiet. This three mile trail is downhill to get to the grove and is easy to moderate because of the 600 foot elevation gain on the way back up.
Tuolumne Grove, containing about two dozen sequoias, is great for families as it features a sequoia you can walk through. At 2.5 miles this trail is just long enough to get your heart pumping, as it is also downhill on the way to the grove and uphill back.
The Big Oak Flat Entrance will also take you to the coveted Yosemite Valley where you can see all of the quintessential sights of Yosemite. Big Oak Flat is open year round, so there is no problem accessing it in inclement weather. Although in winter, prepare to fit your vehicle with snow chains if there is newly fallen snow anywhere in the park.
Arch Rock Entrance
The Arch Rock Entrance is unique in that it has its own natural feature as a welcoming sign. Two large boulders on both sides of the road meet in the middle to form an arch. Visitors from San Jose, Santa Cruz or the Bay area could find this entrance by taking Highway 140 through Merced. In doing so, patrons might want to stop at the Merced National Wildlife Refuge or the Castle Air Museum.
El Portal is also a town that you can enjoy before even getting into Yosemite. This sweet little town sits on the Merced River and has ample kayaking and rafting opportunities along its banks. Additionally, you can find much history here, in El Portal. The town used to serve as the terminus for Yosemite Valley Railroad and the gateway to Yosemite Valley by railway. This way of travel was abandoned, but some of the structures and memorabilia still remain.
Before getting to the Arch Rock Entrance, make sure to stop at El Portal Market. Not only can you get some tasty grub, but you can watch Chinquapin Falls cascade across the river as you fill up for your journey into the valley. Not bad entertainment while you fuel your tank!
South Entrance
Coming in from Fresno on Highway 41, you can reach the South Entrance in a little over an hour by traveling 62 miles. But, don't miss this opportunity to visit a quaint little town that boasts world class accommodations and a historic railroad that can take you through the beautiful Sierra National Forest.
Fish Camp is tiny with a population of only 93 people, but it is a huge city in terms of knowing how to welcome Yosemite visitors. Used as a base for many visitors that want to see the great Mariposa Grove, Fish Camp is a perfect place to lay your head at night with some fabulous options for accommodations. Tenaya Lodge at Yosemite is great for families that want a pool and other amenities. If you want a more intimate experience, Bette's Yosemite Bed and Breakfast has you covered.
Fish camp also has other activities to whet your appetite for your Yosemite adventures. You can have a magical experience by horseback riding through the sequoias or biking the Sierra Vista Scenic Byway. The Yosemite Mountain Sugar Pine Railroad will also be an amazing addition to your itinerary and a great experience for families.
When planning how to get to Yosemite, the options and the activities that go with those options are really endless. Whether traveling from the Bay Area or Los Angeles, there is a route full of excitement and surprises for every kind of traveler.