Grounded Life Travel is supported by its audience. When you purchase through links on our site, we may earn an affiliate commission.As an Amazon Associate I earn from qualifying purchases. List of everything we use in our travels.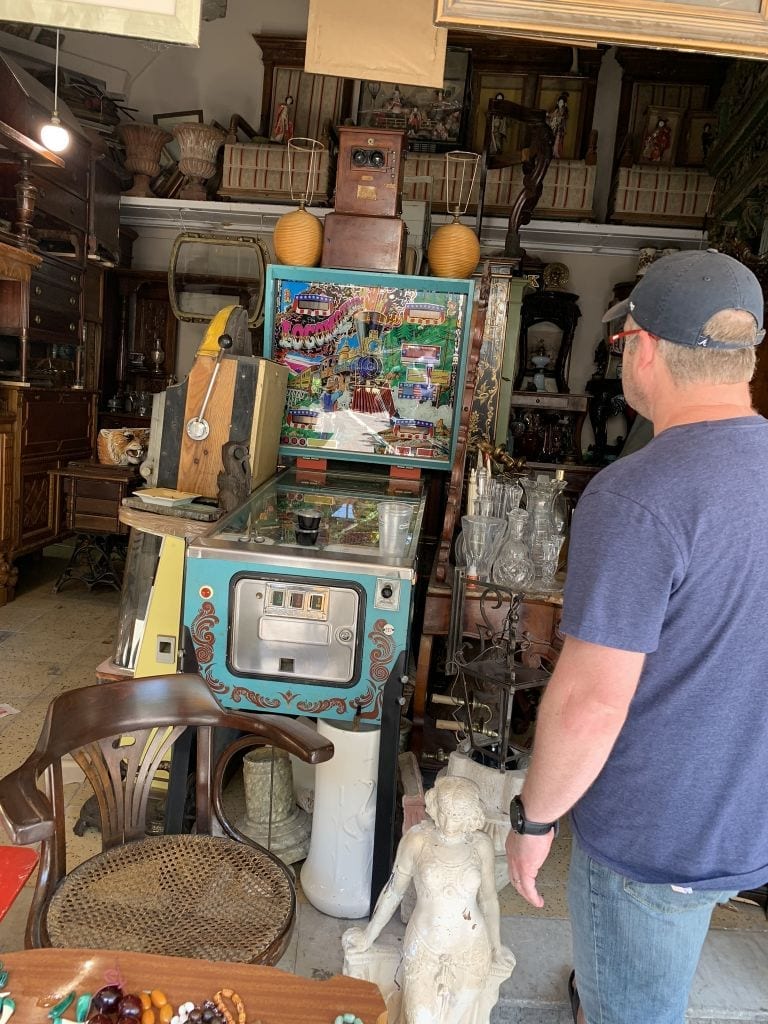 When To Go
The best time to find unique things to do in Athens is on the weekends. If you can plan your travel to include a weekend you will have more opportunities to experience a bonus side of Athens. When we travel like we see the sights and enjoy the food. We also like to discover new things to do in old places. Athens, Greece had some amazing gems hidden in the hills.
Monastiraki Flea Market
If you are in Athens over a Sunday then you are in for a treat. There are 2 unique things to do in Athens on Sundays. In Monastiraki you can visit the flea market but this is not the regular everyday market, on Sundays the locals come out with their antiques and set up booths on the back side of the regular flea market. It's so much fun to walk around and see the jewelry, furniture and other wares. We found an Olympic pin from the 2004 games. Come early to beat the heat, they usually set up around 8am and shut down by about 3pm.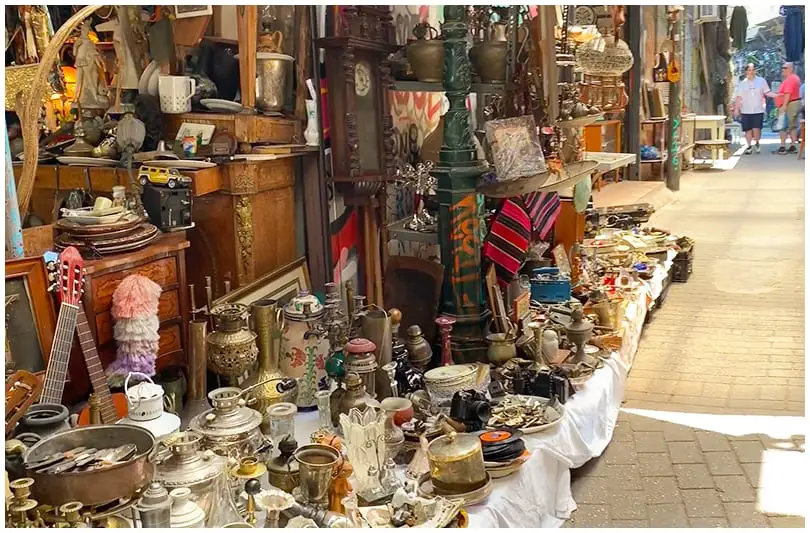 Changing Of The Guard
The other unique thing to do in Athens on Sunday is the changing of the guard at parliament. There is a regular changing of the guard ceremony every day, every hour on the hour and every 30 min there is a ceremonial exchange but this one is a big show. They shut down the street in front of parliament for the band and the soldiers. It all comes to a head at the tomb of the unknown soldier in front of parliament. Be there early to score a good spot, it begins around 11am. We were there just in time to get a great spot in the front row.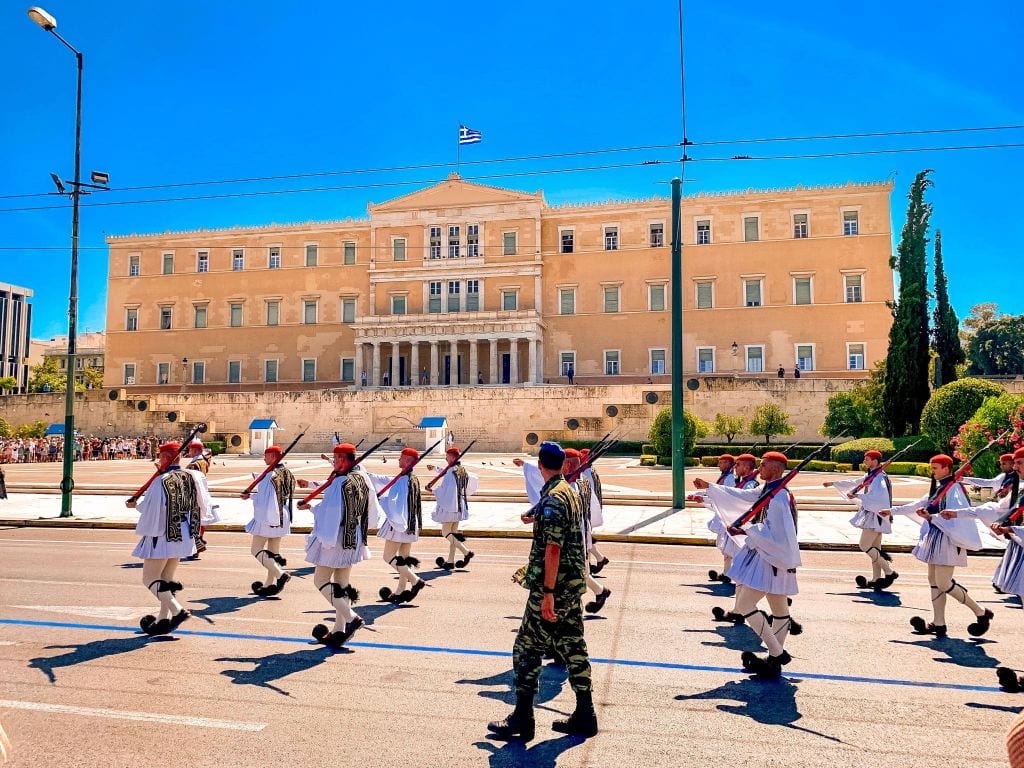 Hans Gretel
If you like ice cream and lets face it, who doesn't then you will love Hans Gretel. This unique ice cream gelato shop has several different cones they make on site. Our favorite was the bubble waffle cone. Step inside the "treehouse" in the shop and stay awhile as you enjoy your treat. The shop also has bulk candy you can purchase as well as frozen beverages. This little shop is between the Hard Rock Café and the Agora in Plaka. If you are in Plaka it's a must have. This was one of the tasty unique things to do in Athens.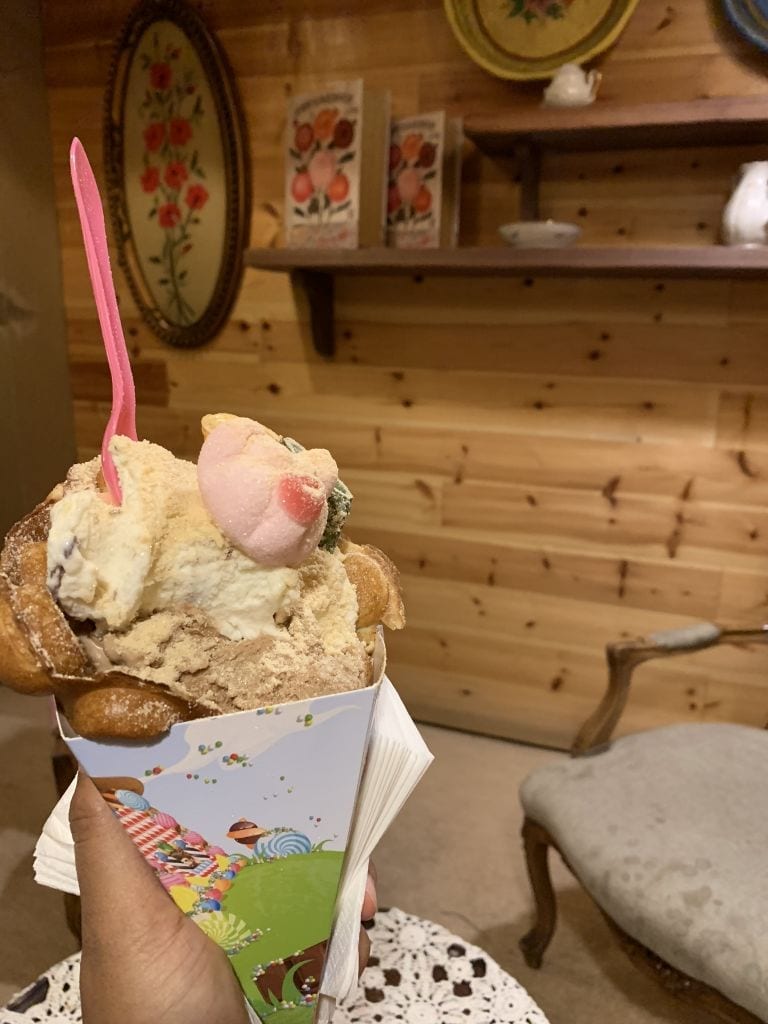 Anafiotika
While you are in Plaka, you can take a walk up to Anafiotika. This neighborhood within a neighborhood is a hidden gem. For instructions on how to get there, see our instructional video. This neighborhood will make you feel like you have been swept away to a romantic Greek isle. The whitewashed walls and blue windows and doors will take you away. Take a romantic stroll through these narrow passages and take a moment to take some sweet pics while enjoying sweeping views of Athens and the Acropolis above.
Cine Paris
Before you leave Plaka head over to Cine Paris. This outdoor theatre is a real treat. Check the website to see which movies are playing and in what language. We saw the movie Yesterday in English with Greek subtitles. If you go on Wednesday you will also enjoy a 2 euro discount. Grab some popcorn and a drink. If you get there early enough you will have your choice of seats. But the hard part is not figuring out where to sit but deciding if you want to watch the movie or the glorious views of the sunset next to the acropolis. This was one of my favorite unique things to do in Athens.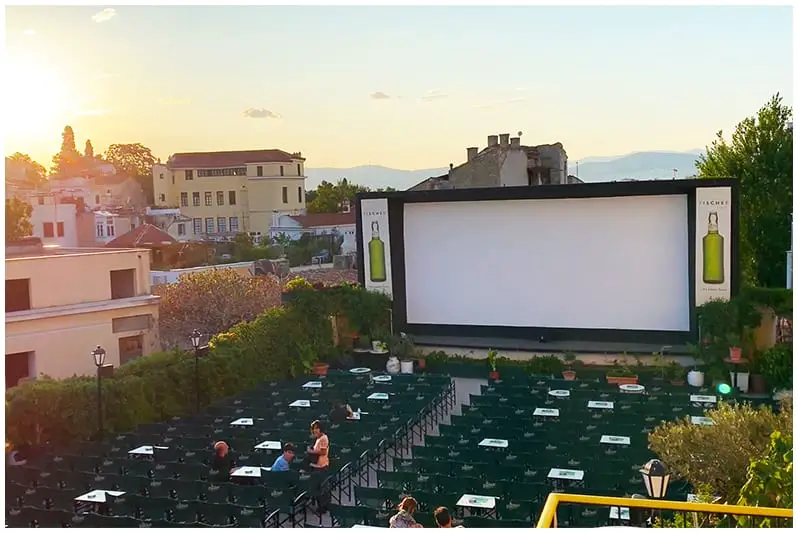 No matter what you choose you will not be disappointed with any of these unique experiences in Athens. You can still do some of these things if you are here on a day trip from a cruise ship. Plan your time wisely and you will get some great experiences that most don't get to enjoy. If you get a chance to do any of these unique things to do in Athens, drop us a comment.
Glyfada Beach
We were in Athens during a record heat wave and needed to get out into the water. While Athens isn't known for its beaches, there are quite a few of them lined with shops and restaurants just outside the city.
Transportation is easy, as we just used our pass from the Hop on Hop off bus and it took us directly to the beach from Plaka.
Even though we were there in the height of tourist season, the beach wasn't crowded and we found plenty of umbrellas to sit under.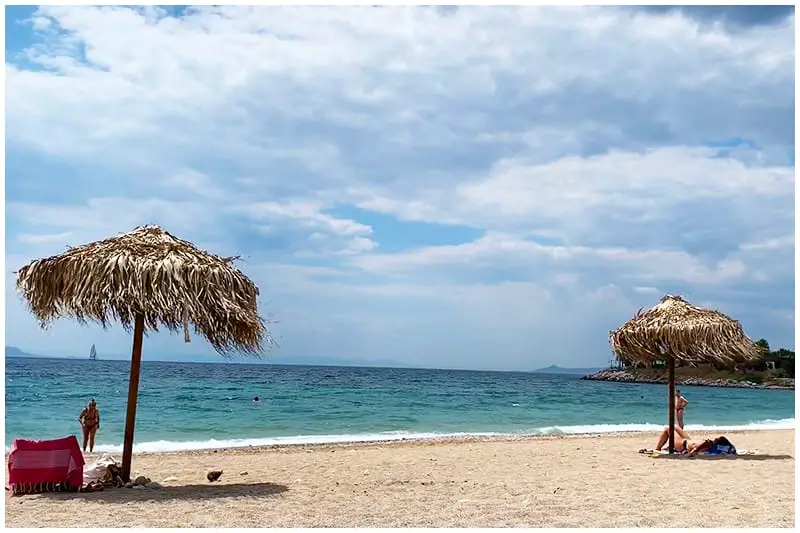 Panathenaic Stadium
Within walking distance of Plaka and the Temple of Zeus, there is no excuse to not visit this piece of history. This is the site of the Games of the First Olympiad and it also was a venue in 2004.
The access given to visitors is remarkable as you can climb the stadium steps, run on the track and even stadium on the winners podium in the infield. Admission is only 5 euros per person. From the top rows of the seating you have a view to the Acropolis so it is worth the climb!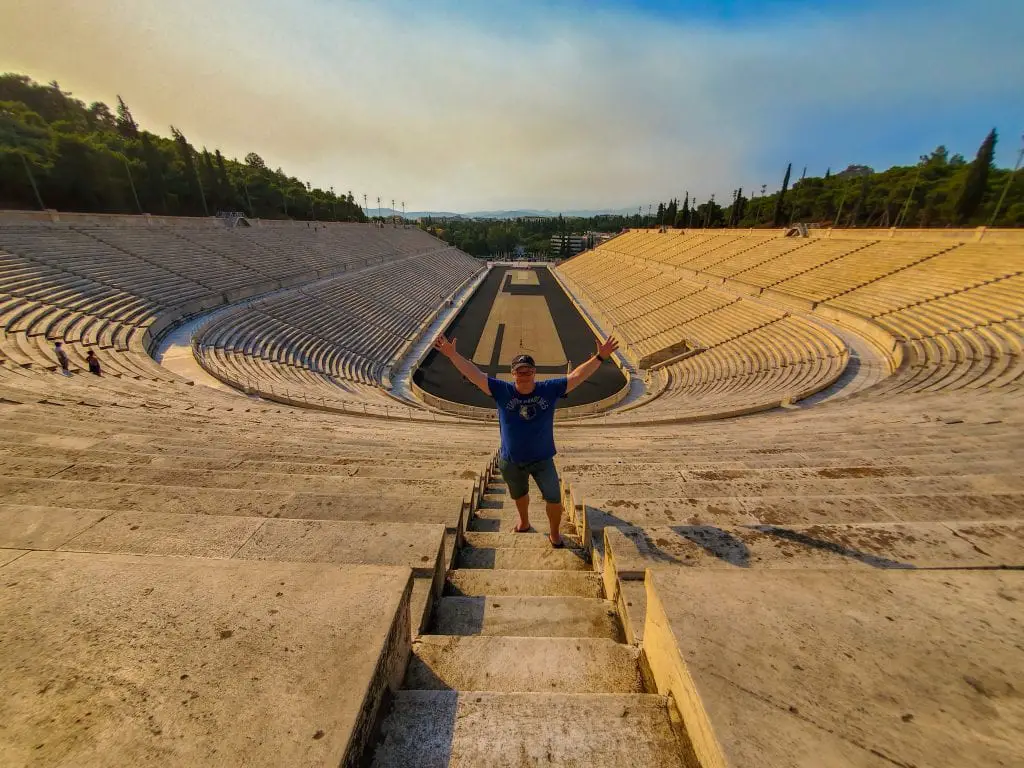 Tags :
anafiotika
athens
changing of the guard
cine paris
greece
hans gretel
monastiraki
monastiraki flea market