Faroe Islands Hikes: The Top 5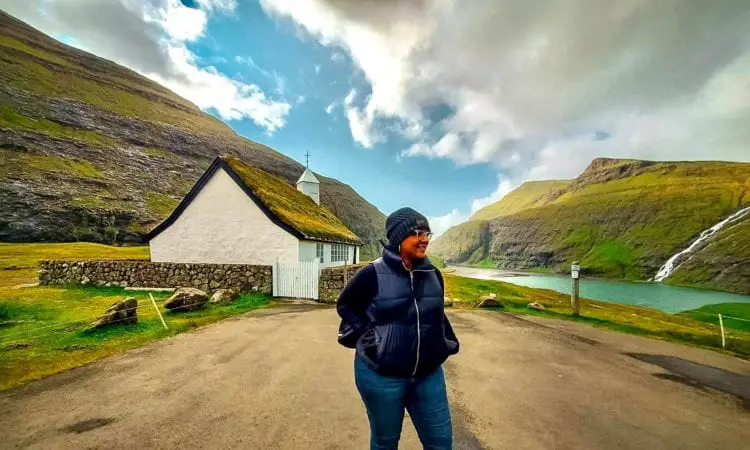 Grounded Life Travel is supported by its audience. When you purchase through links on our site, we may earn an affiliate commission.As an Amazon Associate I earn from qualifying purchases. List of everything we use in our travels.
We loved our trip to the Faroe Islands and we want to share our top 5 Faroe Islands hikes. These islands are flooded with unreal landscapes and even more unreal hikes. You will get to the end of each of these hikes and feel like you are on a movie set. You will not believe what your eyes are seeing, from floating lakes to ocean waterfalls, every step is worth it.
Lake Sorvagsvatn (Traelanipa)
This is our favorite of the top Faroe Islands hikes. One of the great things about it is the fact that you get a bonus view of Bosdalafossur. The hike to Lake Sorvagsvatn is not easy but it is certainly is the easiest of the ones on our list of the top Faroe Islands hikes. The hike is on private property. You will find a nice parking lot as well as access to the restrooms. The family does a great job with the upkeep of the trail, they also have snacks should you need some for your hike and also have hot chocolate for you when you finish your hike. This hike is 3.1 miles (5km) it should take you about 2-3 hours but could take longer if you stop along the way to take pics or to watch a plane land as it descends on the islands.
Saksun
The road to the village of Saksun is a one lane, windy road, but it is a stunning drive. When you arrive in the village you can stop there and enjoy the view or you can take the hike down to the fjord (ut a Lonna). This 3.7 mile (6km) hike will take about 1-2 hours. Keep in mind the locals in this area are very few but they are vocal in protecting their space (and rightly so). Please be mindful of the locals in this area, you will see signs to discourage trespassing and drone flying. Although you will not likely see the locals, they are there. This is a worthy spot to visit, it's easy to see why this one make it to the list of the Top 5 Faroe Islands hikes. A word of warning, DO NOT hike down in high tide, the water levels can change rapidly.
Kallur Lighthouse
This is one of the most iconic Faroe Islands hikes. If you've seen a photograph of the Faroe Islands, it was likely from Kallur Lighthouse. Kallur Lighthouse is on the island of Kalsoy. This island is very small and gets pretty busy during high season. Head to Trollanes village to park your car and start your hike. This hike is about 3 miles (4.8km) and will take you at least 3 hours, depending on the weather. This is the most popular of the Faroe Islands hikes, so plan your trip accordingly. The difficulty of this hike lies in the conditions. The hike is on a steep hill and can get VERY slippery. It can get very scary especially with the weather changes on the Faroe Islands but his is still a very worthy hike.
Draganir (Sea Stacks)
Drangarnir is a collective name for two sea stacks between the islet Tindholmur and the island of Vagar. You can view these sea stacks from Bosdalafossur near Lake Sorvagsvatn (the floating lake, see below). You can also view these sea stacks from a boat ride. The individual names of the sea stacks are Stori Drangur and Litli Drangur. The names can be translated simply into large and small sea stack. It is one of the iconic Faroe Islands hikes.
Mulafossur
The trip to Mulafossur Waterfall is one of the most popular things to do on Faroe Islands. I mean, who doesn't love a waterfall but this one will blow you away. As you approach it you will see that it plummets into the ocean below. The view is spectacular, hang around for a bit, the weather is always changing in Faroe and you will be continually amazed. Since the completion of the tunnel the traffic has dramatically increased in the town of Gasadalur. This single lane tunnel is the only connection to the rest of the island. You can easily park your car in the new parking lot and simply walk 5 minutes to the waterfall.
Faroe Islands Hikes Tips
One of the main things you need to know when visiting the Faroe Islands is to be flexible with the weather. Be sure to dress in layers. We found merino wool socks to be the best for hiking, with less chance of blisters. You will want to have waterproof jackets and hiking shoes. It tends to rain each day at random times, bring a cover for your backpack to protect electronic equipment. Stores are few and far between so you will want to have water and snacks with you. We found it easiest to stop in a grocery store for snacks and food for lunches on our hikes. Cell service is spotty on the islands so you will want an actual map with you. The last few recommendations are a headlamp and a compass (we used the phone). Faroe Islands hikes are great and even better if you have the right gear with you.