Best Time To See The Northern Lights In Iceland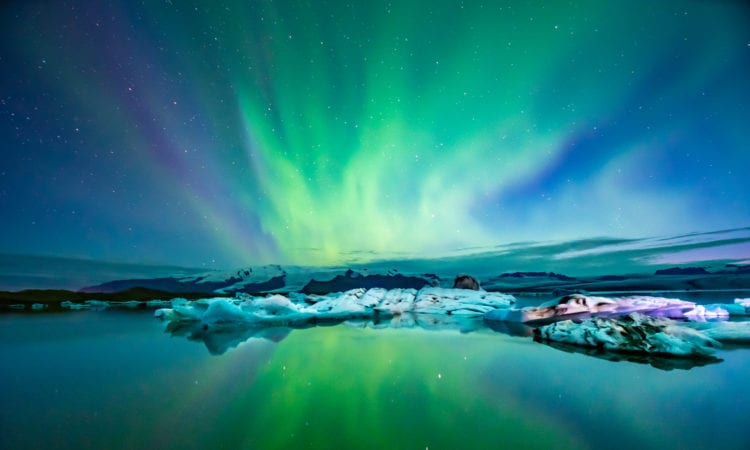 Grounded Life Travel is supported by its audience. When you purchase through links on our site, we may earn an affiliate commission.As an Amazon Associate I earn from qualifying purchases. List of everything we use in our travels.
When talking about Iceland travel, everyone wants to know the best time to see the Northern Lights in Iceland. You hear about a lot of people who book a tour to see the Northern Lights but don't actually see them. The tours always tell you it's possible not to see them on your tour and even offer refunds or the opportunity to go on another tour free of charge. The Northern Lights can be an enigma. But there are ways to increase your chance to determine the best time to see the Northern Lights.
When To Go
You can't just go whenever you want and expect to see the Northern Lights in Iceland. There is a Northern Lights season. It runs from late August to mid April. We were fortunate to be there during the peak time in September. We received a notification from the Aurora app that there would be a solar storm the next day and we prepared for the hunt.
Where To Go
While you can see the Northern Lights from just about anywhere in Iceland, you will want a spectacular place for your photographs. Once you have picked the best time to see the Northern Lights, you will want to find the perfiect spot. We got to see the lights on several nights, you don't have to go far to get away from light pollution. Iceland is a sparsely populated country. Here is a list of our favorite spots: Jokulsarlon (Glacier Lagoon), Reynisfjara (black sand beach), Kirkjufell and Skogafoss.
Rob took these pictures on our trip to Iceland when we saw spectacular shows at Skogafoss and Glacier Lagoon. At Skogafoss the lights were so intense they wrapped 360 degrees around the sky.
We do not recommend trying to see them at Seljalandsfoss waterfall. There are artificial lights pointed on the falls making it almost impossible to get a great northern lights picture there.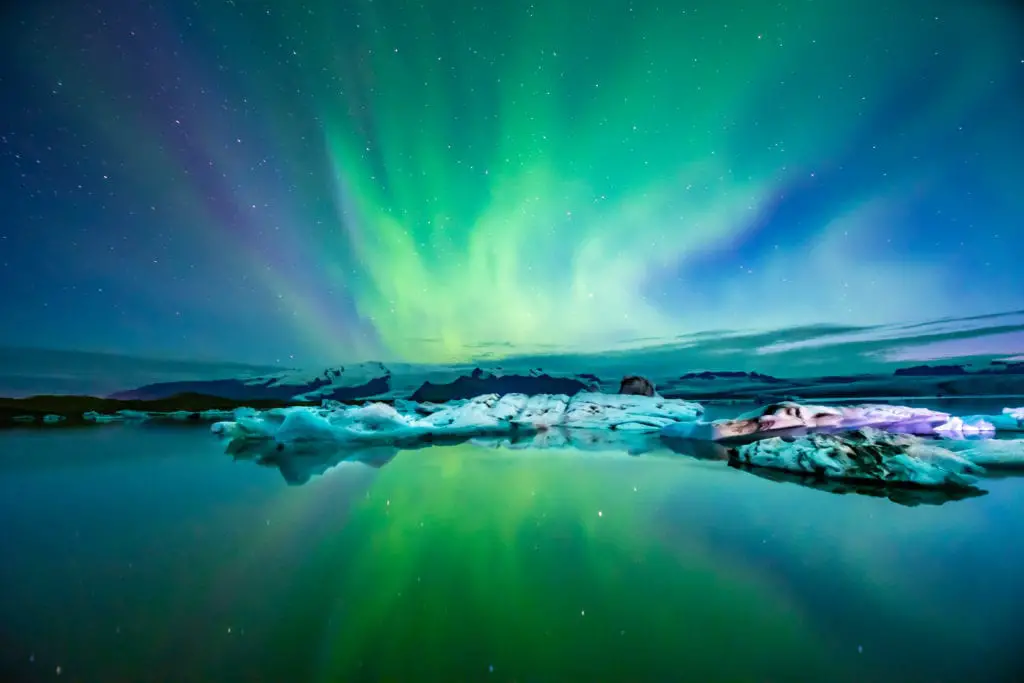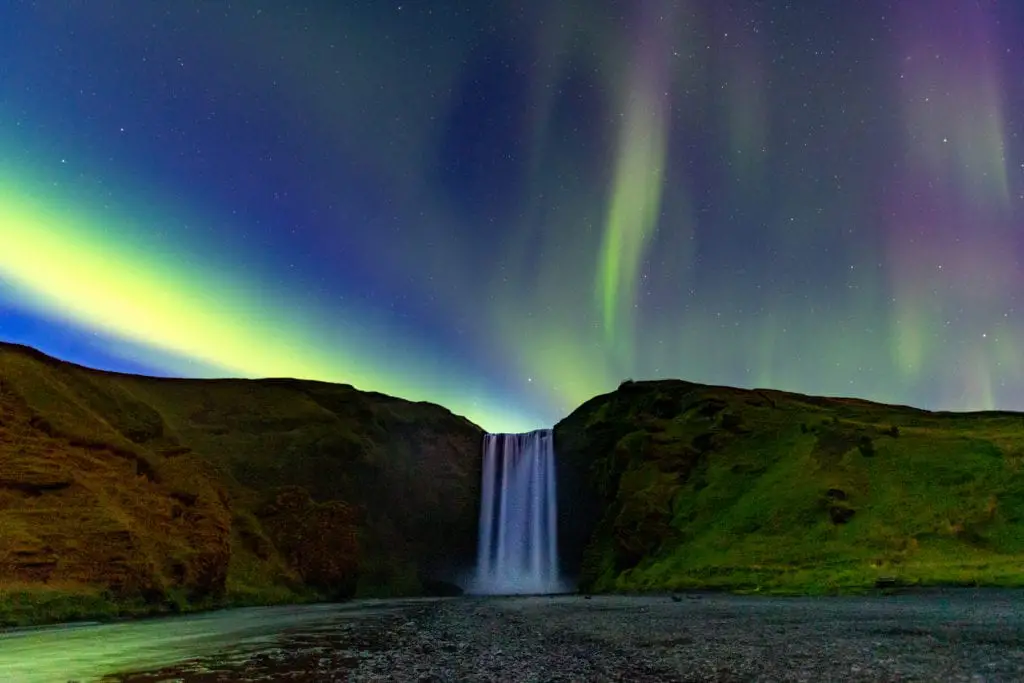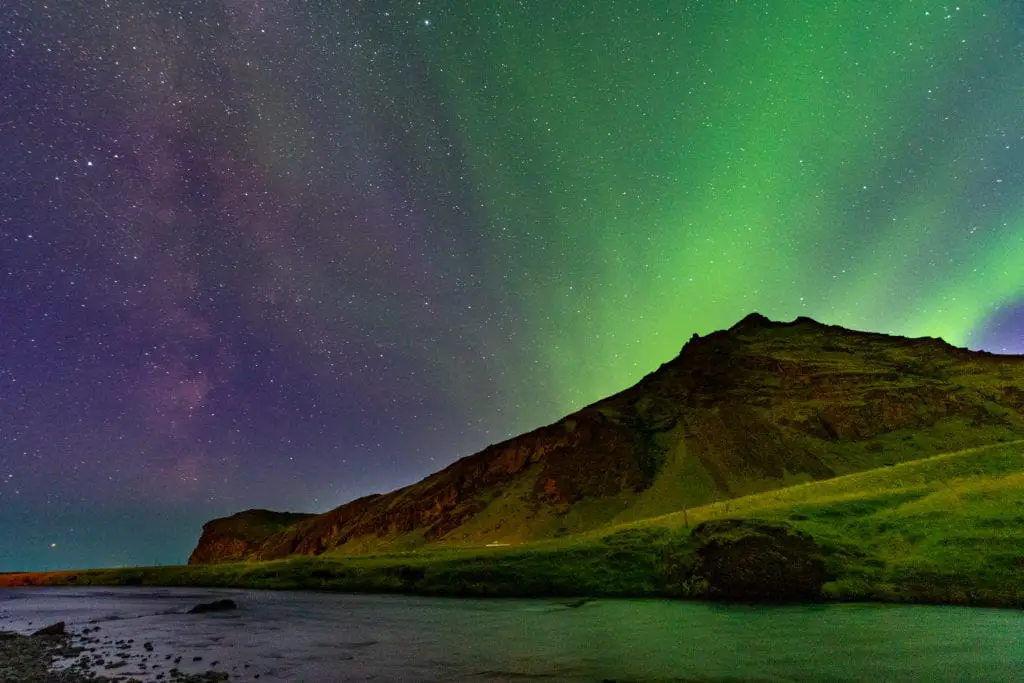 Tour Or On Your Own
There are many great tour options to see the lights. As I mentioned before, if you don't get to see the Northern Lights on your first tour you can always book again for a complimentary tour. We think your best bet is to rent a car and go on your own. If you are on your own you can go whenever you want and see them from more than one spot if you like. Driving in Iceland is not complicated. Be sure to watch our video on renting a car in Iceland for some helpful tips on renting and driving in Iceland.
Northern Lights In Iceland Tips
Iceland is a beautiful country full of lush landscapes, abundant waterfalls and incredible sites all around. The Northern Lights is the most popular thing to see but these is so much more. Don't just go for the lights, you will find mountains to climb, lagoons to swim in and black sand beaches to explore. One of the best tools for chasing the lights is the Aurora app. This app will tell you what the probability of actually seeing the lights each night are. It will also tell you where you need to be based on the cloud coverage for the area. You'll need to drive away from the clouds to have a chance to see them. Be sure to pack enough warm gear, the weather changes on a dime in Iceland.
Tags :
iceland
northern lights