The Best Santorini Honeymoon Resorts
Grounded Life Travel is supported by its audience. When you purchase through links on our site, we may earn an affiliate commission.As an Amazon Associate I earn from qualifying purchases. List of everything we use in our travels.
Santorini honeymoon resorts are the first thing you will want to look at when planning your honeymoon and even a destination wedding in the famed Greek island of Santorini. There are lots of things to take into consideration when choosing a place to vacation with your love for the first time as a wedded couple. Santorini is a dream destination for many and we highly recommend it.
Why Do A Santorini Honeymoon?
The Aegan Sea has been known to romance all who see it and visit the islands in it. Although a Santorini honeymoon may feel like a cliche, there are many resorts on the island that will make you feel like you are all alone. This crescent shape jewel in the Aegean Sea is the overflowing with five star luxury resorts that boast private plunge pools, gourmet restaurants and luxurious spas. If that is not enough to convince you then maybe the idyllic sunsets, the picturesque blue domed churches and the crystal clear waters will. For pricing information see our previous blog on traveling the world by booking with AirBnb.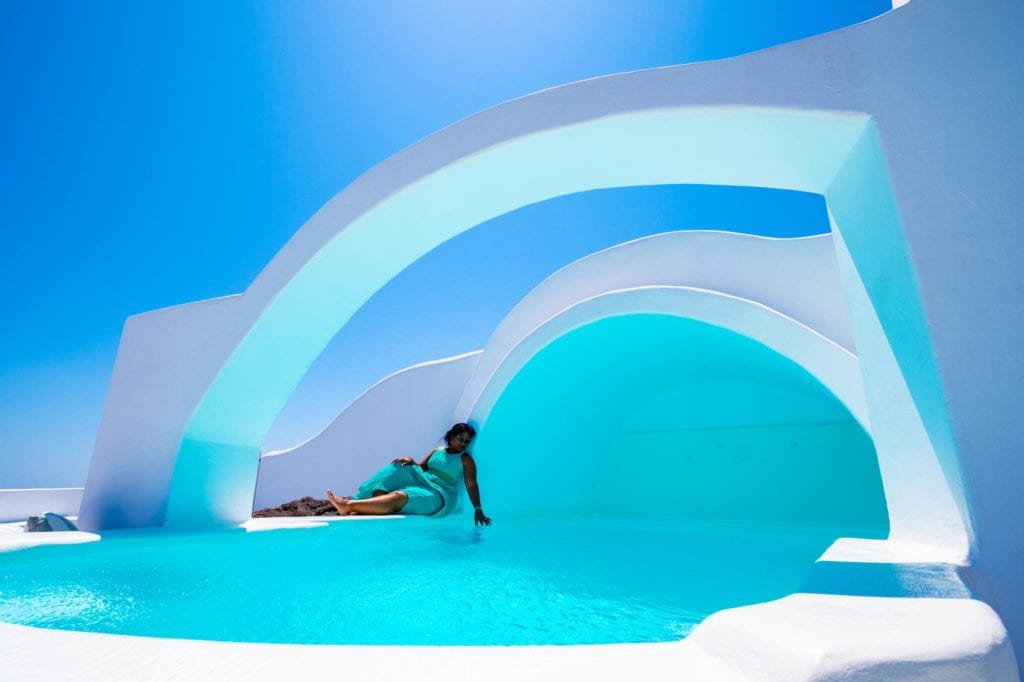 Akrorama Villa and Suites
This is by far, our favorite resort in Santorini. Akrorama is located in the city of Akrotiri which is the farthest from all the action. This resort is ideal if you are looking for a relaxing environment with a few things to do and no party scene. You can walk right into town from the resort. This resort is the most private of all the ones listed here. The views from Akrorama are SPECTACULAR!! The staff here is very attentive and they spoil you. Each morning your breakfast is served to you on your deck, they bring a different spread every day along with fresh juices and coffee. You will not want to leave. I may have cried a little on the last day. We stayed in the Spilia Suite, which is highly recommended as it is very private.
Canvas Oia Hotel and Suites
Oia is likely the most popular city in Santorini. Canvas Hotel and Suites is the best place to stay in Oia. This gorgeous cliffside property has luxury hotel rooms and suites available. The breathtaking views are well worth the stay at this resort. You get a little bit of everything at this resort, from iconic infinity pools to yoga classes and quit spots to enjoy the scenery. People will think your photos have been photoshopped! Canvas will arrange tours for you such as helicopter tours, photo tours and even wine tasting. You can also arrange things for yourself or just sit back and relax.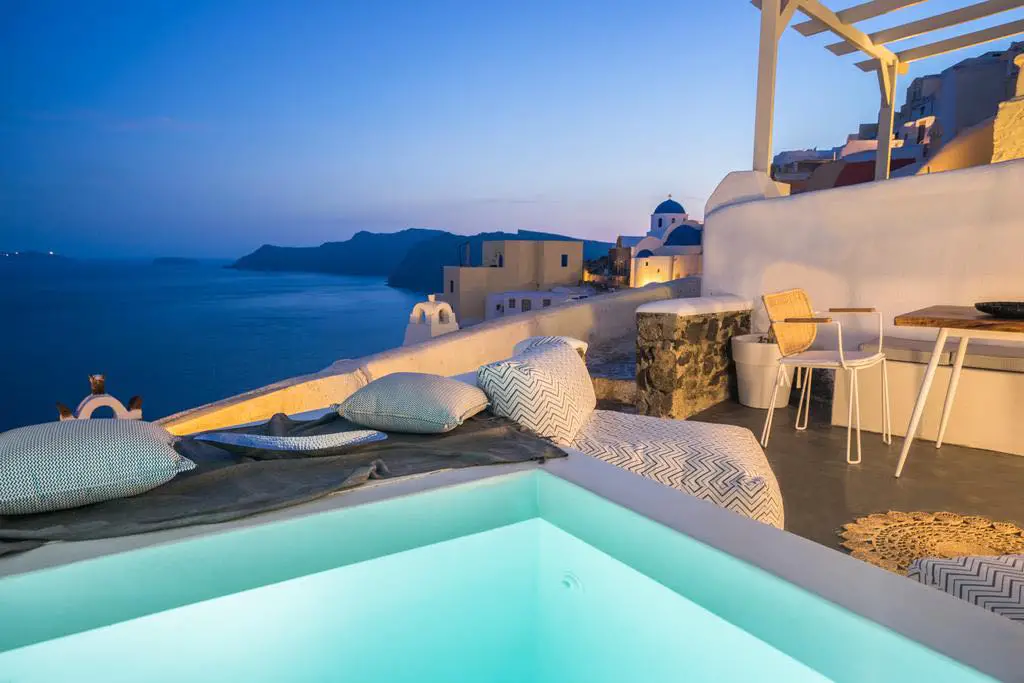 Kapari Natural Resort
One of the most magnificent settlements in Santorini is Imerovigli. The idyllic town is located just 8km from the airport. Kapari is a natural type resort but it has a very modern and cozy feel. Each room has been decorated with state of the art amenities including a pillow menu, jacuzzi tub and you can even set mood lighting. This ultimate luxury resort boasts a stunning pool with incredible views of the crystal clear waters below. Kapari has a very specialized honeymoon planning service that will help you plan your dream Santorini honeymoon. It is one of the top honeymoon hotels in Santorini, so you can't go wrong with this choice.
Athina Luxury Suites
If you have your eye on staying in the sweet city of Fira, then Athina Luxury Suites is the best choice for you. Athina Luxury Suites is just walking distance from the vibrant city center. This resort gives you a stunning view of the volcano. You can relax with all of the luxurious high end furnishings. There are 10 different suites to choose from, you get a private balcony with each as well as a tablet to make arrangements. Athina staff can arrange a yacht tour, helicopter tours, private candlelit dinners or anything else your heart desires.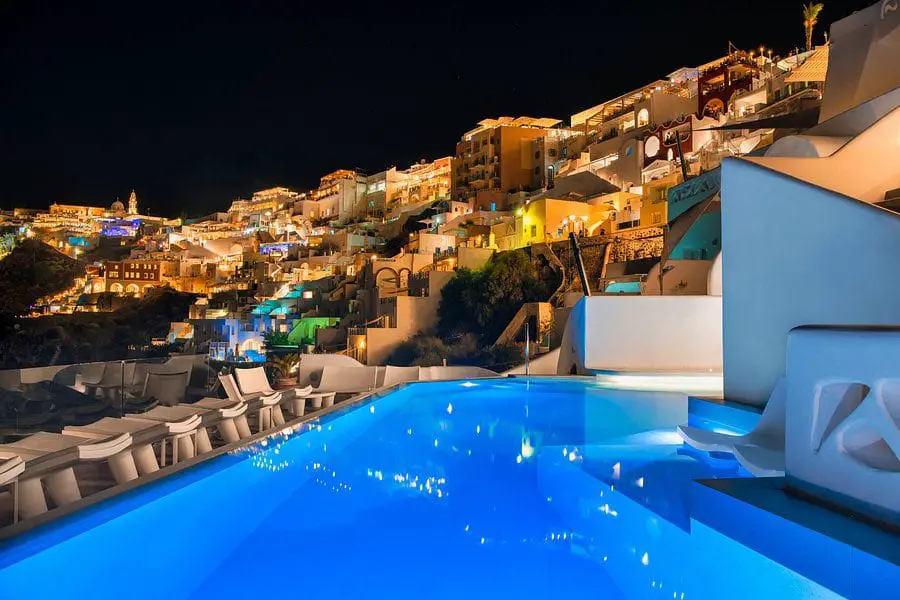 San Antonio
We put this sweet, family owned resort on the list because it is truly deserving. You get an authentic Greek experience along with soft feather beds, private verandas and those famous whitewashed walls. You can dine cliffside and sip the glorious wine while gazing at the majestic sunset. Later you can relax in the infinity pool or soak in the jacuzzi in your suite for some private time. You will be well taken care of by the doting staff at San Antonio.
If you are stopping over in Athens during your trip be sure to check our our articles on the best beaches in Athens, what to see, and a 48 hour Athens itinerary.
Tags :
santorini