Grounded Life Travel is supported by its audience. When you purchase through links on our site, we may earn an affiliate commission.As an Amazon Associate I earn from qualifying purchases. List of everything we use in our travels.
How exciting to visit a Bangkok train market and floating market all in a day! We had the pleasure of touring MaeKlong Train Market and Amphawa Floating Market recently. We're so glad we squeezed in a few more experiences before we left Bangkok. These two markets are unlike any other you will experience in Bangkok.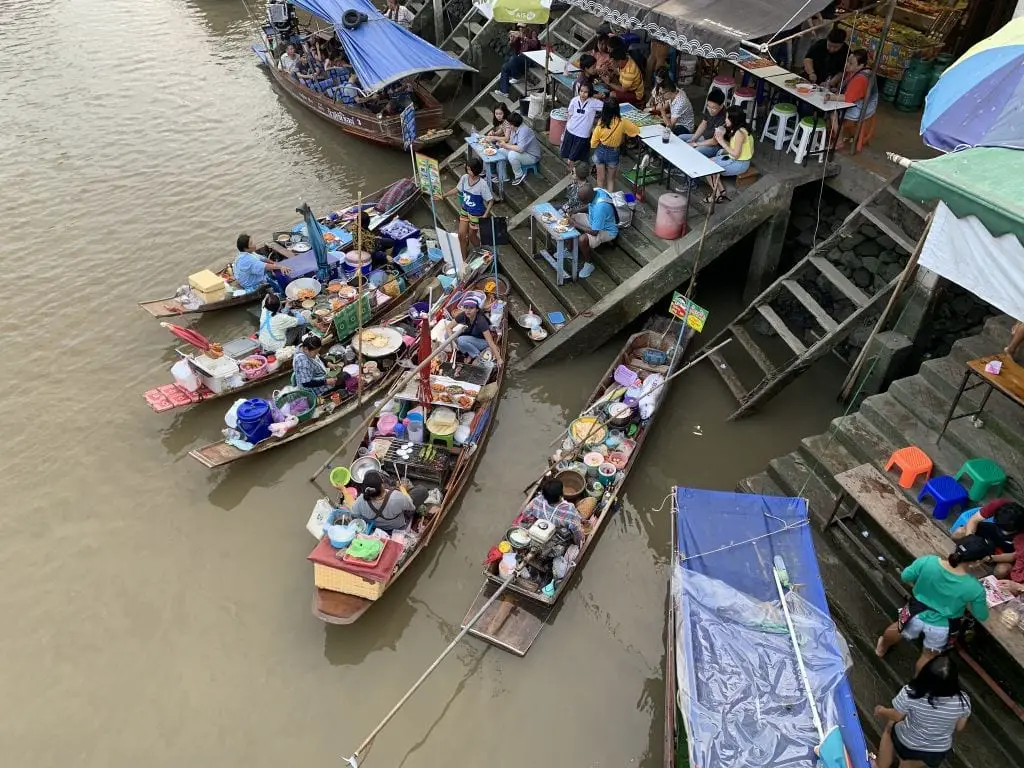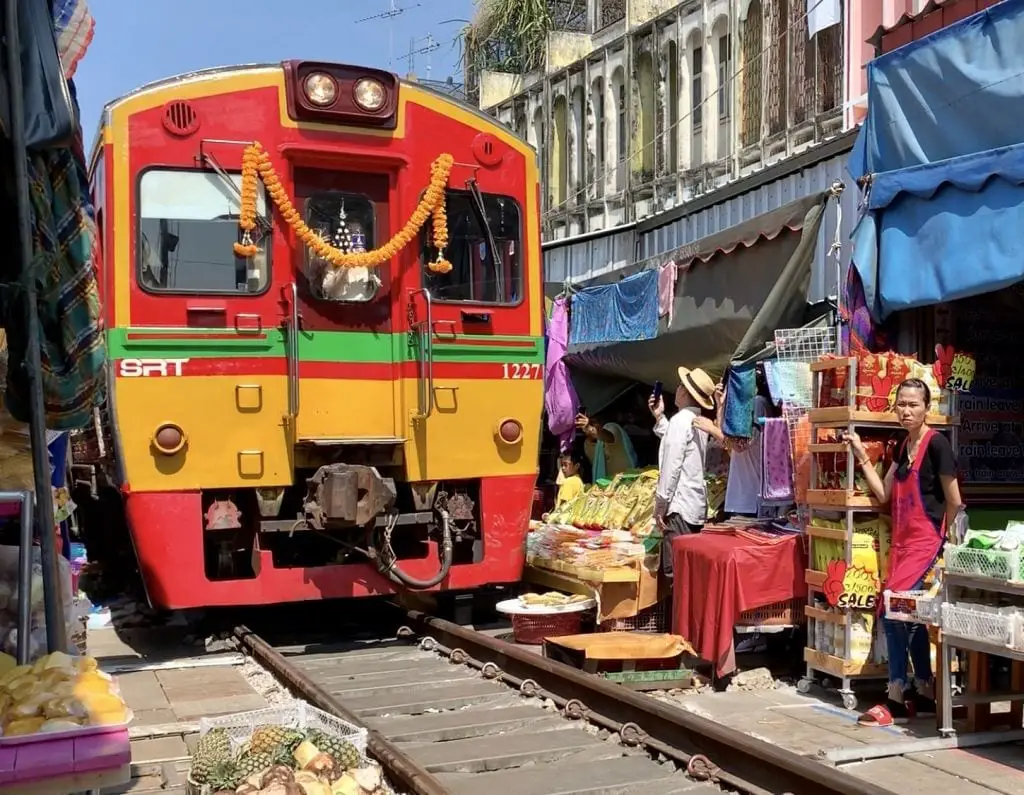 Arriving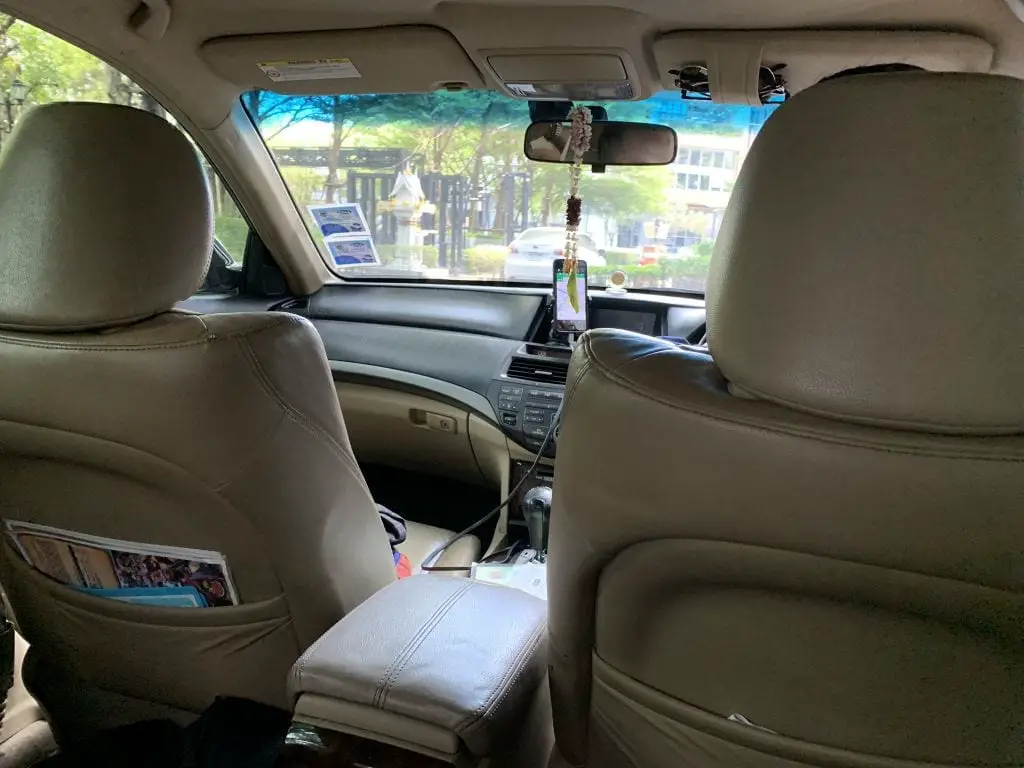 One of the reasons we had put these markets off for a while is the issue of transportation. They are both about an hour and a half outside the city of Bangkok. This can be challenging. We hired a car for the day to take us to both markets and back to our apartment. We used Thai Happy Taxi and we were happy (see what I did there). The cost was $3300 baht which is about $100 for an 8 hour trip!! Our driver picked us up at our condo. He drove us to Maeklong Train Market first. He showed us where to enter the market and showed us where he would be parked waiting for us to return. Once we finished there it was a short ride to Amphawa Floating Market. He must do this drive often. He drove into an alley next to a 7-Eleven, honked his horn. The "parking" attendant" seemed to know him well. He allowed him to enter. He showed us a back entrance to the floating market and again showed us where he would be waiting for us to return. I would highly recommend this service to anyone!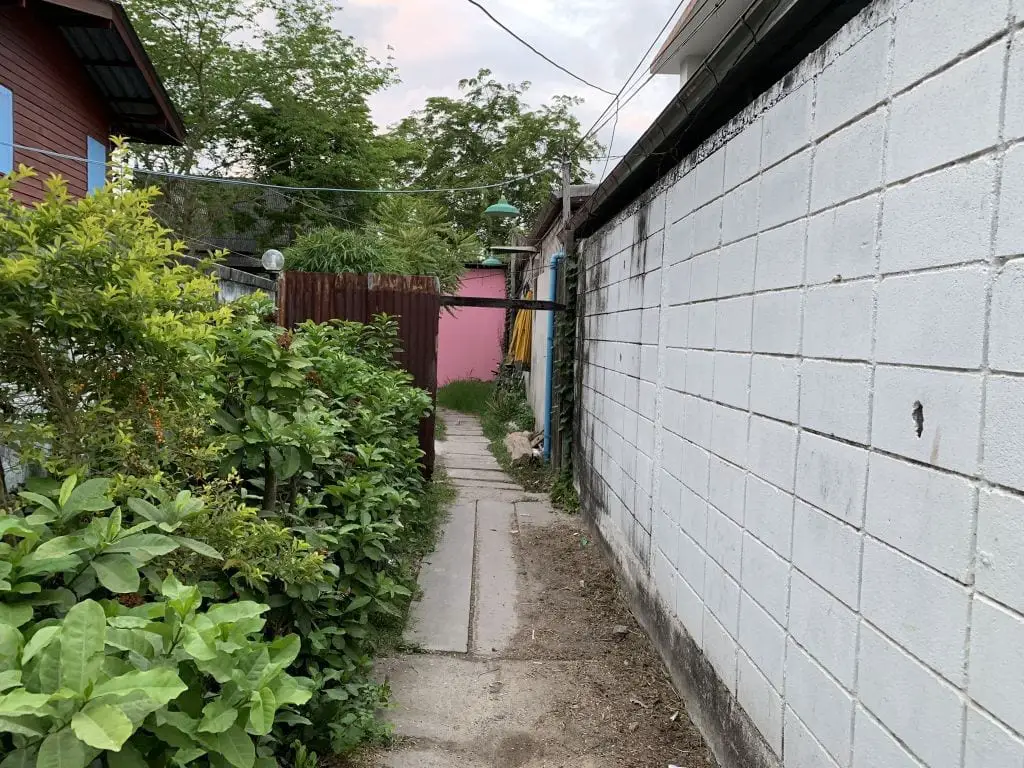 MaeKlong Train Market
The train market was thrilling!! When you arrive it doesn't seem very exciting. You walk on the train tracks along the market. The market has mostly food for sale, some clothing, trinkets, jewelry and a few restaurants. When the time comes you will notice a flurry of movement from the vendors. They quickly move their goods away from the tracks and retract their canopies. You will hear a warning siren and a voice over a loudspeaker warning everyone of the impending train arrival. We all sit back and wait, soon the train slowly appears on the tracks. The vendors vigorously pull the unknowing tourists into their shops to keep them from getting hit by the train. The train blows it's horn to continue to warn everyone and then as quickly as it came it goes.
The Aftermath
The vendors set their shops back up and unfurl the umbrellas that block the harshness of the sun. It was an incredible sight. What is just an ordinary market is became a tourist attraction because of the train. The vendors must do this several times a day. This market is known as Talat Ram Hup which means umbrella pulldown market. That is exactly what happens when train comes through about every 90 min. The train moves slowly but you can still get hurt if you are not careful. Head the warnings of the vendors, it's better to be safe than sorry.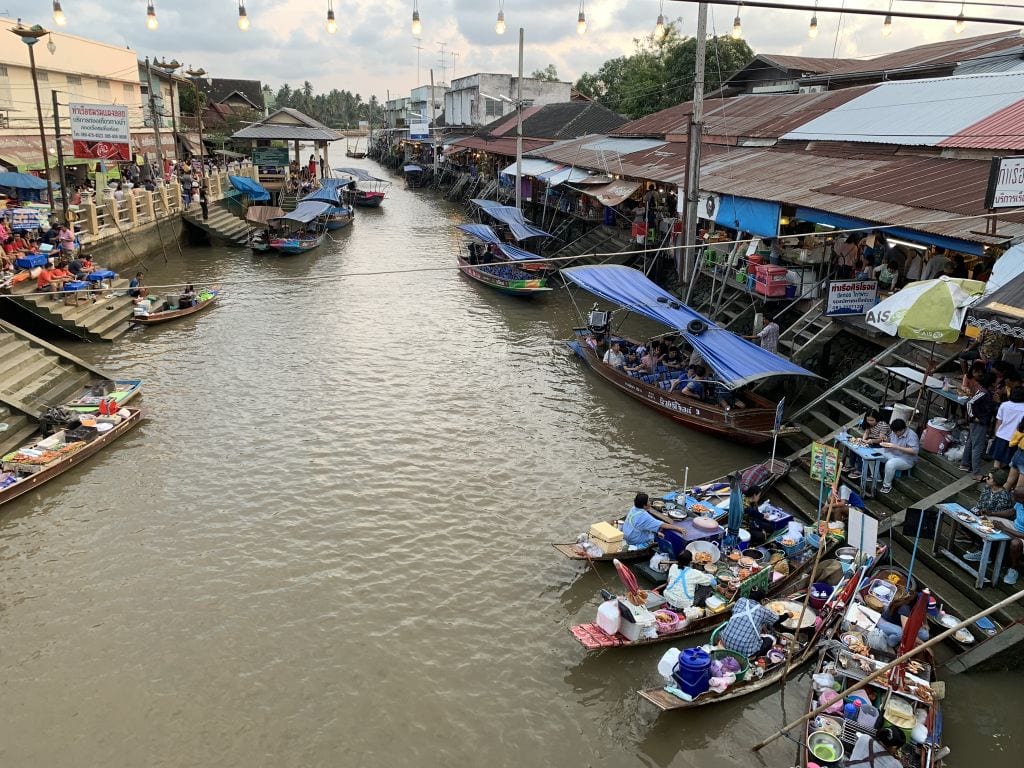 Amphawa Floating Market
Just when you think you have seen it all, here comes the floating market. It's exactly what it sounds like. This is a market set up on the river. You walk along and shop and when you get hungry you can stop and buy food from a boat on the river! How cool is that? This is one of the largest floating markets in Thailand, take your time and take in all the sights. You can grab a boat tour for about $1.50. Our tour was 2 hours long and took us to a mix of locations. We stopped at a couple different temples, a petting zoo and a museum before heading back to the market. It was a fun and interesting ride. Be sure to stay until sunset and get some photographs from one of the bridges.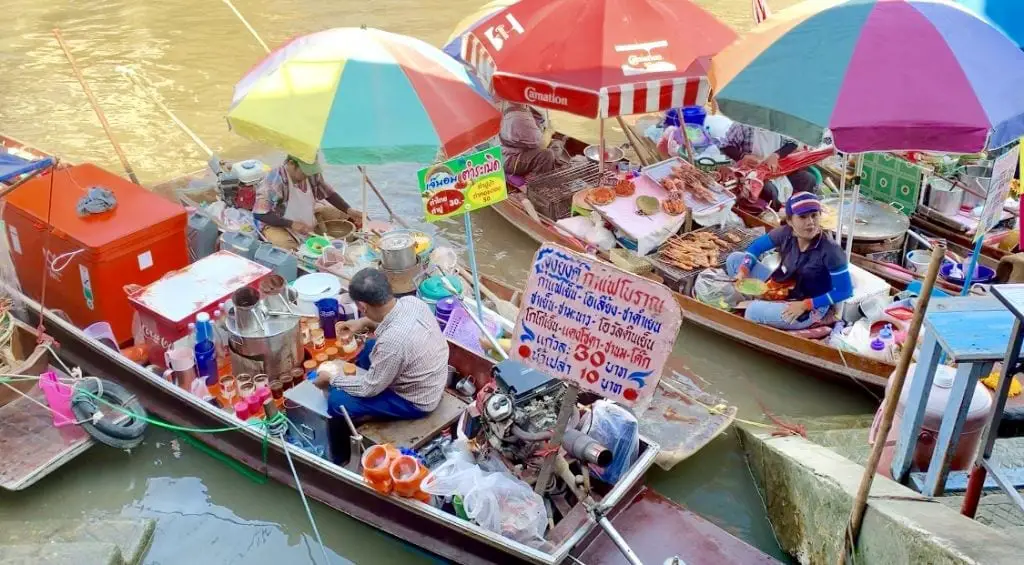 Good Choice
We are very happy with our choice to visit MaeKlong Train Market and Amphawa Floating Market. If you have the time when you visit Bangkok, be sure to visit these 2 locations. I highly recommend getting a driver from Thai Happy Taxi to drive you for the day. This was convenient for us because we could take our time and not worry about bus or train schedules. We could stay as long as we wanted at each location. I hope you enjoyed our photo tour of these must-see markets near Bangkok.
Tags :
amphawa floating market
asia
bangkok
floating market
maeklong train market
thailand
travel