Grounded Life Travel is supported by its audience. When you purchase through links on our site, we may earn an affiliate commission.As an Amazon Associate I earn from qualifying purchases. List of everything we use in our travels.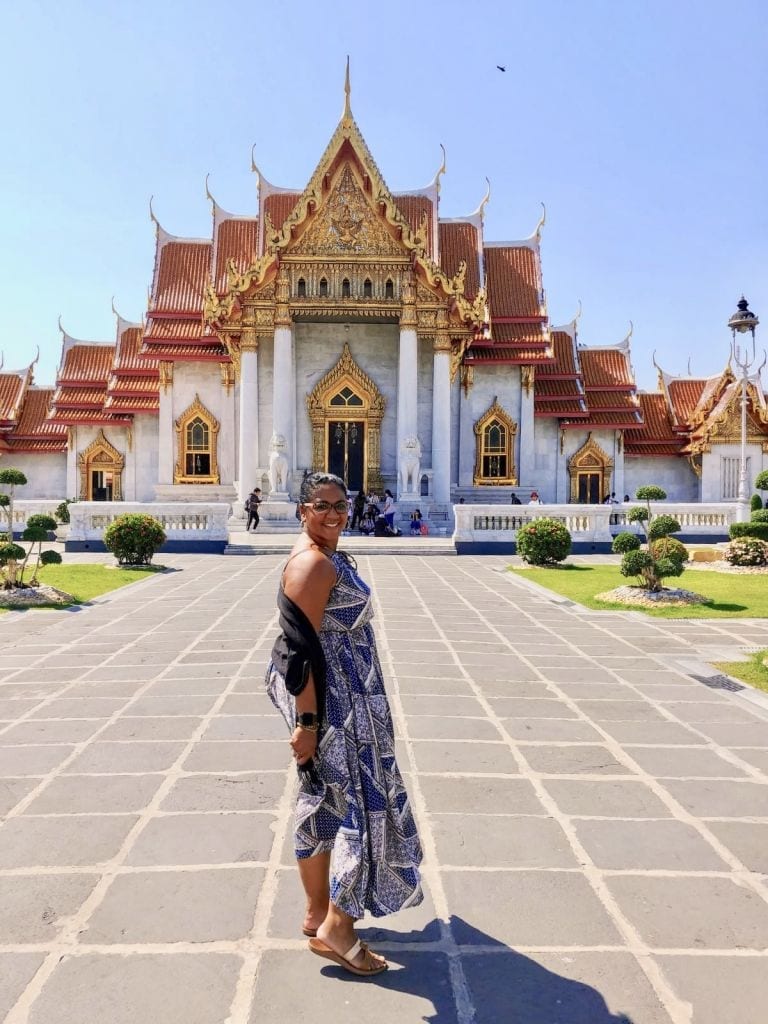 Today I am sharing my top 3 temples in Bangkok. There is no shortage of temples in Bangkok. It is likely you will not have enough time to see them all. I have been to many in my 4 months in Bangkok. To make your easier for you, I have narrowed the list to my top 3 temples in Bangkok.
Wat Phra Kaew (Temple of Emerald Buddha)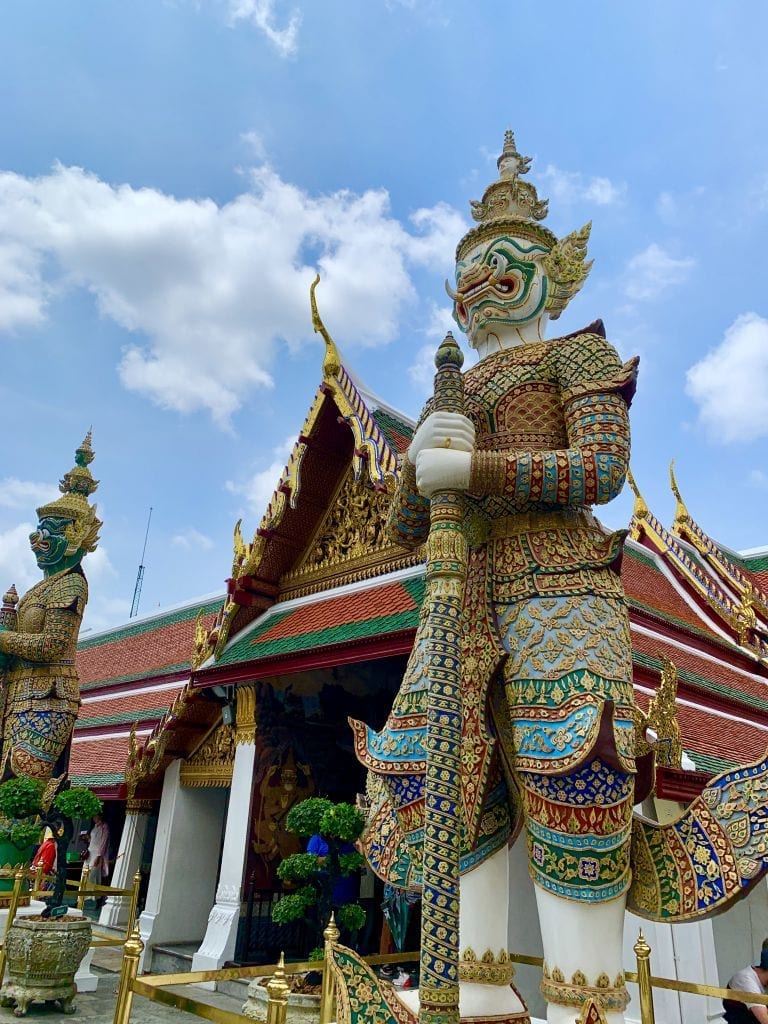 Wat Phra Kaew is the most popular temple in all of Bangkok. The most significant thing about this temple is the emerald buddha you will find inside. The emerald buddha is carved out of a block of jade and is highly revered. It was discovered in 1464 in Chiang Mai. This temple can be found within the Grand Palace grounds but beware, it has a VERY strict dress code. Men must wear pants and shirts with sleeves and women must have sleeved shirt and knees covered. Pants are ok to wear but be sure they are not too tight or you'll end up like me, I had to wrap my pashmina around my waist.
The entrance fee is the steepest you will find in Bangkok temples, 500 baht, which is about $15. Be prepared for the crowds because there are throngs of people being herded through these grounds daily but it closes early each day to make matters more challenging.
Wat Arun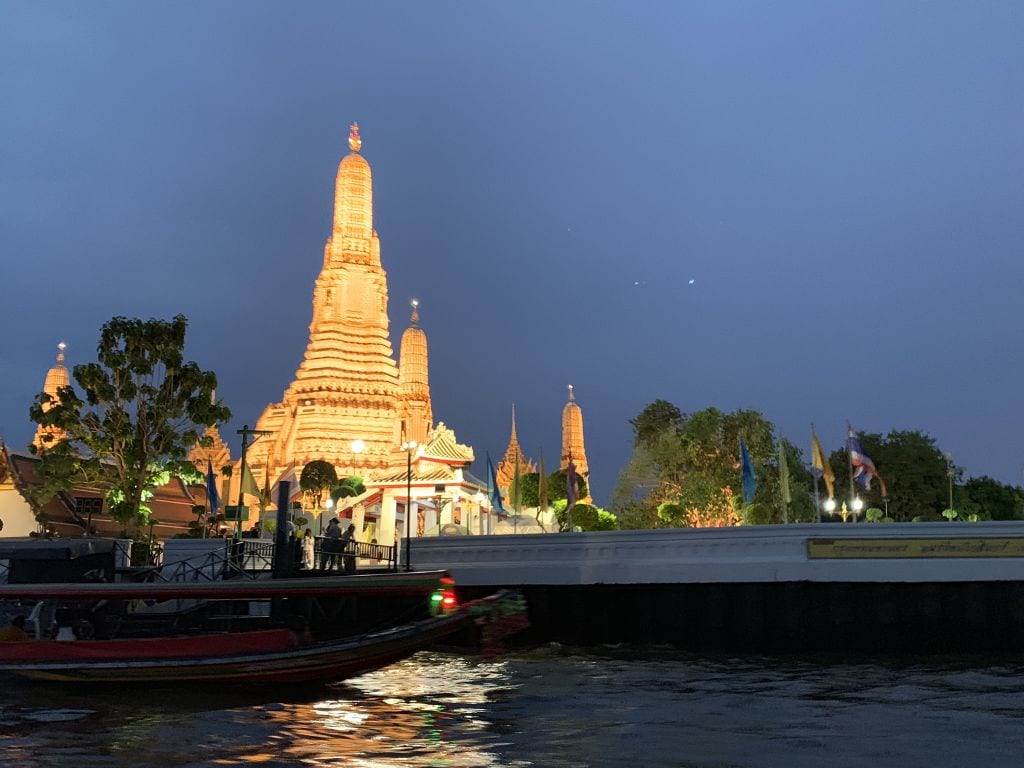 Wat Arun is the most iconic temple in Bangkok. It sits across the river from Wat Pho and the Grand Palace complex. Wat Arun is known as the Temple of Dawn but it is most beautiful at sunset. The distinctive shape consist of a central khmer style tower and 4 smaller ones surrounding it. The towers are encrusted in faience from plates and pottery. There are steep stairs to climb up to the landing of the main tower but you will find great views of the river from here. You can easily see why it's' on the list of the top 3 temples in Bangkok. Entry for this temple is a mere 50 baht which is only $1.50. Ladies must have knees covered and shoulders but men are required to wear sleeved shirts.
Wat Benchamabhopit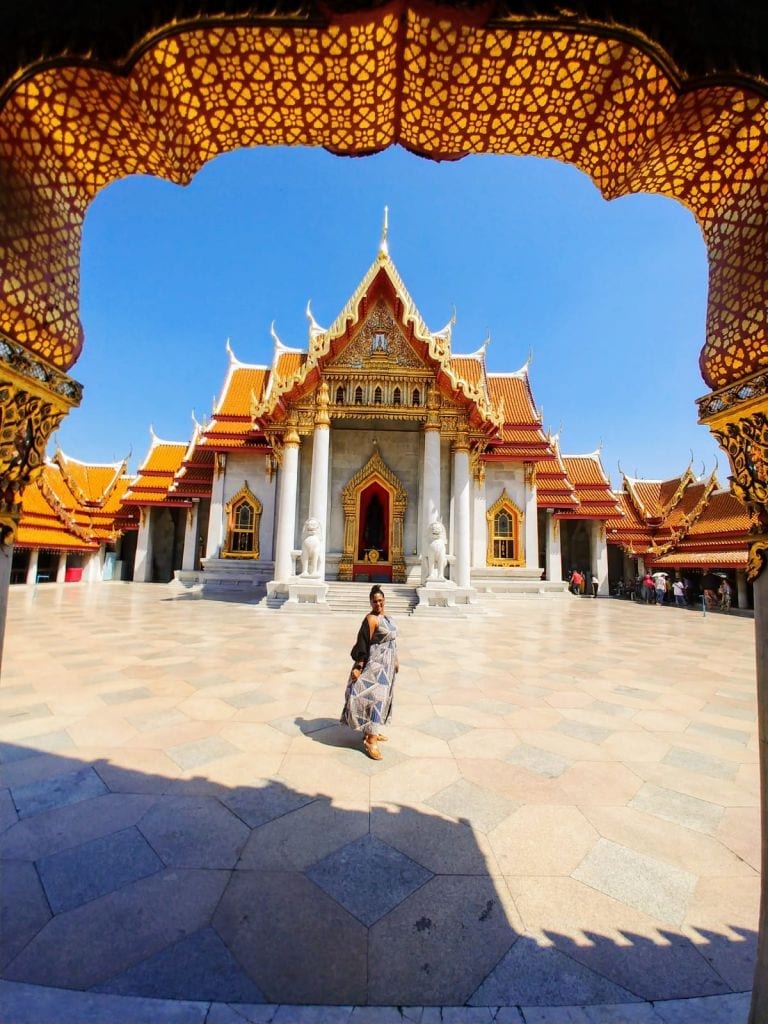 This temple is the best kept "secret" in Bangkok because the crowds were almost non-existent at this gorgeous complex. This temple is a top choice for Instagram photos because of it's beautiful grounds, it is known as "the marble temple" for the exterior walls (imported from Italy). The grounds are perfectly manicured and clean. Wat Benchamahbopit is visited by many ranked officials because it is near many government offices and palaces. You can find this temple embossed on the back of the 5 baht coin. Entrance to this temple is 50 baht ($1.50). Men are required to wear sleeved shirts but women are required to cover their knees and shoulders. You will not be disappointed if you make the mild effort to visit this stunning temple.
Top 3 Temples in Bangkok
I loved admiring the architecture of each temple because they are all beautiful and special in their own way. My favorite temple was Wat Arun because it is the most unique. Wat Arun is lit up at night and I was able to photograph it on my way back from the Grand Palace. You can hop on a boat taxi as you head back to the BTS station. Sit on the right side of the boat so you will see the "Temple of Dawn" in all it's glory. It's a beautiful sight. I hope you get a chance to visit Bangkok and let me know if you visit any of these temples or send me some pics.
After you hit these temples check out what we think is the Best Skybar in Bangkok!
Tags :
grand palace
temple of dawn
thailand
wat arun
wat benchamabhopit
wat phra kaew