Grounded Life Travel is supported by its audience. When you purchase through links on our site, we may earn an affiliate commission.As an Amazon Associate I earn from qualifying purchases. List of everything we use in our travels.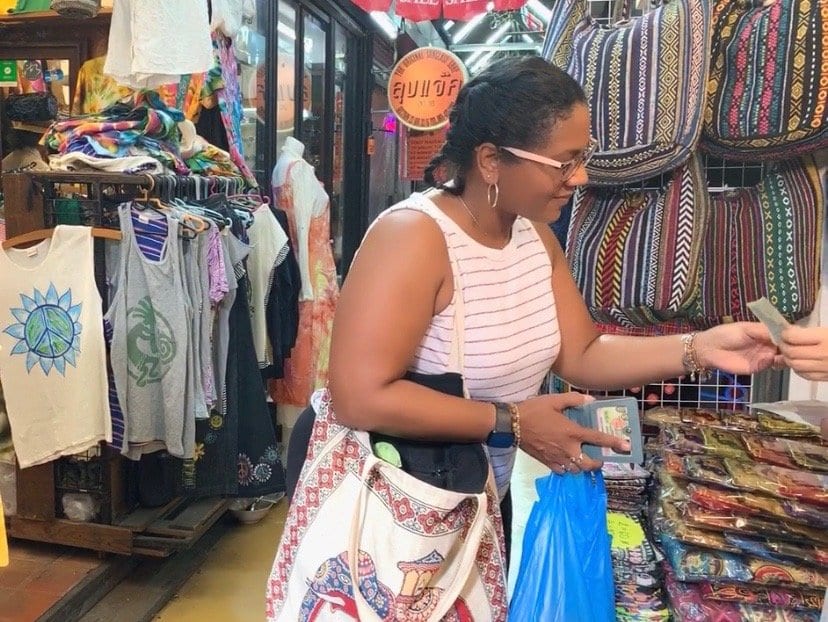 What is it?
I went bargain shopping, check out my Chatuchak Market haul. Bangkok is famous for it's shopping options. Chatuchak Weekend Market is the largest market in Thailand. It is also known as the JJ Market. It is only open Friday night, Saturday and Sunday. The plant sections open on Wednesday and Thursday too. With thousands of stalls and vendors this is a bargain hunters paradise.
When is the best time to go?
The best time to go is when it opens on Saturday or Sunday morning. It's less crowded, cooler and peaceful. You an also go Friday night when it opens around 6pm. Some stalls may not be open when the market opens but there are so many you will not notice the difference.
What is there to eat?
We had some delicious food while shopping for my Chatuchak Market Haul. Ice pops is a favorite. They take sodas and juices and pour in metal tubes sitting in ice and freeze the beverage into an ice pop. They are really, cheap and refreshing too. Be sure to grab some bubble tea and grilled honey roasted pork.
What did I get?
I have limited space in my luggage, so I did not buy a lot. My dad likes t-shirts from places I have visited so I bought him a Thailand t-shirt. I bought myself a dress to wear for a photo shoot at Wat Arun. Rob bought a 7-Eleven shirt for himself, after all we frequent there often. Of course, I bought pashminas! Watch my Chatuchak Market haul video for pics of what I chose.
Chatuchak Market Haul
We truly enjoyed our afternoon shopping and people watching at Chatuchak Weekend Market. We spent several hours there and did not even cover half of the market. I suppose that means we will have to come back and see more. This market is incredible! It has everything from clothes, bags and shoes to pets, food and plants. Do not miss your shopping opportunity at this amazing market in Thailand.
Tags :
chatuchak
market
travel