Zion National Park Itinerary: How To Spend 3 Perfect Days
Grounded Life Travel is supported by its audience. When you purchase through links on our site, we may earn an affiliate commission.As an Amazon Associate I earn from qualifying purchases. List of everything we use in our travels.
If Zion National Park isn't already on your list of places to visit, I recommend adding it right away. If you are anything like our family, your list is already long and ever growing, but this itinerary needs to be near the top.
How Many Days Do You Need In Zion National Park?
Experienced hikers and folks who enjoy rock climbing will want to plan a 5-7 day Zion National Park Itinerary. Conversely, you could enjoy just one day in Zion and see plenty of beauty. For first time visitors and moderate hikers, I suggest going right down the middle with a three day visit in and around the park.
Popular Bryce Canyon National Park is only a two hour drive from Zion, making these two parks a natural combination for a perfect week of splendor.
What Is The Best Month To Visit Zion National Park?
As with so many of the national parks, spring and fall are the times I suggest visiting. The temperatures are mild, and there are less people. Summer is always crowded and SO very hot at Zion, making hiking more challenging. The winter months can be a really nice time to plan your Zion National Park Itinerary, although there is always the risk of inclement weather and road closures.
Where to Stay When Visiting Zion National Park
If your family enjoys camping, there are two campgrounds inside Zion, Watchman Campground and South Campground. Both are located just inside the entrance. Another choice deep inside the park is Zion Lodge. It fills up fast, but it's a great experience, so check for availability! There are both cabins and hotel rooms available.
Many visitors prefer to stay just outside the park in the town of Springdale. The closest hotel to the park is Cable Mountain Lodge, and another great choice is Canyon Vista Lodge. Several chain hotels are also available in Springdale. Zion National Park provides a free shuttle service both inside the park and in the town of Springdale. This is a great option, especially during the busy season.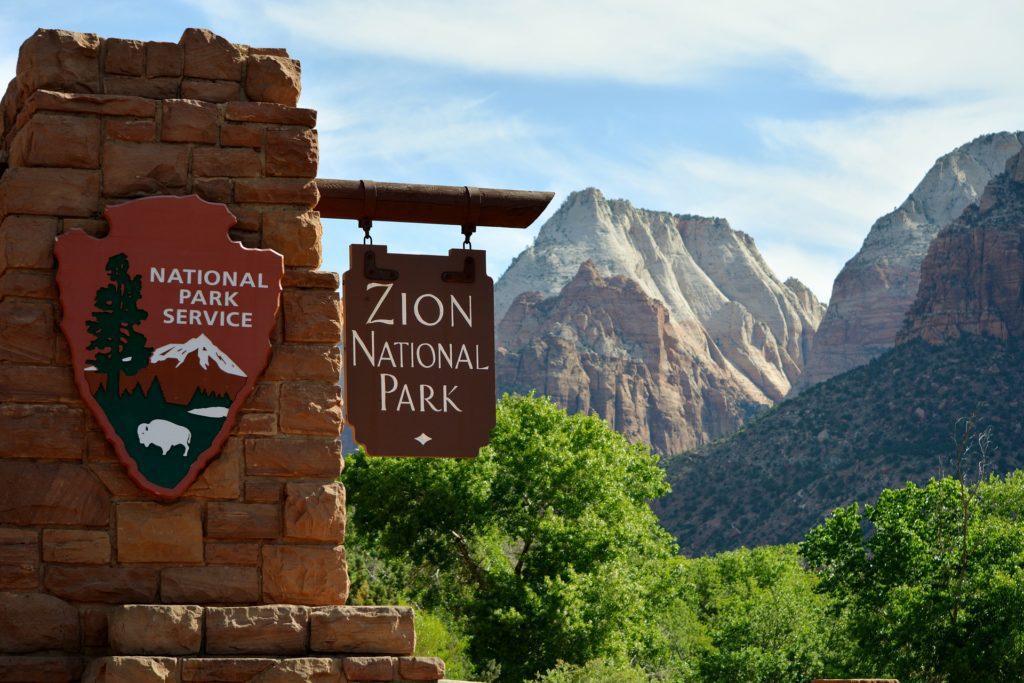 Where To Eat Near Zion National Park
Inside the park, the only food available is at Zion Lodge, where Red Rock Grill Dining Room is open all year long and Castle Dome Cafe is open seasonally. Many folks who stay outside the park in Springdale bring picnic food from the grocery store or one of the cafes when spending the whole day in the park.
In Springdale, there are many choices for dining out with nearly every cuisine available. For breakfast or a quick-grab lunch to take into the park, I suggest Deep Creek Coffee Company, Cafe Soleil, or Spotted Dog Cafe. For something more quaint, check out Whiptail Grill, a gas station-turned-Mexican Grill. For a great locally owned experience, I suggest visiting Oscar's Cafe. For a nice dinner out, head to Switchback Grill or King's Landing Bistro. To experience the only brewery around, hit up Zion Canyon Brew Pub where you'll enjoy great food, brews, and the view!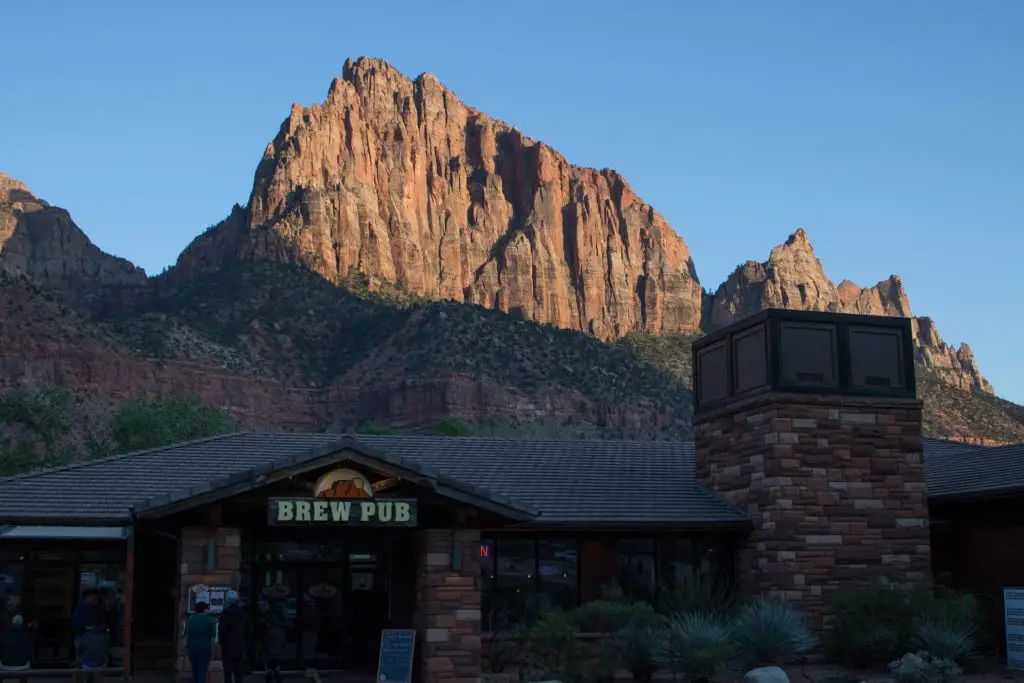 What Is There To Do In Zion National Park In Three Days?
If this is your first visit to Zion National Park, I recommend this three day itinerary. I also suggest taking advantage of the free shuttle service during your visit.
Day 1:
Stop in Cafe Soleil for some breakfast (and maybe grab something for a picnic lunch later!)
Ride the shuttle from Springdale. Get off at the Zion Canyon Visitors Center stop. Alternatively, you could ride the shuttle all the way to the last stop and back first. I love to get the lay of the land on my first day in a new place. You might opt to skip this, though (sometimes my family wants to skip this!!).
Back at the Visitors Center shuttle stop, take the Pa'rus Trail. It's the most accessible trail in Zion, with paved trails and mostly flat terrain. This trail goes over the Virgin River in several spots and even has places where you can get in and get your feet wet. It will take about two hours, and it ends at Canyon Junction, another shuttle stop. Side note: if you are early risers, hit this trail at sunrise…it's gorgeous!
Enjoy your picnic lunch at a scenic spot of your choice!
Take the shuttle to the Zion Lodge Shuttle Stop. Here, you will find the Emerald Pools Trailhead. You may choose to take the half mile trail to the falls of the lower pools. Another option is to keep going to the top. If you are really feeling adventurous, go on up the stairs to the upper pools and then to the Kayenta Trail, making your hike into a loop.
Have dinner at Whiptail Grill in Springdale.
Day 2:
Grab some coffee and breakfast at Deep Creek Coffee Company.
Ride the shuttle from Springdale. Enter the park and take the shuttle to the Temple of Sinawava stop. This is where you can begin the popular "bottom up" hike of the Narrows. You will be hiking through water, so prepare accordingly, and be sure to check the weather before heading out. The length of this hike is up to you, as you can turn around and come back at any point. Note: more serious hikers may want to start at the top of the Narrows and hike down, a trip taking at least 16 hours and perhaps an overnight camping stay.
Get back on the shuttle and head to Zion Lodge for lunch. Alternatively, you could stop somewhere for your picnic lunch if you decided to bring one again today.
Head to town on the shuttle and explore downtown Springdale for the afternoon. Be sure to include a stop at Springdale Candy Company for some ice cream!
Enjoy dinner at Oscar's Cafe.
Day 3:
On Day 3, perhaps you'll want to hit Spotted Dog Cafe for the breakfast buffet, or maybe you'll prefer to return to one of the week's previous breakfast spots.
If you are avid hikers, today might be a long hiking day, taking in Angel's Landing or Observation Point. Make sure you are fully prepared with water and food and the right gear. Another option is to book a guided hike through one of several companies available.
If you prefer shorter, less strenuous hikes, I suggest Canyon Overlook Trail or Watchman Overlook Trail for today. You could even take a picnic with you and do one of them before lunch and the other after lunch. Side Note: The Canyon Overlook Trailhead is not accessible from a shuttle stop, so it will involve a drive on the Zion-Mount Carmel Highway. The Watchman Overlook Trailhead IS accessible from the Visitors Center Shuttle Stop.
Enjoy dinner at Zion Canyon Brew Pub, just outside the park.