One Month In A Travellers AutoBarn Kuga Campervan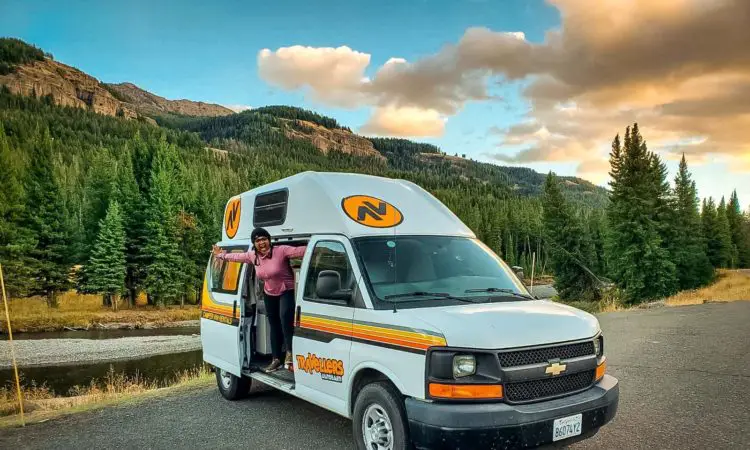 Excitement at Yellowstone National Park
Grounded Life Travel is supported by its audience. When you purchase through links on our site, we may earn an affiliate commission.As an Amazon Associate I earn from qualifying purchases. List of everything we use in our travels.
We spent one month in a Travellers AutoBarn Kuga Campervan. The "van life" lifestyle was made popular by our hippie relatives back in the 60's. It has gained popularity in recent years. Upon returning from our trip overseas we wanted to see some of our great national parks. We decided a campervan trip would be a great way to see so much of the US and national parks. We truly enjoyed our time in the campervan, we'll share some insight on our month long adventure.
Overall Pros and Cons
There are a lot of pros to traveling in a campervan but there are also some cons.
| | |
| --- | --- |
| PROS | CONS |
| Can eat anywhere | No shower |
| Can sleep anywhere | No toilet |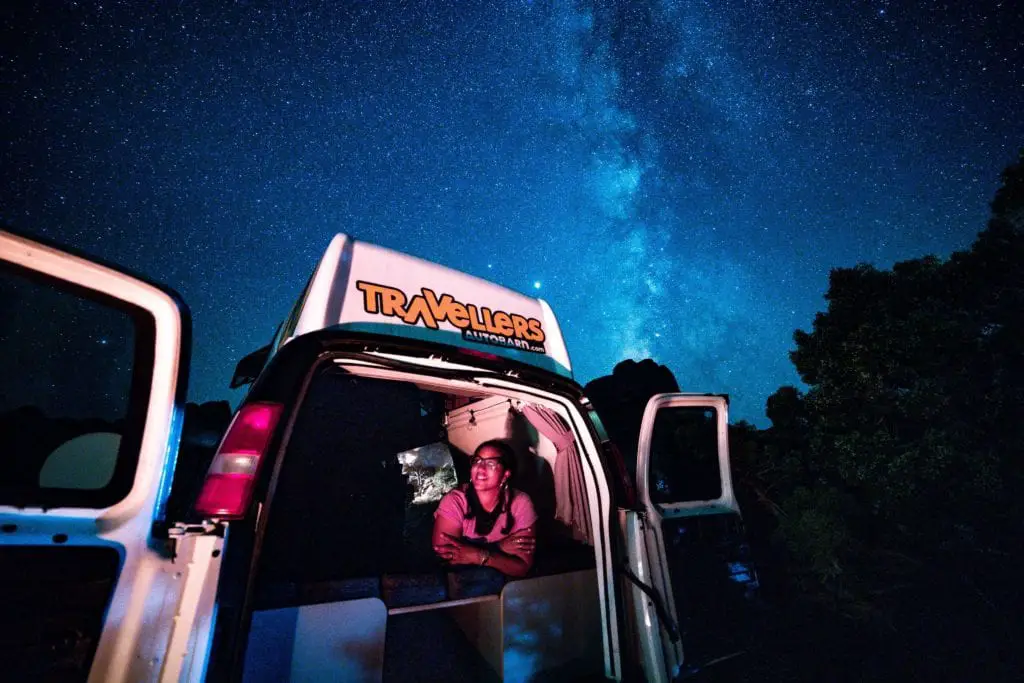 Campgrounds
When we were planning our one month in the Travellers AutoBarn Kuga Campervan, we started with where we could park the van. There are lots of free options out there like on BLM land but you have to think about electric hook up, water and shower facilities. You will find many options from no frills campgrounds to those with incredible amenities like mini golf and swimming pools. We downloaded the KOA app but you will find other campgroud apps too.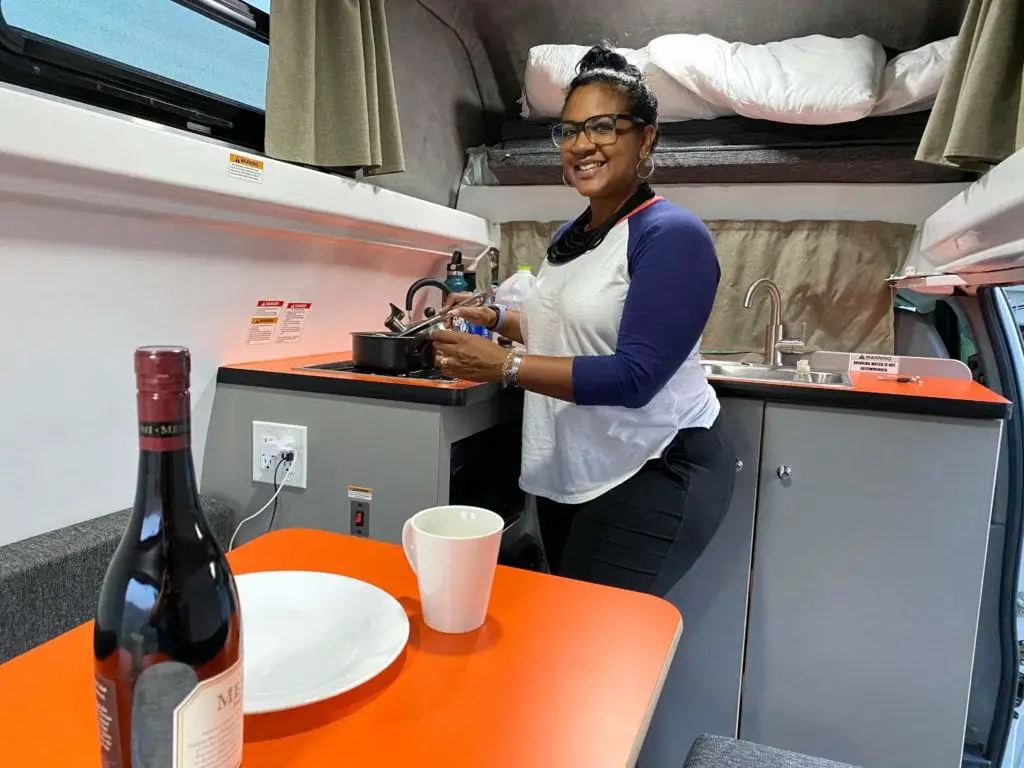 Eating In A Kuga Campervan
One of the great things about our Kuga Campervan was that we had a kitchen. The mini fridge held enough food for a couple days. We had a gas cook top which allowed us to stop and cook wherever we wanted. A sink with running water was a great perk to preparing meals. The water from the faucet is not potable but it's great for quick cleanups. We quickly realized the great advantages of having a kitchen with you while we were driving around Yellowstone National Park. It was so great to stop in any parking lot to make lunch or dinner.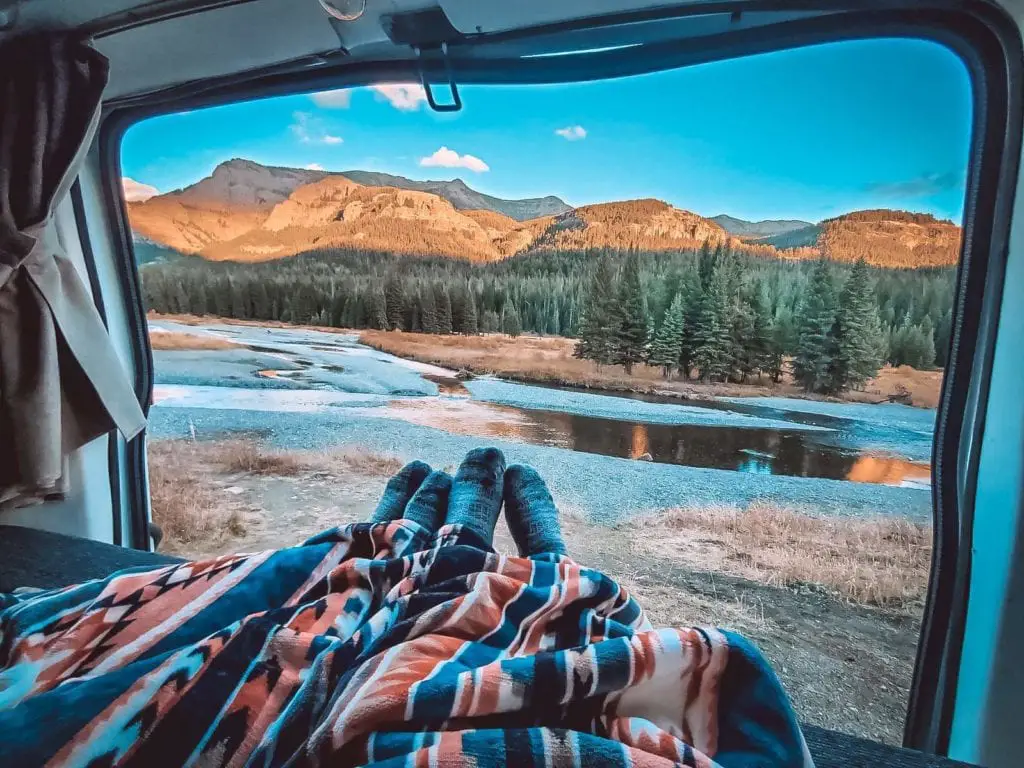 Sleeping In A Kuga Campervan
Sleeping in a Kuga Campervan was better than I imagined. I was surprised with how comfortable the bed was. During the day we had the benches and table set up then as we arrived at our campsite we would make it into the bed. It only took a few minutes to make up the bed as you can see in the video tour of the van. Travellers AutoBarn provided sheets and we bought a couple flannel blankets to keep warmer on nights when it was a bit cooler. We were also provided with pillows and we always have our travel pillows with us for extra comfort.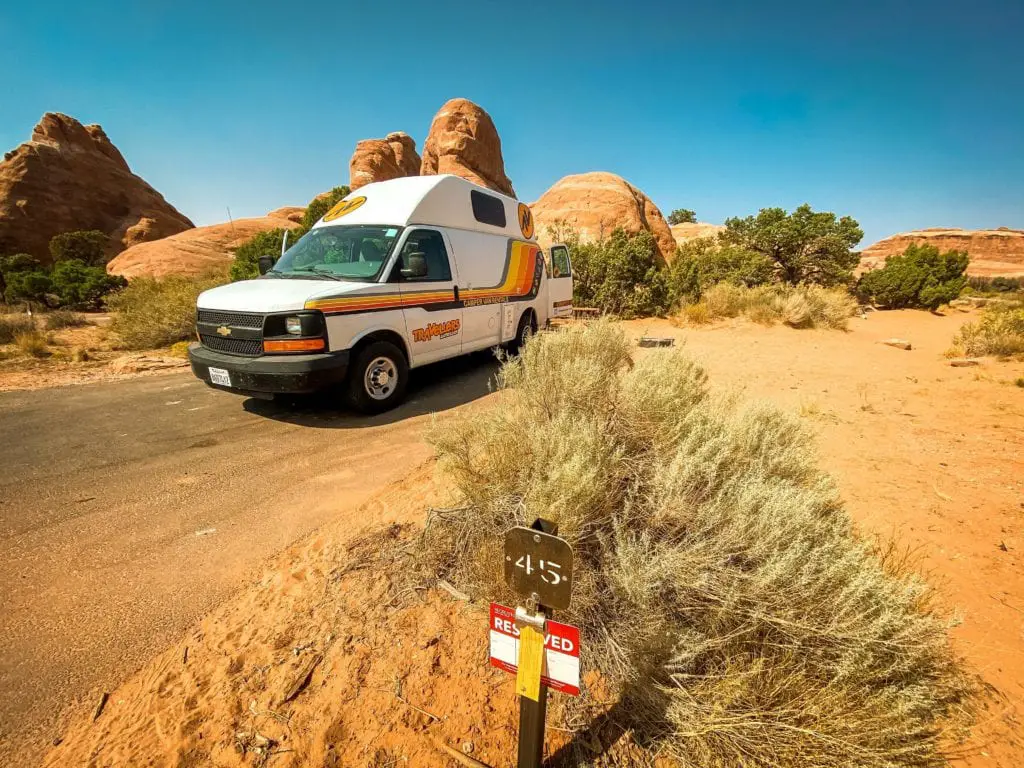 Driving A Car Versus Driving A Van In National Parks
We have done road trips in our car and now we can also add that we have done road trips in a campervan in national parks. There are definite pros to being in a van in the national parks. One of the big advantages is that you can cook your meals in the park and not have the extra expense of purchasing meals in the park. In a campervan you have more parking options than in a car. You can park in the regular parking lot but you can also park in the RV section in the lots. You can also stay closer to most parks by camping near the park like at Yosemite National Park. You can stay a lot closer to the park entrance than if you were in other accommodations. One major disadvantage to traveling to a national park in a campervan is the size. There are some roads you can not travel due to size restrictions, like the Going To The Sun Road in Glacier National Park.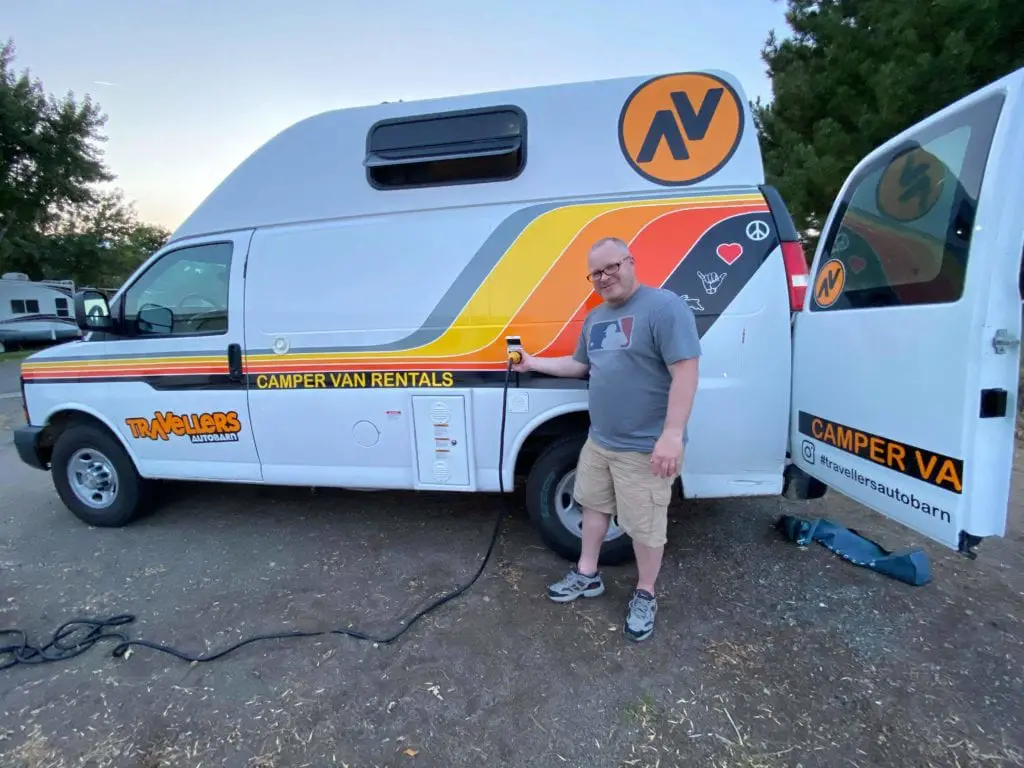 Power, Heating, Cooling In A Kuga Campervan
We learned so much on our one month in the Kuga Campervan. One of the important things we quickly learned was about power. The vans are equipped with solar panels to give you longer amounts of time without having to hook in. It was nice to be able to plug in a small heater on the cooler nights to stay warm. We also had a small battery operated fan we used on the warmer nights or just to keep flies away as we ate. You can go nearly three days without plugging in before you will be forced to. As I mentioned, we quickly learned how to conserve energy and could save money on camping fees when we didn't need a site with hook ups.
One Month In A Travellers AutoBarn Kuga Campervan
Our one month adventure was a lot of fun. In the end we decided this was not something we wanted to do full time but it is certainly fun for a month at a time. We were able to save a lot of money on food and housing as well as saving time for more adventuring. It was great to get closer to attractions by camping close to entrances or inside national parks. Gas was a bit more of an expense but the van did better on gas mileage than we anticipated. Overall, we would definitely do this trip again, especially now that we know what we are doing.
How Much Does A Campervan Rental Cost For A Month
Our Kuga campervan rental total cost was $2,541.92 including taxes. The main reason we rented from Travellers AutoBarn is that they were the only company we could find that included unlimited miles with the rental. In our month on the road we drove just over 5,000 miles, making that quite a savings.
Tags :
campervan
camping