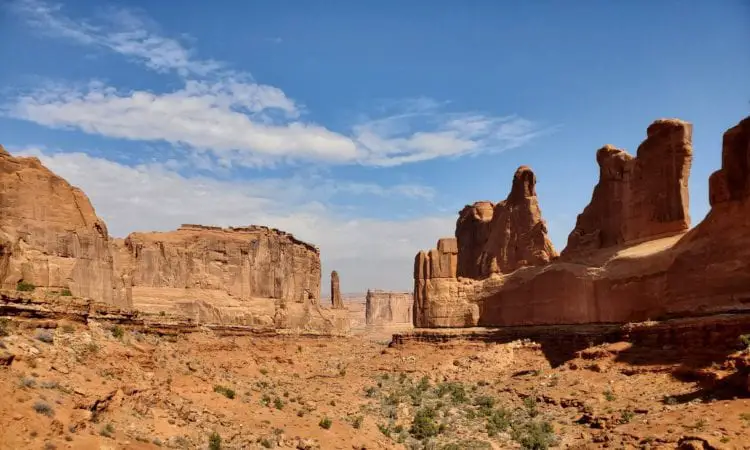 Grounded Life Travel is supported by its audience. When you purchase through links on our site, we may earn an affiliate commission.As an Amazon Associate I earn from qualifying purchases. List of everything we use in our travels.
When researching how to spend 2 days in Arches National Park, you have to make a decision. What landmarks have been on your list forever and are a must see? How much of the park do you have time for? Selecting an itinerary that works best for the two days you have to see the park is the most important choice you'll make.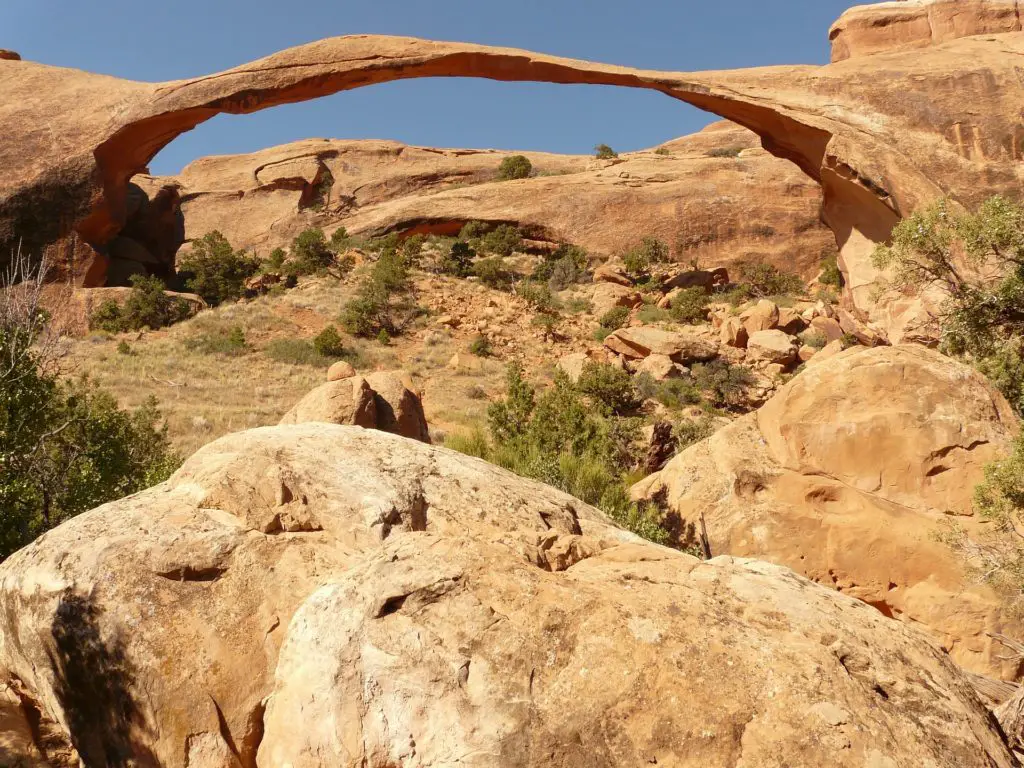 How Many Days Do You Need In Arches National Park?
Arches National Park can be seen in four hours or four months. There is so much to do in and around the park that you could spend an entire season exploring and still want for more. But, if you only have 2 days in Arches National Park, a good plan can include many of the highlights of the park.
You can then take notes on the points you missed and come back at another time. Two days is ample time to see some of the more recognizable landmarks in the park.
What can you not miss in Arches National Park?
Let's face it. You probably want to visit Arches National Park because of the pictures you saw on your best friend's facebook page or your sister-in-law's Instagram feed.
The gig is up, everyone now knows about the greats of the national park system and they all want a piece of it. The well taken photos of all these iconic images are great advertising for the national park system.
So, you probably already have an idea of how to spend 2 days in Arches National Park. But, if you want to feel like you've really immersed yourself in the groove of the park, Landscape Arch, Delicate Arch, Fiery Furnace and Park Avenue can't be missed.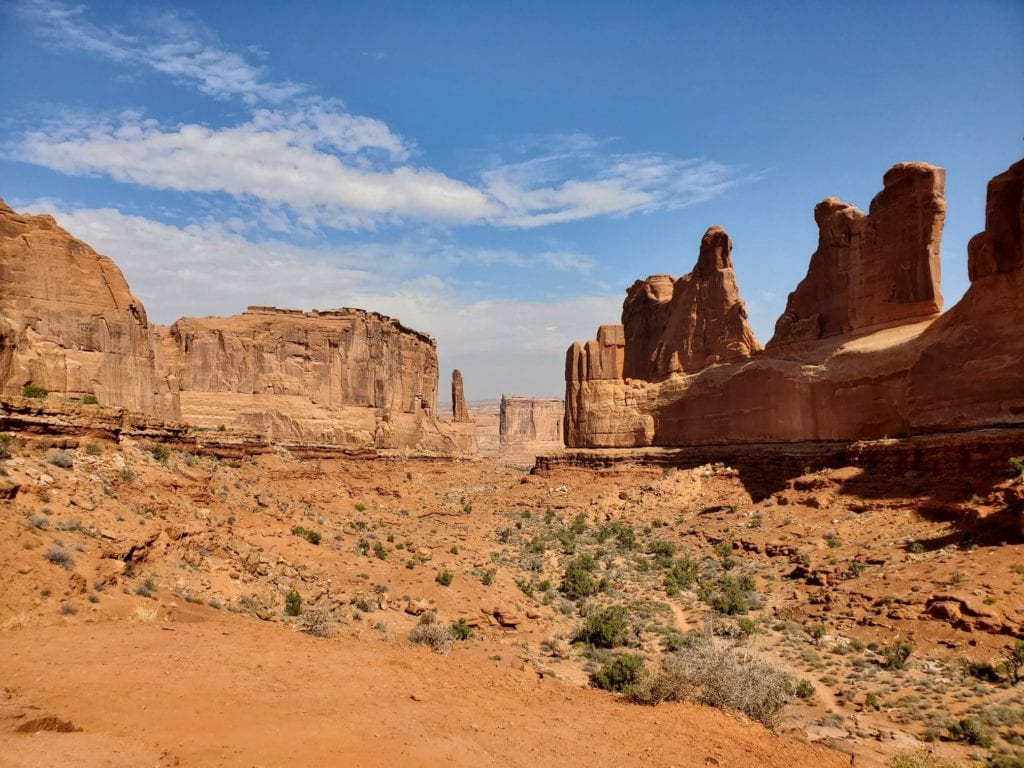 Where Should I stay When Spending 2 Days In Arches?
Moab is the host city to Arches National Park. You will find everything you need there. Main Street is where you'll find all the nostalgia of the old west, coupled with all the modern conveniences you expect of a tourist town.
There are a myriad of hotels and motels to stay at in the downtown area. There are also many Airbnb's and cabins to rent if you will be traveling with a family. Camping is also an option.
Do you rent a cabin, camp or do you hotel it? Camping is great! Camping is awful! There are two kinds of people. Either you love it, or loathe it. But, when you're trying to figure out how to spend 2 days In Arches National Park, camping is the best option. Devil's Garden is one of the most fantastic campgrounds you will find in the national park system. It is set among the sandstone spires and twisted rock formations that you will find all over the park and is the only campground in the park.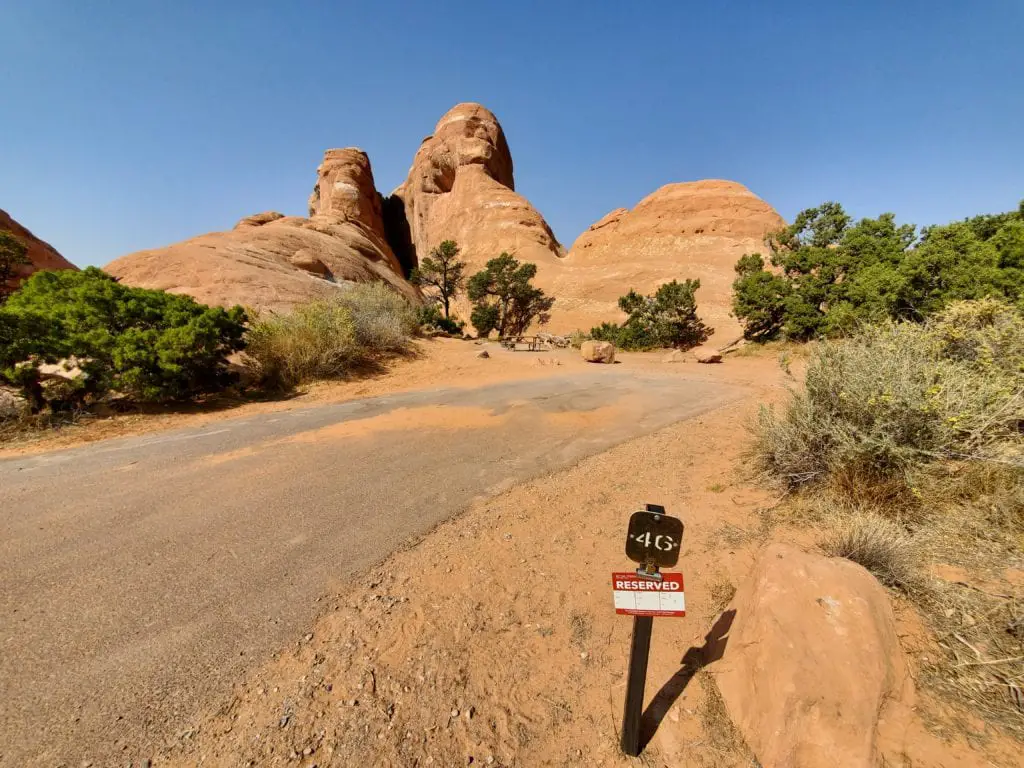 How Do You Spend 2 Days In Arches National Park?
On your first day you will want to set up camp in Devil's Garden, which is at the end of the 18 mile main park road. On this drive you will get a sneak peak of many of the things that there are to see. Make sure you have a park map and make note of where all the big landmarks are.
Devil's Garden
Devil's Garden is one of the most awe inspiring campgrounds among all of the national parks. If you are camping between November to March, you won't need reservations. If you are in the prime seasons of spring and summer, you will have had to have made reservations. They can be tough to come by, but if you didn't make reservations, there are always cancellations so make sure you check daily.
Camping here is definitely something that everyone should do once if slumbering in the great outdoors is your thing. The campground has water and fire grills and and flush toilets. The meager amenities lends to the feeling that you are in the wilderness. Away from the distractions of everyday life, you can stare at the milky way, read a book by firelight, or pass around stories of your travels. This is a truly an authentic camping experience.
After you set up camp, you will want to get going. If you only have two days, you have to make the most of your time. Devil's Garden Loop Trail is a great place to start. You're already there and you can see a lot on this loop.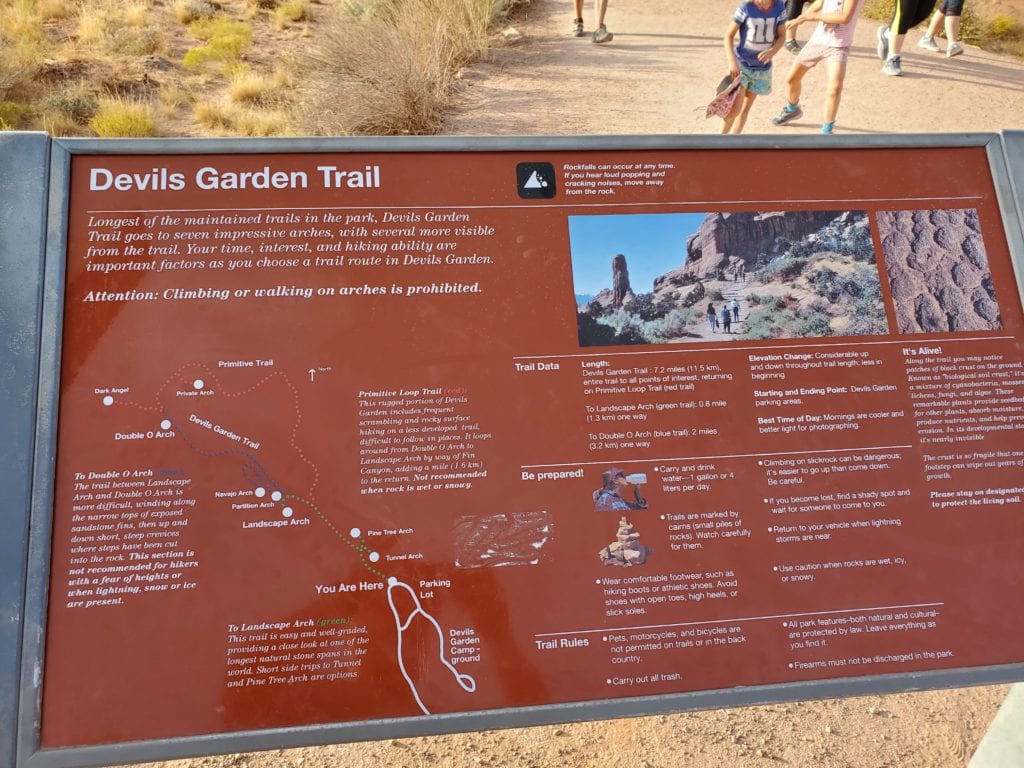 Devil's Garden Loop Trail
Devil's Garden Loop Trail is the longest hike and packs the most punch of any hike in the park. In the 7.8 miles it takes to walk this trail, you will see seven arches, countless rock formations and breathtaking scenery.
You will see the great Landscape Arch, with its menacing stretch over boulders, threatening to fall at any moment. Double O Arch and Dark Angel can also be explored. On the primitive trail, you can see the more covert Pinetree, Tunnel, Navajo and Partition Arches.
It's a trail that will have you scurrying and scrambling over boulders and through sand fields. It will only take you 3 to 4 hours and when you arrive back at camp, your lunch will feel well earned.
After lunch, you can head south on foot from the campground and catch the Broken Arch Loop Trail. Here you will see Tapestry, Broken, Sand Dune and Skyline Arches. This 1.7 mile trail shouldn't take you long, but is a nice stroll before heading back to camp to relax before dinner.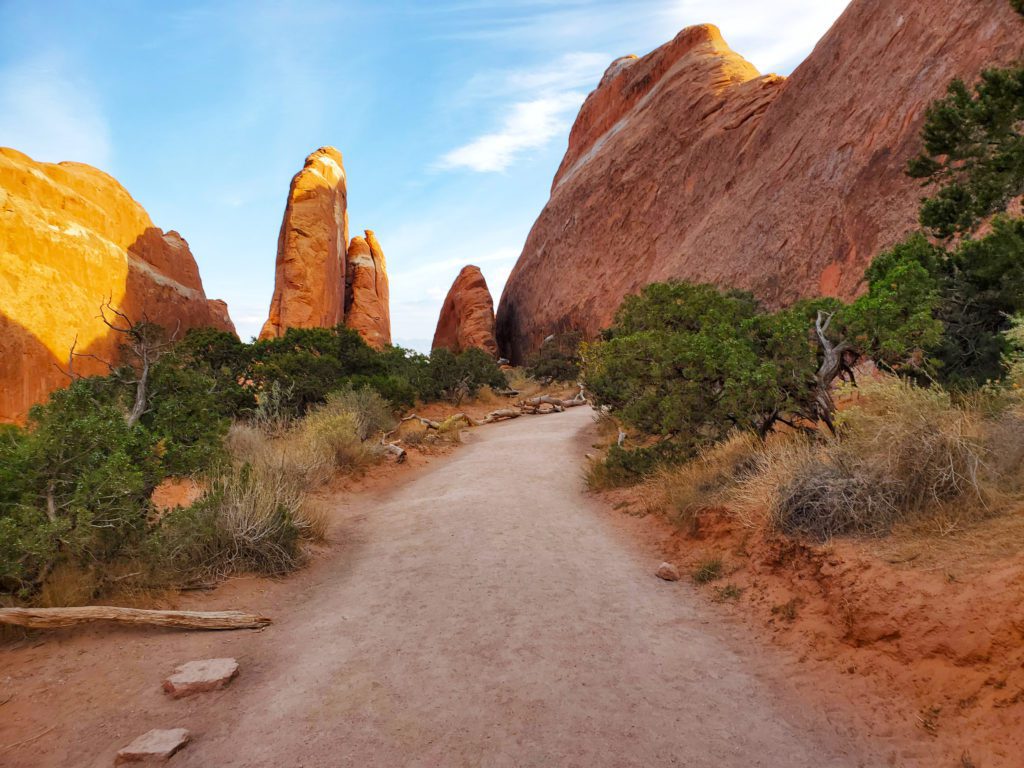 Milky Way
In 2019, Arches became certified as an Official International Dark Sky Park. That means that over 2,500 stars can be seen by the naked eye. Even Saturn's rings can be seen with binoculars alone. This is definitely an experience that you don't want to squander.
Arches is one of the best places in the world to see the Milky Way. So, after your campfire dinner, stretch back in your camping chair and watch the show before you. If you haven't seen it before, your first time will unquestionably be memorable. Even if you only have 2 days in Arches National Park, you could get the chance to see the Milky Way. All you will need is a cloudless night.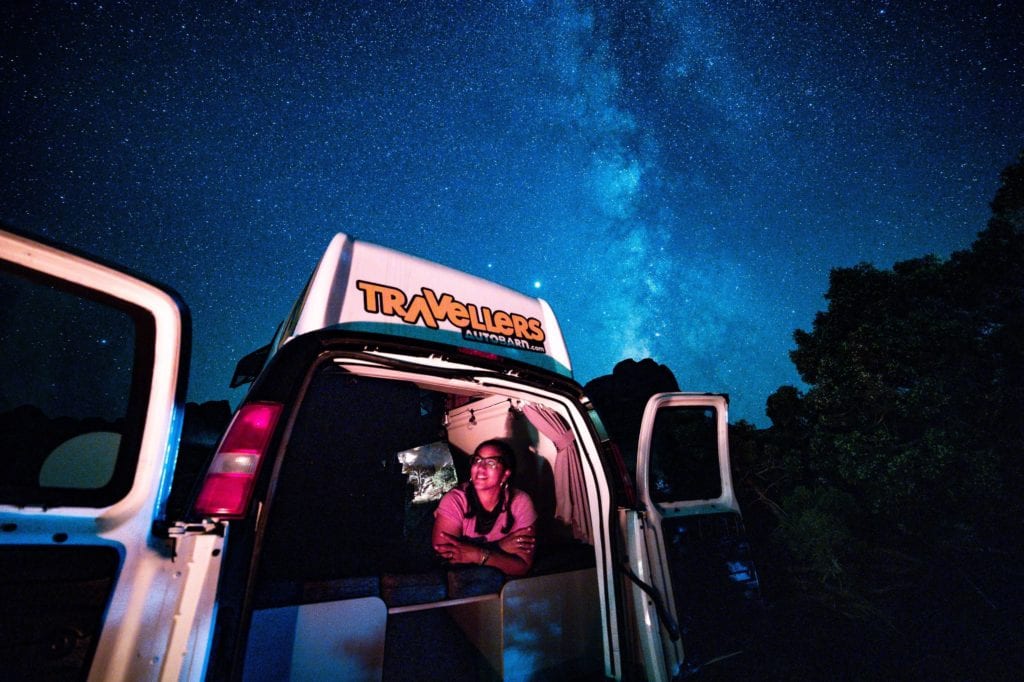 Fiery Furnace
If you're camping, you have already saved time by being in the park. So, after a quick breakfast you'll be ready for another day of expeditious exploration.
Fiery furnace requires a permit in order to either go on a ranger led tour, or a self guided tour. Either way, your permit will take you through disorienting twists and turns and scrambling over boulders and ledges. You must make time to watch a video that will detail all you need to know to do this 2.3 mile, moderately strenuous hike.
But, what a great time it is! You feel like a speck of sand among the grains as you navigate through fins, slots and narrow canyons. Some of the rock formations are outlandishly fascinating, and you'll be so glad you took the 2.5 hours from your itinerary to see Fiery Furnace.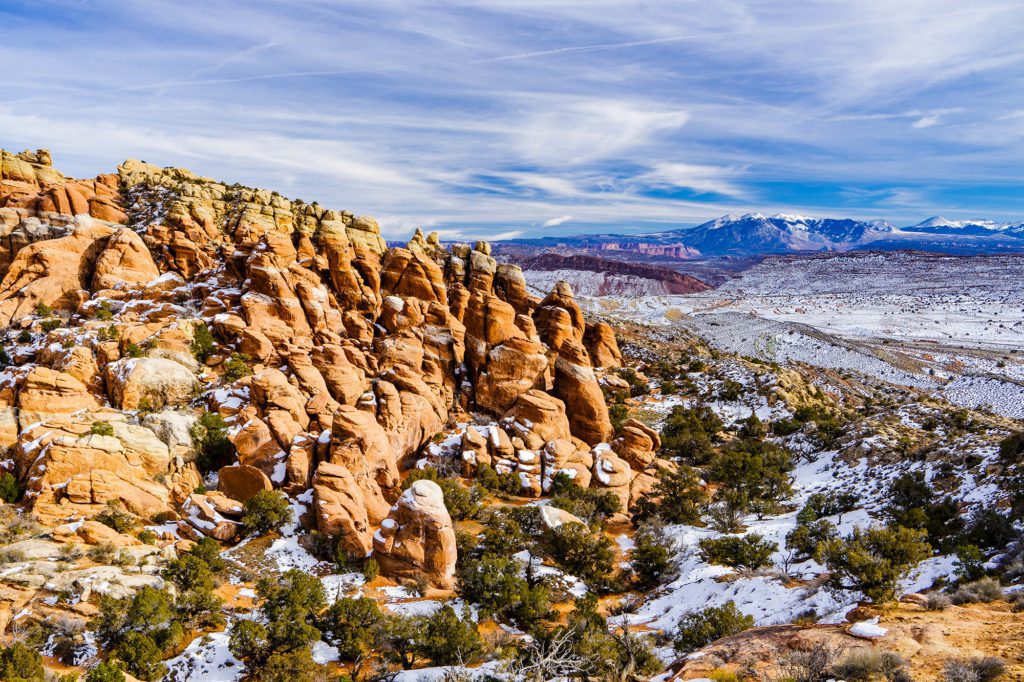 Delicate Arch
Delicate Arch is probably the most recognizable arch in the world. It is most likely the reason that most people want to come to Arches National Park. If you are short on time, and you just can't make the trek, there are two viewpoints in which to see the arch from a distance.
To get up close and personal and grab that selfie you've been wanting, you will need to take the 3 mile roundtrip hike. You will encounter petroglyphs, a historical cabin and plenty of quick elevation gains that will get your heart pumping. But when you arrive, it will all be worth it, for it is a sight to behold.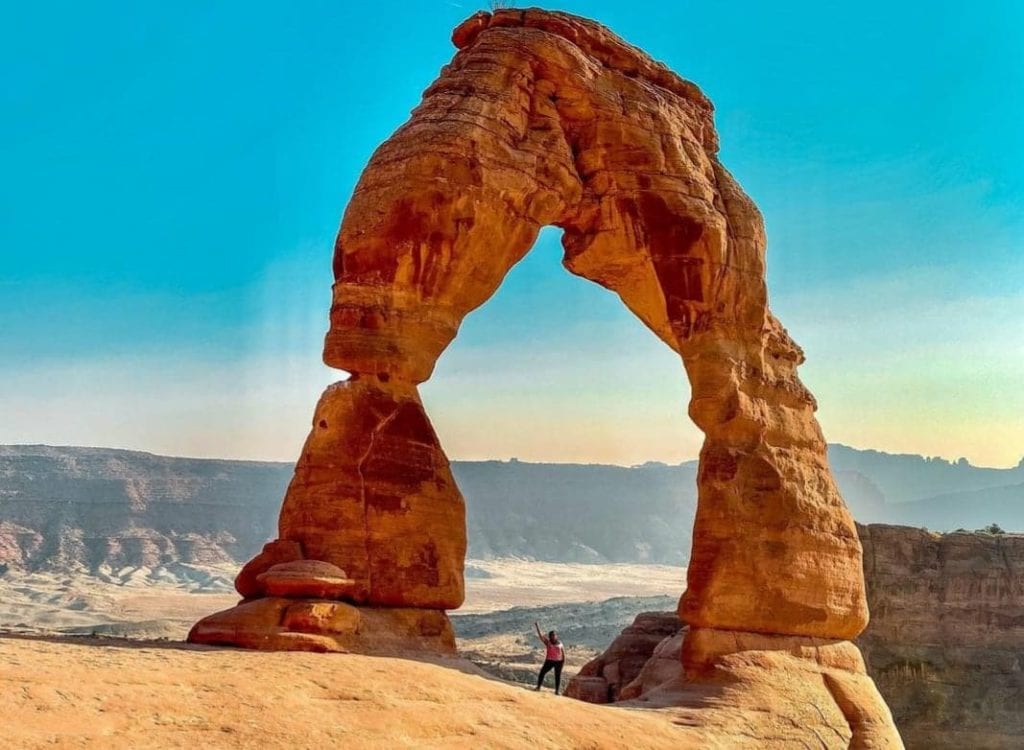 Park Avenue and Courthouse Towers
It might be getting later in the day at this point and your energy level may be waning. If you have the stamina and time to add a 15-60 minute stop, you should check out the Windows Section of the park. There are many formations and arches to see. Double Arch and the Windows are fantastic.
But if you only have a couple of more hours, you should take the easy hike down Park Avenue to Courthouse Towers. More quintessential views that only Arches National Park can produce will be seen here. Imagery of cowboys driving their herd between the spires will come to mind. This is the landscape of the old west.
This park is beautiful any time of year and most highlights can be included in 2 days of visiting Arches National Park. One thing is for sure, any path that you decide to take on your journey is sure to enlighten and satisfy in Arches National Park.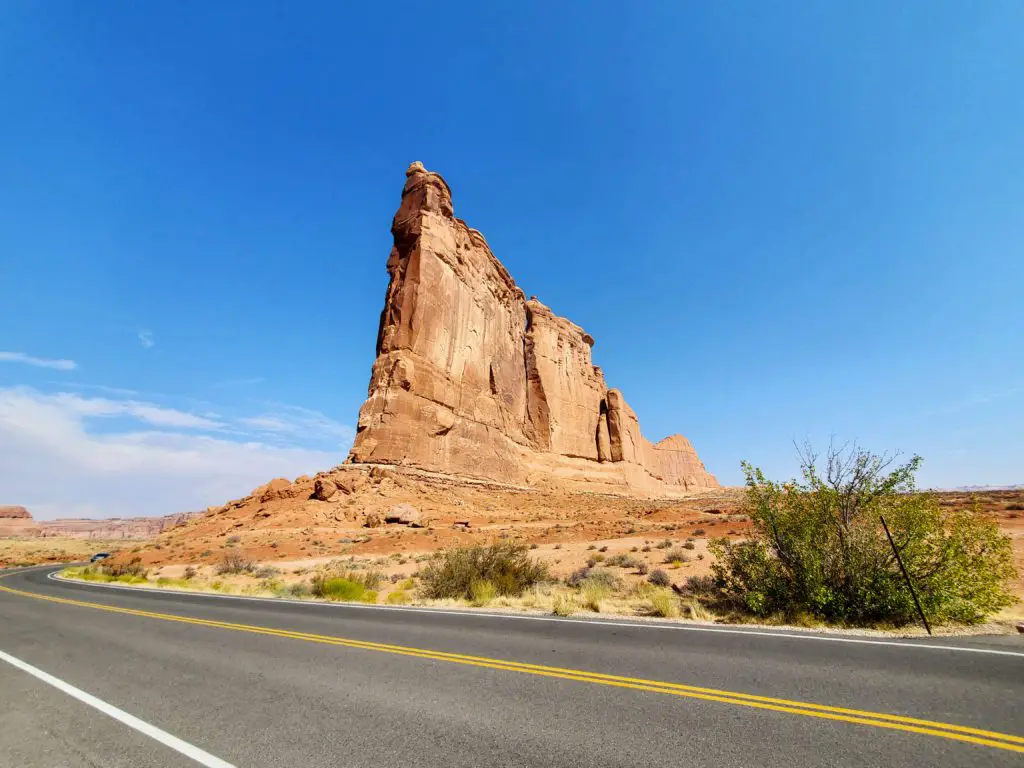 If you have any extra time on your trip, spend it exploring the 10 best arches in Arches National Park.