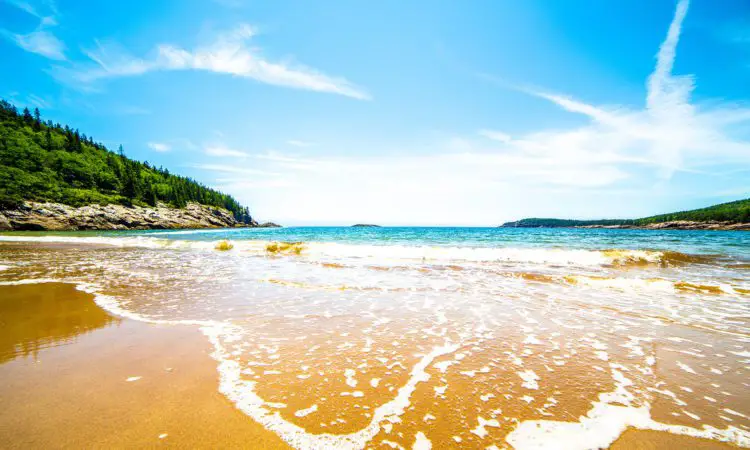 View of ocean at Sand Beach, Acadia National Park, Maine, USA
Grounded Life Travel is supported by its audience. When you purchase through links on our site, we may earn an affiliate commission.As an Amazon Associate I earn from qualifying purchases.
Is it possible to see Acadia National Park in one day?
Acadia National Park can be only be described as magical. Its mystical lush forests spill out and over the sheer cliffs of the Atlantic Ocean and the waves that crash the shoreline, relentlessly, giving the entire area an ambiance that you can't quite get anywhere else.
Four seasons add to the mystique of the region and awesome displays of color burst forth in the form of flowers or changing leaves when the earth's tilt shifts biannually. This place is really something to see, whether you have a day or a week.
Therefore, if you are going to be in the Bar Harbor area, but don't quite have the time to have a full blown Acadia national park vacation, one day can be enough to get the flavor of Acadia National Park so that you can plan a longer vacation in the future.
The beautiful city of Bar Harbor is a great launching point for your twenty-four hour hunt for amusement and relaxation. Acadia National Park is perfectly poised for all the comforts and pampering you would want and still have enough adventure to satisfy the staunchest seeker of adrenaline affairs.
So, when you are in the vicinity, a day of exploration in the park is a must and an endeavor that will not disappoint. Although you won't be able to see the entire park, you will definitely whet your appetite for more on an extended trip.
Acadia has three regions with Mount Desert Island being the largest and having the most things to do, so you should hone in on this area with such a short period of time to enjoy the park. This day that you spend can be best enjoyed between the months of August and October, therefore plan accordingly, so that you get the most out of your day. A three-day itinerary might also fit into your travel plans.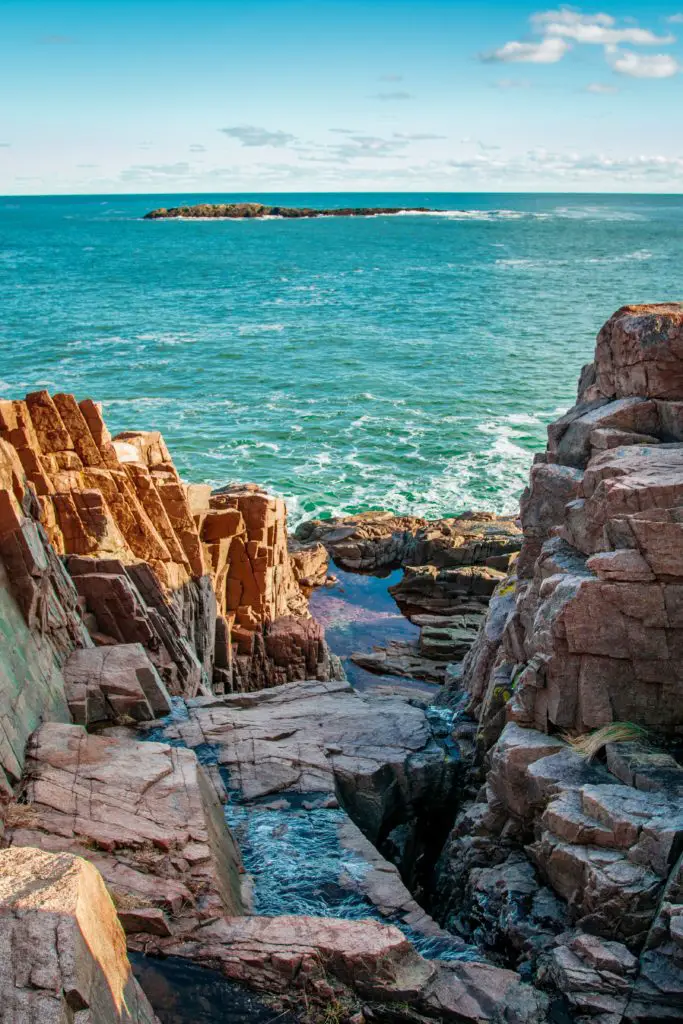 Start the day with an epic sunrise
When at Acadia National Park, you must take advantage of the most thrilling sunrise in America. In fact, it's also the first sunrise in America. Acadia is situated so that if you are on the Cadillac Mountain Summit, you will be among the very few to see the new day rise in the United States.
As you suspected, your day will start VERY early, therefore staying in nearby Bar Harbor is a must so that you can make it to the summit in time to see the sky change. You can hike or drive up to the summit. But, because it is so early in the morning, you will want to drive. This will take you about 30 minutes from Bar Harbor. Once you park, you will only need to stroll a half mile before you find the staging area for the exciting event.
Before you go, there are definitely a few things to be aware of. This event is so popular that the park service had to start charging and regulating cars. Only 150 cars can pass the gate at a time. Make sure you make a reservation well in advance and pay the $6 fee that is required.
After you see daybreak and fill your belly with some warm coffee and tasty bagels that you packed for your sunrise picnic, you'll be ready for the rest of the day of exploration.
Drive the 27 Mile Park Loop
There's one rule of thumb when visiting any national park. If there's a loop road, drive it! You can learn so much about the park this way and see what you want to further explore.
Acadia's Park Loop Road is 27 miles and takes you passed beautiful spots that show you the best stuff that America is made of. Thick forests, delightful views and all the stops in between that make a national park so grand.
A one day trip into Acadia is a perfect reconnaissance trip to explore all of the sights you would like to immerse yourself in next time you vacation. Drive around the loop one time and take note of where you would like to stop.
In addition, stop at the Hull Cove Visitor Center and arm yourself with all the information you need to have a blast at one of America's most adored parks. This will likely be one of the last stops on your route if you saw the sunrise at Cadillac Mountain, but can be your first stop in the park, otherwise.
Relax at Sand Beach
You will see multiple stops and overlooks to this point. Stop and gaze at at as many as you like. However, if you'd like to stop and rest for a while on the only sandy beach in the park and take it all in, Sand Beach is the place.
Take an hour or so and saturate yourself in the sights and sounds of the crashing waves, the boisterous seagulls and the ambiance that only this place can bring. Either relax on the beach or take a stroll to the end of the beach and venture up the cliffside to the top of Great Head that will reveal a breathtaking view of the beach below.
If you're willing, take a dip in the Atlantic's 55 degree water and feel the power of the waves. There is no feeling like the arresting chill of the ocean as it thrashes you about. Sand Beach is a must see stop on your whirlwind tour.
Hike the thrilling Precipice Trail
If you are one that requires more of a heart pumping, adrenaline inducing experience, opt for this stop. This 3.2 roundtrip trail will take some time out of your day to the tune of two to three hours. However, if you are going to do a hike with the one day you have, I recommend the Precipice Trail.
You will need to pack your courage and your muscles for this hike. There will be climbing iron ladders and traversing narrow ledges that fall hundreds of feet. There will be scurrying across wooden bridges and granite slopes. Everything that you want in a riveting hike will be present on this hair-raising walk.
Once you summit Champlain Mountain, what you worked hard for comes into full view. The outlook to Frenchman Bay is an incredible payoff and you should take the time to not only gather yourself after this overstimulating experience, but enjoy the fruits of your labor in the form of one of the best views you will find anywhere on the planet.
Take in the sounds of Thunder Hole
There's nothing like seeing the ocean's power as it crashes in a deafening roar against the craggy rocks of the coast. But, there's one place where this display is especially noteworthy.
Thunder Hole is an inlet that Mother Nature carved out over centuries that when the waves from the ocean push into the inlet, the escaping air makes a thunderous sound that you have to experience.
Seeing this anomaly is best after a storm or 1-2 hours before high tide. In certain conditions, waves can get 40 feet high, so be sure to look at oceanic reports before your stop.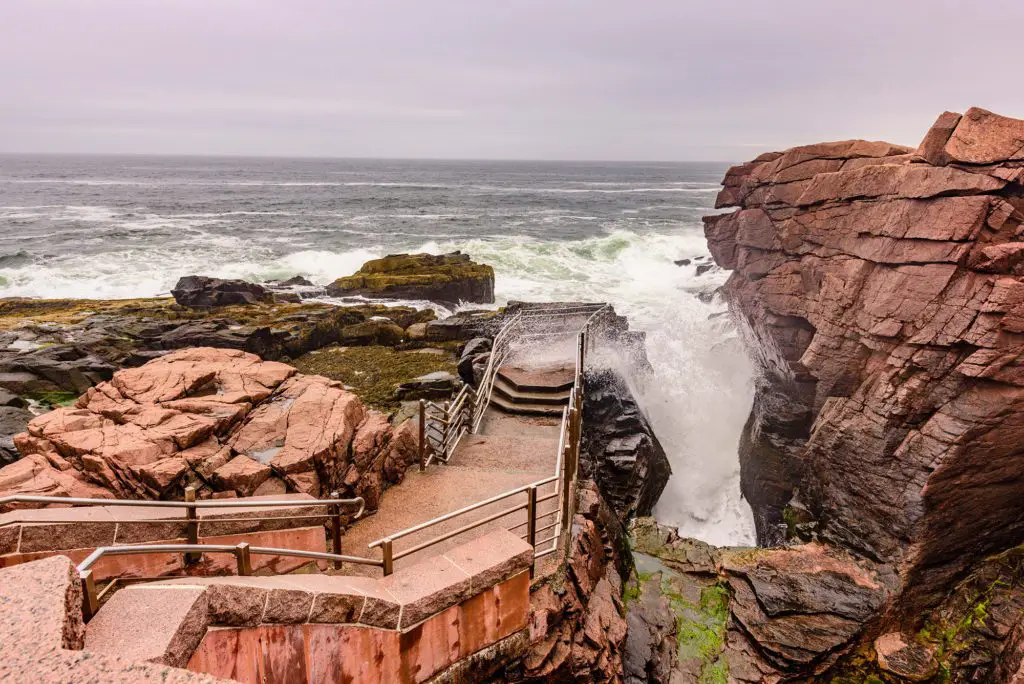 Catch High Tea at Jordan Pond House
By this time in the day, you are growing increasingly weary and you will need a "pick me up". The Jordan Pond House is just the place to sit and relax and "pond"er over your musings for the day.
Enjoy some English tea and popovers pondside. The scenery is exquisite from the lawn that spills out into the lakeview complete with scenery of North and South Bubble Mountains. Seating on the lawn is especially lovely during mid to late October when there is a chill in the air and the leaves will be changing to their brilliant yellow, orange and red hues.
If you still have it in you, you can take the 3.5 mile easy path around the pond to take in the landscape. You don't even have to walk the entire way to get a sense of how special this place is. This fact makes Jordan Pond very popular, so you may have to search for parking before visiting, but it will definitely be worth it.
End your day with a tour of Bar Harbor
You started your day in Bar Harbor when it was pitch black and the only thing awake was the great horned owl of Acadia. So, you'll have to take a walk around to get a flavor of the community and what makes it so darn quaint.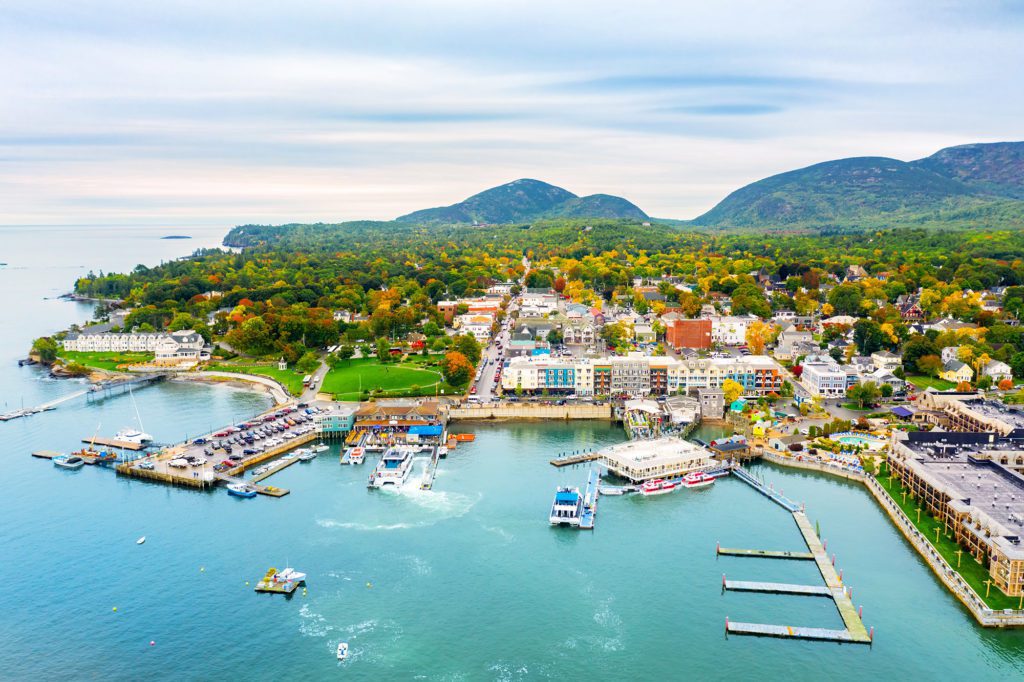 First, you can stir up an appetite by taking a tour of the city and learn all about the history of the birthplace of Acadia National Park. You can take a self guided historical walking tour by following the "Museum in the Streets" panels that line several routes through town.
Stroll down Main Street and take in the shops and boutiques like Sherman's Book and Stationary or the Christmas Vacation Shop. You can meander through the shops or just gaze through the windows. Either way, it is a great way to get a feel of the city and enjoy it's charm.
Before you settle in for the evening you have one more thing to do. You must have a lobster roll. You haven't been to Bar Harbor unless you've indulged yourself in this little slice of New England heaven. The best place to try this New England favorite is Side Street Cafe where locals say their rolls are divine. Dine on their umbrella covered porch or in the great energy inside that will make you feel at home.
You've seen some of the more popular spots in Acadia, but there is so much more! Come back and enjoy Rockefeller's Carriage Trails, Bass Harbor Head Lighthouse and the other, quieter side of Mount Desert Island. Don't miss the lesser traveled regions of the park such as Isle au Haut, and the Schoodic Peninsula.
The rugged, quiet beauty of these regions is begging for your exploration. So, next time, book a week and relish in the tremendously ample offerings of Acadia National Park.