Grounded Life Travel is supported by its audience. When you purchase through links on our site, we may earn an affiliate commission.As an Amazon Associate I earn from qualifying purchases. List of everything we use in our travels.
June is the month every man, woman and child lives for in the United States. For many, the absence of schedules combined with the warm weather gives us all a chance to plan a trip, have some fun and reconnect. Recharging our internal batteries is a must in summer and taking the time to rest and relax in a place we've always wanted to see can help.
National Parks have been increasingly American's go-to when looking for a place to have a great vacation. There are 423 national park sites in the United States. Acadia National Park, in Maine is one of them and is visited so much that it is the tenth most visited national park in the nation.
Acadia has a lot to offer someone on holiday. Hiking trails for the explorer, vista views for the photographer and wildlife for the animal lover. It is as picturesque as it is adventuresome, which brings many to the park in June.
Is June a good time to visit Acadia National Park?
June is a great time to take a trip to Acadia. The mud of winter has dried and gone and the leaves are back on the trees giving the park a welcoming, summertime feel. The crowds of summer have increased but have not yet ramped up to overflowing capacity, the weather is pleasant and Bar Harbor has opened back up for business. June is the perfect time to take advantage of visiting Acadia without all the downsides that can come with visiting later in summer.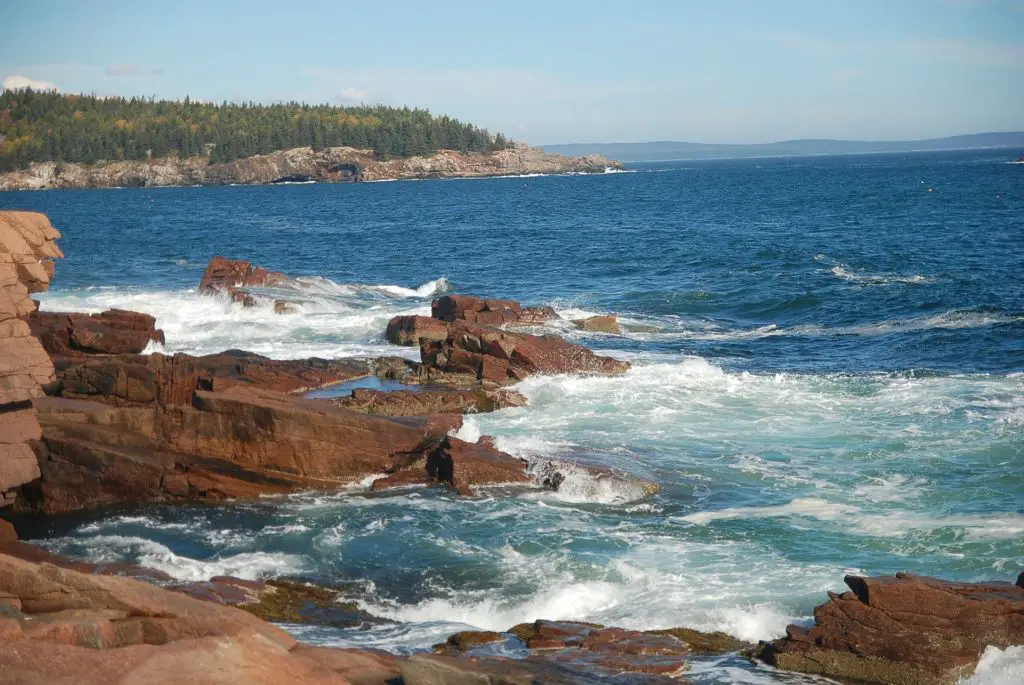 How do I get to Acadia National Park?
Getting to Acadia by plane will have you flying into Boston Logan International Airport where you will catch a connecting flight directy into Bar Harbor Airport in Bar Harbor, the "Gateway to Acadia". Alternatively, if you will be driving, take I-95 North from Boston then Route 3 east into Ellsworth and onto Mount Desert Island where the park is located.
What should I wear in Acadia in June?
Nights will still be chilly and can still be in the 40's. During the day you will see temperatures get as high as 70 degrees. A light jacket and some convertible hiking pants are a great choice for being outside in June in Acadia.
If you choose to do some hiking near rivers or streams, you may want to make sure you have your pant bottoms zipped on. Black flies and deer ticks will start to emerge at this time and you'll want to make sure you wear the proper clothing to protect your skin. Wear a bug repellant containing DEET, as well. As oily and smelly as it is, it is the only thing that will protect you from the bugs of Acadia.
Will the wildflowers be in bloom in June?
Wildflowers
Wildflowers emerge in June, just in time for you to take in their beauty! You are in luck and can enjoy the gorgeous lupine fields of Bar Island. The lilacs are also in bloom in June. In early June there will be fields of Rhodora in a bright pinkish lavender hue that will overtake some of the open fields of Acadia.
In woodland areas along the interior hiking trails and the Carriage Roads you can see the fragrant lily of the valley, bunchberry groundcover and the yellow hues of the Goldthread flower.
Wild Gardens of Acadia
If you want to see a brilliant display of all the flowers of the season, visit The Wild Gardens of Acadia located amid the Sieur de Monts Spring. Here, you will find over 400 species of flowers, shrubs, ferns and trees native to Mount Desert Island and Acadia National Park.
Asticou Azalea Garden
On the southern end of the park in Northeast Harbor, you can visit the gorgeous Asticou Azalea Garden, a Japanese-style garden featuring 50 varieties of azaleas and rhododendrons. Walk the paths and bridges of the garden and transport yourself into a different time and space.
Thuya Garden
The Thuya Garden, a 150 acre preserve not far from the Azalea Garden is a garden that mixes the structure of the English border garden with the wild and native Maine woodlands. You can also tour the Thuya Lodge that fits perfectly into the environment and is well worth your time.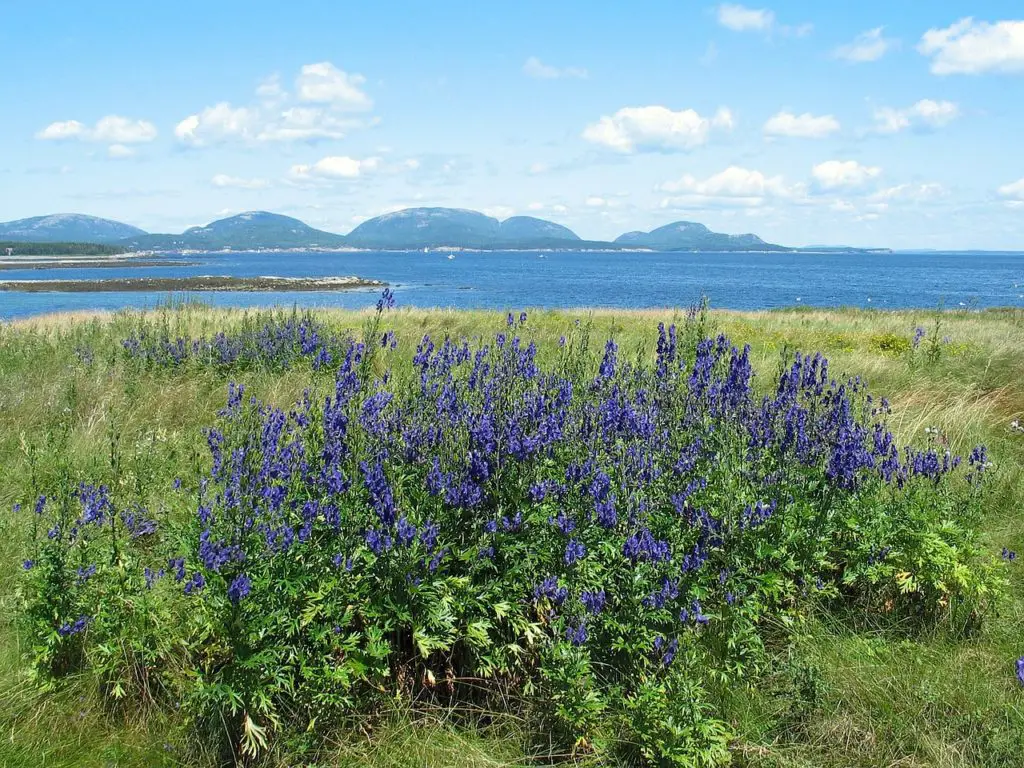 What are some of the best hikes to take in June?
There are some hikes that you can't miss when visiting the park. Some take planning and some take guts. Choose which one or two that are right for your crew and see the sights of Acadia.
Cadillac Summit Loop Trail
Cadillac Summit Loop Trail is not only one of the easiest hikes in the park but it might even have the best payoff! At .3 miles, you can't beat walking to a summit that holds the esteem as the first place in America see the sun rise. But hold on, you have to plan for this walk. Whether seeing the sunrise or just gazing at the gorgeous Atlantic and the islands that occupy it, you need a $6 permit to drive Cadillac Mountain Road. Make sure you do this well in advance, because the park service only releases so many. You know a view has to be good if you have to pay for it!
Dorr Mountain via The Ladder Trail
For a little bit of adventure and a great workout ,plus the view you've been craving, climb Dorr Mountain. I'm not going to sugar coat it. This is a strenuous 3.4 mile hike that will make you scream for an icebath to cool the burn in your legs. However, the experience of climbing stairs and ladders to a breathtaking view should keep you going. A 360 degree view of all of Acadia, the Atlantic Ocean, Cadillac Mountain and the other islands is what awaits you. If you are in moderate shape you should be able to do this hike. In fact, you HAVE to do this hike. It's amazing!
Acadia Mountain
If you are visiting towards the end of the month of June, you might notice an uptick in patronage to the park. Parking spots and trails may fill and you might be longing for more seclusion from people.
On the western side of the park, it is quieter and there is a peace that resides within the lakes and mountains. Acadia Mountain is the only mountain in the park that runs from east to west and can be summited by taking its 2.8 mile loop trail. Cross babbling brooks and forested floors to see some of the most interesting granite formations in the park. At the summit you will see the stunning Somes Sound and the Atlantic Ocean as they play off of each other.
Trails that will be closed in June
June is a time for nesting for the Peregrine Falcon. They are very sensitive to humans and need no distraction from their task of procreating and raising their young. Therefore, some trails are closed during this time. In June, you can expect not to experience the Precipice Trail, the Jordan Cliffs Trail or the Valley Cove Trail. The Beech Cliff Ladder Trail may also be closed. It's a good thing that there are 243 more hiking trails to choose from!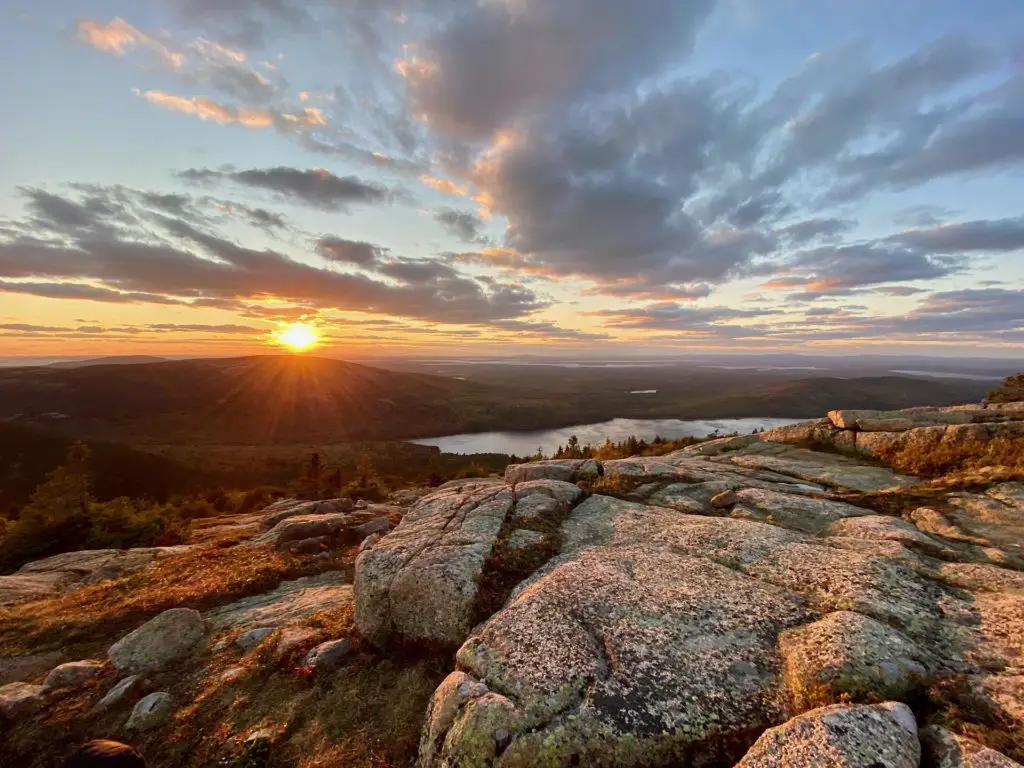 Where should I stay when visiting in June?
The most convenient place to stay is Bar Harbor. It is virtually, right outside the park and has all of the conveniences you will require when you aren't exploring.
There are accommodations that run the gamut from 5 star harbor side hotels to rustic and primitive campgrounds. The key is to make your reservations in advance, as June gets busier as the month wears on.
Bar Harbor also has a restaurant scene that will please anyone in your group. From breweries and cafes to coffee houses and pubs, there will be a place to eat that will tickle your palate. However, there is one thing you can't leave without doing and that's eat a lobster roll. The Side Street Cafe is known to locals as the place to get your roll and this family owned business knows how to do it right. If you're not a lobster person, then try the "create your own" mac and cheese. Pick from two choices such as pickled jalapenos or fresh spinach. Well, it definitely is interesting!
Visiting Acadia National Park in June will start your summer off right. Your crew needs a little pleasure and adventure away from the everyday stresses of life. One thing is for sure, you are going to get it in Acadia National Park.