Grounded Life Travel is supported by its audience. When you purchase through links on our site, we may earn an affiliate commission.As an Amazon Associate I earn from qualifying purchases. List of everything we use in our travels.
Fall is glorious in New England. There is something about the architecture, the landscape and the crackle of leaves under your feet that make fall in New England especially unique.
But, if you are going to go to New England, specifically Acadia National Park, where not only the leaves are changing but the forest in which those leaves reside spills gracefully into the Atlantic Ocean as its furious waves pound against the jagged, craggy cliffs, then you have to do it right.
Inhale…Exhale…
I mean, time is never on our side when we are on vacation, so you must plan an itinerary that not only is efficient, but gets the most out of the time and money you are spending on your vacation. There are some places and things in the park that you just can't see or do at any other time than fall. So, coming at this time of year is the right choice to get the most out of your visit to Acadia.
Visit at the right time in October
The best time to visit Acadia during the fall season will be in October. Leaves will peak sometime during the second or third week in October, depending on rainfall and temperature. Make sure you look at the leaf changing forecast in mid-summer to hone in on what week will be peak.
Stay at the right place
Bar Harbor is the place to stay for its convenience and historical and nautical charm. There are so many places to stay in Bar Harbor. Hop on the free shuttle from the perfectly quaint, Inn on Mount Desert. You can also stay at the Harborside Hotel Marina and Spa. Get your fill of all the luxuries you crave on vacation as you gaze at the harbor view. There's always the option for a cabin or cottage rental as well. Mount Desert Island, which is a region inside of Acadia National Park has over 1,000 to choose from.
But if camping if your jam, Acadia is a great place to sleep under the stars and enjoy the crisp fall air at night. There are five campgrounds within the park ranging from RV to primitive camping. There are two campgrounds on Mount Desert Island, one of the Schoodic Peninsula and one on Isle au Haut. Pick which kind of camping you enjoy and keep in mind that you must make reservations before arriving as there are no same day reservations.
Visit the right places in Acadia National Park
October in Acadia is THE time to visit. Changing leaves, the Northern Lights and seasonal, first in America, sunrises on top of mountains can only be seen this time of year. In addition to all the hikes, vista views and interior island jaunts, there are some things that can only be perfectly executed in fall.
The Northern Lights
The Northern Lights, also named the Aurora Borealis is a seemingly magical, celestial event that can be seen in Acadia from August through October. Flickers of green, pinks, purples and oranges dance across the sky and it will be well worth your time to plan a night time venture to see them. The region of Acadia called the Schoodic Peninsula is less populated with tourists and is a little farther north from Mount Desert Island. Plan a trip and you can also catch the Milky Way as it moves across the sky.
Sunrise at Cadillac Mountain
Between October and March Cadillac Mountain is the place to be in the morning. Cadillac Mountain is the tallest mountain on the Eastern Seaboard, measuring 1,530 feet. When the earth's axis is turned to reveal winter, Cadillac Mountain benefits from its height and location and it the first place to see the rising sun in America.
However, getting there early is not the only thing you should know about this fall time activity. Because of its popularity, you must now make a reservation to drive up the mountain. If you are planning a trip to Acadia, one of the first things you should do is reserve your tickets, as they sell out fast. Print out your copy of your reservation and bring it with you, as your cell phone may not get service near the mountain where rangers will be checking your reservation.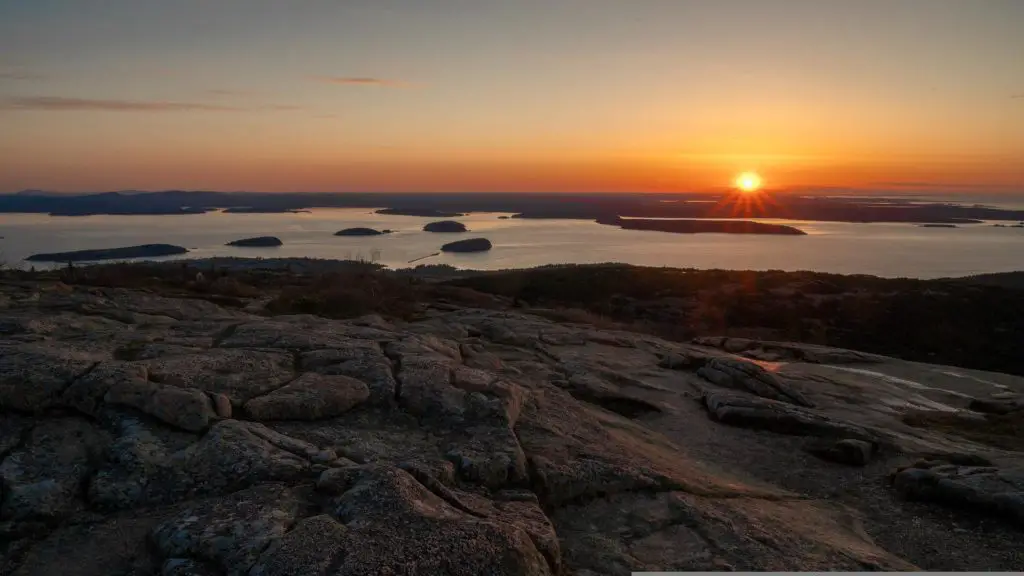 Carriage Roads in fall
One of the best things to do in the park anytime of year is to walk or bike the carriage roads in Acadia. John D. Rockefeller was an avid outdoorsmen and thought that all people should have access to the quiet, raw beauty of the interior of the park. Therefore he made, "A Contribution to The Heritage of Every American," and purchased over 11,000 acres of land. Carriage roads were built so that people could enjoy the park without the hinderance of motor vehicles.
Today, his money and endeavors are apparent in the 57 miles of roads that can be explored. You will come upon elaborate stone bridges, archways and gates that add to the mystique of the roads that will lead you to stunning overlooks and vista views.
The fall is the perfect time to traverse these roads and take in the color of the season. Not only is the cooler, crisp weather more comfortable for what can be a heart-pumping activity, but seeing the change of leaves coupled with the crashing waves o the Atlantic on the cliffs below is a sight you will never forget.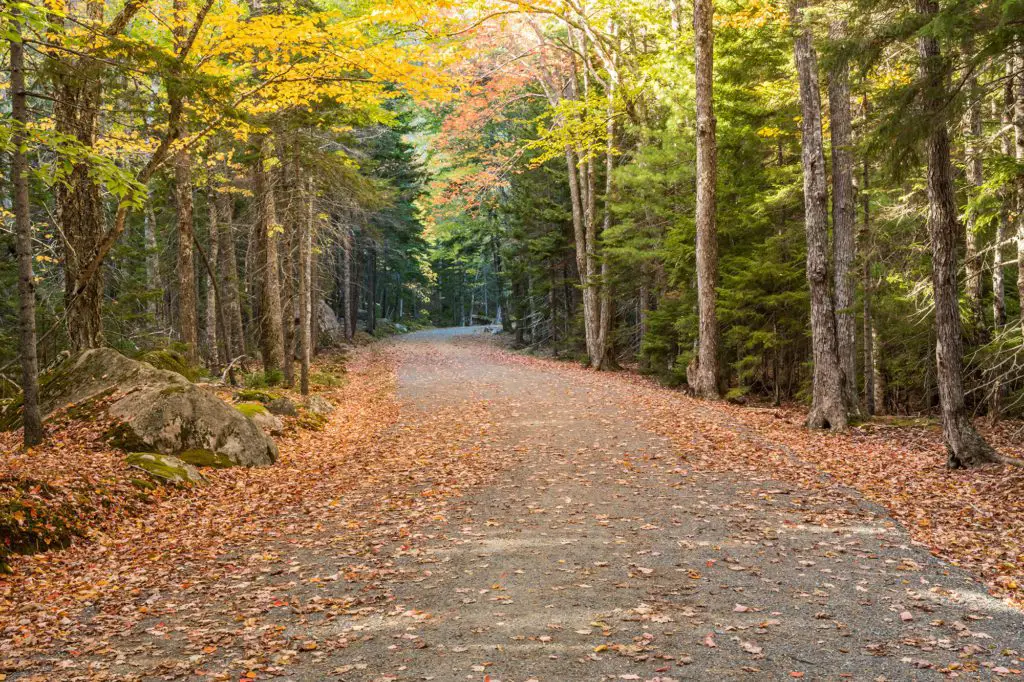 Whale Watching
The clear days of fall make this the perfect time to take a whale watching tour out on the Atlantic. This time of year, you can see humpback, minke, pilot and finback whales crest the waters as they feed and migrate back to tropical locations where they can mate and give birth.
In addition to seeing dolphins, sharks and seals you will get a look at some of the stunning lighthouses that dot the coast of Acadia. So, get your camera ready because this is an adventure you will definitely want to capture.
Take a hike
Yes, you can hike any time of year and have a wonderful time in Acadia. However, some of the more popular hikes may be closed in the busier summer months due to nesting of the all important and interesting peregrine falcon of Acadia. They are very sensitive to human presence which interferes with nesting and raising their young.
In the fall these birds will migrate south and the trails will reopen to the public. The arresting and adrenaline inducing Precipice Trail will be open to climb its ladders and scale its cliff faces once again.
Jordan Cliffs is also susceptible to closer in the summer months but in the fall, you can once again enjoy the climb to the overlook of the breathtaking Jordan Pond that lurks below you.
Keep your eyes peeled for these magnificently fast birds as you hike because some may still be in the vicinity and may not have migrated south, yet.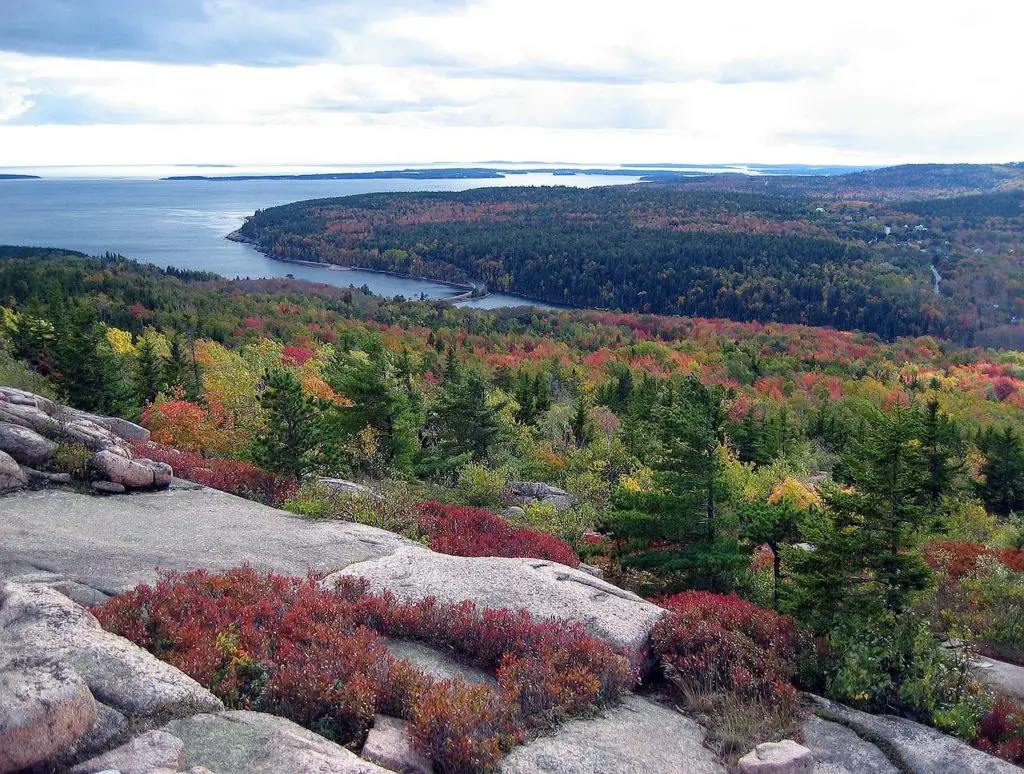 Festivals and Events
Acadia and Bar Harbor are alive with festivals and events welcoming the change of seasons.
Acadia Oktoberfest
In October every year, Acadia celebrates the season with food, beer, dancing and music. If you are looking for a party while you are on your vacation, this is the place to be.
Seabirds at Schoodic Point
Enjoy this excursion to observe the beauty of this region and its inhabitants that take flight. The waters of Schoodic Point are teeming with birds of all species for you to observe in the fall. Enjoy seeing loons, seaduck and comorants. You may also see  falcons, jaegers and gulls on your quest to find anything with wings at this three day event.
Acadia Night Sky Festival
With so much light pollution on the Eastern Seaboard, Acadia is one of the last places in the east to see the Milky Way and the bright stars of night. Acadia celebrates this by commemorating a time every fall to enjoy and create awareness of how important it is to keep the night skies alive by protecting it from light pollution. Come see the stars and the Northern Lights at this special celebration.
Visiting Acadia National Park in the fall time can be a bucket list item that you may only get to do once in your lifetime. With careful timing and planning you can make this trip to one of America's favorite national park's your best trip yet.