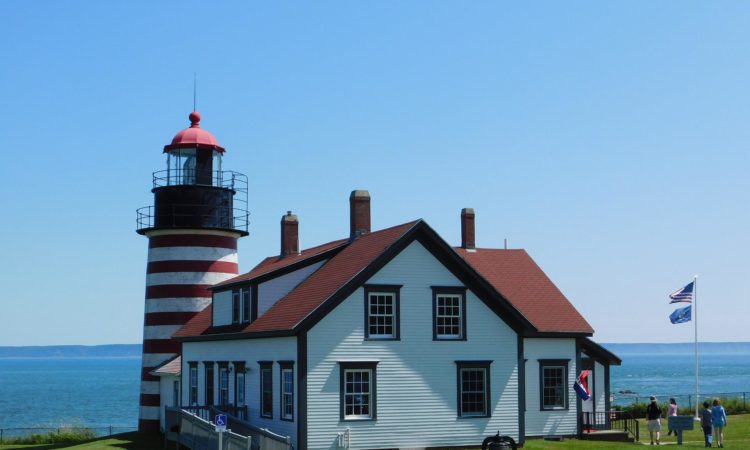 Grounded Life Travel is supported by its audience. When you purchase through links on our site, we may earn an affiliate commission.As an Amazon Associate I earn from qualifying purchases. List of everything we use in our travels.
Acadia National Park is a destination all on its own. Most people plan to come to Bar Harbor, on Mount Desert Island, with the intention of never leaving. Acadia has enough to do to fill a summer, much less a week! But, for the true explorer craving to know more about the surrounding areas of the park, this might not be enough.
You can take some time and get to know Maine. Maine is beautiful, historical and interesting. The surrounding towns and cities offer so much for the discerning vacationer and will make you want to look at real estate for a place to call home. Take a day and explore what all that this part of Maine has to offer.
Schoodic Peninsula
Although this first stop is in the national park, it is worth noting because visitors overlook this area due to it being an hour north of the main part of the park on Mount Desert Island. However, this doesn't mean it isn't worth a visit. At the height of Acadia visitation in the summer months, the Schoodic Peninsula can be a welcomed and serene reprieve from the hustle and bustle of traffic and throngs of people that can sometime come with national parks in summertime.
Sit and watch the erratic Atlantic ocean crash upon the eons of eroded granite in peace and quiet. You can also ascend the trail to Schoodic Head where you will be atop a summit with miles of views of Mount Desert Island and the mountains beyond. This is a great day trip in the national park that feels like it is miles apart.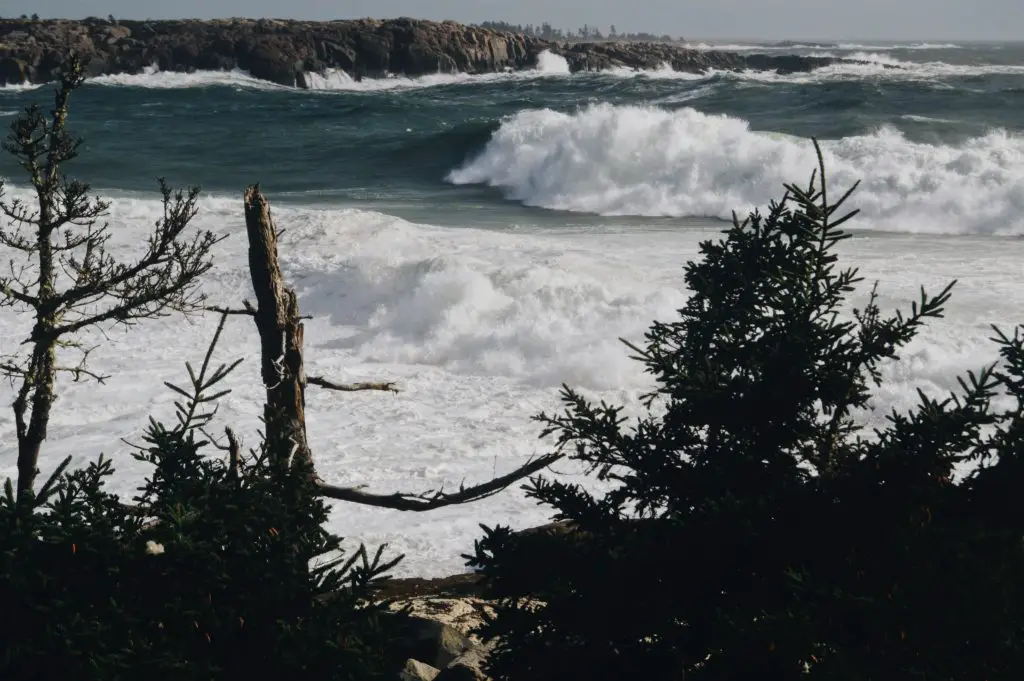 Lubec
To get a picture of what Maine is in its essence and the people that make it such an alluring part of America, you must visit Lubec, a two hour jaunt down the coast. Lubec is the easternmost village in the U.S. and seems to sit and protect the motherland.
The ocean brings a mystique. Many come for the "vibrational energy" it is said to have, such as what you would find in Sedona, AZ. The two high tides a day reach world records of 28 feet, the highest in the world.
Home to four lighthouses, this is a must see stop if you are a photographer or just enjoy the majestic sight of a lighthouse. Take a lighthouse tour and see them all or spend time immersing yourself in the history of one of them. Whatever you decide, Lubec will capture your heart you and it will be difficult to leave.
Roosevelt Campobello International Park
If you are in Lubec, you must visit the Roosevelt Campobello International Park. This park was once the home where the former President would be stricken ill and become paralyzed from the waist down. But, this would not keep him from visiting and enjoying the cool breezes and the stunning scenery that the area had to give.
The house and grounds are gorgeous and definitely worth a visit. Make sure you have your passport, because you must cross the F.D.R. Memorial Bridge into New Brunswick, Canada to access it and you will need your passport to get back across.
Quoddy State Park
Quoddy State Park is another place that Lubec holds dear. The stunning red and white striped lighthouse is the easternmost point in the U.S. and has been warning mariners of the craggy and dangerous coastline for over 200 years. Enjoy the scenery and hiking trails as you experience one of the best parts of Maine.
Blue Hill Peninsula
In under an hour you can travel to a mecca of sorts for writers and photographers. The Blue Hill Peninsula is an idyllic place for your daytime trek in a pursuit to get to know Maine. Stroll down the Main Street of Blue Hill and peruse one of the many art galleries, or stop at a gastric fixture such as Arborvine, which is a converted 1832 farmhouse turned Chef's delight.
If you want to get out for a walk, climb Blue Hill Mountain. This is a 5.3 mile walk to a summit that features expansive coastal views, Blue Hill Bay and on clear days Acadia National Park.
If you want to see a phenomenon you don't see often, visit Reversing Falls. Twice a day the tide comes in where the Salt Pond connects to Blue Hill Bay. This is where Blue Hill Falls forms and appears to reverse giving the Reversing Falls its name.
Deer Isle
Deer Isle, a little over an hour from Acadia, was named after the plethora of deer found on the island and there is no shortage of the things to do in the area. Visit nearby Deer Isle by loading yourselves and your car on the ferry. Across the water you will find a small but quaint village that rivals Bar Harbor. Inspiring writer's like John Steinbeck and John Fogleberg, you know Deer Isle has to be special. With all the shops and galleries to explore, this will be a great addition to your visit to Blue Hill.
Lamoine State Park
This is a great choice in the middle of summer when the crowds are big in Acadia, because it's so much like it. Enjoy the views of Bar Harbor and Cadillac Mountain as you walk the coastline there. If camping is on the docket, this is a great place to camp. Bring your kayaks and enjoy the calm water as you explore the shoreline. With a pebble beach, fishing and boating, a great day and night can be spent here in a quieter setting than can be found this time of year in the park. Visiting in the fall is a gorgeous time of year to also see the leaves change.
Ellsworth
When you enter Ellsworth you are entering Acadia territory. Although it isn't on the ocean, it is a picturesque town on the quiet and inviting Union River. The town is equally as charming and a walk down Main Street will give you exactly what you were looking for in your hunt for all things "Norman Rockwellesque" to be found in Maine.
Looking for a special gift? Try 207Mainer for that perfect present that represents New England. There's something for the kids or your own sweet tooth at Sugar Mags Central, where you can try their assortment of gummies or a retro soda. The pinball machine and arcade also make this place a destination for the young at heart.
Ellsworth often gets overshadowed by Bar Harbor and Acadia, but it is unique in its own right and deserves your time and attention. You won't regret a day trip to this sweet little town.
Moose Point State Park
Another great state park awaits you about an hour's drive from Bar Harbor. This is a great place to come and experience a walk among the peaceful evergreen grove of pines and other beautiful trees. If you like to scavenger the rocks at low tide, this state park is excellent for hunting for treasures in the tide pools. Picnic with a view of Penobscot Bay and watch as the sailboats glide nearby. This state park is a perfect stop along the way as you explore the coast of Maine.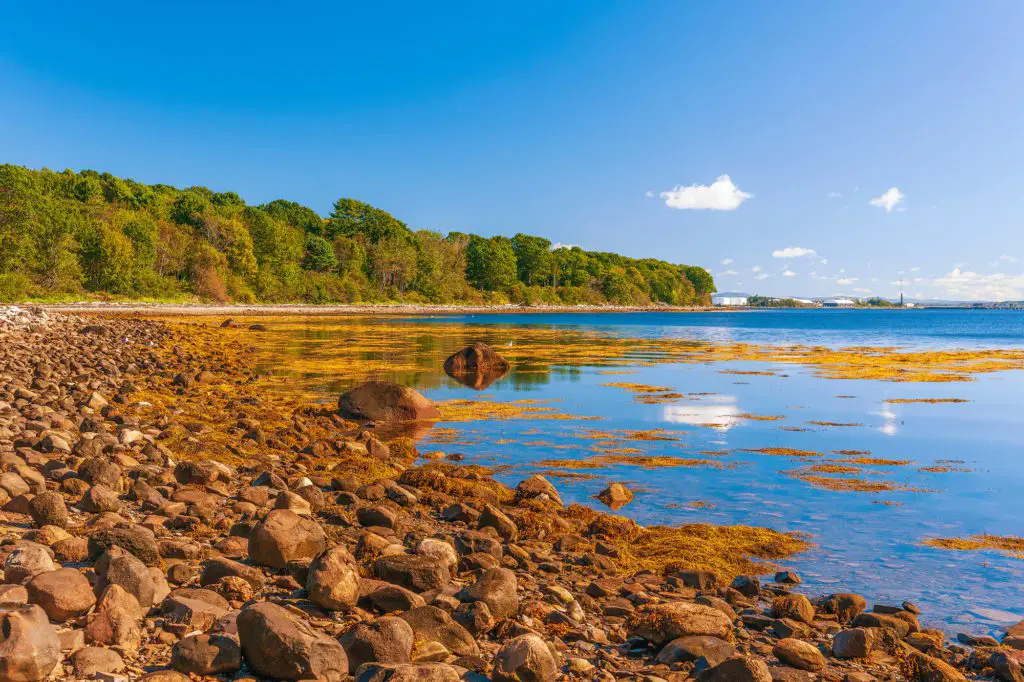 Trenton
Trenton has all you might want in a vacation town. From sweet treats to adventure parks, Trenton is a must when visiting the area.
Start with the Kisma Wildlife Preserve. Have you always wanted a personal but controlled encounter with a black bear or wolf? Then, this is your place. These animals live in harmony with their caretakers and they love to meet with others in hopes of educating and giving an experience like no other. You can even camp amongst the wolves and hear their nightly ramblings as they hunt and communicate. Now that is something you will never forget!
Another amazing place in Trenton is the Wild Acadia Fun Park. If ropes courses, zip lines and water parks are your thing, then you will love this place. Buy an all day pass and enjoy it all or just one or two activities. This is a nice change if you are wanting something for the teenagers in your group. Everyone will have a grand time at this family friendly place in Trenton.
Taking a day to explore outside the park can enrich your time in this stunningly beautiful part of Maine. There is so much to Downeast Maine and you have to spend time getting to know her. Taking the time to venture out will give you the full New England experience you were looking for on your vacation.