Guide To Visiting Grand Teton National Park In December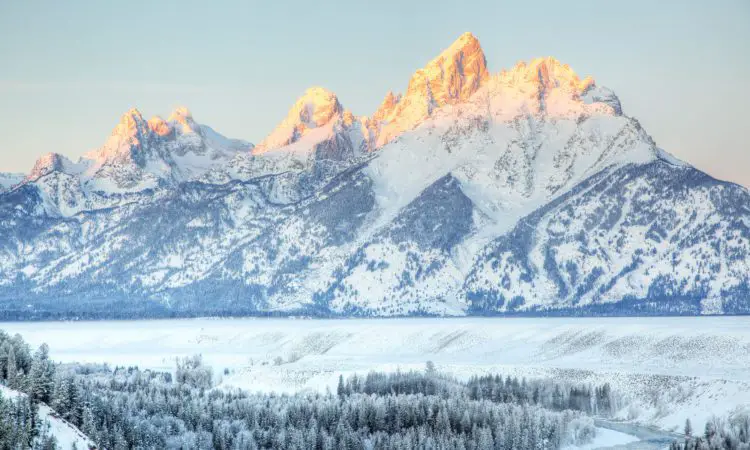 Grounded Life Travel is supported by its audience. When you purchase through links on our site, we may earn an affiliate commission.As an Amazon Associate I earn from qualifying purchases. List of everything we use in our travels.
You may be the type to want to visit Grand Teton National Park in December, or you might be a homebody and want to enjoy your cocoa fireside by the Christmas tree with your family. But, if you have a chance to take a Christmas vacation, exploring the park could be one of those things that you do over the holidays that you will never forget.
Does the park have snow in December? Check! Is there wildlife? Check! Is there a downtown area that is as cute as a button? Check! The Teton area and Jackson will put you in the holiday spirit and give you all the feelings that you crave during the holiday season.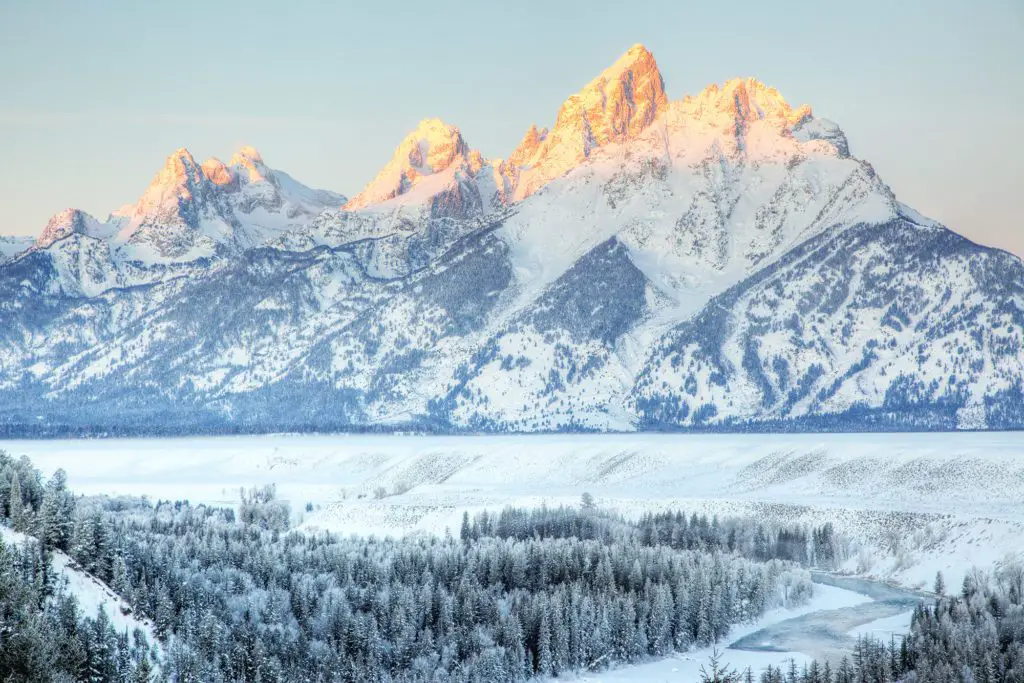 Can you visit Grand Tetons in December?
Yes! Grand Teton National Park is open in December and throughout the winter. Most of Teton Park Road gets plowed and is open all of the time, ready for you to explore the park. However, are areas of the park that will close after the first major snowfall, so make sure you check for closings before setting out.
How much snow does the park see in December?
Welcome to the snowiest and coldest month of the year! Grand Teton National Park can get anywhere from 150 to 500 inches of snow a year. In the valleys such as Teton Village and Elk Rufuge it is more typical to get a lower amount of snowfall in December in the amount of around 25 inches in December. However, in the higher elevations, this amount can quickly triple.
Grand Teton Tips
Here are a few other Grand Teton posts you might find useful:
Why does Grand Teton get so much snow?
This is where I get out my scientist coat. The Grand Teton Range is perfectly placed running from north to south on the Wyoming/Idaho border. It is poised here to get any precipitation that comes from the west. A moisture channel is present between the Cascade Range and the Sierra Nevada Range where high humidity and precipitation travel from the Pacific Ocean. The moisture hits the high altitudes of the Grand Tetons, squeezing out precipitation in the form of dry snow. In fact, the snow in the Tetons is 5% drier, which gives Jackson Hole and Grand Targhee Resorts that incredibly velvety powder for skiing. Things that make you go, hmmm….
Therefore, not only is December a great time to come if you want to see snow, but you are guaranteed an exceptionally brilliant time on the slopes if you want to do some Christmas skiing.
Are there sightseeing tours in the park in December?
December is a fantastic time to see the park in unique ways that aren't possible during the rest of the year. If you want to see wildlife, there are experts that can take you out into the wilderness and show you the wonders of the park.
Snowcoach Excursions
Hiring a snowcoach in order to see the park is at the top of my list. There are tours that can offer a half or full day, or even a four day trek exploring the park. These coaches will even take you into Yellowstone and meander among the geysers and hot springs that grace the southern end of the park. The coaches are equipped extremely well. They run on tractor treads so you are sure to get through any amount of snow. This way you can leave worries of getting stuck behind you. Expect comfortable seating, a pair of binoculars for each guest and even use of a spotting scope that will help you spot wolves and moose.
Sleigh Ride Excursions
Imagine sitting cozily under a mound of blankets as you trample through the snow searching for elk, moose, bald eagles, bighorn sheep, bison and wolves in the National Elk Refuge. This is one of the most unique experiences that you will ever have at any national park. Starting in October, Elk herds come from all over Wyoming, Idaho and Montana and congregate in this refuge of more than 25,000 acres in search of food and camaraderie. People who venture out get to benefit from this convergence of wildlife that live so symbiotically together.
Snowmobiling in the park
Snowmobiling can be an awesome way to get out and feel the cold wind against your face. Although snowmobiling is not allowed in most areas of the park, you can take your newer than 2015 EPA approved snowmobile out on Jackson Lake with your fishing pole. Have you ever ice fished? This would be a fantastic place to learn! Alternatively, you can just enjoy the ride as you explore the lake. Furthermore, you can take your snowmobile on the the Grassy Lake Road to the south entrance of Yellowstone and have an additional adventure, looking for wildlife along the way.
Dogsledding Tours
Did someone say, "Mush"? Another once in a lifetime experience can await the traveler looking for an exclusive experience doing something so uncommon that most don't even know exists in the park. Take the trails of the old fur trappers and view the Grand Tetons like no one else as you ride behind a hard working team of well-bred Siberian Huskies and Chinooks. See what it was like for the settlers of the old west as they explored the country looking for a better way of life.
Snowshoeing Tours
If you want to get your heart pumping while you seek out wildlife in the park, a guided snowshoeing tour is a great way to get outdoors. You will meet with a guide that will take you on a tour of the backcountry of the national park. Choose from a 2 hour to 8 hour excursion that will introduce you to the delicate winter ecology of the park and it's inhabitants. Track animal footprints or find eagle's nests. Enjoying a beautiful day in the park on snowshoes or cross country skis is a wonderful alternative to hiking in the summer.
Are there holiday happenings in Jackson for the holidays?
It's December and Jackson has a ski resort. You bet that there will celebrations of all kinds for the holidays. The holiday season kicks off with the town square tree lighting and Santa on the Square. You can see thousands of lights on showcase for all to enjoy. Additionally, Jackson Hole Mountain Resort also hosts cookie decorating and ice skating after a long day on the slopes.
Next, you can also get some holiday shopping done at the Holiday Bazaar at the Center for the Arts and Black Box Theater. Purchase art work and handmade items for the loved ones in your crew. Lastly, don't miss Jackson Hole Resort's Torchlight Parade down the mountain and fireworks to follow on New Year's Eve.
December is a magical time to come to Grand Teton National Park. The park is alive with winter sports and wildlife and Jackson knows how to celebrate the season like no other. You'll definitely get the payoff you're looking for if you depart from the ordinary and visit Grand Teton National Park in December.