Grand Teton vs Yellowstone National Park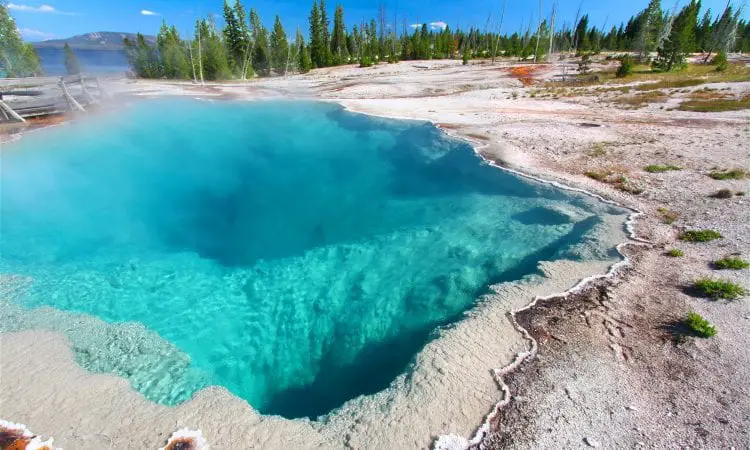 Black Pool of the West Thumb Geyser Basin in Yellowstone National Park.
Grounded Life Travel is supported by its audience. When you purchase through links on our site, we may earn an affiliate commission.As an Amazon Associate I earn from qualifying purchases. List of everything we use in our travels.
Grand Teton vs Yellowstone. It sounds like a wrestling match.
Papa Grand is in this corner fighting for more attention from the masses in which Mama Yellowstone gets all the attention and affection.
It sounds like I'm joking, but it's kind of true. Grand Teton is merely an afterthought on many minds as flights are being booked and itineraries are being planned for Yellowstone.
In fact, many don't even give the Tetons much more than a dashboard wave as they travel south to their next destination. But, both have so much merit and deserve equal praise.
The fact is, they are both so different, that they don't really have to compete at all. There really isn't a need for Grand Teton vs Yellowstone
Is Grand Teton different than Yellowstone?
Yes! They are two entirely different parks with very distinct scenery and activities.
Grand Teton has many activities to offer in the park. Hiking, biking, boating and rafting can be done in the summer and the park is mostly open all year long.
Yellowstone is for the sight seer. There are so many iconic sights to see in Yellowstone. From the hot springs to the geysers, to the waterfalls. There is definitely walking involved, but if you want to do true hiking, Grand Teton is where you need to go.
Should I spend more time in Yellowstone or Grand Teton?
Yellowstone is huge! There is no doubt about it. When you visit Yellowstone, you will be in the car ALOT! You will be driving a lot and it takes time to see all of the park. I would allow a week to see the entirety of Yellowstone and that is building in a day to relax and decompress from all of the amazing sights you are seeing. Yellowstone is over 2.2 million acres and it encompasses a wide variety of topography over that span.
You will see a lot in that time and you will be exhausted. In a perfect world, Yellowstone should be a place that you take your time and drink in all the overstimulation you will be experiencing. But, the sad fact is, that we as a culture usually don't have time on our side. So, a week will have to suffice.
Grand Teton on the other hand can be seen in a day or a week. If you don't want to hike all of the famous trails that the park has to offer, you can just pick one and then do a lot of sight seeing like you did in Yellowstone. This can be done in a day.
But, there is so much more to this place then one hike and some swiftly taken selfies. There's the animals, and the lakes and the vista views that just don't stop! If I had two weeks, I would devote one to Yellowstone and one the Grand Teton. They are equally as breathtaking.

Is Yellowstone better than Grand Teton?
No. They are so totally different that you cannot say that one is better than the other.
Yellowstone
My advice is to stay in West Yellowstone, so that you will be ready each day to tackle the western, southern or northern portion of the park.
West
In the southwestern part of the park, you will find that geysers reign supreme. You can see the Fountain Paint Pots, Midway Geyser, Biscuit Basin, Black Sand Basin and of course Old Faithful.
I mean, isn't this why you booked your trip in the first place? Old Faithful is every bit as mesmerizing and exciting as you would think it would be. Seeing the time board as you walk in the visitor's center that indicates when the next eruption will be stirs such emotion, that it's hard to contain. Go outside and wait for it to erupt, get your pictures, get your selfies. Go crazy! Then, sit and watch it again, quietly, calmly and in silence. It takes a couple of times to see it for the glory and grandeur to sink in.
South
From here, you can decide what lakes you might want to see. There are Shoshone and Lewis Lake to the south and Yellowstone Lake to the east. Is is a great place to picnic or go out on the water boating or kayaking.
North
If you decided to go North from West Yellowstone, you will pass Gibbon Falls, Artist's Paintpots, Norris Geyser Basin, and the spectacle of the northern part of the park, Mammoth Hot Springs.
Here you will find a quaint little town, commanded by elk of every size and shape. They are everywhere. It's difficult when you are not paying attention to keep from accidentally walking up on one, which can be dangerous.
Gardiner is also a beautiful little town right outside the Roosevelt Arch. Don't miss the Boiling River that empties hot spring water into the Gardner River. This is a great place to sit and soak.
East
Heading East from Gardiner, you will enter into the valley after passing some notable waterfalls and some petrified trees. Lamar Valley is the place to go if you would like to see a concentration of wildlife in the early mornings or late evenings. Wolves, black bear, grizzlies, pronghorn, bison, bald eagles and other birds of prey all frequent the area.
So, Yellowstone has you covered when it comes to sightseeing.
Grand Teton
When talking about Grand Teton vs Yellowstone, what Yellowstone lacks in mountainous beauty, Grand Teton makes up for it. As you round the corner going south on John D. Rockefeller Memorial Parkway, you will be stunned as the first view of the Tetons blasts through to your retinas. It is impossible to see this for the first time and not gasp at the sight.
Yellowstone, just doesn't have a view that it comparable. It is so compelling that you will find yourself drawn to it, wanting to get closer. Jackson Lake is great place to start to do just that. Here, at Colter Bay Village, you can rent a boat, swim, waterski, kayak or just laze around on the beach. The view of the Tetons while you have an entertaining day will always be looming, reminding you of where you are.
The 42-Mile Scenic Loop
From here you can head south on Teton Park Road where you will find another lake. Jenny Lake is the place to be if you love hiking and waterfalls. You can take a shuttle across the lake and start your hike there, or hike the entire loop. This is an experience that differs from Yellowstone, as this hike is world famous for Caribbean blue water views and bear sightings.
Next you will head south and pass more trailheads and scenic pullouts than you can shake a stick at. Veer to your left and you will be traveling north on the loop. This is where you can see the famous Mormon Row and Moulton Barns. You can snap your pictures here of the barns and the Tetons in the background. Often, there are bison herds waiting for their shot in your limelight.
After this, you can keep heading north to sights such as Schwabacher Landing, Snake River Overlook and Oxbow Bend. These are all fantastic places to see wildlife and gaze at that million dollar view.
As you can see, there is no reason for the parks to compete for your time and attention. There is no need for a Grand Teton vs Yellowstone. Yellowstone is magical, intriguing and interesting. Whereas, Grand Teton is majestic, adventurous and fun. Two parks, both worthy of all the accolades given by the masses. So, when you schedule your trip, give them both the same attention. You'll be so glad you did.